What You Need to Know:
Tokyo Indie Fest 2017 has come and gone, but the incredible memories and excitement it left behind will resonate in our gaming hearts forever. The event took place in Akihabara, the major hub for all things related to Japan's pop culture, and we made sure to be in attendance to check out what new indie titles were in development.
Plenty of companies from all across the globe took to the stands to show off their titles, ranging from Nintendo Switch titles to the more lucrative VR. All of their games had their own unique appeal and we were able to grab some photos of the more notable titles there.
Honey's Anime had a few favorite picks from the event and you can check them out below!
Source: Official Press Release
Company Showcase
Alice Blades
Alice Blades is an indie company based out of Japan, and they brought a pretty cool title with them to Tokyo Indie Fest. The game is called Eisalvia, which is described as a "Warp-Action" platformer title where you must race across each stage and defeat enemies using your mighty sword, and warp your way through without getting killed. Each stage is on a timer so you'd better act fast! Eisalvia is available on PC in Japan, but no word on a global release has been announced. For now, enjoy the gameplay trailer and some screenshots!
Gameplay Trailer + Screenshots
アイサルビア 森ステージプレイ動画 [Eisalavia - Forest Stage Gameplay Trailer]

Nonuple Nine
Nonuple Nine was a featured title at this year's Tokyo Indie Fest, and seeing this game in action looked really cool. The horror aspect was what really stood out the most, and it's story really evokes emotion out of you. According to the story a lady's head was decapitated and many eyewitnesses took photos of the incident. Her ID card was discovered which detailed her work background but much of the details pertaining to the incident remain unknown. Meanwhile inside a room in the building of the enterprise - a teenage girl opened her eyes naked. This girl is unaware of the unbelievable phenomenon that's about to occur and ambush her at any moment. This very same building has 32 floors that constantly loop but no explanation as to why. A voice then shouts out "The answer lies in your memory" and that everything you encounter may just be a key to the end. Are you prepared for the terror that's about to unfold?

Information about whether Nonuple Nine will see a western release is still up in the air, but perhaps if people show interest the possibility may just be in reach. Nonuple Nine is currently being developed for PC in Japan, so look forward to more info as it releases. For more, follow Nonuple Nine on Twitter!
Media + Screenshots
頭部破裂事件――ノナプルナインOPムービー [Head Rupture Incident - Nonuple Nine OP Movie]

Xenoma
Tokyo Indie Fest had a lot of really cool and interesting games but there were also some pretty awesome looking gear for gamers to wear, one of which was Xenoma's e-Skin. The e-Skin is a wearable shirt that acts as a motion capture and tracking device for when you play games. Instead of using a controller, the e-Skin allows you to become the controller for more immersive gaming experiences. Not only that but it's durable and can be used as a way to promote better posture, as it can monitor your body movement, and respiration. At the moment the e-Skin Developer's Kit is available in men's sizes, but a consumer version is coming to Kickstarter around July or August of this year for both sexes if you're looking to pick one up. For more details be sure to visit their official website and follow them on the social media links below!
Media,Screenshots + Links
e-Skin Introduction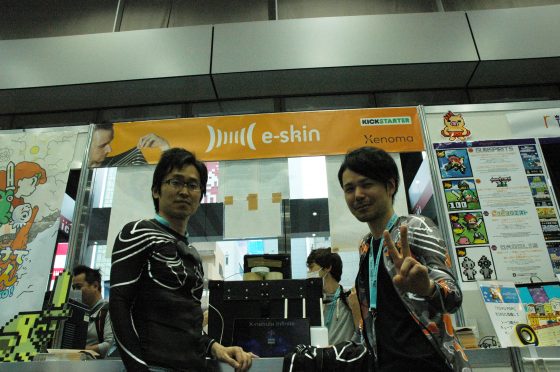 Yokogo Systems
We made a stop by the Yokogo Systems booth where the team was showcasing their latest title RevErsi Quest 2, a top down Tactical Board RPG which visually resembles that of Final Fantasy Tactics but with its own unique spin on gameplay based on Reversi. Spells play an integral role in battles as they allow the player to manipulate the playing field by breaking panels, forcing the enemy to pass a turn, or summonining special panels that could aid you in battle. You can't use the spells to directly attack the enemy so using those special tactics to your advantage is what makes this game very stimulating to play. Be sure to keep an eye out on the title, as its slated to release for mobile devices this year!
Screenshots
GemDrops Game Studios

If there was one VR title that really allowed you to use your head (literally), it was most definitely GemDrops Game Studios latest title, Headbutt Factory for the PlayStation VR. You're seated on a roller coaster like machine that you ride on, and as you cruise through the beautifully designed stages you must use your head to hit balls and destroy targets as they emerge. We had a chance to try this game out and it was a total blast to play because it reminded us of playing Soccer, heading the balls that come your way hoping to land the right shot. Not only was it fun to play but it provided a great deal of challenge as you need to adjust your head at times to ensure the ball goes in the direction you desire. The cute character designs were such a treat to look at while playing, which takes a lot of the tension off as you focus to hit each ball. Headbutt Factory is now available on the Japan PSN for a retail price of 2,200 yen, with a Western release planned for this year.
Latest Media
Headbutt Factory PV - #03

---
Wow, Tokyo Indie Fest seemed to be a lot of fun! So many games available to try out, with each one being unique in their own way.
The VR stuff must have a blast to play since it's still an evolving piece of hardware. I would love to try out some of the VR titles when the next Indie Fest rolls around!
---