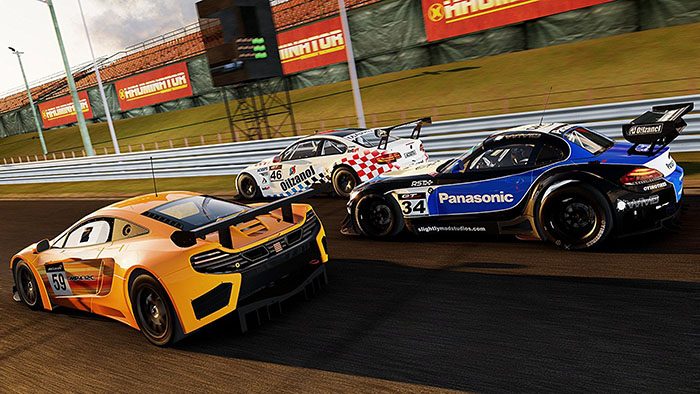 Despite the VR scene still evolving from its infancy stage in the game industry, there's been quite an influx of titles that have come out from various companies that show off the VR's potential. From the likes of Sony and their incredibly popular VR platform to HTC's innovative Vive, there's plenty of games to go around for almost all platforms. More notably it's Sony's VR that's been blowing everybody away and so for our list, you'll most likely see some heavy hitters from them. However it's the PC market that's truly starting to make headlines because new fresh titles are coming out of the woodwork, and are showcasing just how fascinating the VR can be when taken beyond its limits. On that note, let's jump right into our top 10 of the most talked about VR games out to date.
10. Euro Truck Simulator 2

System/Platform: Windows, Mac
Publisher: SCS Software
Developer: SCS Software
Release Date: October 19, 2012
Many of us don't have a driver's license let alone a truck driving permit, and so Euro Truck Simulator 2 allows you to be in the driver's seat and course around the city in your very own truck. While this may seem boring to some, it's actually quite enthralling to be able to just drive around as you please and do whatever the heck you want without any hassle. These types of games are so enjoyable because it allows you to just sit back and relax, enjoy the scenery around you, while making a few stops along the way to collect things.
There's no pressure involved, it's more or less just a way for you to let go of the everyday qualms and simply let the game do all the work for you.Euro Truck Simulator 2 is kind of like a racing game, but way more slow paced and less emphasis is placed on a finish line. Freedom is one thing that seems to be lacking in a lot of titles these days, but VR simply allows you to move around and take control of what's in front of you without being too demanding.
---
9. No Limits 2

System/Platform: Windows, Mac
Publisher: Mad Data GmbH & Co. KG
Developer: Ole Lange
Release Date: August 22, 2014
Let's be honest here, we've all played Rollercoaster Tycoon at least one time in our lives and it was an addicting experience. Imagine all of that in VR and other awesome perks for you to take advantage of. No Limits 2 is just that very experience since it allows you to be the creator of your own roller coaster ride, while taking advantage of the VR technology. Most of the time you'll be on the roller coaster itself which is the major selling point of the game. Once you've dabbled with the features and come to terms with how things function, your mad scientist brain comes to life and all of your wacky ideas start to trickle out in excitement.
Once your masterpiece is all done, it's time to ride around on this thing and go nuts. If you've ever been on a roller coaster before then No Limits 2 will be just another day in the office, but those who haven't experienced this type of thrill before will be in for a wild ride. If you have a friend who hasn't tried riding on a coaster, create your own little adventure for them and watch as they squirm and yell for their life as the roller coaster takes them on a crazy journey, with everything feeling so real and immersive. Be sure to have a bucket handy in case they feel the sudden urge to let out all of their tension.
---
8. Everest VR

System/Platform: Windows
Publisher: Solfar Studios
Developer: Solfar Studios
Release Date: August 3, 2016
Some of us have at least thought about or considered climbing mount Everest, but none of us have actually stood by our word and went through with it. For the ones who braved the freezing temperatures and dangerous terrain, we tip our hat off to you. For those who still wish to do so but would rather just stay at home and do without the cold, Everest VR is your one chance to step up and climb one of the world's largest and most celebrated mountains. You'll never have to worry about bringing any tents or oxygen tanks, just make sure you have your VR headset on correctly and everything else will take care of itself.
Everything about Everest VR at first feels so strange and foreign to you, but as you continue to make your trek up the mountain things start to feel more visceral, and the game starts to grow on you. Every step you take starts to physically take a toll because everything just feels so real and lifelike, that at times you may find yourself taking a breather just to stop and look at the scenery. Perhaps that's what makes Everest VR such a thrill is that, it's not so much about being the king of hill but moreso being able to take in every detail of what you experience and embrace it wholeheartedly, just like you would if you were to climb it in real life.
---
7. Assetto Corsa

System/Platform:PlayStation 4, Xbox One, Windows
Publisher: Kunos Simulazioni
Developer: Kunos Simulazioni
Release Date:December 19, 2014
Assetto Corsa is another VR racing game that takes realism beyond its limits, and throws you into the driver's seat for a wild ride. Assetto Corsa takes a lot of inspiration from Gran Turismo and you can see that simply by the gameplay itself, and how refined everything is. Racing simulation games are usually hit or miss these days, but one thing Assetto Corsa does so well is that it sticks to what it knows and doesn't try to add on any unnecessary fluff. It's a true definitive racing experience that when played in VR, will take you to the next level.
The graphics in this game are breathtaking, for example riding through the torrential rainfall and seeing the droplets hit your windshield, or having the afternoon sun blind your face as you cruise down the straightaway to the finish line.All of these amazing details are what truly make the VR experience that more gratifying because it's as if you're right there in the moment basking in all its heavenly glory. Assetto Corsa is one game that you shouldn't sleep on if you're a fan of the racing scene, because much like Project Cars it takes a lot of getting used to but once you've come to terms with the mechanics the game is amazing.
---
6. Eagle Flight

System/Platform: PlayStation 4, Windows
Publisher: Ubisoft
Developer: Ubisoft
Release Date: October 18, 2016
We had a wonderful opportunity to attend the UBIDAY 2016 event at UDX in Akihabara, where Ubisoft took advantage of the situation and allowed visitors to check out their latest titles before release. Eagle Flight was one of our favorites, and for some reason it felt like that new toy that you just received for christmas, and even though you have your other toys to play with the new one speaks to you more. We jumped into this game and we were totally wowed by the fact that you can take to the skies as an Eagle, and pretty much live out the life of a bird.
We've all dreamed of at some point, the have a chance to fly like a bird (if not be a bird) and soar about doing whatever we pleased while catching some fish on the side. Eagle Flight gives you all the freedom in the world, allowing you to glide your way through various courses while taking part in small mini games along the way. What's fascinating about Eagle Flight is that it never felt rigid or taxing on the brain, in fact we almost forgot we had the VR headset strapped on because we were so involved with flying around aimlessly. If you haven't given Eagle Flight a try we most certainly recommend doing so, because it's truly an experience unlike no other.
---
5. Project Cars

System/Platform: Xbox One, PlayStation 4, Windows
Publisher: Slightly Mad Studios
Developer: Slightly Mad Studios
Release Date: May 6, 2015
Project Cars is a simulation game built for racers by racers. Everything within the game has been constructed to suit the true enthusiast, with so much detail implemented into maintaining your car and making sure it stays optimal for every race you enter. There's so much depth to this game that even fans of racing like ourselves, found it a little tough to wrap our head around it all. However once you start driving and test out all the different mechanics, you'll start to take Project Cars a lot more seriously and start checking everything that's wrong with your car.
With VR enabled, you get to experience what it would be like to sit in the driver's seat and to burn rubber in a highly adrenaline pumping race. From the roaring sounds of the engine and screeching of the wheels as you turn a tight corner, to the realism you experience when your car is totally damaged and can no longer function, Project Cars blows you away with its remarkable attention to detail. The series has become such a popular title that it now has a sequel slated to release this year, along with eSports events tied to it. We look forward to seeing some high level Project Cars action in the near future.
---
4. Alien Isolation

System/Platform: Multi Platform
Publisher: Sega
Developer: Creative Assembly
Release Date: October 7, 2014
This game terrifying is when you're experiencing all of it in VR and you have an alien wandering around the premises like a lost child in the mall. You're trapped on a ship with an alien who simply doesn't care who you are, and will kill anything that moves. Alien Isolation is like a game of cat and mouse, where you'll be doing a lot of running and puzzle solving just to that you can find a safe place to hide from this towering creature. While you could simply just cruise through the game and not really care, you'd be doing a huge disservice because the game is meant to be immersive and taken seriously much like any horror title.
When the headset is on, there's no turning back because the game sucks you right into it all. The quiet ambience of the space station sends shivers down your spine because you don't know what lurks behind the corner, and every footstep you hear triggers a fear response that's telling you to get the heck out of there asap. Even if the footsteps aren't that of the alien's, your gut feeling tells you to just run and survival mode starts to kick in. That very feeling is what gives Alien Isolation such a wonderful feeling, because there's truly never a guarantee of survival and even if you do somehow manage to make it, there's another deadly surprise waiting for you ahead.
---
3. Elite: Dangerous

System/Platform: Multi Platform
Publisher: Frontier Developments
Developer: Frontier Developments
Release Date: December 16, 2014
Elite: Dangerous is one crazy sci-fi adventure, as you're in command of a ship and you're shooting your way through enemies in real time all in VR. This experience is beyond amazing because at some point many of us have dreamed of taking control of a ship, and zapping enemies on the fly like Star Wars. Elite: Dangerous allows all of that plus all of the immersion you get from VR, and the graphics are electrifying. Laser beams and bullets fly across the screen as you take part in this massively multiplayer experience, as other opponents try desperately to shoot down your ship and become the number one space hunter.
Elite: Dangerous is constantly evolving and so is the competition, as they become more cutthroat and will do whatever it takes to ensure that your ship is no longer in service. So all you'll need to do is play strategically, gather the right weapons and upgrade them accordingly, and then maybe you too can become the king of the galaxy in this action packed thrill ride. We've placed Elite: Dangerous at number three because it's not very often that you come across games like this, especially in an MMO VR sci-fi format.
---
2. Summer Lesson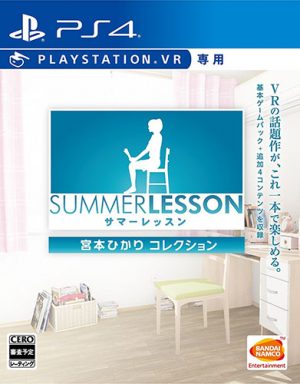 System/Platform: PlayStation 4
Publisher: Bandai Namco Entertainment
Developer: Bandai Namco Studios
Release Date: October 13, 2016
It was about time that Bandai Namco, the very same company behind the legendary Gundam franchise, would hop on board the VR train and take advantage of its benefits. If you do ever come to Japan there are VR gundam games for you to try out, but for now let's focus on Summer Lesson. Now this type of game was bound to receive a VR release because, in a way Summer Lesson feels more like a dating sim than a "teacher sim", but its idea definitely suits the platform very well. You're able to interact with Hikari, the student you'll be spending most of your time with throughout the game, and will get to know more of as time passes.
The beauty of the game is just how responsive it is, and the sheer attention to detail Bandai Namco implemented into the game. From the subtle things like looking at your cell phone and seeing actual fingerprints from you pressing it, to the more detailed such as movement and panty shots, Summer Lesson gives players an opportunity to feel immersed in a world that feels real and exciting. While there isn't anything else to offer aside from just interacting with Hikari and others, the feeling you get when you're able to interact with a virtual human being is sort of strange yet oddly intriguing as well.
---
1. Resident Evil 7

System/Platform: PlayStation 4, Xbox One, Windows
Publisher: Capcom
Developer: Capcom
Release Date: January 24, 2017
Sony promised fans that their new VR products would blow the world away, and showcase just how impactful the VR hardware can be on the industry as a whole. Capcom saw the window of opportunity and jumped on it immediately by bringing us Resident Evil 7, perhaps the most talked about VR game of last year and going into this year. Horror games and VR should be synonymous because they work hand in hand almost seamlessly. These games are meant to terrify you and be so immersive that you feel like you're right there in the moment.
In Resident Evil 7 that very feeling of being in the moment is turned up a notch and will scare just about anybody. At many game expos, journalists and reporters alike jumped to the occasion and tried out the game only to immediately be freaked out and want the VR headset removed. Capcom served their purpose well with this game because the Baker family is well beyond insane, the grotesque looking monsters within the house are freakish and terrifying, while the entire ambience of the game has you breaking out into heavy sweats.
---
Final Thoughts
So what did you think of our list? Did you have a chance to partake in any of these wicked titles, and if so what were your thoughts? Let us know in the comments below what you think, and of course leave some of your own personal VR favorites in the comments too! With VR still in its infancy stage, we have confidence that the industry will see wonderful things coming from it. The future of the game industry right now is looking bright and with the likes of Sony, HTC and Oculus paving the way for the VR scene, there's only going to be more spectacular releases coming our way!
As always, if you want to know about all the latest buzz straight from the bee's nest in Japan, be sure to keep it locked here at Honey's Anime.
---