Action games are full of thrill, excitement, and almost always guarantee to provide a satisfying story to go along with all of the fun. Action games can also take the form of other genres and blend them together to create hybrids such as action adventure, action rpg and so forth. Whatever your preference, the action anime game genre is sure to speak to just about anyone no matter your background. So if you love a little gun play, traveling across the galaxy to destroy an evil regime, or perhaps you enjoy hunting down a pack of wild monsters, the action anime genre will be sure to please you.
10. MegaTagmension Blanc + Neptune VS Zombies

System/Platform: PlayStation Vita, Steam
Publisher: Idea Factory
Developer: Compile Heart | Tamsoft
Release Date: October 15, 2015 [Vita] | October 3, 2016 [Steam]
MegaTagmension Blanc + Neptune VS Zombies still embodies much of the style you loved from the Hyperdimension Neptunia series but turns it into a more action oriented game than other titles. It also features a new main character named Blanc and much of the story is encompassed around its popular light novels. The story takes place in an alternate universe different from Neptunia, and follows a group of young girls who are CPU's, as they come to learn more about the human race. As they try to create a zombie movie, the accidentally summon zombies into their own world and must fend them off to protect their world from an already declining population.
Much of the gameplay is derived from Hyperdimension Neptunia U: Action Unleashed, where you can more the goddesses around freely and attack enemies at any given time. Combos can be completed by correctly timing button presses, which allow you to launch enemies into the air to tack on more damage through aerial combos. Its versatility pertaining to character switching on the fly is another selling point, which allows you swap characters in battle to ensure members don't die and you come out on top.
---
9. Danganronpa Another Episode: Ultra Despair Girls

System/Platform: PlayStation Vita, PlayStation 4, Windows
Publisher: Spike Chunsoft
Developer: Spike Chunsoft
Release Date: September 25, 2014
Danganronpa Another Episode: Ultra Despair Girls is a spin off action oriented title that takes place between the first and second games, but features a lot more in terms of adventure and exploration compared to the traditional visual novel experience in Danganronpa games. Komaru Naegi has been locked inside his apartment complex for at least a year, and has no clue what's been transpiring around her. After a surprise attack by the sinister Monokuma Robots, she eventually runs into Byakuya Togami who bestows her with a hacking gun that can eliminate these robots and escape. Now with new teammates by her side, she must now relinquish her past and now step forward to protect the city from peril.
Taking the form of a third person action adventure, many fans familiar with the more visual novel title will be taken aback by the new gameplay elements, but will find it quite satisfying once you get used to all of the changes. One of the major selling points of Danganronpa has always been its incredible story, and Ultra Despair Girls is no different. As you use your hacking gun to take out various enemies, you'll unlock more truth bullets along the way which allow you to take control of enemies and activate certain types of machinery. The versatility in the game is what truly makes it a fresh experience and is worth diving into if you've played both the original and Goodbye Despair 2.
---
8. God Eater 2: Rage Burst

System/Platform: Steam, PlayStation 4, PlayStation Vita
Publisher: Bandai Namco Entertainment
Developer: Shift
Release Date: February 19, 2015
God Eater 2: Rage Burst is the enhanced version of the original title God Eater 2 which basically tacks on extra parts to the already action packed story, and a new chapter known as Rage Burst which which split the story up into six difficulty levels. New mechanics were also introduced to the game which encouraged the use of the new Blood Rage feature, that allowed players to buff their character by attacking various enemies over time.
God Eater 2: Rage Burst takes everything you know and love from the original but buffs it up and provides an abundantly fun experience for any fan of the series. If you've played the first God Eater and want a much richer experience then definitely skip out on God Eater 2 and get Rage Burst instead since it incorporates so much more than the original, while still giving you the fun and action packed thrills you've come to know and love. If you're new to the God Eater series then this game is still worth every penny because it follows the story from the manga, so you could always play catch up at any time.
---
7. Mega Man Legends

System/Platform: Multi Platform
Publisher: Capcom
Developer: Capcom
Release Date: December 18, 1997
We haven't seen a great Mega Man title in years and to be honest it saddens us to say that. However, back when Mega Man had his name written all over the billboards one of the titles that stood out to many was Mega Man Legends. Legends stars MegaMan Volnutt, a young archeologist who searches ruins for Quantum Refractors, which are known to be a main source of energy for his city. Trouble eventually erupted as the Bonne pirates and Reaverbots invade the town in search for hidden treasure to become rich. Now Volnutt must put an end this annoyance before it escalates.
What made Mega Man Legends such a hit to many fans of the franchise was that it took a very different approach from the more traditional style we know and love, and throws you into a 3D world full of action packed fun. It featured many gameplay styles such as lock on targeting, which eventually became the norm for future titles such as Ocarina of time. The game felt very versatile as you could run around freely, collecting items from the shop, while interacting with characters in certain ways would actually have an impact not only on the pricing of items but the story as well.
---
6. Tales of Berseria

System/Platform: PlayStation 3, PlayStation 4, Windows
Publisher: Bandai Namco Entertainment
Developer: Bandai Namco Studios
Release Date: August 18, 2016 [JP] | January 2017 [WW]
Tales has surely made its mark on the world as one of the more prominent role playing titles that also manage to fully incorporate action elements to provide a fresh feel. For many years the Tales franchise stuck to a more linear based system which felt more traditional in the RPG sense, but as the industry evolved around it so too did the gameplay. In Tales of Berseria, the world itself is fused with the same world from Tales of Zestiria and due to a violent disease that spread across the nation, it turned the residents into Daemons. Now with a new threat in front of them the Exorcists, who are soldiers from Abbey, must now band together to rid of these creatures and restore peace to the Kingdom.
Tales of Berseria feels a lot like its predecessors in terms of art style and skits, but what's changed is in the battle approach. The Soul Gauge now takes precedence over the classic style of previous Tales titles, and allows players to hold up to five souls which can then be used to engage a powerfully unique attack known as Break Soul if you have enough souls. With its versatility in battle along with a very colorful and rich environment for players to travel in, Tales of Berseria is one Tales title you don't want to sleep on.
---
5. Berserk Musou [Berserk and the Band of the Hawk]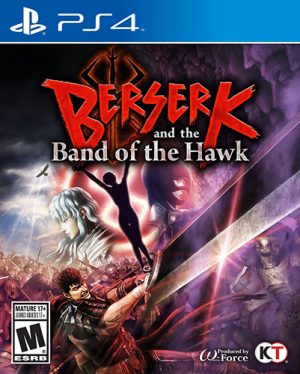 System/Platform: PlayStation 3, PlayStation 4, PlayStation Vita, Windows
Publisher: Koei Tecmo
Developer: Omega Force
Release Date: October 27, 2016 [JP] | February 2017 [WW]
Berserk Musou has been on plenty of our top ten gaming lists recently partly in due to the fact that well, it's Berserk. Guts is on a mission to kill and he'll stop at nothing to ensure he gets his retribution. Guts had been a part of the distinguished Band of Hawks, but it was when he realized he had been betrayed by the one he trusted most that he was torn to pieces and now felt determined to change that. Things went over the edge however when God Hand and his cronies came into the picture and took the one he loved away from him, which now turned Guts into a ravaging beast.
Berserk has arguably one of the best storylines in any anime to date, and that very same hype resonates in the game as well as you play through the game in the very same way the manga played out. You can choose from a variety of different modes, all of which contain their own perks, but it's the awesome story that truly swallows you up as you hack and slash your way through a large group of demons all of whom are minions of God Hand. The gameplay is fierce and blood pumping, full of non-stop thrills at every corner and pair that with wicked cutscenes to really seal the deal. We did a review on Berserk and the Band of the Hawk which you can check out in our gaming section, so if you'd like to know more about it in detail be sure to check it out!
---
4. Kingdom Hearts

System/Platform: Multi Platform
Publisher: Square Enix
Developer: Square Enix | Jupiter | h.a.n.d.
Release Date: March 28, 2002
Sora has now become a name that people remember almost immediately and recognize what franchise he came from. His character proved to be a powerful one in Kingdom Hearts, not just in his ability to fend off enemies and protect his close friends, but more so in his innocence and ability to stand up for what he believes in. Kingdom Hearts throws players into a fusion style universe that introduces popular Disney characters such as Donald Duck, as you team up with them with your powerful Keyblade in hand to defeat the evil Ansem, Seeker of Darkness and seal the door to Kingdom Hearts.
Kingdom Hearts is known for its emotionally engaging plot which took Sora away from his friends, and now he needs to fight his way through countless enemies to reunite with them. As you progress deeper into the game, you come to realize just how thought provoking everything is and just how well scripted the character interactions are. You learn so much about them as you speak with them, but more importantly come to know more about yourself through their actions. It's such a wonderful game that truly speaks to almost anyone, whether you love Disney or love Square Enix, or perhaps even both.
---
3. Castlevania: Symphony of the Night

System/Platform: Multi Platform
Publisher: Konami
Developer: Konami
Release Date: March 20, 1997
Castlevania: Symphony of the Night is the one title from Konami that still resonates in the hearts of many to this day, with its over the top action paired with a ton of exploration to keep you occupied for hours on end. As you control Alucard, the main protagonist of the series, you run around the castle in search for clues and to come to terms with Maria and Richter. Due to this game's popularity over the years, it became known as a sleeper hit and arguably the best Castlevania title of all time.
Symphony of the Night incorporated a very Super Metroid type feel, which eventually became known as Metroidvania, a term coined to the franchise because it resembled the very back and forth feel of the Metroid series, as you explored the many stages in search for items and clues to help develop the story. There's just an enormous amount of things to do in Castlevania: Symphony of the Night that it all feels so in your face and yet, that very same adrenaline rush is what keeps you hooked for hours. While it may not have the best overall music compared to other titles, its role playing elements tied with being able to shapeshift, whip and slash your way through enemies is just too much to ignore.
---
2. Monster Hunter Generations

System/Platform: Nintendo 3DS
Publisher: Capcom
Developer: Capcom
Release Date: November 28, 2015
Nothing feels more gratifying than picking up your longsword, throwing on your suit of armor and running around with friends in a gigantic world full of monsters. As you travel around the vast landscape in search for rare items you'll come across huge intimidating creatures who will try to block your path, but with your team to your side hunting these monsters never felt more stimulating. Monster Hunter Generations is Capcom's popular monster hunting title that takes players on a crazy wild adventure, as you hunt various types of monsters and complete objectives along the way.
The major selling point of Monster Hunter Generations is certainly in its gameplay, because there's no other game out there that truly creates this feeling of immersion as you're completely surrounded by mammoth creatures and you need to rely on your wits to get the job done efficiently. Monster Hunter Generations really involves a lot of teamwork to progress, so if anything it helps players understand different roles that they can play, but moreso help us understand that as a collective we can accomplish more in the end.
---
1. Final Fantasy XV

System/Platform: PlayStation 4, Xbox One
Publisher: Square Enix
Developer: Square Enix
Release Date: November 29, 2016
Final Fantasy has become a household name for more than a decade now, and still continues to shine brightly across the globe. With every new title comes a new gripping story to come along with it, and in the case of Final Fantasy XV the story made sure to leave its mark. You play as the main protagonist Noctis as he and his team work together to reclaim his homeland of Lucis, after it had been dominated by the powerful empire of Niflheim.
A lot of the action just spews out the minute you turn on the game because right away you're thrown right into the deep end, and you must fend for yourself as you learn the ropes of the game's mechanics. Once you've devoted enough time to understanding how everything works, the game takes you on a wild ride that has you riding on chocobos, driving around in your snazzy Regalia to travel to the next objective, or just hacking and slashing your way through enemies as you make your way to the boss. It's non-stop action at every corner, tied with a splendid story that will not only captivate you but surely make you appreciate Square Enix's genius when it comes to narrative.
---
Final Thoughts
The action anime genre has so much golden titles stored in its big treasure box, and next year new additions will be added to the already stacked list. Some honorable mentions would be Yoru no Nai Kuni, which is about to see its sequel released next year, Akiba's Trip, Tokyo Xanadu, Toukiden 2, Valkyria: Azure Revolution, and much more. Which action anime games do you love the most? Let us know your list in the comments section down below and be sure to share your insights on our list as well! Also, be sure to follow us on Twitter to stay current and to retweet our articles to keep our community buzzing!
As always, if you want to know about all the latest buzz straight from the bee's nest in Japan, be sure to keep it locked here at Honey's Anime.
---