INTRODUCTION
When we read light novels, our minds want to be taken away towards far off lands. The feeling of being whisked away on a journey very much away from the normal everyday motions we go through. Thus there is no better light novel genre to perform this feat than the adventure genre. We ask you now do you want to be thrown into perilous journeys or banter filled adventures? If the answer is yes then we are happy to present to you our Top 10 Adventure Light Novels list.
The beauty of an adventure light novel is the sheer amount an author can do. Whether it's an adventure of love or a journey to find legendary treasures, the true test is if the author creates a world that feels real despite being obviously contained in a fictional world. With our list of adventure light novels, we looked for not only our favorites but also what fans felt were great adventure light novels as well. As we crafted this list, we know you're going to fall in love with the adventure light novels below, and if you haven't read any of them, we know once you read why an adventure light novel is on our list, you'll want to jump on it. Now then let us pack our bags—metaphorically obviously—and begin this journey.
10. Allison

Authors: Sigsawa, Keiichi- Kuroboshi, Kouhaku
Genre: Action, Adventure
Volumes: 4
Published Date: Mar, 2002- May, 2004
Roxche and Sou Beil are two warring countries within a world where only one continent exists. The war has continued to cause friction and strife for far too long leading to a risky venture from two friends. Allison—a pilot from Roxche—and her childhood friend have decided to take a journey in hopes of finding a legendary treasure. This so called treasure may cause the war between the two territories to finally come to a close. However, this won't be an easy feat as the treasure is contained within Sou Beil territory.
A risky journey. The hopes of finding a fabled treasure. These two themes are perfect for a great adventure light novel and thus why we start with Allison. Author Sigsawa Keiichi did a great job creating a perilous adventure with a lot on the line thanks to some great storytelling and great set events. At only 4 volumes while Allison is a short story it doesn't feel rushed and has just enough to make it worthy of being on our top ten adventure light novels list.
---
9. Everyone Else is a Returnee

Authors: Toika
Genre: Action, Adventure, Comedy, Fantasy, Harem, Martial Arts, Mystery, Romance, Supernatural
Volumes: 349 chapters
Published Date: 2016
A young man has known only solitude most of his life. During school, he was left to his own devices and has become null to it. This is the life Yu llhan has come to recognize. Then one day he gains a power thanks to the legendary Akashic Records and gains vast knowledge and power. When humans leave the world, Yu continues to train his mind and body to become a being of pure power. Luckily for the world, when humans return they also meet terrible monsters but have Yu on their side.
Author Toika made an especially interesting story in the form of Everyone Else is a Returnee. Toika's work fuses a nice mixture of genres into a very unique adventure story. We really loved this Korean adventure light novel and were amazed at the beautiful concepts of what it means to be by yourself and to try to find your inner peace. Everyone Else is a Returnee definitely needs some more recognition and that's why it happily sits on our Top 10 Adventure Light Novels list. Trust us folks, 349 chapters may seem like a lot but you'll find yourself speeding through in no time.
---
8. Madan no Ou to Vanadis

Authors: Kawaguchi, Tsukasa- Yoshiwo- Katagiri, Hinata
Genre: Adventure, Ecchi, Fantasy, Historical, Romance, Harem
Volumes: 16
Published Date: Apr, 2011- Present
In Madan no Ou to Vanadis, we get to follow an interesting story of warriors and people fighting for power. Several souls were granted legendary weapons called the Vandais. Those seven souls became considered leaders to their respective territories which in return keeps the fighting to a minimum. One day during a fight between Vandais warrior Eleanor Vertalia and the territory of Brune, Tigre a strong archer challenges Eleanor but loses. Now Tigre must succumb to the whims of Eleanor but what does fate hold in store for him?
Madan no Ou to Vanadis meshes action and adventure in great ways. The fight scenes are well described giving a nice image of swords clashing and warriors going at it at full force. We also like that author Kawaguchi Tsukasa mixes in other elements—such as ecchi and fantasy—to create a nice flow to what could have been a cliché story. Madan no Ou to Vanadis even received an anime series so you know this needs to be checked out to see what all the fuss is about. With action, cute girls and a large world to explore, it's no surprise we added Madan no Ou to Vanadis to our adventure light novel list.
---
7. Campione!

Authors: Taketsuki, Jou- Sikorsky
Genre: Action, Adventure, Comedy, Ecchi, Fantasy, Harem, Romance, Shounen, Supernatural
Volumes: 8
Published Date: Sept, 2008- Present
There exists in this world legendary warriors called Campione. Imbued with magical powers and elements, these warriors are respected in the world. One day a young man named Kusanagi Godou kills a god-like entity and gains the power of a Campione himself. Now the once baseball loving young man must fight back against those who abuse the Campione power. Alongside Kusanagi will be his followers who also just happen to be a bunch of cute girls.
First off, we here at Honey's Anime are insanely jealous of Kusanagi. Not only does he get to fight off other god-like beings with mythical powers but he has a bunch of girls at his side. All jokes aside though, Campione by author Taketsuki Jou is a simple adventure story with plenty of comedy and awesome action to keep readers interested. We love the art as well thanks to illustrator Sikorsky who really gives some nice page breaks and covers to their work. Overall, while it may be an ecchi adventure story at 8 volumes long—and counting—this story will keep you entertained fully.
---
6. Sevens

Authors: Tomozo- Mishima, Yomu
Genre: Action, Drama, Fantasy, Adventure, Supernatural
Volumes: 3
Published Date: Dec, 2015- Present
Lyle Walt has always hoped to inherit his family's land. However, Lyle becomes an outcast when his sister is born and she seems more eager to gain the land. When Lyle turns 15 years old, his sister challenges him to a duel where the loser must leave the household and unfortunately Lyle loses. Luckily, the family's groundskeepers give Lyle some comfort and when he receives a gem from his grandfather, he goes on a journey with his friend and once fiancé candidate Novem. Lyle will discover the gem's power as it holds seven of his ancestor's skills within the gem.
Sevens is a really intriguing work by author Mishima Yomu. Lyle being forced out of his home gives Mishima a lot of room to have the young man travel the world to better himself towards greater things. Action is also a big role of Sevens as Lyle will get into plenty of fights with others along his journey and each fight feels visceral thanks to Mishima's expert writing. Originally only in chapter format, we're happy this adventure light novel is now being published and is currently at 3 volumes. When you can pick up this wonderful series and be prepared for an epic journey.
---
5. Gate: Jieitai Kanochi nite, Kaku Tatakaeri

Authors: Yanai, Takumi- Kurojishi- Izuka, Daisuke
Genre: Action, Adventure, Fantasy, Military
Volumes: 10
Published Date: Apr, 2010- Dec, 2011
Sometime in the year 20xx, a mysterious portal opens in Tokyo. The strange portal now being dubbed as the Gate spews forth monsters and various troops that begin to cause chaos. Japan launches the JGSDF immediately to combat the threat. Youji Itami a 33 year old super otaku—who also happens to work for the JGSDF—is tasked with investigating the other world beyond the portal due to his odd expertise in anime like things. Now this Otaku may be the only thing preventing even more deadly beings from coming out and possibly flooding Japan.
Gate: Jieitai Kanochi nite, Kaku Tatakaeri—or simply Gate—seems outlandish but thanks to some clever banter and narrative, Gate is a real treat to read. Gate at times can be serious and then other times, comical thanks to Youji's interactions with some odd residences of the world beyond the portal. While there is an anime out for this series—which is amazing by the way—the light novel might be just as good, if not better. If you happen to be one of those readers who can't wait till a new volume releases, we're happy to let you know Gate is also complete so you can binge reading it whenever you want. With great art, a fun adventure story and plenty of epic storytelling Gate will be one of your favorite light novels after you dive into the first volume.
---
4. Gosick

Authors: Sakuraba, Kazuki- Takeda, Hinata
Genre: Mystery, Drama, Adventure, Historical, Romance, School, Shounen
Volumes: 9
Published Date: Dec, 2003- Jul, 2011
Gosick takes place in 1924 in a European country hidden away in the Alps. Kazuya Kujo loves urban legends and horror stories. However, Kazuya's favorite tale is about the Queen Berry, a mysterious ghost ship that harbors many mysteries. Meanwhile Kazuya's friend Victorique is also interesting in stories but only ones based on reality and not fiction. Well, these two friends are about to discover the Queen Berry is all too real and it will be up to them to see if they can unravel the mysterious aboard the ship.
Mystery is a great place for adventure stories to thrive. What better way to start on an adventurous light novel than by the chances of solving a mystery? That's what we loved about Gosick. This mysterious adventure feels cleverly written and well-designed thanks to the trio responsible for its conception. At 9 volumes long, you won't have to worry about this adventure light novel ending too suddenly. We fully recommend Gosick for those who love an adventure story hidden behind a good mystery tale.
---
3. Baccano!

Authors: Narita, Ryohgo- Enami, Katsumi
Genre: Action, Mystery, Fantasy, Adventure
Volumes: 22
Published Date: Feb, 2003- Present
Back in 1711, several alchemists set forth to accomplish something mystical. Combining their skills, the alchemists were able to summon a supremely powerful demon. This demon then gave all the alchemists the gift of immortality but at a price. If one of them wishes to die, they would need to be devoured by one of the immortal alchemists. When one of the alchemists does just that, the rest scatter the globe to flee and go into hiding. Now in the year 1930, a special event is going to happen on a train called The Flying Pussyfoot where several souls will find their paths intersecting with one another.
From author Narita Ryohgo and illustrator Enami Katsumi comes Baccano! What makes Baccano! such an interesting adventure tale is that instead of following one character, author Enami Katsumi focuses on several. Each character gets their chance to tell their story from their perspective and as you read you'll begin to understand the narrative aims to tell one cohesive story. Baccano! is easily one of the most interesting adventure tales around and you'll fall in love with it quickly. As a side note we recommend checking out the anime which is pretty amazing in equal measure.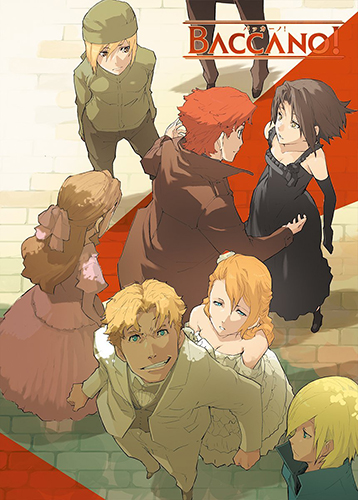 ---
2. Ookami to Koushinryou (Spice & Wolf)

Authors: Hasekura, Isuna- Ayakura, Juu
Genre: Adventure, Drama, Fantasy, Historical, Romance, Supernatural
Volumes: 17
Published Date: Feb, 2006- 2011
Traveling merchant Kraft Lawrence just has one goal in life. Lawrence hopes to one day buy his own store so he can kiss the days on the road goodbye. However, that dream is still far off and for now he must continue selling his wares from town to town. One day when he arrives at a local village celebrating a wolf-like festival, he ends up having his whole life changed when he meets Holo the wisewolf. Though a god-like wolf deity, Holo doesn't feel linked to her land anymore and asks Lawrence if he would bring her to a village from her memories up north. Now the two travelers will find their lives forever entwined as they begin a journey together.
Ookami to Koushinryou, or better known as Spice and Wolf, is a fantasy romance story that brings readers along for a beautiful journey. Lawrence and Holo's adventure is not only an interesting story about an uncommon romance but also one to see how a salesman lives in a fantasy world. One of the more beautiful elements of Spice and Wolf has to be the banter and narrative thanks to author Hasekura Isuna who makes sure the tale is never dull and always exciting. Spice and Wolf is a must read for those who love the adventure light novel genre and while the anime is excellent, it all started with the light novels. Once Spice and Wolf ends though, don't feel bad if you cry. We here at Honey's Anime did a bit…
---
1. Kino's Journey: The Beautiful World

Authors: Sigsawa, Keiichi- Kuroboshi, Kouhaku
Genre: Adventure, Mystery, Drama, Fantasy, Sci-Fi, Psychological
Volumes: 20
Published Date: Mar, 2000- Present
Kino's Journey: The Beautiful World follows titular heroine Kino and her odd talking motorcycle as they travel the world. Kino travels to different cities and locations but never stays for longer than three days and two nights. This young adventurer only wants to learn more about her world and see what makes people tick. With no destination set forth, Kino's journey seems aimless. However, for the young Kino, that's the beauty of an adventure.
Our list of adventure light novels ends with what we consider one of the best ever crafted, Kino's Journey: The Beautiful World. For 17 years, Kino's personal journey has continued to amaze us thanks to author Sigsawa Keiichi's expert writing and storytelling. 20 volumes strong, we have yet to find anyone who considers Kino's Journey: The beautiful World anything but interesting and at times mysterious. Alongside a beautiful story, illustrator Kuroboshi Kouhaku has continued to provide beautiful art that makes Kino's journey even more immersive and strong. If you have never read Kino Journey: The Beautiful World then hopefully this has convinced you to reconsider changing that quickly.
---
Final Thoughts
With that folks this journey has come to a grand finale. We hope you enjoyed this adventurous tour of some of the best adventure light novels we could find out in the world. However, the beauty of any one journey's end means there's another right around the corner and the same is applicable to books. If you have any adventure light novels that you feel are amazing, let us know in the comments to help out others find more adventure light novels to read. If you fell in love with this list of adventure light novels and are depressed it's over, well don't be folks, we're always writing more top ten articles so you won't find yourself running out of quality articles to read here on Honey's Anime.
---