También puedes leer este artículo en:Español
Beauty and balance all in a box, an anime bento is one of those wonders of Japan that many people covet around the world. While anime food is undeniably mouth watering and hunger inducing, an anime bento lunch appears to be so amazing that you will cry about those days when you brought a plastic wrapped sandwich in a brown paper bag or lunchables to school.
Bento lunches can be traced back to the Kamakura period where dried rice was placed in a bag to be re-cooked later for lunch, but the lacquered bento box comes from Azuchi-Momoyama period. It wasn't until the Edo period that the bento lunch became more popular and widespread. The bento lunch originally got its name from a slang term used for the word "convenience" from the Song Dynasty, but it has since evolved since then. It usually refers to a single portioned meal stored in a bento box. Bento boxes range from disposable types to beautifully handcrafted lacquered boxes.
There are many different types of bento lunches available from plain bentos like hinomaru bento (just rice and umeboshi) to kyaraben (character bento) to chukaben (Chinese food bento). Regardless of the type, ost bento boxes are balanced between rice (or another carb), protein, vegetables, and fruit. The Japanese take the time to make sure that their bento boxes are visually appealing and nutritionally balanced. Bento making can be quite the art form.
If you're not hungry after all that, you will be because we are going to show you our choice for the top anime bento lunches!
10. Hamburger Bento (Himouto Umaru-chan)

Episodes: 12
Aired: July 2015 - September 2015
The first bento on our list is made by Douma Taihei from Himouto! Umaru-chan. It's a delicious looking hamburger bento! A Japanese hamburger steak is different from the hamburger patties found sandwiched between a sesame seed bun; it is made with a combination of ground beef and ground pork coupled with other ingredients and topped with a sauce. For a bento lunch, hamburger steak is made into little patties to fit inside the bento box!
What makes Taihei's hamburger bento so special is how much time and consideration he put into it to dice up bell peppers to mix with the hamburger so that Umaru would be able to eat her vegetables without tasting them. You can see how much Taihei cares about Umaru's health, but he knows what she likes. Umaru is a junk food junkie and does not eat her veggies, so we do see tamagoyaki, pasta, and tako dogs included for her picky tastes with a small amount of lettuce and tomatoes on the side. Although it is such a simple bento, it reflects just how much Taihei thought about Umaru.
---
9. Usagi Bento (Gochuumon wa Usagi Desu ka?)

Episodes: 12
Aired: April 2014 - June 2014
Nothing fails to put a smile on your face like a cute kyaraben (character bento)! The usagi bento lunch from the anime Gochuumon wa Usagi Desu ka? is an adorable example of a kyaraben. While it is not necessary to shape your foods into characters or put faces on them, they can really brighten up someone's day.
Shaping the rice can be done using saran wrap or with your hands and the face is made with seaweed using a face cutter, or if you're really confident, a knife! The bunny even has a little carrot bow tie! The hard boiled eggs also have little faces to make them look like chicks. The tako dogs can be made with arabiki sausage or regular hot dogs and cut using a knife then fried in a pan or even microwaved to create the curled legs of an octopus.
To balance the meal, veggies were added on the side with the tamagoyaki being a sweet side dish to go with the meal. Tamagoyaki is a sweet rolled egg omelet found in many anime bento! Although it looks like a difficult feat to make a kyaraben, it can actually be easy to make a cute yet balanced kyaraben to brighten up someone's day!
---
8. Sweetheart Bento (Karin)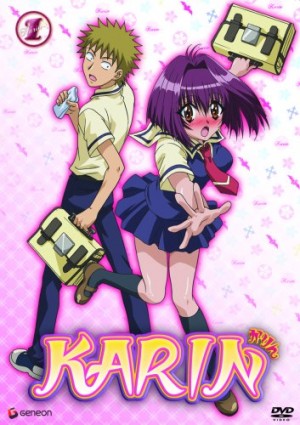 Episodes: 24
Aired: November 2005 - May 2006
In Japan, making a bento for your lover is a sweet gesture to show them how much you care. In many anime, you have probably seen girls excitedly making delicious bento lunches because it makes them happy to have someone they love eat their food. There's a feeling of satisfaction, especially after all the effort is made into making a delicious bento lunch. It can be mutually benefiting on both ends.
The bento lunch shown here is from the anime Karin in which Karin makes a special sweetheart bento for Kenta! This bento lunch has nimono vegetables which means the vegetables are simmered in a stock that may be seasoned with sake or soy sauce. To make the meal more satisfying and hearty, there is a good amount of protein in the tako dogs and chicken kaarage, which is Japanese fried chicken made using potato starch instead of flour to give it a lighter taste. Another protein is the tamagoyaki, which is on the sweeter side, but adds some sweetness to balance out the more salty foods. Lastly, there is Japanese potato salad made using Japanese mayo like kewpie.
This anime bento not only blatantly says how Karin feels about Kenta, it also shows how much thought and time she put into the bento. This bento lunch is a hearty one for someone in need of energy! Karin took a lot of time considering what Kenta needed and made a bento perfect for him, which is not only satisfying, it's heart warming. You can tell that she really cares and worked hard on this anime bento for Kenta. Just look at the headbands on those tako dogs!
---
7. Curry Rice Bento (Charlotte)

Episodes: 13
Aired: July 2015 - September 2015
When they say that the Japanese eat a lot of curry, they aren't kidding. The average Japanese family will eat curry once a week, so how do you incorporate that into your bento since you might have leftover curry from the night before or it might just be a quicker meal to prep?
In Charlotte, Joujirou prepares a delicious beef tongue curry rice bento for Yuu at the hospital. Yes, beef tongue curry! While it may sound unusual, especially for western foodies, don't be so fast to dismiss it! If you aren't feeling quite so adventurous, though, you can switch it out for a different protein source if you'd like.
Not only is this anime bento a testament to the friendship between Joujirou and Yuu, it is also a delicious meal to warm the body on any cold afternoon. While making curry is as easy as making a roux (or using curry blocks), the tricky part is keeping the rice for your curry bento lunch from getting soggy before lunch. Also, cold curry may not be tasty for everyone, which is why Joujirou prepared a special bento box for his curry bento lunch! You need a bento that is insulated to keep the warmth in, but it also has separate containers for the different foods so that nothing touches before it's time to eat.
Zojirushi has an entire line of bento boxes for this type of meal in mind. With this design, you can have a warm meal on the coldest days!
---
6. Omeppai Bento (Ben-to)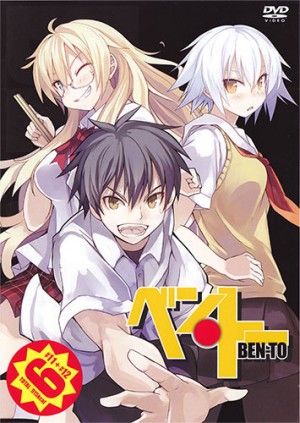 Episodes: 12
Aired: October 2011 - December 2011
For those mornings when you're too busy to cook or those nights you're too lazy to cook, you can get a konbini bento. Of course, in a list of anime bento, you cannot forget the anime Ben-to! Ben-to has had many special konbini bento, but there's a special one that's not just a meal, it's fan service! The omeppai bento sold at the pool in Ben-to is just one of many delicious konbini bento up for sale at half price, so our favorite characters duke it out to get a taste of the half priced goods!
The omeppai bento is an anime bento notable for its appearance. While many anime bento are esthetically pleasing, the omeppai bento will catch your eye for a different reason. Visuals aside, the omeppai bento is sure to wet your appetite. It is an omurice bento lunch which has two different types of fried rice, possibly of the Hawaiian variety considering the other bentos at the pool. The omelets themselves are made with condensed milk, which must add to the fluffiness of the omelet while making them sweet, amongst other possible outcomes.
Now, who's brave enough to try the omeppai bento in public?
---
5. Shoujo Manga Bento (Gekkan Shoujo Nozaki-kun)

Episodes: 12
Aired: July 2014 - September 2014
Nothing says "I love you" like a shoujo manga bento. Unless it's an anime bento made by Nozaki. If it's for his manga, Nozaki can do anything so this shoujo manga bento by Nozaki shows just how devoted Nozaki is to his craft.
The rice for his homemade maki is seasoned and rolled in a way to create a heart shaped center. The tamagoyaki has ham in the center and is ham in the center and is cut and placed to create a heart shape while in the bento box. The chicken kaarage and smiley face dango have cute little food picks to add to the charm of the bento. Not only do the tako dogs have faces and headbands, the rest of the side dishes are covered in vegetable flowers and there's a large sakura shaped carrot.
Using basic Japanese bento items, Nozaki made an adorable anime bento that makes you want to stop and take a picture of your food. Who says you have to be a chef to cook for your job?
---
4. Sports Day Bento (Koufuku Graffiti)

Episodes: 12
Aired: January 2015 - Mary 2015
When there's a sports festival, you need calories! The sports day bento from Koufuku Graffiti will fit the bill nicely to give you the boost you need to dominate the field!
The Koufuku Graffiti anime bento contains chicken kaarage on the bone (which brings out more of the flavors), lemon and sweet potato, Japanese potato salad with chikuwa, hamburger steak, tako dogs, seasoned tamagoyaki, and onigiri! There's also some broccoli to act as fillers and provide the extra nutrients. This anime bento is packed full of delicious proteins to help failing muscles and carbs to give any student more energy to keep trekking on.
It's a sports day essential bento lunch all packed squarely away in a beautiful lacquered bento box.
---
3. Three Kinds of Onigiri Bento (Shokugeki no Soma)

Episodes: 24
Aired: April 2015 - September 2015
Onigiri are staples in bento lunches and make quite satisfying meals, but of course, Shokugeki no Soma shows us how much potential an onigiri can have in terms of taste.
Megumi may not be the most confident girl out there, but she does have a lot of skill. Her three-kinds-of-onigiri bento, as the same suggests, features three different types of onigiri to satiate that roaring hunger. One onigiri is made with garlic pork made tender by cooking the pork with honey so that it melts in your mouth. The second onigiri has a negishiodare filling that is made with negi, chicken, and some other essential Japanese cooking ingredients like ginger and sake.
Then the onigiri is topped with green onions. The last pair of onigiri have a shio kombu cheese filling. It may sound like an odd combination since the kombu is simmered in soy beforehand, but as stated in Shokugeki no Soma, they compliment each other beautifully! With these three different unusual yet delicious fillings, don't you dare label onigiri as boring! They make a great bento lunch!
---
2. Asian-Styled Bento (Bonjour Koiaji Patissiere)

Episodes: 24
Aired: October 2014 - March 2015
It's not unusual to find foreign foods in a bento lunch like Chinese food, but this delicious bento from Bonjour Koiaji Patisserie is definitely a game changer. This Asian-styled bento features several Asian influences.
The egg topped fried rice is a Korean influenced dish. The spring rolls appear to be the Vietnamese goi cuon which are not fried and contain a good amount of vegetables and proteins like pork and shrimp, which will compliment the included peanut sauce nicely. There's also banh xeo in this anime bento, which is a Vietnamese crepe filled with bean sprouts and proteins like shrimp, wrapped in lettuce and consumed with fish sauce. With so many delicious main courses, it's amazing that there are still side dishes to go with it, but this anime bento is a very impressive bento especially when you just aren't feeling like Japanese food.
---
1. Luxury Bento (Toradora)

Episodes: 25
Aired: October 2008 - March 2009
This luxury bento made by Yuusaku's mother is amazing enough to spark a feud! Or at least the fighting spirit in Ryuuji. This three-tiered bento is a wonderful bento that one can share with their friends, must like Yuusaku did with it. Yuusaku's anime bento contains some basic bento staples, but it also has some very luxurious ingredients added in to make any student jealous!
The basic bento staple foods would be the nimono, fried rice, tako dogs, steamed vegetables, kaarage, hamburger steak, and tamagoyaki. There's even some katsu which isn't uncommon for bento lunches either. This bento lunch takes it over the top with sushi rolls, inarizushi, and addition proteins like steak and who could miss that whole lobster? It is an anime bento lunch for the eater with distinguished tastes! While Yuusaku shared his bento, how many of you out there would be willing to give up anything in this anime bento?
---
If there's nothing that anime does better than entertain, it's making us hungry with all of the food. Anime foods never fail to impress us especially when students and homemakers alike take the time to make mouth watering bento boxes that are both delicious and nutritious. How come westerners don't have that type of balance? Bento lunches are great for picnics, lunch at work or school, taking on trips, or even to take to events! Why eat out when you have a bento lunch? Are there any bento foods that you want to try the most?