Nothing beats a good coffee after a long day of life. This is true for some of our favourite anime characters who spend most of their time putting their feet up at various restaurants, cafes and coffee shops, or discuss their plans, or just hang out with their friends. That being said, we thought it would be great to put together a short list of some of the best places to have a good cup of coffee or meet up with a friend in the vast anime world. These are the top 10 anime cafes/coffee shops we wish we could visit for ourselves, but unfortunately have to resign to simply experiencing them through the eyes of our favourite protagonists, but that doesn't take away from their awesomeness, so why not visit Honey's Café, where other cafés are also welcome!
10. Maid's Sheep Café from Amnesia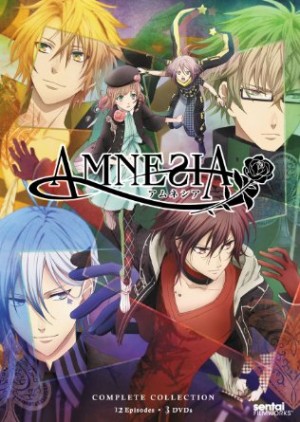 Episodes: 12
Aired: January 2013 – March 2013
Being a staple of Japanese café culture, what better way is there to start off a top 10 list with a maid café? Maid's Sheep Café is the place where the heroine spends most of her time, as it is her place of work. The Maid's Sheep Café has a somewhat classier feel to it than traditional maid cafés and it features male employees dressed appropriately in very formal clothing, complementing the expected presence of maids in the café. The manager of the Maid's Sheep is a man named Waka, who, like his employees, dresses in formal, yet distinct clothing which fits the theme of the Maid's Sheep.
Red is the dominant colour in the Maid's Sheep and this is reflected in the employee uniform, with red aprons donned by the women and several traces of red apparent on various parts of the uniforms of the male employees. The Maid's Sheep is where a large majority of events in the Amnesia anime take place and in fact, Maid's Sheep is where everything begins; the heroine collapses and loses her memory in the Maid's Sheep. If you're a fan of not knowing who you are between cups of great coffee and awesome service then the Maid's Sheep is perfectly tailored to suit your needs!
---
9. Kawaji House from Bokura wa Minna Kawaisou (Kawai Complex Guide to Manors and Hostel Behaviour)

Episodes: 12
Aired: April 2014 – June 2014
Kawaji House or the Houseboy Student Café is a traditional Japanese café and our protagonist, Usa Kazunari's place of part-time employment. It sports a traditional Japanese atmosphere with choices of meals on low tables and even private rooms where certain customers can enjoy a degree of solitude, while being served by waiters dressed in yukata. Kawaji House is owned by Shinohara Tae and due to Usa's employment there, it is a fairly busy place as Usa's eccentric housemates spend their time lounging around.
Customers can select who they would like to be served by and therefore it is very possible to create pleasant relationships with the servers there. The quiet Japanese feel of Kawaji House makes it an essential on any anime café list and it is the perfect place for peaceful passing of time alone or with friends.
---
8. Dicey Café from Sword Art Online

Episodes: 24
Aired: July 2012 – December 2012
Owned and run by Andrew Gilbert Mills in the real world, Dicey Café is the hangout spot of choice for Kirigaya Kazuto and his friends, where they'd discuss plans and even full dive while in the café. While Andrew was trapped in SAO, his wife kept Dicey Café's doors open and it was the venue where Kirito and his SAO surviving friends celebrated beating the game. Dicey Café has a small interior, with only four tables available and a bar, usually manned by the owner, Andrew, himself.
Dicey Café's small size makes it better suited to smaller, more intimate group gatherings or for the entertainment of small scores of customers. It has slightly dark lighting, giving it a relaxed vibe and making it perfect for anyone looking to take a break from a lengthy, stressful gaming session.
---
7. The Rabbit House from Gochuumon wa Usagi Desu ka? (Is The Order a Rabbit?)

Episodes: 12
Aired: April 2014 – June 2014
Situated in a beautiful small town is strangely named Rabbit House Café. The name may be misleading to some and completely ambiguous to others, but the only rabbit reference in the entire café is the presence of the rabbit worn on waitress Chino's head. Complete with tables for one or many and various blends of coffee to choose from, the Rabbit House is an adorably-sounding hangout spot with moe-on-moe-on-moe serving whoever walks through the door.
The Rabbit House is a fairly standard café. There are special staff who work there and ensure that the café has a relaxing atmosphere. Relish stroking the soft fur of a bunny while enjoying sips of multiple blends of coffee and the artistry of waitress Rize as she expertly crafts lattes. The Rabbit House is the perfect café for anyone who likes anything remotely cute.
---
6. Maid Latté from Kaichou wa Maid-sama! (Class President Is a Maid!)

Episodes: 24
Aired: April 2010 – September 2010
Like any other maid café, Maid Latte sports the same theme with several different events available weekly for ultimate customer satisfaction. Cute waitresses complete with cute maid outfits and cute nicknames make Maid Latte aesthetically pleasing. The plethora of events such as Nekomimi Day, Anime-Cosplay Day, Bunny Ears Day or even the colourful Maid Rangers Day make Maid Latte one of the most creative cafés on this list and it is definitely a go-to place if you wish to kill time in an effortlessly enjoyable way.
Maid Latte prides itself on customer experience; events and games are used to spice up what would normally be a quiet cup of coffee or a small gathering with friends. The maids are friendly and generally well-liked and Maid Latte is definitely the maid café with the most personality. Just make sure you don't grow too fond of the maids; some of them are dangerous!
---
5. May Queen Nyan-Nyan from Steins;Gate

Episodes: 24
Aired: April 2011 – September 2011
Following the popularity of maid cafés in Japan, Akihabara in Tokyo more specifically, May Queen Nyan-Nyan makes an appearance on this list. Run by Faris Nyan-Nyan (Akiha Rumiko), May Queen Nyan-Nyan boasts incredible popularity as it was the medium through which Feyris brought moe culture to Akihabara. The employees wear animal ears in addition to traditional maid uniforms and some even wear wigs, giving the café a slightly different feel to most other maid café.
May Queen Nyan-Nyan is a moe paradise in Tokyo. It is a great place for people to relax with friends and experience moe awesomeness in the heart of the otaku realm that is Akihabara. You never know, you may be served by the Moe Queen, Faris Nyan-Nyan herself!
---
4. Shirokuma Café from Shirokuma Café (Polar Bear's Café)

Episodes: 50
Aired: April 2012 – March 2013
Shirokuma Café or Polar Bear's Café is an aptly named café nestled in a small neighbourhood area, located close to the zoo where animals and humans can enjoy a range of food and drink and good human or animal company. It is a bright café with several tables to seat several people and one of the strangest cafés due to the fact that it is named after, run and managed by a polar bear.
Polar Bear runs Shirokuma Café very well and because of its close proximity to the zoo, many animals enjoy great service when their zoo shifts end. It boasts a very warm and relaxed vibe. Despite what you might think, Shirokuma Cafe enjoys its fair share of customers. Shirokuma Café, the best place to enjoy the company and service of fully competent, restaurant-running animals!
---
3. Café Endou from Dagashi Kashi

Episodes: 12
Aired: January 2016 – April 2016
At third on our café list is none other than Café Endou from Dagashi Kashi, run by the Endou family with Endou Saya, Kokonotsu's childhood friend, who works as a waitress and barista at this pleasant little establishment alongside her twin brother, Tou. The Café boasts a great interior as well as great coffee expertly prepared by Saya, a coffee lover who takes pride in the coffee she makes.
Based in a small town, Café Endou is a quieter café than the other cafes on this list. It gives Cafe Endou a rustic feel, unlike other cafés based in heavily populated urban areas. Café Endou is perfect for solitary enjoyment of a café atmosphere and is a brilliant place to stop by after enjoying the various dagashi from the Shikada Dagashi shop.
---
2. Café Anteiku from Tokyo Ghoul

Episodes: 12
Aired: July 2014 – September 2014
Located in the 20th Ward of Tokyo, Café Anteiku is one of our favourite anime cafés. Run by an old Ghoul who goes by the name Yoshimura, its doors are open to humans and Ghouls alike. It also has the unfortunate pleasure of being the backdrop of some very unfortunate events. Still, Cafe Anteiku is usually a pleasant little café with tables lined up along a window facing the street through which one could enjoy a good cup of coffee while looking for their next meal in the scores of people outside Anteiku.
Cafe Anteiku's doors are open to normal human beings as it serves as a means through which Ghouls and humans can come into contact with and come to understand each other. The staff are generally friendly and the coffee is enjoyed by many. The café serves as more than just a place where people relax and meet with friends; however. Many hungry Ghouls incapable of hunting their own prey visit Cafe Anteiku for the rations that the staff at the café tend to give to struggling Ghouls. Rest assured, human customers are protected by an agreement amongst staff against the hunting of Anteiku customers so rest assured: you can enjoy your coffee and a little non-human company in a safe place.
---
1. Eve no Jikan from Eve no Jikan (The Time of Eve)

Episodes: 6
Aired: August 2008 - September 2008
In a world where domestic androids are commonplace and even treated like lesser technology like normal kitchen appliances, there exists a special café where the line between human and android is temporarily erased. At this cafe, both humans and androids can enjoy each other's company, without knowing the identity of the other. It is a peaceful space where people and androids alike can enjoy company, food, drink and even the ambience. The café has only one rule: no discrimination between humans and androids. This cafe is known as The Time of Eve.
The Time of Eve is a very dark room and very spacious, with several conventional seating areas and various couches convenient for lounging and it attracts a wide array of personalities, making it one of the coolest cafés to visit. It is also one of the only places where a human can experience fairly human interactions with androids, which are meant to be mere mechanical servants of humans. The Time of Eve is one of the most unique cafés in anime and definitely a place worth putting in your activity logs.
---
Conclusion
Humans are social creatures and it is of no surprise that social creatures create social spaces. Cafés are a staple of modern society and have fully immersed themselves in human culture and this is reflected in our anime. Our favourite characters do a plethora of interesting things in cafés and it would only make sense for us to give them a unique shoutout. So, be sure to visit each one of these cafés with your friends and tell us what you think in the comment section below – we're sure the owners of each establishment will appreciate the extra traffic!
---