Ever since its first appearance in the arcades, fighting games have been a huge thing for people, young and old, and regardless of their gender. Games themselves have evolved through the ages as well, from the 'not-so-appealing' to realistic and out of this world graphics that never fails to amaze the fans of these fighting games.
The games we have chosen for you all are based on them having an adaptation into an anime, an anime adapted into a game, or use characters from anime series that have been released throughout the years, and some which have a very accurate anime style/design to them.
So here's the Top 10 Anime Fighting Games!
Ready? Fight!
10. Dengeki Bunko: Fighting Climax

Developer: Ecole, French-Bread
Release Date: October 6, 2015
If you like the idea of having all of your favorite characters from Dengeki Bunko works and SEGA characters put together in a 2D style fighting game, then you would definitely enjoy this cool fighting game. Dengeki Bunko: Fighting Climax features popular characters from Sword Art Online, Durarara!!, Boogiepop Phantom, Toradora!, and many more!
With its unique battle system featuring the Climax Meter, which can be used to execute signature moves that recreate highlighted scenes from the original novels of each character. Dengeki Bunko: Fighting Climax is now available on Arcade machines, PS3 and PS Vita. There is a PS4 version out in Japan but it has not yet been released overseas, unless you have a Japanese account!? So be sure to check them out!
---
9. Persona 4 Arena Ultimax

Developer: Atlus, ARC System Works, P-Studio
Release Date: September 30, 2014
Persona 4 Arena Ultimax is actually a spin-off fighting game from the Persona 3 and 4 RPG game that was released in 2012. The developers expanded the well-known RPG game into a fighting game for players to enjoy the full experience from the Persona series. It features characters from both Persona 3 and 4, as well as a new character, Sho Minazuki.
Despite having typical elements of anime-styled fighting games, Persona 4 Arena Ultimax added some juicy, unique features to the battle system. Unique features include the integration of Status Ailments from the original Persona series, and All-Out-Rush which allows players to knock their opponents to the air with button mashing and a Fatal Counter hit. Persona 4 Arena Ultimax is now available on Arcade machines, PS3, and XBOX 360.
---
8. Guilty Gear Xrd

Developer: ARC System Works
Release Date: December 16, 2014
The Guilty Gear series franchise has returned with yet another advanced-looking fighting style game, Guilty Gear Xrd. Even though the graphics appeared to be in 2D, Daisuke Ishiwatari, the creator of the Guilty Gear series, confirmed that all the characters and background effects are rendered in 3D. This makes a more dynamic movement for the camera.
Aside from the faster gameplay that this new series provides, new characters have been made available to the roster as well, including Bedman, Ramlethal Valentine, Elphelt Valentine, Leo Whitefang, Jack-O' Valentine, and Kum Haehyun. This awesome game is now available for PC, PS4, Arcade machines, and PS3.
---
7. King of Fighters XIII

Developer: SNK Playmore
Release Date: November 22, 2011
As one of the classic arcade fighting games around, the King of Fighters franchise is now back with new and improved features. Watch your all-time favorite characters return to the character roster in King of Fighters XIII such as Mai, K', Vice, and many more! The overall gameplay has also been improved, as it now gives a much faster-paced fight with better response time.
A new feature called "Drive Cancel" was also added to the game which allows players to cancel their character's moves suddenly. This ultimately creates a more flexible gameplay for the players to experience and explore new varieties of fighting style as the game has also added more moves for the characters. King of Fighters XIII is now available on PS3, Arcade machines, XBOX 360, and PC.
---
6. Dead or Alive 5

Developer: Team Ninja
Release Date: February 17, 2015
"I'm a Fighter". If you are familiar with this tagline, then you would probably know the popular fighting game franchise, Dead or Alive. With its fifth installment, Dead or Alive 5 developers have made several pivotal changes to the game as well as to the character's roster.
Featuring new available characters like Mila and Rig, and also a few guest characters from Virtua Fighter such as Akira Yuki, Sarah Bryant, and Pai Chan. Graphics have also been improved to provide more detail, and realistic experiences for the player. One such case involve the characters who have appeared to have visible 'sweat' and becoming dirty, like being covered in dust and mud, after a fight. Dead or Alive 5 is now available on Arcade machines, PS3, XBOX 360, PS4, PS Vita, XBOX One and PC.
---
5. Tekken 7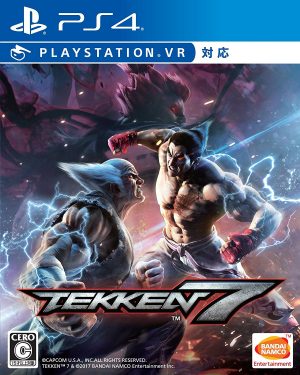 Developer: Bandai Namco Games
Release Date: March 18, 2015
According to the Tekken series producer, Katsuhiro Harada, Tekken 7 will serve as a finale towards the conflict arc of the Mishima Clan, as it reveals the infamous mystery of the Mishima family feud between Heihachi and Kazuya, by bringing in Kazumi Mishima, who is Kazuya's mother, as well as, Heihachi's wife into the equation.
Tekken 7 has also added some changes to the battle system, as a majority of moves that uses Bound were taken out. But, new moves added are Screw and Power Crush, which were made available to replace Bound moves. The series has also featured new characters into the roster who are Claudio Serafino, Gigas, Jack-7, Josie Rizal, Katarina Alves, Lucky Chloe, Shasheen, and Akuma, a special guest character from Street Fighter as a cherry on top. Tekken 7 is now available on Arcade machines, PS4, and XBOX One.
---
4. Street Fighter V

Developer: Capcom
Release Date: February 16, 2016
Aside from the obvious new and improved next-gen graphics, the Street Fighter franchise returns to bring another series of the game, the Street Fighter V. Fans can finally ease their long wait, as the franchise returns with a few new characters, like F.A.N.G, Laura Matsuda, Necalli, and Rashid.
This Street Fighter V also features new strategies and battle mechanics that will enhance gameplay for the players. This includes the V-Trigger that allows characters to utilize and inflict damage, V-Skill for utility skills, and V-Reversal for unique counterattacks. This awesome game is now only available on the PS4 and PC, the developers have created a PS4 and PC Cross-Platform which unifies the game into a single player pool. And to add, Guile has just been added to the roster and fans are already loving him.
---
3. BlazBlue: Chrono Phantasma

Developer: Arc System Works
Release Date: June 30, 2015
If you like the idea of having guns, big swords, and other cool weapons in a fight, then you would definitely find this fighting game appealing. The Blazblue: Chrono Phantasma is the third main installment of the Blazblue series and is the continuation story of BlazBlue: Continuum Shift.
Players are not disappointed with this unique 2D fighting game. With 7 new additional characters in the roster and a new fighting system that grants each character an 'Overdrive' that powers them up whenever it's used. Blazblue: Chrono Phantasma delivers a pretty exciting fast-paced gameplay and is currently available on PC, PlayStation 3, PlayStation Vita, and Xbox One.
---
2. Super Smash Bros.

Developer: Bandai Namco Games
Release Date: September 11, 2014
From the original works of Nintendo, comes Super Smash Bros., the incredible fighting game that features all of your favorite characters like Pikachu from Pokémon, Link from Zelda, Sonic, Megaman and many more, to engage in an all-out brawl with each other.
Why Super Smash Bros. earned its spot as number 2 of the list, other than it's obvious unique character roster to choose from, is the interactive and unique maps that impacts the gameplay. For example, in the map of Distant Planet, the rain will make the left slope slippery and Bulborb can eat the fighters. This game also supports multi players, up to 8, at once rather than the usual 4 players. All in all, Super Smash Bros. has become one of the best fighting games out there, and is now available on both the Wii and Nintendo 3DS.
---
1. Mortal Kombat X

Developer: NetherRealm Studios
Release Date: 14 April 2015
And the winner for the number 1 spot of the Top 10 Anime Fighting Games is… you got it! Mortal Kombat X! Ever since the first series appeared in arcades venues in 1992, the Mortal Kombat game series has become more and more brutal and gory with each release. In Mortal Kombat, the developers managed to incorporate the brutal side and goriness of its own death-blow scene, known as 'Fatality'.
This said 'Fatality' feature is what makes Mortal Kombat X so unique and popular. In addition to that, the game now runs at 1080p and 60fps, which is essential for ensuring the best and realistic graphics for the gamers to enjoy. Mortal Kombat X was initially released on the PS4 platform, but is now available on both the Xbox and PC platform.
---
Final Thoughts
Game developers throughout the years have successfully been able to quench the thirst for action and fighting games from the players. This reason becomes a major impact for how it has shaped fighting games today. More violence, faster-paced battles, combos, and detail graphics, these are benchmarks that developers constantly have to achieve in order for their fighting games to be awesome.
So that's it for the Top 10 Anime Fighting Games! What do you think about the list above? What is going to be the next awesome fighting game? What do you expect from a fighting game? There's no doubt that there are a lot of cool and amazing fighting games out there that haven't made it into the list, so be sure to mention them down on the comments below!
---