Chances are high you have at least watched one or two shows produced by J.C.Staff. The infamous production studio might not belong to the most successful production houses, but has made itself a name with high quality anime that gain a big fanbase in a short period of time.
J.C.Staff was founded in early 1986 and quickly turned into a well-established animation studio. Their first release Youtouden, a three episode OVA, followed one year later and since then J.C.Staff has managed to release numerous hit shows. The list of anime, OVAs and even movies produced by J.C.Staff goes on and on and even bigger hits can be expected in the near future.
Today we want to present you with a quick Top 10 List of anime produced by J.C.Staff as a prime contractor without other sub-contractors. This list represents both the most successful shows that made a significant impact on the anime industry as well as some of our personal favorites that we want to share with you. This being said, here are our Top 10 recommendations. Enjoy!
10. Azumanga Daioh (Azumanga Daioh: The Animation)

Episodes: 26
Aired: April 2002 - October 2002
Let's start this list with an anime including comedy, romance and more: Azumanga Daioh.
The six girls of Azumanga Daioh couldn't be more different from each other. We have a young genius, a loud-mouthed ball of energy, a jock, an airhead, an animal lover and a hot-tempered girl. What they do have in common though is the fact that they experience the everyday insanity of high school life together. This show is about everything that these girls encounter as a group between homework, quizzes and club activities.
The story of Azumanga Daioh is told episodic, consisting of 130 small segments compiled into 26 different episodes. The Slice of Life show – an adaptation of a manga written by Kiyohiko Azuma – became a big franchise for J.C.Staff, resulting in an original net animation, an anime film as well as several soundtrack albums. The day-to-day encounters of the six high school girls are combined with great comedy that will fill your eyes with tears of laughter.
---
9. Shokugeki no Souma (Food Wars!)

Episodes: 24
Aired: April 2015 - September 2015
Food Wars! is the most recent anime on this list and a hit of the spring season 2015.
As the name suggests, this anime revolves around food - more precisely the best possible preparation of food. Protagonist Yukihira Souma only has one goal on his mind: working at the restaurant of his father and eventually becoming a better chef than him. After his father abandons the family restaurant and travels to Europe, Souma's only chance of achieving his goal is enrolling in one of the most prestigious culinary schools of the country. The cooking academy is highly competitive and Souma has to give his best in order to last until graduation.
Food Wars! is a great example of a show where everything fits together. The plot is interesting, the characters evoke sympathy and the comedy suits each situation instead of feeling too forced or misplaced. Like any good Slice of Life show, Food Wars! gives a lot of insight into the lives of the apprentice chefs without trying to make the plot unnecessarily action-filled or dramatic. Food Wars! is a highly popular anime of the spring season 2015 and thus one of J.C.Staff's most recent accomplishments.
---
8. Slayers

Episodes: 26
Aired: April 1995 - September 1995
Based on a light novel series, Slayers has managed to become one of the most popular anime series of the 1990s.
It is the story of wandering sorceress Lina Inverse and swordsman Gourry Gabriev traveling through a fantastic universe while fighting evil. What should have ended as a quick alliance between the two turns into a great adventure where the duo encounters new friends and old enemies alike. This journey becomes the adventure of their lives.
Slayers has shaped and influenced many anime following the 1990s. It gained enough popularity to get multiple seasons, several OVAs and movie adaptations. What makes Slayers so special is most likely the combination of a great adventure story and an amazing fantasy universe. The viewers will find lots of evil spirits, epic fights and magical spells while being entertained by the interactions of the main characters. Slayers is a timeless classic that marked one of the first major successes of J.C.Staff.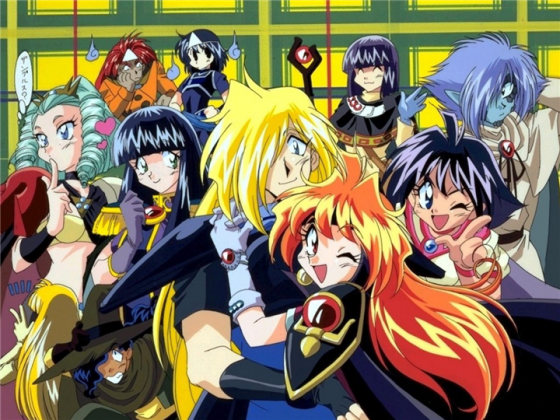 ---
7. Hachimitsu to Clover (Honey and Clover)

Episodes: 24
Aired: April 2005 - September 2005
Moving on to another infamous Slice of Life show, next up is Honey and Clover, an anime revolving around college life.
The story is told from the perspective of a group of friends, all students at a local university. They are at an important part of their lives where they struggle with issues like love, friendship and slowly becoming an adult. Even though their personalities differ greatly they are more similar than you might expect and together they face the hardships of everyday life.
Honey and Clover is a classic that was adapted into a television drama and a live action movie in 2006. The two anime seasons first aired on Fuji TV and were later broadcasted by Animax, not only in Japan but also other parts of Southeast Asia. Honey and Clover brought J.C.Staff in contact with lots of sponsors, for example clothing brands like Adidas or WE. As a Slice of Life show it focuses primarily on the character development and interactions of the main cast. The plot highlights the little joys of life and what it means to face the struggles of everyday life.
---
6. Shoujo Kakumei Utena (Revolutionary Girl Utena)

Episodes: 39
Aired: April 1997 - December 1997
Next up is a classic from the same time period as Slayers. Revolutionary Girl Utena is a surreal anime including gender-bender and darker elements – a pioneer in the world of anime.
Utena Tenjou's parents died when she was a small girl and in this time of grief a mysterious prince consoles her and gives her a special ring with a rose seal. Utena is moved by this experience and decides to become a prince herself. Years later, as a student at Ohtori Academy, she dresses in boys clothes and never steps away from a fight. Her life is about to change when her ring grants her access to a dueling arena where an unusual ceremony around a mystic "Rose Bride" takes place. Soon Utena discovers the dark secret of Ohtori Academy.
Revolutionary Girl Utena truly is a revolutionary anime. It is one of the first shows to display a female character as a strong and independent protagonist. One of the reasons behind its grand success might be the determination of writer and director Kunihiko Ikuhara, one of the producers of Sailor Moon, who expected this anime to be his final piece of work. The universe of Revolutionary Girl Utena as introduced by J.C.Staff became a big international franchise including anime movies, video games and even stage shows and granted the production house international recognition.
---
5. Nodame Cantabile

Episodes: 23
Aired: January 2007 - June 2007
Nodame Cantabile is a classic when it comes to romance stories as well as anime revolving around classical music.
The story focuses on the unlikely love story between Shinichi Chiaki and Noda Megumi or Nodame, two musicians at Japan's most renowned music university. The quirky and eccentric Nodame couldn't be more different from the cold and always composed Chiaki, but life seems to push them closer and closer together. Together they face the struggles of their careers and aim to fulfill their musical dreams.
Even if you are not a fan of classical music you will be able to appreciate the great comedy and hilarious characters of Nodame Cantabile. Once again, J.C.Staff managed to successfully adapt an original manga into a show that got popular enough to last for three anime seasons as well as receive an award-winning live-action drama in 2006 and two movie sequels in 2009 and 2010. If you haven't already, give Nodame Cantabile a try and see for yourself what the reason behind its great success is.
---
4. Sakurasou no Pet na Kanojo (The Pet Girl of Sakurasou)

Episodes: 24
Aired: October 2012 - March 2013
Are you ready for a show that is as charming as it is hilarious and moving?
Sakurasou no Pet na Kanojo revolves around the high school students living at Sakurasou, a student dormitory for all the outcasts and misfits of the school. This spring, Mashiro Shiina moves in and even though her beautiful appearance might suggest otherwise the weird girl fits right in in her new environment. Together with protagonist Sorata Kanda and the other tenants she makes friends for life and discovers what it means to work restlessly to make one's dreams come true.
This anime starts out as any other romance comedy with high school setting. As the story moves along, however, you will realize that Sakurasou no Pet na Kanojo slowly turns into a drama that questions the meaning of natural talent and endless determination. This anime is often received as J.C.Staff's successful comeback into the world of Shoujo anime after being away from the window for some time. Fans worldwide appreciate the amazing character design and emotion-filled plot.
---
3. Toradora!

Episodes: 25
Aired: October 2008 - March 2009
Moving on to our Top 3 choices, next up is the infamously hilarious Toradora!.
At the center of the story stands one of the most unlikely couples imaginable. Ryuuji Takasu looks like a tough delinquent due to his small and evil-looking eyes. Taiga Aisaka on the other hand seems to be a kind girl with delicate looks. Who would have thought that Ryuuji has a kind soul and Taiga has one of the most brutal characters imaginable? Together they get caught up in an adventure of high school crushes and true love. Get ready to be entertained by their story.
Toradora! is often claimed to have one of the best comedy in anime – a big accomplishment for J.C.Staff. The director of this show is Tatsuyuki Nagai who already proved his capabilities in the production of Honey and Clover II. The jokes and plot of Toradora! have a refreshing feeling to them even though the storyline might not sound too special at first. Toradora! is a show that will slowly grow on you if you give it a chance and might even turn into one of your favorite anime.
---
2. Shakugan no Shana

Episodes: 24
Aired: October 2005 - March 2006
What would you do if one day a mysterious girl told you that you are already dead and only a shadow of your former self?
That's the question high school student Sakai Yuuji has to find an answer for. His life gets turned upside down when he meets "Flame Haze" Shana. The young girl hunts demonic creatures and ends their existences using a blazing sword. Yuuji gets drawn into her world and has to be witness of an ongoing war between the world he is used to and the realm of the supernatural.
Shakugan no Shana is a show that surprises many viewers. The storyline sounds like the summary of a common action anime. However, J.C.Staff once again proves that its main strength is the great execution of an interesting idea – a talent many critics praised upon release of the first season. Shakugan no Shana tells its story at a slow pace to allow animation, storytelling and character development to interact perfectly. It is an anime that will keep haunting you even after the last episode.
---
1. Bakuman.

Episodes: 25
Aired: October 2010 - April 2011
Bakuman is one of my favorite Slice of Life anime of all times. It tells the story of high school students Moritaka Mashiro and Akito Takagi who aim to become established mangaka by the time they graduate.
The story starts with a simple promise: Mashiro confesses his love to long-time crush Azuki Miho and asks her to marry him if he succeeds in producing a manga popular enough to be turned into an anime series. The aspiring voice actress agrees and this is the beginning of their great journey filled with determination, joy, failure and success.
Being able to produce an anime for a hit manga like Bakuman is already an accomplishment in itself; after all, nearly 4.4 million copies of the manga series were sold in 2011 alone. The anime adaptation tells a story of endless persistence and the passion of youth. Almost everything I know about the daily lives of mangaka and Japanese voice actors I have learned from Bakuman. It is an all-time classic and must-watch for manga fans as it gives a lot of background information. After watching this show you will see the Japanese entertainment industry in a whole new light.
---
It is hard narrowing J.C.Staff's creations down to ten choices. A lot of other great and well-known anime come from their dream factory, such as the Excel Saga, Alien Nine or Zero no Tsukaima.
Personally, I enjoy their Slice of Life shows the most since the producers of J.C.Staff do a great job at depicting the daily lives of their characters. The viewer is presented with lots of information and details while still being entertained. A tremendous love for details as well as the ability to slowly capture the hearts of the viewers is noticeable in all of their shows. That might be one of the biggest reasons for their success.
What is your opinion on J.C.Staff? Which of their shows belong to your personal Top 10 list? Share your opinions and recommendations down below.