También puedes leer este artículo en: Español
In the relatively short time that Progressive Animation Works, better known by their more common moniker, P.A. Works, has been producing anime, the company has created a very formidable reputation for itself. With creations that reflect an intrinsic attention to detail and an extremely high standard for the quality of its work, P.A. Works has become one of Japan's premier animation studios.
The company itself was established on November 10, 2000 by president and founder Kenji Horikawa, who once worked for Tatsunoko Production, Production I.G., and Bee Train. The company's main office is located in Toyama, Japan, where the drawing and digital photography take place. Another office, found in Tokyo, is where the production and direction take place.
One thing that separates P.A. Works from the conventional anime production company is the fact that it is not limited to anime series alone. Through its history, it has collaborated with a number of other companies to produce animation sequences for video games. As of date, P.A. Works has shown no signs of stopping, and it probably won't, for a very long time to come.
Here then, are the top ten works of P.A. Works (pun intended)! Take note that these are the anime that the company produced on their own, without
10. Glasslip

Episodes: 13
Aired: July 2014 – September 2014
The story focuses on 18-year-old Toko Fukami, who belongs to a family that runs a glass-working business. With dreams of becoming an artisan in the future, she has the rare ability of seeing images of the future when she focuses her eyes on glass. When she meets Kakeru Okikura, a mysterious boy who claims to hear a voice that leads him to her, Toko's life will never be the same.
Glasslip became one of the notable creations of P.A. Works, with critics praising the series' overall production quality. The series' visuals, for one, has garnered much praise, as each episode was created in such a way that each detail, frame, and background music was meticulously directed onto each scene. The series proved quite successful, with a manga adaptation released after.
Title: Glasslip HD PV 1 ENG SUB
---
9. True Tears

Episodes: 13
Aired: January 2008 – March 2008
True Tears revolves around Shinichiro Nakagami, a young man who has a passion for drawing, and Hiromi Yuasa, the daughter of a close family friend who recently passed away. Living together under the same roof due to the present circumstances, Shinichiro starts wondering why Hiromi, who has been his close friend for years, started becoming very aloof and unfeeling towards him. As the story unfolds, Shinichiro discovers the reasons why Hiromi has decided to lock her tears away towards him.
True Tears is P.A. Works' debut work, and the company did not scrimp on anything during its conception. Featuring a great soundtrack and a very uncompromising art style, this slice of life anime has become one of the company's most notable works. It was eventually distributed worldwide by Bandai Entertainment for the North American release, where it enjoyed moderate success. With an internet radio show released in line with the series, this anime managed to put P.A. works on the map.
Title: True Tears Trailer
---
8. Uchouten Kazoku (The Eccentric Family)

Episodes: 13
Aired: July 2013 – September 2013
With its relatively simple title, this anime comedy-drama was based on a novel written by Tomihiko Morimi. The story features a version of Kyoto where humans live side by side the Tanuki, who are beings of the earth, and the Tengu, who are beings of the sky. The plot focuses on the lives of the titular Shimogamo family, whose members constantly need to balance between living a free life, maintaining relationships with other Tanuki families, and avoiding harm in the form of the Friday Fellows, beings who feed on the flesh of Tanuki.
Uchouten Kazoku is one of P.A. Works' productions that further established the company's reputation as one of Japan's premier anime companies. It carried much of P.A. Works' trademarks, such as a top-notch animation quality and a great soundtrack. But possibly the best thing about the anime adaptation of this popular story is the fact that P.A. Works was able to do something that is rarely done in anime – a faithful adaptation of an original work that both honors its roots and enhances the story through impeccable execution.
Title: Uchouten Kazoku/有頂天家族 - Trailer English Subs
---
7. Canaan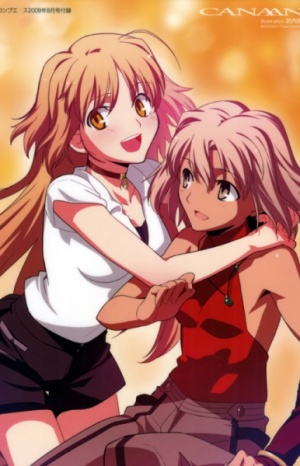 Episodes: 13
Aired: July 2009 – September 2009
Canaan revolves around the adventures of Maria Osawa, a Japanese photographer currently working in Shanghai. While there, however, a series of mysterious, sinister events eventually lead her to an extremely dangerous situation, in which her only way out was to be saved by the titular heroine, Canaan, a white-haired, expert marksman and assassin from the Middle East. With the upcoming anti-terrorism summit fast approaching, Canaan must use all her skills in order to keep her friend safe, and to prevent a catastrophe from happening.
What made Canaan so memorable for fans is the fact that each of the main characters in the series was able to develop in a realistic, believable way as the plot progressed. Of course, the anime's visuals were top-notch, with each frame meticulously detailed and CGI being seamlessly integrated into key shots. In fact, one of the things that fans loved most about the series was the fact that despite the intense action sequences, the quality of the animation never dropped at all. With a memorable and straightforward story, Canaan became a big hit, spawning a manga adaptation, a series of light novels, audio CDs, and a line of special edition action figures.
Title: Canaan Trailer – [HD]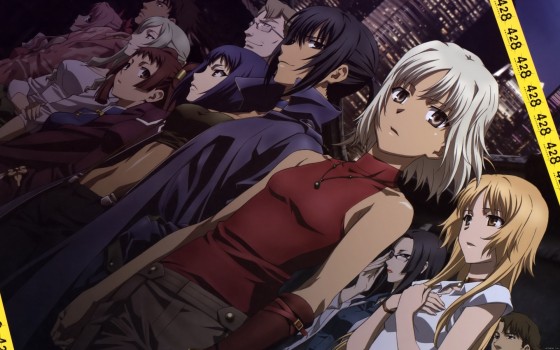 ---
6. Tari Tari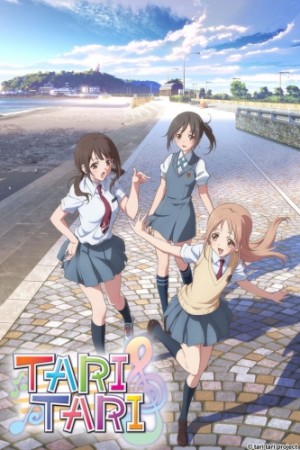 Episodes: 13
Aired: July 2012 – September 2012
Tari Tari is a beautiful coming-of-age tale about a group or five Japanese high school students who are caught between the poignant point in life where one is too old to be a child yet too young to be an adult. Weighed down by the impending conclusion to high school, each of the five protagonists manage to find something worth remembering during their last year together – the magic of music, and songs that will forever stay in their heart.
Being an anime that centers on mucic, Tari Tari certainly delivers in the musical aspects of the series, featuring great tracks both vocal and instrumental. True to P.A. Works' other creations, Tari Tari was also made with the same high quality that has become the company's trademark. But what endeared itself to its fans was the characterizations of the main characters, whose growth and maturity was really evident during the course of the series. The series was quite successful, being broadcasted abroad. A manga adaptation was also released.
Title: Tari Tari Anime Trailer
---
5. Shirobako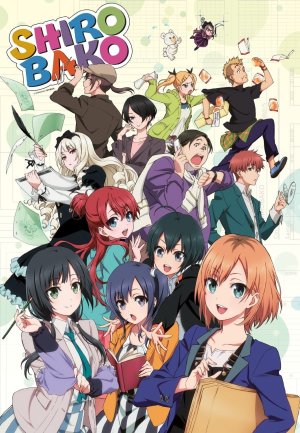 Episodes: 24
Aired: October 2014 – March 2015
Shirobako tells the story of Aoi Miyamori and her friends, who were inspired by her high school animation club to pursue a career in the anime industry. Applying for a job in an anime production company, Aoi and her friends quickly discover the hardships, stress, but ultimate sense of accomplishment one gets when working in the anime industry.
In a way, Shirobako is a deconstruction of the slice of life genre, with a plot that practically breaks the fourth wall in terms of how anime is made. The series employs a fairly simple art style, but one which works greatly nonetheless. The cast, though very vast, were fully fleshed out and developed pretty well. The story's realism however, is probably the series' greatest aspect, as the daily struggles in an industry where the main characters are passionate about are brought out in a very stylish and ingenious fashion. Shirobako was very well-received, with a novel and a manga series also produced in line with the anime.
Title: オリジナルTVアニメーション『SHIROBAKO』 コミックマーケット86公開PV
---
4. Nagi no Asukara (Nagi Asu: A Lull in the Sea)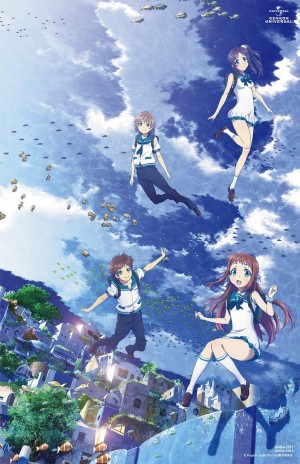 Episodes: 26
Aired: October 2013 – April 2014
Nagi no Asukara features a world where human civilization used to live on the ocean floor. Through time, humans began migrating to the surface, eventually inciting a rift between the two groups. The story revolves around five friends who used to live normal lives as citizens of the sea, until their school closes and they are forced to attend a school on the surface. Thus, begins their journey in exploration on the new environment, while dealing with their own maturity and the ever present distance between ocean and land-dwellers.
The trademarks of P.A. Works is very noticeable in this anime, which features impeccable production values and a soundtrack that is just right. The plot, however, is the series' strongest point, as critics have pointed out that Nagi no Asukara is one of the rare instances where romance and slice of life is done right. Another thing that has garnered the adoration of fans is the fact that the plot is just so darn unpredictable, with each character serving a greater purpose as to the anime's plot. With a manga adaptation and a successful release abroad this anime is widely considered the title where P.A. Works outdid themselves.
Title: Nagi no Asukara - PV [English Sub]
---
3. Another

Episodes: 12
Aired: January 2012 – March 2012
Another revolves around a young man, Koichi Sakakibara, who recently transferred to Yomiyama Middle School. Upon transferring to his new school, Koichi notices a number of things being amiss, including a mysterious girl with a dilapidated desk who always sits at the back of the class, and who seems to be all but invisible. Piqued, Koichi decides to pursue a friendship with the girl, and by doing so, he quickly gets drawn in a series of deadly, supernatural events that date back to the 70's.
Just like the Uchouten Kazoku, which is based on a Japanese novel, Another is also an anime with its roots in literature. Based on the novel by Yukito Ayatsuji, Another has become one of P.A. Works' most successful titles, spawning a plethora of merchandise, as well as a manga release and later, a live-action version of the anime. What makes Another so distinct is the fact that it carries all of P.A. Works' trademarks, from the impeccable art, to the seamless adaptation of the vents in the novel to the anime. It was eventually considered as one of the premier examples of real Horror anime, which uses atmosphere and a strong plot to terrify its viewers instead of the usual jumpscare and gore fest typically found in titles like Corpse Party: Tortured Souls.
Title: Another (Anime) - Trailer
---
2. Hanasaku Iroha (The Colors of Blooming)

Episodes: 26
Aired: April 2011 – September 2011
Hanasaku Iroha features the story of Ohana Matsumae, a 16-year-old girl forced to move back to her family's province and live with her grandmother after her mother runs away with her boyfriend. Upon arriving however, Ohana quickly finds out that she is also tasked to operate the family's hot spring inn, and that she is very much disliked by the inn's employees. Faced with the odds, Ohana decides to face all trials before her head-on.
Combing elements of the slice of life genre and the traditional coming of age tale, Hanasaku Iroha is one of P.A. Works' finest anime. Created as the studio's tenth anniversary work, it has everything that one can expect from the company, with top-notch, detailed visuals and a plot that is both realistic and profound. As a series, Hanasaku Iroha is a bit longer than the usual P.A. Works fare, though most critics nonetheless lauded the company for pulling off yet another rare stunt – balancing the length of the series with the amount of plot material seamlessly. Released internationally, the anime has been widely successful, among critics and audiences alike.
Title: Hanasaku Iroha ~ Blossoms for Tomorrow ~ Vol 1 - Official Trailer
---
1. Angel Beats!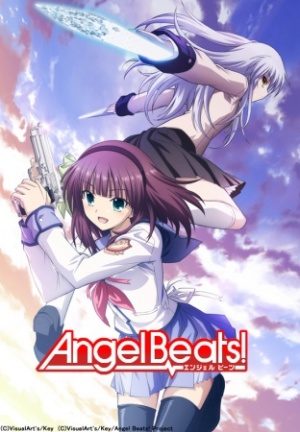 Episodes: 13
Aired: April 2010 – June 2010
Angel Beats! revolves around the adventures of Yuzuru Otonashi, who finds himself in Purgatory, which takes the form of a high school. He is soon acquainted with Yuri Nakamura, the confident, beautiful leader of the SSS, an organization she formed to fight against God. However, not all seems simple as the existence of Angel, a mysterious girl who takes the role of the student council president, seems to suggest that there are forces preventing the SSS from ultimately reaching its goal. Soon, Otonashi discovers the secrets behind Angel's role, as well as the reasons behind everyone's existence in the school.
Angel Beats! is one of, if not the defining anime produced by P.A. Works. Working with Jun Maeda, the mind behind titles such as Air, Kanon and Clanaad, P.A. Works was able to create an anime that has been widely successful in its release. With flawless visuals and a killer soundtrack, Angel Beats! has become one of the most popular anime produced in recent years, both in Japan and abroad. The popularity of the anime spawned a manga adaptation, a visual novel, and a series of concert tours featuring the songs used in the anime. Truly, Angel Beats! has become P.A. Works' magnum opus to date, and one which will definitely be yet another star under the company's belt.
Title: Angel Beats! Trailer PV8 ENG SUB
---
Though fairly new to the anime industry, P.A. Works is consistently proving that a company based on the love and passion for the art it conceives, as well as a philosophy of being open to changes and collaboration with the greats in anime, is able to create masterpieces. Its creations have become hits in Japan and abroad, and the quality of its work has become the company's trademark. Truly, P.A. Works is one company that can only get better in time.
Just take Charlotte for instance. As the anime nears it's 11 episode, we have already been blown away with the art, storyline, and wonderful character development, is establishing the studios creditability further as one of the greatest studios in the industry! As great as it is now, I don't think the company has even reached its peak yet. And when it does, it will undoubtedly be even more considered as one of Japan's premier animation studios.