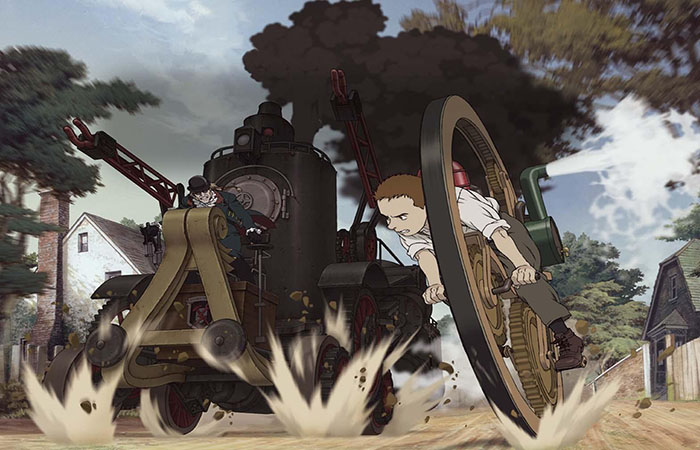 Since anime and manga were created in Japan, most of the stories we see every day are set in the Land of the Rising Sun. However, this doesn't mean that Japanese people aren't fascinated by European settings too, with England and the United Kingdom as one of the favorite places to visit. The 5 o'clock tea, the river Thames in the background, people eating fish and chips, and the notorious Victorian influence, from the Royal family to the gorgeous dresses and fancy top hats. Are you ready for a quick anime trip to England? You'll have a bloody good time with these 10 recommendations!
10. Kiniro Mosaic

Episodes: 12
Aired: July 2013 - September 2013
Both the first and the second season of Kiniro Mosaic present us Shinobu Oomiya and Alice Cartelet, two exchange students from Japan and England respectively. Studying abroad is nothing new to anime, but not many shows have the main character as the one traveling, discovering a new country with its own people and their customs. The best thing about Hello!! Kiniro Mosaic, however, is we have a lot of cute and naive girls, making it all super enjoyable for moe fans.
For the most part, this is about Alice visiting her friend back in Japan, but the first episodes depict Shinobu's homestay in London. We can see the Big Ben, the classic "underground" signs and even Paddington Station itself, all the sights that tourists frequently marvel at. Sure, this is an anime and people speaking English feel rather awkward, but don't let that ruin your London experience!
---
9. Dantalian no Shoka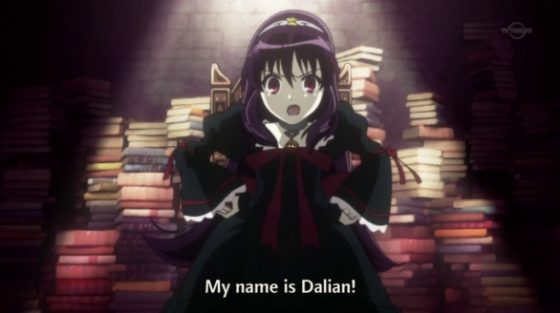 Episodes: 12
Aired: July 2011 - October 2011
To talk about the UK is to talk about its literary history, with great exponents like William Shakespeare, Agatha Christie or Sir Arthur Conan Doyle. And why do we mention this? Well, because Dantalian no Shoka is a perfect mix of anime and literature... kind of. Sir Wesley Disward was in charge of an outstanding library, and when he died, his grandson inherited it. But aside from the Bibliotheca Mystica de Dantalian, Lord Hugh Anthony Disward has another "thing" to take care of: a doll-like girl called Dalian. She's actually the library!
Dantalian no Shoka is a beautiful anime about mysterious books, and if you are here looking for Victorian influence, then this is the right anime. Hugh and Dalian now have to face a series of "ghost books" that once belonged to Sir Wesley, now controlled by the old man's longtime rival. Do these books, or this evil man, have anything to do with Wesley's disappearance? We have action, we have suspense, and we have gorgeous landscapes, with an anime set in the home counties around London.
---
8. Machine-Doll wa Kizutsukanai (Unbreakable Machine-Doll)

Episodes: 12
Aired: October 2013 - December 2013
Time to move to downtown Liverpool, not to talk about a certain world-famous music quartet but the Walpurgis Royal Academy of Machinart, where this anime develops. In this alternate England, magic is a common thing, and there are some magic academies around the world focusing on "machinart", which can bring mechanical dolls to life to erect unstoppable armies. In fact, every student in the Walpurgis Royal Academy of Machinart looks forward to the Walpurgis Night, an event held to find the best puppeteer of them all.
One of the puppeteers is Raishin Akabane, a guy in control of the mechanical doll Yaya. Despite belonging to a famous family of puppeteers, Raishin has no experience, and fighting alongside Yaya won't be an easy task. How about a Battle Royale to test Raishin and Yaya's might?! If you want a true "bloody" mess, don't miss a single episode of Unbreakable Machine-Doll!
---
7. Hakushaku to Yousei (Earl and Fairy)

Episodes: 12
Aired: September 2008 - December 2008
Is there anything more English in anime than a show that literally starts with the Big Ben chiming? Hakushaku to Yousei is a delightful trip to Scotland and England, with all the perks of the 19th century UK. Lydia Carlton is a Scottish teenager that happens to be the last fairy doctor, at the service of Edgar J. C. Ashenbert, who's looking for the Sword of Merrow to become the Blue Knight's Earl.
As you can tell, this is a very British anime, with knights, noble titles and all. Set in the Victorian era, Earl and Fairy will show you how the aristocratic people used to live 200 years ago, throwing fairies and other myths to the mix. With a beautiful love story and some tragic elements, Hakushaku to Yousei is like a classic British fiction made anime, another reason not to overlook its plot and characters.
---
6. D.Gray-man HALLOW

Episodes: 13
Aired: July 2016 - September 2016
Allen Walker is back, and so are the exorcists of the Black Order. Although this organization answers the Vatican and has headquarters all around the world, the European Branch is set in England. In fact, if you think the Black Order's English base looks familiar maybe that's because it's directly inspired by the Palace of Westminster, another classic tourist attraction in London, connecting the two buildings of the Parliament of the United Kingdom.
As we are already accustomed with this saga, D.Gray-man HALLOW portrays the fight between the exorcists and the Millenium Earl, through his akumas. On this occasion, several secrets concerning Allen and the Black Order are revealed, so it is a shocking sequel to what was already a popular anime. With magic, monsters, and touches of terror in between, what's not to like about D.Gray-man HALLOW?
---
5. Princess Principal

Episodes: 12
Aired: July 2017 - September 2017
Apparently, the Victorian era is the best option when writing a story set in England, and we know that a lot of our readers would love the opportunity to travel back in time for a first-hand experience. This time, however, we're not really in England but in the fictional Kingdom of Albion. Did you know that Albion was the original name to Great Britain? Fun fact! Princess Principal is a dark and mysterious espionage story, completely contrasted by the appearance and personality of its protagonists.
Ange and Dorothy (soon joined by Princess, Beatrice, and Chise) are spies involved in a political plot, under the orders of an organization simply known as Control. With every new episode, the action leaves a place to the life stories of each one, always taking advantage of what the environment offers. There's even a fictional mineral sparking an alternative version of the Industrial Revolution! Do yourself a favor and watch Princess Principal as soon as you can. Don't let the moe style fool you on this one!
---
4. Steamboy

Episodes: Movie
Aired: July 2004
Did someone mention the Industrial revolution? Then let's talk about Steampunk! Among all these series, we wanted to introduce a movie too, and Steamboy is the perfect one for a list of anime set in England since it happens in Manchester. When Ray Steam receives a mysterious steam ball from his father in the United States, he knew that having it would come in handy. But if you're in the middle of the Industrial Revolution and people know you have an unlimited source of energy... well, you're pretty much in danger!
One of the organizations after this device is the O'Hara Foundation, who previously had the steam ball to carry out their questionable plans. With time running against him, Ray must discover what to do with so much power at hand and the reasons why his father sent it to him in the first place, but not before facing the dangers of being one of the most wanted people in England.
---
3. Kuroshitsuji (Black Butler)

Episodes: 24
Aired: October 2008 - March 2009
Now we're entering the top 3, let's talk about something that is very characteristic of England but still wasn't that evident in the animes we've seen so far: to serve Her Majesty The Queen. In the case of Kuroshitsuji, we have Ciel Phantomhive as the heir of the Phantomhive clan, who have always been responsible for the dirty work that the Scotland Yard can't take while maintaining its facade as manufacturers of sweets and toys.
Now that his parents are dead, the one helping Ciel is not other than his loyal butler Sebastian, a powerful demon who has a contract with the boy: he will help 12-year-old Ciel to find whoever killed his parents to get revenge, asking for his soul in return. Kuroshitsuji is a great option if you're looking for a supernatural plot full of dark elements, but also full of English stereotypes.
---
2. Hellsing

Episodes: 13
Aired: October 2001 - January 2002
Ciel may be a faithful servant of the Crown, but through the Hellsing Organization and following orders from Integra Hellsing, the legendary vampire Alucard is without a doubt the most fearsome of them all. Hellsing is a political and religious-heavy anime which echoes what the society of Victorian England also lived. Logically, Protestantism had its birth in Germany, but we can not ignore the origins of Anglicanism. In the middle of that, we have an action-adventure anime inspired by classic vampires, but with a more violent and fantastic turn.
As you may already know, Hellsing's protagonist is Alucard, an ancient anti-hero that more knows for being old than for being... you know, a vampire. These pop-culture monsters always tend to be the villains, especially after Bram Stoker's Dracula, but what if vampires become our only hope against worse threats? That's what we see in Hellsing and all its derivatives, with an overwhelming Alucard that gives us magnificent battle scenes, both melee and with their pistols.
---
1. Eikoku Koi Monogatari Emma (Emma, a Victorian Romance)

Episodes: 12
Aired: April 2005 - July 2005
We started the list in a very realistic and light tone, so we must finish it in a very similar way. This is not only to maintain the form but because Eikoku Koi Monogatari Emma is for sure one of the best stories set in England, at least in terms of anime. Victorian London, class struggle, forbidden romance... we've already had that on the list, so why is Emma so different from the other recommendations? First of all, let's say it's a love story where realism is just its highest point, with characters as believable as they are lovable.
Emma is a maid whom many discriminate against, but in spite of her condition she knows how to read and write, and shows predisposition when interacting with other people. This woman's life changed drastically thanks to Mrs. Stownar, who gave her a job as a maid to save her from a tragic fate, in addition to teaching her everything necessary to become a lady. In addition to that, Mrs. Stownar is the nexus with the handsome merchant William Jones! Although it flourishes, love between a maid and a respectful man will not be easy. Be it watching the anime or reading the original manga, Eikoku Koi Monogatari Emma is an unavoidable English story, and that's why it becomes our number one recommendation!
---
Final Thoughts
Now you have 10 amazing options, traveling to England thanks to anime looks more interesting than ever, and we're sure that there's an anime set in the UK to suit your tastes. In fact, there are other examples like K-On! The Movie, where the girls travel to London for their graduation trip. If you happen to like reverse harem anime with supernatural elements, there's also Phantom in the Twilight!
As always, if you have other recommendations, please let us know in the comments. See you soon for another anime trip around the world!
---