También puedes leer este artículo en:Español
The days are getting colder and schools have opened their doors again; Summer is officially over now and with it ends another anime season.
Today we want to wrap up the shows of this season and present a Top 10 list of the best anime of Summer 2015. No matter whether you want to see your favorite show represented or are looking for anime that you might have missed out on, this list has something for everyone.
Let's commemorate some of the best anime of the past season and see why these shows stood out from the rest of the lineup. Enjoy!
10. Non Non Biyori Repeat

Episodes: 12
Aired: July 2015 - September 2015
Let's start this list off with the second season of highly popular Slice of Life anime Non Non Biyori.
This feel-good show follows a group of school kids on their daily adventures. The setting is the idyllic countryside apart from the buzzing Japanese cities that you would normally see in anime. The first season tells the story of young Hotaru who moves away from Tokyo with her family and slowly gets close to the other girls of her new school. The second season continues the tale of their everyday adventures that are filled with laughter, joy and lots of explorations.
The Non Non Biyori series exceeds at what is truly necessary for a good Slice of Life show: being able to make a show interesting without relying on an action-filled storyline. The interactions between the different characters are already enough to keep the viewers entertained for two consecutive seasons. Also, Non Non Biyori Repeat puts a new spin to the existing ideas of how a sequel is supposed to look like. A worthy show for the first spot on our Top 10 list.
---
9. Shimoneta to Iu Gainen ga Sonzai Shinai Taikutsu na Sekai (SHIMONETA: A Boring World Where the Concept of Dirty Jokes Doesn't Exist)

Episodes: 12
Aired: July 2015 - September 2015
Are you a fan of Ecchi shows? If your answer is yes, then Shimoneta is your must-watch anime of Summer 2015.
Shimoneta - as the show is called for short - is set in a fictive universe where Japan has decided that everything indecent and sexual needs to be banned. Several years after this decision was made a new generation emerges - a generation that has no idea about sexuality or the reproductive functions of the body whatsoever. In this new society high school student Tanukichi is forced by classmate Ayame into rebelling against the moral standards and patronizing sexually oblivious students via small acts of terrorism.
The biggest plus of this show is hands down the great humor. Even I, someone who rarely enjoys Ecchi shows, couldn't stop myself from laughing at how hilarious the whole idea behind this show is. Yet, even though it clearly does not try to be a serious show, the producers were still serious about the different elements of this show; the characters have distinct personalities, there is a storyline progressing at a steady pace and everything seems to fit together perfectly. Shimoneta is your completely crazy yet lovable anime of this season.
---
8. Rokka no Yuusha (Rokka: Braves of the Six Flowers)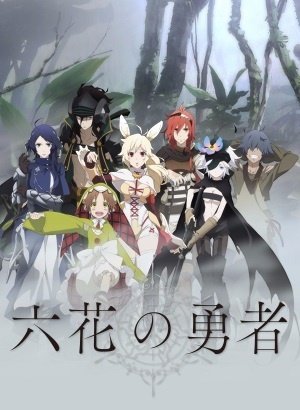 Episodes: 12
Aired: July 2015 - September 2015
Of course there is more to this season than just Slice of Life and Ecchi shows. Rokka no Yuusha is an action show with lots of fantastic, mysterious and adventurous elements.
Six brave heroes are chosen by the goddess of fate to combine their strengths and defend their world against the Demon King. Ultimately, they have to protect the balance between good and evil. Their mission should be executed as a team, but soon they have to realize that one of them is an imposter. Can they find the enemy amongst them before it's too late?
Opinions differ about Rokka no Yuusha - some people feel that this show didn't deliver what it has promised; others enjoyed seeing a new twist on a show that could have easily become a generic adventure anime. After starting out as a fantasy story, the show soon turns into a mystery and focuses more on the development and interaction of the characters. No matter what you think about Rokka no Yuusha, it is a show that provokes a reaction in its viewers and that is part of the reason why it deserves to be number eight on our list.
---
7. Gangsta.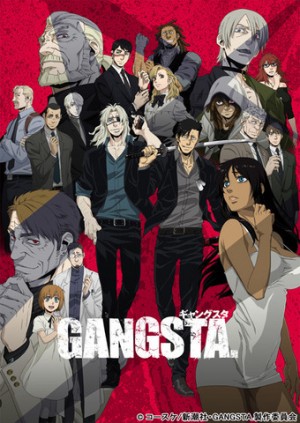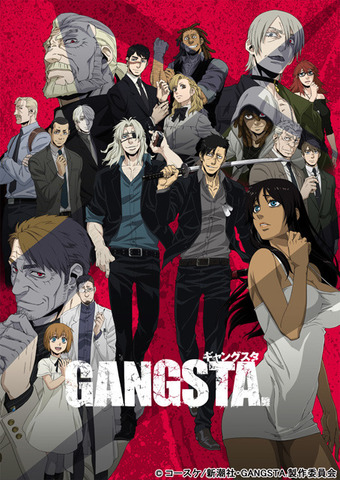 Episodes: 12
Aired: July 2015 - September 2015
Let's continue our walk into the realms of darkness with another show that is not afraid to show the darker sides of its characters.
The story of Gangsta is set in Ergastulum, a city filled with criminals, prostitutes and similar shady figures. In this dark place two men seem to know how to keep themselves alive; Nic and Worick are ready to take on jobs that no one else wants to handle and while doing so they learn everything they need to know about the streets of their city. However, their newest job might be an unexpected challenge that threatens to turn their lives around.
The name Gangsta is already a good representation of how simple and straightforward this anime is. It revolves around crime, bad guys and cool heroes. A lot of effort has been put into creating a certain atmosphere and overall feel for this show. This being said, this show definitely isn't something for younger audiences so if you are looking for a more mature show rather than comedies or adventures, then Gangsta is the anime for you.
---
6. Himouto! Umaru-chan (My Two-Faced Little Sister)

Episodes: 12
Aired: July 2015 - September 2015
Let's go back to the more uplifting shows of the past season and continue this list with Himouto! Umaru-chan or My Two-faced Little Sister.
Those of you with siblings will know that they usually show a completely different side of themselves at home than they do in public. This show revolves all around the two faces of protagonist Taihei's little sister Umaru. In public, she is the perfect school girl with good grades, lots of friends and great looks. Who would have guessed that she is a complete slob at home who enjoys nothing more than playing video games and eating junk food?
You might have already guessed it, but Himouto! Umaru-chan is another comedy show of this season mixed with school and Slice of Life elements. This show is as light-hearted as it can get and with its cheerful vibe perfectly matches the summer season. Himouto! Umaru-chan does a great job at not over-complicating a story and just focusing on the daily lives of the characters.
---
5. Gate: Jieitai Kanochi nite, Kaku Tatakaeri (GATE)

Episodes: 12
Aired: July 2015 - September 2015
The next anime is dedicated to all fans of fantastic stories and military power.
It is the story of a parallel world that suddenly finds an opening to our world. A portal called Gate opens in the middle of Tokyo and threatens citizens with monsters and other fantastic beings streaming out into the busy shopping streets. The Japanese Defense Force needs to take action and forces the enemies back while also sending troops to the other side of the gate. This anime tells the story of the soldiers sent to a new world and all the fantastic things they encounter.
GATE definitely has one of the most unique storylines on this list, featuring an unusual combination of fantasy and military. The storyline, in fact, is one of the strongest points of this show, as more than just a few viewers couldn't get enough of modern warfare mixed with ancient weapons. GATE not only presents a great deal of new ideas, but also executes them perfectly - a must-watch of this season.
---
4. Working!!! (Wagnaria!!3)

Episodes: 13
Aired: July 2015 - September 2015
Non Non Biyori Repeat isn't the only sequel on this list; this summer the Working!! series got a third season which continues the story of the crazy employees at Wagnaria.
For those of you who haven't gotten the chance to check out Working!! yet, let me give you a quick introduction. This Slice of Life show is set in a family restaurant in Hokkaido, Japan's northern island. What could be a normal restaurant at first glance turns out to be a crazy workplace filled with even crazier employees. The third season of this anime stays true to its roots and shows the day-to-day lives and interactions of Wagnaria's workers.
The fact that this is a third season should already give you an idea of why Working!!! deserves a spot on this list - it is a Slice of Life show that really understands that the most important elements of a good show are its characters. Working!!! continues giving the viewers insights into the lives of the main staff. It manages to stay true to what sets this series apart and carry on right where the last season left off.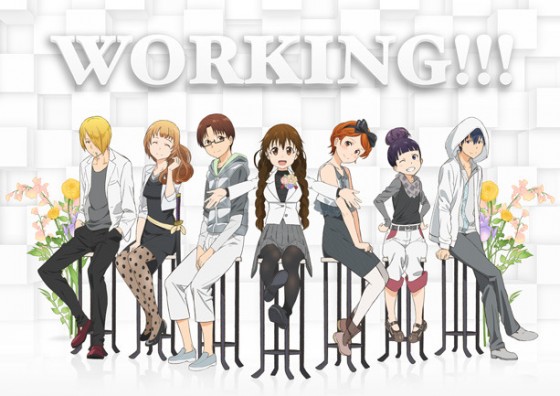 ---
3. Prison School

Episodes: 12
Aired: July 2015 - September 2015
For those of you that didn't get enough Ecchi with Shimoneta should check out the next anime on our list: Prison School.
Imagine enrolling in a prestigious former all-girls school as one of only five guys. Sounds amazing, doesn't it? Well, what looks like heaven at first glance turns out to be hell. After enjoying their new school lives a little bit too much, our five male heroes have to see a new side of Hachimitsu Private Academy. Be ready for a crazy story of peeping school boys and dominating student council members.
What can I say about Prison School? It is a crazy ride from beginning until the end with more than just a few hilarious moments. If you are a fan of Ecchi, then Prison School might be the show of your dreams. However, we wouldn't include Prison School in the Top 3 if it was just for the fanservice; on top of that you will find some amazing characters and a unique style mixed with a great sense of humor. An easy choice for our Top 10!
---
2. Gakkou Gurashi! (School-Live!)

Episodes: 12
Aired: July 2015 - September 2015
You think combining zombies with anime would never make a good show? Think again, because Gakkou Gurashi will prove you wrong.
For high school student Yuki there could be nothing better than spending all of her time at school. She loves everything about it, from her friends and classmates to the classrooms and school grounds themselves. Her wish to be closer to school is the reason why she joins the School Live Club. At least that's what she thinks to be the truth, because underneath her perfect dream lies a darker and much scarier reality.
Gakkou Gurashi is a show that starts out slow and requires you to give the story some time to progress. Soon enough, you will see an amazing horror anime that combines cute and grotesque elements effortlessly. This show seems to have it all: action, drama, tears, laughter and - most importantly - zombies. One of our biggest recommendations, especially for people who cannot wait for Halloween to see some scary stories.
---
1. Charlotte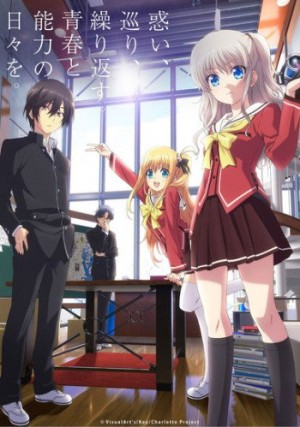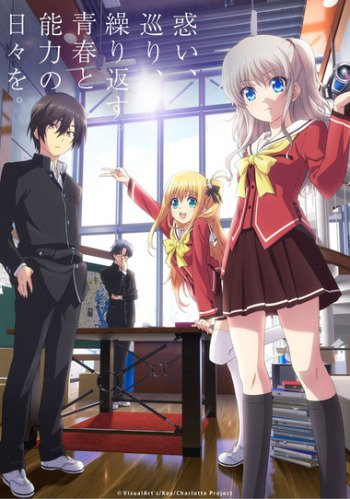 Episodes: 13
Aired: July 2015 - September 2015
Our final and top choice of summer anime is - without a doubt - Charlotte, the school show with supernatural elements that quickly escalates into an epic adventure.
Yuu Otosaka is one of those students that not only has amazing grades, but is also good-looking and popular as well. Who would have guessed that his success comes from his special ability to take over the bodies of other people for a couple of seconds? His life changes when he meets Nao Tomori and her fellow classmates, all ability wielders themselves, and is forced to give up his selfish lifestyle. He joins them on their mission to find other kids like him and stop them before they hurt themselves or the people around them.
When I say Charlotte escalates quickly, then I mean that the story starts out as a nice supernatural anime but soon turns into so much more. Even though this anime was already highly anticipated, it still managed to surprise many viewers. Not only is the storyline well thought-out and interesting, you will also meet amazing characters that you actually care about. Charlotte is funny when it wants to be funny and sad when it wants to be sad. It offers the fans the best viewing experience as a whole and is a clear choice for our Top 1 of this list.
---
This concludes our Top 10 Anime for Summer 2015. I hope you enjoyed our selection and got to see why we picked these anime as the most successful ones. Overall, I have to say that I was pleasantly surprised by this season. Especially for a summer season, which usually doesn't offer too many outstanding shows, the quality and novelty of the lineup was great. Even though many shows revolve around common topics and use well-known genres, they still manage to add something special and unique to set them apart from other anime.
Let us know what you think of the anime presented above. Also, what is your personal Top 10 list and which shows did we miss out on? Discuss and share your opinions in the comment section down below.