Following a long night's sleep, you may feel groggy and not want to get up out of bed. What better way to look forward to getting out of bed than watching some great anime that are perfect for the morning? While it may seem like a good idea to watch anime in the morning, which genres are the best? Action heavy anime might be too intense, while dark psychological anime may require too much brain power first thing in the morning. Today, we will be looking at some anime that are perfect for this situation. Each anime will have a different aspect that makes it perfect for being watched in the morning. With motivational anime, comedy anime, and slice of life anime, there will be a little something for everyone.
10. Hanayamata

Episodes: 12
Aired: July 8, 2014 to September 23, 2014
Naru Sekiya is an average girl with no hobbies or talents that hoped her life would change when she entered high school. Despite her best efforts, nothing changed and Naru was the same person she had always been. Luckily for Naru, her life changes when she sees a blonde girl dancing on top of a gate to a shrine. Naru assumes the girl is a fairy like the ones in her favorite fairy tales, but it was actually Hana N. Fountainstand, a transfer student from America. Haven fallen in love with yosakoi, Hana decided to move to Japan in hopes of performing yosakoi for real. Despite Haru's desire to change, she is reluctant to join her new classmate in the newly formed yosakoi club, but she finally agrees to join, even if the idea of performing in front of others scares her.
Hanayamata is great for an early morning viewing session with an easy to digest plot and great characters. The story is heartwarming and you want o see the characters succeed at what they are trying to accomplish. There is also a good amount of comedy in the series that will keep you laughing all the way through. Hanayamata also benefits from being watched in the morning by having its bright and colorful aesthetic not clash with the darkness of night. Watching Hana and Naru work hard at perfecting their dance is a great way to get yourself ready and motivated for the day ahead of you.
---
9. Himouto! Umaru-chan

Episodes: 12
Aired: July 9, 2015 to September 24, 2015
Umaru Doma is a high school girl that lives with her brother Taihei. At school, Umaru is the perfect student with good grades and a bunch of friends. However, once Umaru returns home, her true self comes out. In her at-home form, Umaru is selfish and lazy as she does nothing but lay around playing games and snacking, while her older brother does all the housework. Taihei is the only one to ever see Umaru at her worst; even Umaru's best friend and neighbor Ebina Nana only knows the perfect side of Umaru. Himouto! Umaru-chan follows Umaru as she relaxes and plays all day while fighting with her brother and still finding time to spend with her close friends.
Himouto! Umaru-chan is able to give you a mix of different story elements that provide a great viewing experience. The main aspect that makes Himouto! Umaru-chan a perfect morning anime is its comedy. While the story does a good job at mixing it up and not always focusing on some of the anime's other aspects, the comedy is where Himouto! Umaru-chan shines. With plenty of jokes and the hilarious situations Umaru finds herself in, it's sure to get you in a happy mood and start your day off right. Himouto! Umaru-chan also has nice heartwarming scenes that show even though Umaru can be selfish and lazy, she really does care about her brother and her friends.
---
8. Non Non Biyori

Episodes: 12
Aired: October 8, 2013 to Dec 24, 2013
Fifth-grader Hotaru Ichijou has just moved from Tokyo to the village of Asahigaoka. The village is so small, her new classroom only has four other students in there. Hotaru is joined by first grader Renge Miyauchi and the Koshigaya siblings ninth-grader and only boy in the class Suguru, eighth-grader Komari, and seventh grader Natsumi. Despite the girls being all different ages, they are close friends due to being some of the only kids in town. With Asahigaoka lacking in activities and places to see, the girls introduce Hotaru to all the fun that can be had in a small town.
Non Non Biyori is a light-hearted comedy anime that gives you a unique viewing experience. With its focus on children running around a small village and enjoying nature, there is a sort of nostalgic aspect to the show showing off the carefree and adventurous nature of children. As the anime shows off the girls enjoying everything around them in Asahigaoka, it creates for some great scenes that you wouldn't find in a typical city setting. Non Non Biyori also makes for a perfect morning anime due to the viewer being able to sit down and enjoy it no matter which episode they are on.
---
7. Mushishi

Episodes: 26
Aired: October 23, 2005 to June 19, 2006
Mushi are strange creatures that display what appear as supernatural powers Due to their ethereal nature, the average person is unable to see Mushi and are unaware of their existence. However, there are a few humans that have the ability to see and even interact with the Mushi. Mushishi follows a man with this ability named Ginko as he travels from place to place to research Mushi and help people with the problems caused by the Mushi.
Without any of the comedy or slice of life elements found in the other name on the list, Mushishi gives you a completely different viewing experience. Mushishi is the perfect anime if you are looking for a morning anime that will make you feel good with its relaxing storytelling. The story is made even better by the beautifully designed backgrounds and Mushi. Mushishi features an episodic story with each episode focuses on the lives different Mushi with Ginko being the only common element in each episode. This ease of access and the relaxing story make for a morning anime.
---
6. Danshi Koukousei no Nichijou (Daily Lives of High School)

Episodes: 12
Aired: January 10, 2012 to March 27, 2012
Danshi Koukousei no Nichijou follows the story of three close friends as they experience everything life has to offer. Attending the all-boys Sanada North High School, Hidenori Tabata, Yoshitake Tanaka, and Tadakuni use their imaginations to pass the time. Whether its a bunch of giant robots fighting or experiencing a dramatic love confession, the boys dream up a variety of situations to help them get through the day. When the group isn't dreaming up different scenarios, they are getting into crazy schemes thought up by Hidenori.
A fun comedic adventurer, Danshi Koukousei no Nichijou is perfect if you a looking for a good laugh and a crazy story. Danshi Koukousei no Nichijou incorporates different elements into its story than many of the comedy anime on the list giving the viewer an anime that can deliver on the comedy while also bringing a unique style to the story. With so many great story elements, the best part of Danshi Koukousei no Nichijou is waiting to see what crazy situations the characters find themselves in thanks to Hidenori. You never know what kind of scheme Hidenori will come up with and the anticipation will keep you coming back each episode.
---
5. Sansha Sanyou (Three Leaves, Three Colors)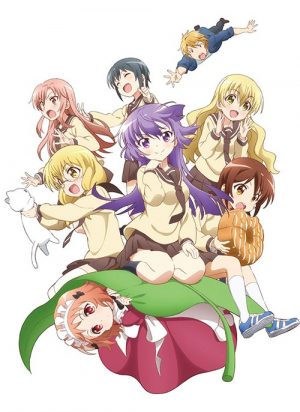 Episodes: 12
Aired: April 11, 2016 to June 27, 2016
Following the bankruptcy of her father's company, Youko Nishikawa goes from a pampered life to the life of a typical girl. Youko struggles make friends at her all-girls high school due to her inability to drop her rich and entitled attitude. While eating alone in a nearby forest during lunch, Youko meets Futaba Odagiri, the transfer student, and Teru Hayama. Despite their differing personalities, the girls bond together over the fact they all have the kanji for "leaf" in their name. Together the girls go about enjoying their daily lives together while facing all the trials and tribulations life has to offer.
As with so many moe slice of life anime, the main draw of Sansha Sanyou is the cheerful and cute interactions between the main characters. The plot of Sansha Sanyou is simple and easy to follow making it perfect for an early morning anime. The characters in Sansha Sanyou are all interesting and it's fun to watch them interact with one another. With the main three girls all having such different personalities, Sansha Sanyou excels at showing how they all react to the different things going on in the story. Sansha Sanyou is also a very colorful anime, with all of the characters and backgrounds being colorful making it one of the better looking anime on the list.
---
4. Sakura Quest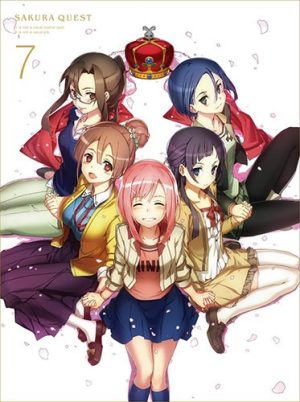 Episodes: 25
Aired: April 6, 2017 to September 21, 2017
After graduating high school in a small town, Yoshino Koharu decided to move and enjoy the big city life in Tokyo. While struggling to find a job,Yoshino jumps at the offer to work for the small town of Manoyama for the day. Yoshino learns that she is to be the queen of Manoyama and focus on bringing in more tourists to the town as part of the tourism department. Yoshino finds out that job wasn't for a full day, but it was actually for a whole year. Not wanting to go back to life in a small town, Yoshino tries to run away from her duties but with some convincing, she decides to stay. After forming a special group with Shiori Shinomiya, Maki Midorikawa, Ririko Oribe, and Sanae Kōzuki, they focus on modernizing the tourist activities and restoring Manoyama to the way it used to be.
The story of Sakura Quest gives you a little bit of everything. From comedy to drama, Sakura Quest has a little bit of everything making it one of the more emotionally complex anime on the list. While many of the other anime on the list give you enjoyable comedic scenes or feel good moments from beginning to end with their one-off stories in each episode, Sakura Quest gives you a much deeper story that will keep you entertained for many mornings to come. The best parts of Sakura Quest come from watching the characters grow as people and bond together over their job. Sakura Quest does a great job at spacing out its dramatic scenes, starting its first few episodes with its comedy and lighter elements giving you time to get invested in its characters before throwing anything serious at you.
---
3. Little Witch Academia

Episodes: 25
Aired: January 9, 2017 to June 26, 2017
Inspired by the famous witch Shiny Chariot's performance, Atsuko "Akko" Kagari decided she wanted to be a great witch just like Shiny Chariot. Akko dreams of being a witch, one that can make people smile just like Shiny Chariot. Akko stops at nothing to achieve her goal, not even her lack of magical family history. Enrolling at Luna Nova Magical Academy takes Akko one step closer to her dream, but the journey is going to be much harder than she realized. Upon befriending Lotte Yansson and Sucy Manbavaran, the trio gets lost on their way to the first day of school and ends up facing off against monsters in a forest. Luckily for Akko, she finds Chariot's old wand, the Shiny Rod, in the forest and hopes it's a sign of good things to come. Little Witch Academia follows as Ako attempts to become a famous witch like Shiny Chariot while overcoming her own inadequacies and learning just what it takes to achieve her dreams.
Little Witch Academia takes a fun setting and story combines it with unique characters to give you a wonderful story that truly feels unique. The visual style of Little Witch Academia is amazing and adds to the overall unique feeling of the show. Akko embodies some of the best parts of the other anime on the list and is the main reason the anime is perfect for an early morning viewing. Akko brings a comedic side to the serious rich world and her crazy but well-meaning antics create some hilarious situations. The other major aspect Akko has is her ability to motivate you. Even though she doesn't come from a magical family, she still works hard and is able to enter Luna Nova. While she may not be the smartest student around, watching her work hard to catch up to everyone is a great inspiration.
---
2. Gin no Saji (Silver Spoon)

Episodes: 11
Aired: July 12, 2013 to September 20, 2013
Yuugo Hachiken is an intelligent and hardworking student that hates being compared to his big brother. With the constant comparisons to his brother and the disappointment from his parents, Yuugo wishes to break free from the life he has been living. Yuugo decides to enroll at Ooezo Agricultural High School in Hokkaido despite knowing absolutely nothing about farming. Although he thought he would do well at his new school, Yuugo quickly learns that the life of a farmer wasn't going to be as easy as he thought it was going to be.
Gin no Saji is the best anime to motivate you in the morning. With the students of Ooezo Agricultural High School getting up early in the morning, Gin no Saji serves as a great inspirational anime. Watching the characters as they try their hardest and work hard to achieve their dreams is great. Yuugo is the most inspiring of all the characters, as he is the least knowledgeable character in the anime, but he is also one of the most hardworking and determined characters in the whole series. If the inspirational story and characters aren't your thing, Gin no Saji also gives you a perfectly balanced slice of life comedy story, that is sure to give your mornings a boost.
---
1. Yuru Camp (Laid-Back Camp)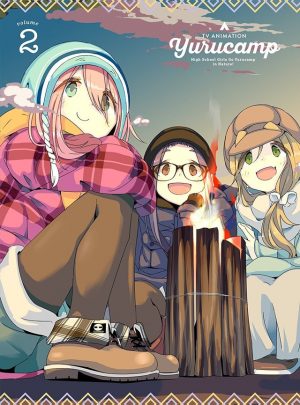 Episodes: 12
Aired: January 4, 2018 to March 22, 2018
After moving to Yamanashi, Nadeshiko Kagamihara decides to ride her bike to Motosu in order to see Mount Fuji. When she arrives, Nadeshiko is unable to see Mount Fuji and decides to rest on a nearby bench. Accidentally falling asleep, Nadeshiko wakes up to find she is cold and alone in the pitch black. Luckily Nadeshiko runs into camping enthusiast Rin Shima who invites her back to her camp and offers Nadeshiko some food. Together with Rin, Nadeshiko is able to discover the joys of camping and even gets an opportunity to see Mount Fuji. With a newfound love for camping, Nadeshiko decides to join the Outdoor Activities Circle at her new school.
Yuru Camp is the perfect anime to watch anime to watch in the morning. The story is simply allowing you to sit back and relax without having to think too much. While the story is simple, it isn't boring, each episode brings you a new story about the girls and their camping adventures as they bond together over a shared interest. Nadeshiko, Rin, and the rest of the Outdoor Activities Circle are a fun bunch of characters that go on plenty of adventures that are enjoyable and aesthetically pleasing. There is something soothing about watching the characters go out and get so much joy out of experiencing everything nature has to offer.
---
Final Thoughts
Whether you are looking for a little motivation to get your day started or want to give yourself a good laugh, there are plenty of great anime to watch in the morning. With each anime on the list bringing their own unique aspects to their genres, you will have no shortage of options the next time you are looking for an anime to watch in the morning. Which anime on this list would you want to watch in the morning? Are there any other anime you think would be perfect to watch in the morning? Let us know in the comments below.
---