They come equipped with just about every weapon imaginable, and are paid to carry out duties that no normal human could ever fathom completing on their own. Their strategic approach to taking out their enemy is unprecedented, and they make sure to leave no trace of evidence behind to be caught. Who are we talking about? That's right, the cerebral assassin. These hitmen and women will kill by any means necessary to ensure that they receive their pay cut for a job well done, and move onto the next assignment. Assassin manga portrays these incredibly talented sharpshooters in a cool way, arming them with insane technologically advanced tools, a cool yet determined persona, and most importantly their willingness to sacrifice their own well being to get the results they need.
10. Caterpillar

Mangaka: Murata, Shinya
Genres: Action, Ecchi, Seinen
Volumes: 7
Published: March 2012 - Present
Imomushi (Caterpillar in Japanese) is a well known assassin who possesses incredible flexibility and tenacity, and only goes after those who are assigned to her. However something happened between both her and her sister, and now the two may cross paths once again in this spin off story of Arachnid. Imomushi must now uncover more information within the organization she works in, but also master her skills as the top assassin.
Sadly the manga had been placed on Hiatus since 2013 due to the sudden passing of the artist, but since 2014, the manga has resumed and has been doing very well. Much of Imomushi's past is shrouded in mystery and so much of the past plays a major role in the unraveling of the story going forward. Of course the major selling point is all of the blood and gore that comes with the cool assassinations, but the story overall is very compelling as it tries to tell the story of two sisters embroiled in constant violence, and attempted murders while trying to track down the truth to settle the matters at hand.
---
9. Scuro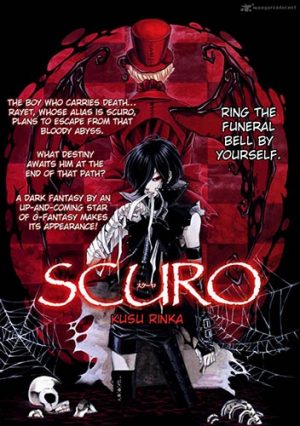 Mangaka: Kusunoki, Rinka
Genres: Fantasy, Shounen, Supernatural
Volumes: 3
Published: January 2008 - March 2008
Taking place in a very gothic themed setting, Raylet aka Scuro, is a highly trained assassin who works for the notorious group known as Scarlet. His only job is to assassinate other trained assassins as part of the clean up service to ensure that Scarlet stays at the top of the ranks. However Raylet is getting quite fatigued and feels like his life of killing others must come to an end, so he enlists in the help of fortune teller Junki and assistant Ritsuna to get him out of Scarlet. What Raylet is about to discover though is that escaping out of Scarlet is no easy task, and may not allow him to leave the organization alive.
Despite its short shelf life compared to other assassin manga, Scuro does a great job of portraying a young assassin who now becomes the prey in this fantasy driven series. With so much on the line including his own life, Raylet desperately tries to search for a way out of his past but only runs into constant trouble as now the organization he once trusted and devoted himself to, now wants him dead by any means necessary. The artwork is illustrated brilliantly and really helps to bring out the story in a remarkable way. Pair that with a really clever protagonist and his colleagues, and you have one solid manga to sit down and read.
---
8. Strain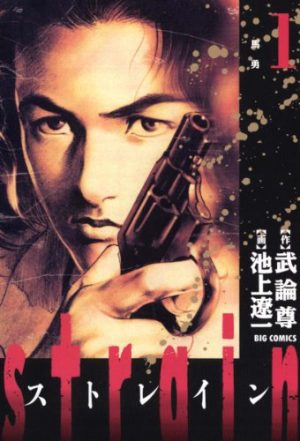 Mangaka: Buronson
Genres: Action, Adult, Drama, Mature, Police, Romance, Seinen
Volumes: 5
Published: 1996 - 1998
Mayo's life is nothing but a mystery to many, but one thing is for certain, he'll take down any target you desire for a mere five dollars. Mayo is no laughing matter and if it means killing for passion, he'll most certainly do so. With a heavy price on his head and enemies lurking around every corner looking for that one shot at victory, Mayo and his allies must now put an end to a growing conspiracy that's plaguing the world before it manifests into something bigger.
Buronson hits our lists once again with his incredibly well written manga Strain, and it really goes to show you how much Buronson loves his western action films. Taking bits from his inspiration Charles Bronson, Strain looks at the life of a man who must deal with family dilemmas, rape, mafia, and extreme violence in order to bring down a corrupt regime that plans to bring the world to ruin. The pacing of the story is enough to keep you coming back, and if you've read Sanctuary at all, you'll feel right at home with this one. With a satisfying ending to wrap it all up, Strain is one assassin manga you don't want to miss.
---
7. Arachnid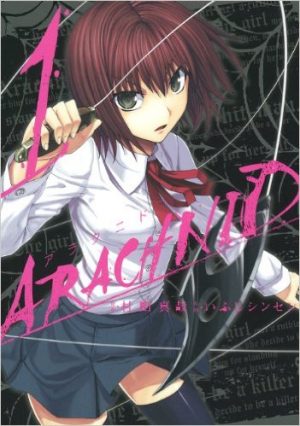 Mangaka: Murata, Shinya
Genres: Action, Drama, Shounen
Volumes: 14
Published: November 2009 - December 2015
Senior high school student Alice lives with her uncle, but simply can't stand being around him due to his excessive torment that puts a strain on her. That all changes abruptly however when her uncle is killed right before her by an assassin called Kumo. Alice is then knocked out unconscious shortly after. Upon waking up Alice discovers that she's in Kumo's house, and with no family left to run to she must now be raised by this deadly assassin in order to survive.
It's kill or be killed in this action packed drama by Murata Shinya, the same mangaka who created Caterpillar which we looked at earlier. Alice is now an orphan who must adhere to the rules of Kumo (Spider in Japanese), otherwise she may face instant death at the hands of this crazy killer. Taking place in a very dark, gritty, and unforgiving society, Alice must fight her way through with whatever she has and to come out alive in one piece. Other professional assassins are after her just because she refused to join the organization, so now Alice must rely on her instincts as well as her arachnid-themed abilities to survive at all costs.
---
6. Kyou Kara Hitman

Mangaka: Mutou, Hiroshi
Genres: Action, Comedy, Ecchi, Psychological, Seinen
Volumes: 31
Published: July 2005 -May 2015
Tokichi is a married man with his finger on the trigger at all times, all due to a sudden life change that turned this hard working salaryman into a full fledged hitman overnight. Now he must somehow balance both lifestyles in order to survive. Let's not forget the two women who are dear to him: his wife and his new girlfriend who became attracted to his new persona. Just how will Tokichi come to terms with all of this? Read on to find out more.
In Kyou Kara Hitman, Tokichi had a pretty normal salaryman life doing whatever he could do to bring home the yen. However fate came calling and now his life becomes a thrill ride, handling documents by day and taking out corrupt criminals by night. This sudden lifestyle change leads him into dealings with the mafia, which forces him to take on a new persona to protect not only his career and romantic life, but his own life. With murders taking place in this grimey underground society, Tokichi must use his wits to get him out of sticky situations and avoid becoming the next victim by any means necessary.
---
5. Jackals

Mangaka: Murata, Shinya
Genres: Action, Drama, Martial Arts, Mature, Seinen
Volumes: 7
Published: December 2005 - September 2008
Cicero City has become a cesspool for immigrants and many of them are constantly scurrying to find whatever they can to survive. There's no guarantee for a long life in this city as it's full of destruction and blood soaked streets. On the outskirts of the city however, live highly trained assassins known as Jackals who will take down anyone you please so long as the money's right. With no allegiance to anyone but themselves, these Jackals are out only for one thing, and that's to make sure the job gets done.
There are many ways an assassin can approach and kill you, whether it be by a gun or by a sword, it all depends on their prefered style of choice. Betrayal, corrupt mafia groups looking to bring ruin to the city, and tons of armed combat are just some of the things you'll find in this crazy thrill ride, and there's plenty of blood and guts to go around too. The way the story and action are played out remind us of a cross breed between Berserk and the famed Akumetsu, so if those two manga really excited you then Jackals most surely will too.
---
4. Freesia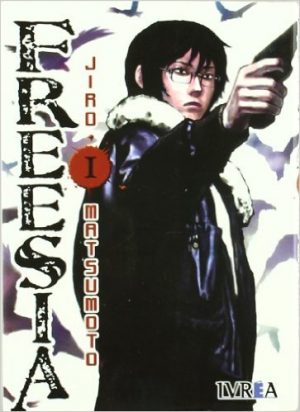 Mangaka: Matsumoto, Jiro
Genres: Action, Drama, Psychological, Seinen
Volumes: 12
Published: September 2001 - August 2009
Freesia takes place in an altered Japanese society that's entangled in war, and has recently passed a law that allows for retaliatory killings to take place. So if someone kills one of your loved ones, you're legally warranted to seek retribution at any given time. Or if you don't feel too entirely confident to do the job yourself, then hiring a highly trained assassin will do the trick. Freesia looks at the life of a man who works at a firm and is quite adept at these types of retaliatory killings.
Taking place in a dystopian world, Freesia tries to recreate Japanese society as a war driven country which is plagued with violence at every corner. It's somewhat of a direct reflection of our current existence in which violence is spreading rapidly, and whoever has the gun in hand is in complete control. Sketchy politics, mixed in with sexual abuse every now and then and you've got a pretty twisted story line. Hiroshi aka the Phantom Killer, is the schizophrenic assassin main lead that can hear the voices of other people which gives him this type of sixth sense ability. Using this to his advantage, Hiroshi must use his tactics to overcome any threat that he comes across, and to bring an end to the struggle as soon as possible.
---
3. Golgo 13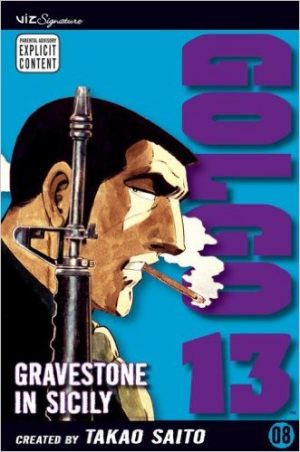 Mangaka: Saito, Takao
Genres: Action, Adventure, Drama, Mystery, Seinen
Volumes: 182
Published: November 1968 - Present
Golgo is known by many to be the world's greatest assassin, and his track record proves that. He'll take on any job even it's to settle a score, or just to shake things up around him. Much of his personal life is tucked away under this deadly persona, but his legendary prowess with the sniper rifle is revered by many around the world. Golgo never fails a job and ensure to leave no traces behind, but if the client betrays him then there's trouble lying ahead.
Golgo 13 is a timeless classic that will never wane in terms of its popularity. Having been released more than 40 years ago, the long running series is enough proof that there's no shortage of people to take out so long as there are clients who need a job taken care of. Golgo's character just bleeds confidence and reminds us of James Bond in so many ways due to his suave charm with the ladies, driving classic fast cars, his ability to think two steps ahead of his enemy, and clean exit. No traces are left behind with Golgo and you'd better be sure not to get on his bad side, because you'll be looking at the opposite end of the rifle sooner or later if you do.
---
2. Gunslinger Girl

Mangaka: Aida, Yuu
Genres: Action, Drama, Military, Psychological, Sci-Fi, Shounen
Volumes: 15
Published: May 2002 - September 2012
Surviving almost near death and seeing her family killed right in front of her, Henrietta must now find a solution to escape this drama. She was taken in by the Social Welfare Agency and much of her serious wounds were replaced with robotic counterparts, along with being brainwashed. Now with her memory totally wiped clean, Henrietta has become a cyborg assassin with the help of her assistant Giuseppe to take out any enemy swiftly and cleanly. In spite of all this sudden change in character and appearance, Henrietta still maintains her youthful ways as she still yearns for love, but simply can't balance both personas. How long will Henrietta survive in this state, and will she rediscover inner peace?
Gunslinger Girl was such a popular hit that it was adapted into an anime series which also saw success in the long run. Tragedy strikes Henrietta's fragile life and now with new powers at her disposal, she'll need to unlock her strength to fight against other assassins who are out to stop her. It's a manga full of female leads, all with their own unique fighting ability pertaining to assassinations, and their desperate attempt to uncover the truth to their past. The name should speak for itself though, as Gunslinging is exactly what takes place in this one so if you're all about the gunplay then Gunslinger Girl is right up your alley.
---
1. Kozure Ookami

Mangaka: Koike, Kazuo
Genres: Action, Drama, Historical, Samurai, Seinen
Volumes: 28
Published: September 1970 - April 1976
Taking place in the very hectic and feudal era of Japan, Ogami is known by many as the elite executioner for the Shogun. Unfortunately things turn sour very quickly as the notorious Yagyu Clan blackmails Ogami in a cowardly attempt to attain his position. With his name tainted and wife brutally murdered, all Ogami is left with is his son Daigoro as the two must now wander the streets as an assassin for hire, naming themselves Lone Wolf and Cub. With his eyes set out to seek revenge on the Yagyu Clan, Ogami will do whatever it takes to settle the score even if it means risking his own life.
Kozure Ookami is such a powerful story that the minute you sift through the first several chapters, you'll be immediately enchanted by what takes place. It's a tale of a man out for revenge because his entire life had been taken from him in an instant, and now Ogami wants that life returned to him even if it means killing a ton of people for it. Kozure Ookami is somewhat of an inspiration for other powerful revenge driven stories such as the popular Berserk, but this one just has such an incredible father-son relationship that you're more emotionally involved it what happens. With a plethora of twists and turns in this ultimate classic, Kozure Ookami is your quintessential assassin manga with extra perks to keep you hungry for more.
---
Closing Statement
We hope you found this list to be enticing and informative, as you seek out that favorite assassin manga to pick up and read. With so many out there it can be hard to find the one that speaks to you, but that's why we here at Honey's Anime do our best to track down the very best to ensure your search becomes much easier. Whether it's chopping off heads with swords, or sniping enemies from atop skyscrapers, assassin manga will always be a treat for those interested in the genre.
As always, if you want to know about all the latest buzz straight from the bee's nest in Japan, be sure to keep it locked here at Honey's Anime.
---