Warning: There are major spoilers below. Proceed with caution.
Most manga protagonists are known for their valiant deeds. However, that doesn't mean that every single one of them treads the same path. There are a good number who don't even bother hiding their vileness, while there are also some who only reveal their true colors towards the end. Since it's the season for Santa to be segregating the good kids from the naughty ones, we figured that we'd give him a bit of help. Here are five manga protagonists who undoubtedly belong on his naughty list.
5. Yoichi Isagi from Blue Lock

Isagi is initially just an ordinary kid. He may have some talent at soccer, but he's held back by his lackluster teammates. He can't let himself go all out, since nobody is allowing him to let loose. By that, we mean letting his selfishness devour his thought process. He's basically the kind of player Jinpachi Ego hates the most. However, his character has a drastic development after entering the Blue Lock program. The tame — arguably wussy — Isagi is destroyed, letting his inner demon out. This demon acts on ego alone and only cares about scoring as long as he's on the field. While this allows him to take the spotlight and win some matches, such intense egoism definitely doesn't suit Santa's nice list. The funny thing is that Isagi probably doesn't give a damn about being included on said list as long as he can score a goal.
---
4. Maruo from Ayashimon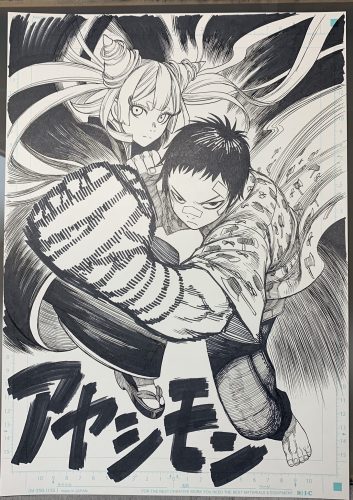 Ayashimon is still a fairly new manga, but that doesn't stop Maruo from showing us his unfiltered character. He's a single-minded idiot whose only desire is to fight strong opponents because he wants to be the star of his own manga. He also doesn't hold back during fights. In fact, he once takes on a whole mob all by himself. Even though his opponents aren't really human, we still believe that such a battle-crazed personality isn't a good role model. Hence, Maruo most definitely belongs on Santa's naughty list.
---
3. Sekai Kuzuno from Jikan Teishi Yuusha (Time Stop Hero)

Even though Sekai Kuzuno is facing the crisis of his possible death, it doesn't excuse the fact that he's worse than a dirty old man. After all, he uses his power to stop time to take a peek at the privates of every woman who's unfortunate enough to cross his path. He does it so often that it's already like second nature to him. While it is true that he isn't doing anything more than looking, it doesn't change the fact that he's committing sexual harassment. The frequency and gravity of his acts are also not helping his case. Because of this, Sekai Kuzuno is nowhere near a good example of a nice kid.
---
2. Risa Aioi from i tell c

Risa Aioi's case is a bit complicated. On one hand, it can be argued that she's doing God's work by sending criminals to jail and even convincing some of them to turn over a new leaf. On the other hand, she's literally stalking them and invading every inch of their personal space. This girl doesn't know what the word privacy means. The thing about her is that she's brilliantly good at doing that. She has all the skills she needs to break into places and retrieve any and all sorts of information relevant to her target. To top it all off, she's doing all of this because she's genuinely in love with the criminal she's following. Even so, that doesn't really justify her actions. While she's definitely going to give Santa a run for his money in terms of breaking into people's properties undetected, she just can't be part of the nice list.
---
1. Eren Yeager from Shingeki no Kyojin (Attack on Titan)

First things first, major spoilers will be dropped in the sentences following this one — just in case you've missed the warning above. Eren started off as the manga's hero, willingly and constantly putting himself in harm's way in order to save humanity. However, this took a complete one-hundred-eighty-degree turn during the manga's final arc. It turns out that this lad is a complete maniac who would commit genocide just to satiate his curiosity. He literally used his power to command his army of colossal titans to flatten the Earth along with every living being residing on it. Needless to say, this crazy dude is at the top of Santa's naughty list.
---
Final Thoughts
And that's it for our list of naughty manga boys and girls for this year. While we can only wish the big guy in the red suit will read this article, it's still fun coming up with it. We are sure there are a lot more who deserve to be on this list, but we've tried to make it as varied as we can. That being said, we definitely welcome your thoughts and opinions. Do tell us in the comment section below which other manga protagonists you think haven't been so good this year.
---