While sometimes overshadowed by their openings, anime ending themes play an important role in how the show is perceived and enjoyed, usually either offering a peaceful rest from the intensity of the show or continuing the energy to build tension for the next episode. Some EDs have become even more iconic than the rest of their series! In any case, in this piece we're counting down our favorite anime endings from last year, ranked on the quality of their music, art and animation, how well the music and animation are connected, and how the ED represents its anime overall. When available from official sources, we'll also be including videos so you can watch and listen along with us! Let's go!
10. "Rainbow Planet" by Mai Fuchigami from Planet With

The somewhat quirky and definitely underrated super robot, sci-fi anime Planet With was one of the more interesting series of 2018, and while its ED is largely done in traditional fashion, it is still very solidly constructed and represents its series quite well. The most visually striking part of this ED is how it frames each of the characters in two different periods of their growth or facets of their personality, split across the middle of the screen with the other half being reflected in Souya's mask. This and other aspects give hints to the show's depth without explicit spoilers. Everything is tied together with a high energy anisong-style rock song which reaches an awesome climax (ooh that piano!) right near the end that definitely will get you excited for the following episode!
Rainbow Planet
---
9. "PRIMALove" by ClariS from Beatless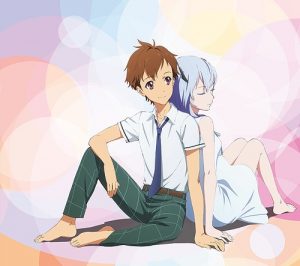 While the show itself was a bit controversial, especially with a plethora of recap episodes, Beatless at least has given us a great ED! First and foremost, this ED stands out with its music "PRIMALove", another great electronic-heavy pop piece from masked anisong goddesses ClariS. Another good thing about this ED is how it tells a story of sorts, it's centered around Yuka Endo (Arato's sister) and follows a day in her life from waking up to meeting up with Arato at the beach. In particular, the sequence of her riding her bike against the sunset in sync with the music and then standing and joking around with her brother in silhouette on the beach really stand out and make this ED one of our favorites of 2018!
---
8. "Ref:rain" by Aimer from Koi wa Ameagari no You ni (After the Rain)

Tackling the controversial subject of love between people with a wide age gap, After the Rain was a surprisingly sensitive take on the idea framed in slice-of-life anime style that felt somewhat similar to Kotonoha no Niwa (The Garden of Words) and with it, a beautiful, albeit somewhat minimalist ED. Pop singer Aimer's emotional voice paired with the slow and soft instrumentation creates a rich ballad that moves flawlessly through the flowing visuals transitioning from rain to sunshine. We particularly enjoyed the zooming transition of the transparent umbrella in and out of frame. Altogether, a simple and clean ED that delivers a memorable and intimate experience.
---
7. "Okashi na Watashi to Hachimitsu no Kimi" by Hachimitsu Rocket from Dagashi Kashi 2

Dagashi Kashi 2 continued the snack-infused shenanigans of the first series with a new short format and a fun new character in Owari Hajime that sent the show straight to the top of dagashi-related anime and was well-received by fans. While the ED might not quite live up to the jammin' "Hey! Calorie Queen" of the original series, "Okashi na Watashi to Hachimitsu no Kimi" has its own sweetness that has worked its way through our arteries as one of our favorites of 2018. This ED unusually starts off with a section of spoken word that then explodes into a really catchy intro and a more typical energetic and happy anisong for the rest. Visually, it centers around the characters and the plethora of snacks and candy. We really enjoyed how many of the sequences were seamlessly cut together following a trail of different desserts and how the beginning and end are tied together. Bonus points for seeing the characters singing parts of the song also!
---
6. "Houkago Distraction" by Etsuko Yakushimaru from High Score Girl

High Score Girl's eclectic mix of middle school romance themed around the bustling Japanese arcade game scene of the early 90s made for an entertaining series last year, standing out even more with its heavy use of 3DCG and unique character designs. The artstyle for this ED is even stranger with a combination of oil pastel and watercolor-like environments with heavily stylized, flat character designs. The small movements and focus on Akira and Haruo's interaction reveals much of their relationship, the switch to stark black and white at the moment they touch at the end punctuates this ED. Etsuko Yakushimaru's soothing vocals and the trippy, minimalist electronic accompaniment really sells the feeling of nostalgia and mystery and sounds memorable in its own right. Other details like referencing the vintage games ubiquitous to the series with a pixel-art style font in the credits, all come together to make a marvelous ending!
"Houkago Distraction" (Afterschool Distraction)
---
5. "Konpeki no Alfine" by Izu no Kaze from Grand Blue

Grand Blue's humorous depiction of college life, a sadly underutilized time in a world drowning in high school anime, and the rowdy antics of a certain diving club more likely to be drinking that partying made for a popular comedy series in 2018 and gave us a great ED in the process! As far as in-universe EDs go, Grand Blue's is one of the best showing Iori and Kouhei belting out the over-the-top dramatic song in karaoke with heavy support and wotagei cheering from Shinji and Ryujiro. As it often happens in the series, we soon find them stripping down to their boxers in full otaku enthusiasm. Needless to say bonus points for seeing the characters singing! Simply put, this is a brilliant approach for a comedy anime to handle their ending theme. It captures the character's personalities and the feeling of the show perfectly and was one of our favorite EDs of last year for it!
---
4. "LAST GAME" by Zwei from Steins;Gate 0

The Science Adventure series is one of the most beloved multimedia franchises, and has arguably given us the best visual novel anime adaptations out there with Steins;Gate. Steins;Gate 0 continues this legacy of excellence, this time following an alternate history where Okabe Rintarou fails to save Makise Kurisu. Time and time travel are the key themes explored in the series and this ED explores this visually with heavy use of clockwork gears, hourglasses, and the eroding "sands of time". It also features a lot of cool transitions, with the zoom into Mayushii's eye that becomes an hourglass with Rintaro Okabe's coat blended into the flowing sand being a highlight. Zwei's slowly building, progressive rock track works masterfully with the excellent and fitting visuals to bring this ED to a grand and satisfying closing for the series.
---
3. "Jewelry" by Saori Hayami from Cardcaptor Sakura: Clear Card-hen (Cardcaptor Sakura: Clear Card)

CLAMP's beloved magical girl series return to anime with Clear Card definitely brought a lot of feelings of warm nostalgia to many anime fans, especially seeing the series reinvigorated with stunning art and animation from Madhouse. Even in a series known for great EDs like "Groovy!" and "Honey", "Jewelry" impresses with its stylish, colorful, and well-animated sequences that capture the personalities of the main cast wonderfully in the simple story told by the ED itself. It's also ultra-cute, we especially loved Sakura's various facial expressions and the cheerleader sequence where she jumps up to spell out her name! Saori Hayami's gentle and relaxing song feels right at home in the series and is synced with the visuals well, we really couldn't ask for more in this ED!
"Jewelry" PV
---
2."Fukashigi no Carte" by Asami Seto, Nao Touyama, Atsumi Tanezaki, Maaya Uchida, Yurika Kubo, and Inori Minase from Seishun Buta Yarou wa Bunny Girl Senpai no Yume wo Minai (Rascal Does Not Dream of Bunny Girl Senpai)

Seishun yadda yadda Bunny Girl's pseudo-science fiction, high school romance light novel adaptation was a big hit popularity-wise in 2018. Following the strange, supernatural manifestations of "puberty syndrome" with a cast of cute teenage girls and a lackadaisical, social outcast protagonist, perhaps Bunny Girl Senpai's greatest contribution was its spirited rockin' OP and this pretty and catchy ED. Or EDs rather, as there are actually six different variations focusing on the main female characters and one where they are together. Each ED has a different dominant color and shows the singer slowly walking along a beautiful beach at various angles and facing another character at the end. While somewhat simple, this approach works really well and the song itself is simply sublime, made even better by having the different variants. Haunting and memorable, "Fukashigi no Carte" was one of the best anime ending themes of 2018.
---
1. "Koko kara, Koko kara" (From Here, From Now On) by Inori Minase, Kana Hanazawa, Yuka Iguchi, and Saori Hayami from Sora yori mo Tooi Basho (A Place Further Than the Universe)

The unusual premise of ordinary high schoolers trying to travel to Antarctica proved to be quite an emotional and heartwarming experience in last year's A Place Further Than the Universe. While we definitely enjoyed the opening, this time around the ED stole the show for us. The standout part of this ending is definitely the song "Koko kara, Koko kara" which strikes a brilliant balance of the feelings of triumph and wanderlust with a touch of relaxing nostalgia. Major props to the voice actresses who really brought their characters to life in a unique way with this song. The repeated piano melody throughout the piece was also really striking, as was the picturesque backgrounds and cute use of flowers, stars, and penguins to represent the cast and their growth along their journey. The whole thing is reminiscent of travel photo albums you could imagine the characters making for themselves, a perfect bookend to a story about a fantastic journey, and our pick for the best ED of 2018!
"Koko kara, Koko kara" (From Here From Now On)
---
Honorable mentions:
"Freek'n You" by Jodeci from JoJo no Kimyou na Bouken: Ougon no Kaze ( JoJo's Bizarre Adventure Part 5: Golden Wind)
"Kedamono Damono" by Kitsunetsuki from Killing Bites
"Update" by miwa from Boku no Hero Academia 3rd Season (My Hero Academia 3)
"forget-me-not" by ReoNa from Sword Art Online: Alicization
Ending themes can be a lot of fun, sometimes daring to be a little more "out there" artistically and musically than their OP cousins, but always adding something to the series and part of what makes anime unique. In any case, we hope you enjoyed this list! What were your favorite EDs of 2018? Let us know what you think in the comments section below and be sure to stick around Honey's for more of all things awesome, anime and otherwise! Until next time! ← To Be Continued
---