2018 was a great year for video games, no matter what genre you're interested in or what system you play on. Role-playing games, or RPGs, in particular, produce some of the best games each year. The genre itself is quite broad, encompassing any video game where the player takes on a fictional character in a fictional world. RPGs are defined by their stories and the characters you get to know along the way.
We decided to highlight some of the best RPGs from the past year. Whether they have great graphics, an interesting setting or a great storyline, these games stood out to us. We also tried to vary our choices—Though most RPGs fall under action and adventure, we tried to pick a few great indie selections. The games vary by what system they are available on as well. There should be something here for everyone!
10. Vampyr

aside class="exclude-from-excerpt">
System: XBO, PS4, PC
Publisher: Focus Home Interactive
Developer: Dontnod Entertainment
Release Dates: June 5th, 2018
Vampyr is the tale of Dr. Jonathan Reid, a doctor of the city, who has been newly turned into a vampire himself. The city is struggling enough as it is, with the citizens still recovering from a war and dealing with an outbreak of the Spanish flu. Vampyr focuses on the supernatural beings running the city from behind the scenes, even as Dr. Reid struggles with the unwanted nature of his new curse. Even as you can help save the city you inhabit, the need to make yourself stronger by feeding can sometimes be too great to ignore…
Vampyr allows the player to step into the shoes of a vampire themselves, conflicted as he is by his condition. The graphics are well done, particularly when it comes to the characters since they are the focus of the entire story. It's not just about attacking people at random when you want to – the player picks up on a citizen's habits, plans out who they can take out and when to do so. You find yourself having to strategize more about who to feed from, especially with the added element of a skill tree. Of course, anyone can be targeted! Vampyr leaves the choices of the good Dr. Reid up to you, to develop the world and the story as you wish.
---
9. Ni No Kuni II: The Revenant Kingdom

System: PS4, PC
Publisher: Level-5
Developer: Level-5, Bandai Namco Entertainment
Release Dates: March 23rd, 2018
Ni No Kuni II is the latest game in the popular series. Though the gorgeous graphics are quite similar, the adventure itself is entirely new! The characters are once again the most compelling part of this tale, drawing you in. You follow Evan, a young prince who is learning how to lead his kingdom to prosperity. Evan's world is animated vibrant and beautiful, yet it seems like it could be so realistic at the same time. Uniting with allies you meet along the way to fight off a great evil, the story is both endearing and emotional. This is easily one of the most detailed and gorgeous games out there, using its animated style to the fullest!
Ni No Kuni II is a great example of classic RPG storytelling using all of its elements combined. Though the combat system in itself isn't anything unique, the game makes up for it with how fluidly everything fits together. The game can be a bit repetitive as well, with the grind for certain quests definitely less fun than others. Yet the setting is so starkly beautiful and the story so immersive that Ni No Kuni still manages to keep players hooked! Set from a third-person perspective, the game nonetheless allows players to dive into its world. Ni No Kuni II even allows players to manage Evan's kingdom, helping it grow by their choices.
---
8. Dragon Quest XI: Echoes of an Elusive Age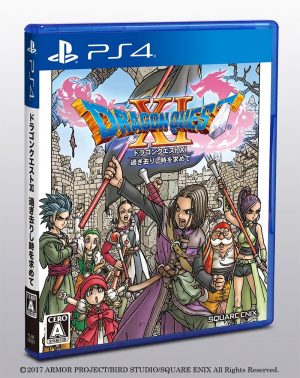 System: PS4, PC, Nintendo Switch, Nintendo 3DS
Publisher: Square Enix, ORCA, Toylogic
Developer: Square Enix
Release Dates: July 29th, 2017 (PS4 and 3DS); September 4th, 2018 (PC and Switch)
Dragon Quest XI is set in a gorgeous fantasy world, where our hero must go on a journey spanning across oceans and continents to prevent a threat from taking hold. The game embraces a turn-based combat experience, with plenty of enjoyment for both newcomers and long-time fans alike! Of course, the vast world has tons of side quests and mini-games for players to complete as well. To be successful, your young adventurer must discover the truth about his past self, a legendary hero of old. You must flee from the King's forces pursuing you, even as you gather a group of adventurers around you to support you along the way.
Dragon Quest XI is full of interesting characters and a great storyline. The battle mechanics are simple enough that you can easily pick up, but with enough difficulty to satisfy more experienced players. Dragon Quest XI has characters with both melee and magic attacks, so you can find your own style of combat. But even if you have a favorite squad, trying out other characters can be useful moving forward. Working on sidequests can also give you plenty of rewards, which can be helpful to elements of the main game—but of course, it is always up to you!
---
7. The Banner Saga 3

System: PS4, XBO, PC, Nintendo Switch
Publisher: Stoic Studio
Developer: Versus Evil
Release Dates: July 26th, 2018
The Banner Saga 3 is a gorgeous Viking RPG. The game is mature and story-driven, following your choices as your world falls apart around you. You must choose who to trust, and how to protect those you have chosen as the darkness gathers. This is the finale of the franchise's trilogy. With brand new characters to help you in your quest, you have plenty of options to help you fight! There are also new upgrade options to go along with the characters. A new battle wave system rounds out the game, giving you a reason to plan out your fights strategically.
The Banner Saga 3 is a continuation of the series. It's not only the gameplay that will draw you in – the soundtrack and the art style of this game are gorgeous. The Banner Saga 3 is a grand conclusion to the franchise. It is a thoughtful game with characters and story that will compel you to keep playing for quite some time!
---
6. Valkyria Chronicles 4

System: PS4, XBO, PC, Nintendo Switch
Publisher: Sega, Media. Vision
Developer: Sega
Release Dates: March 21st, 2018
Valkyria Chronicles 4 is a tactical RPG set in a gorgeous world, even with all the combat going on. It follows the moving tale of a young squad, finding themselves while in midst of fighting for their lives. You play as Commander Claude Wallace, leading a group of childhood friends in a bitter war. Will you be able to navigate against the powerful army fast approaching, as well as the savage colds and blizzards of the land? Bringing back both the return of the BLiTZ Battle System and the Canvas Graphic Engine, Valkyria Chronicles 4 is a must-have for long-time fans!
Valkyria Chronicles 4 is not only an exciting title; it is also beautiful, with the hand-drawn style inspired by watercolor paint. The graphics influence imagination, even as they are realistic enough to engross players. It may not be for younger children because of some of the more mature themes. Yet these same mature themes make the game have more depth for older fans of the series. The characters' depth and growth along the way are what really draw you in! Valkyria Chronicles is known for its tactical gameplay, but with the added emotion of the characters, it becomes so much more compelling. With around 40 hours of gameplay plus DLC content, this is well worth your while!
---
5. Pillars of Eternity II: Deadfire

System: XBO, PS4, PC, Nintendo Switch
Publisher: Obsidian Entertainment
Developer: Obsidian Entertainment, Versus Evil
Release Dates: May 8th, 2018
Pillars of Eternity II: Deadfire is the return to Eora, a massive open world setting. With the god Eothas out to destroy everything, it falls to you to find out what is going on and how you want to deal with it. Full of a lively group of characters, this game allows you the chance to truly build relationships with your allies. The relationship system allows characters to interact with each other and the world at large, meaning your decisions have more weight to them. With plenty to explore, this latest release to the franchise will keep you entertained for quite some time!
Pillars of Eternity II: Deadfire is full of many of the different aspects that make up a great RPG. Sailing around the open world on your ship, the Defiant, is not just for transport—upgrading your crew and ship helps you in combat against other players! You have the freedom to choose where you spend your time, and there is plenty of content to make that choice a difficult one. The game has heightened graphics and better mechanics than its predecessor. In Deadfire, there is a vast world with many options, just waiting for you to explore and conquer it!
---
4. Pokémon: Let's Go, Pikachu/Eevee!

System: Nintendo Switch
Publisher: Game Freak
Developer: The Pokémon Company, Nintendo
Release Dates: November 16th, 2018
Pokémon: Let's Go, Pikachu! and Let's Go, Eevee! is the revamp of the classic Kanto region for the Nintendo Switch. Starting as a brand new trainer with your own partner Pokémon, you will work alongside your allies to be the best there ever was! Whether you chose the Pikachu or Eevee exclusive game will determine which Pokémon is your starter, though these starters have a few interesting quirks as well. And like Ash Ketchum's Pikachu from the anime, your starter will also reside outside its Poke Ball! Along with a few customizable aspects, Pokémon: Let's Go! is both familiar and different, making it a great option for both newcomers and long-time fans alike.
Pokémon: Let's Go! is a combination of the mechanics we've seen in some of the newer games with the familiarity of the Kanto region. Though aspects like battling and Mega Evolution still exist, the game also incorporates a relaxed capture style like that of Pokémon Go. You will get to see all of the high-quality Pokémon as they roam about in the free world! Even the Legendary bird trio is seen flying about in the region, though they can only be captured after they are defeated. Needless to say, you're sure to be called a Pokémon Master if you're seen with Articuno, Zapdos or Moltres following you on your adventure!
---
3. Kingdom Come: Deliverance

System: XBO, PS4, PC
Publisher: Warhorse Studios
Developer: Warhorse Studios, Deep Silver
Release Dates: February 13th, 2018
Kingdom Come: Deliverance follows the story of Henry, the son of a blacksmith thrust into the middle of a war. Henry is one of few survivors when his village is burned to the ground by the invading King Sigismund. This is an RPG where every choice you make impacts the world around you in a real way. Kingdom Come: Deliverance is a story-driven experience with detail in everything from the graphics, AI interaction and day/weather patterns involved. Whatever you choose to focus on in this game, take care; your actions and reputation spread quickly in the 15th century!
A relatively straightforward story plays out in Kingdom Come: Deliverance. Yet underneath, the game has complex mechanics and elements that make it have many different possibilities. The combat is realistic in more than one sense, with the swordfighting being entirely accurate to real techniques! Even your fighting style can be customized to the type that suits you best, from axes to bows. Most importantly, it takes time and patience to learn how to fight, just as it would in real life. Players can experience the path to becoming a knight in any shape or form they wish, all while enjoying a thrilling story!
---
2. Octopath Traveler

System: Nintendo Switch
Publisher: Square Enix, Acquire
Developer: Nintendo
Release Dates: July 13th, 2018
Octopath Traveler follows the story of eight different travelers. Though they all inhabit the world of Orsterra, each one of these characters plays a unique role in the setting. Your success in battle is determined by your ability to read your enemies and use their weaknesses to your advantage. But with eight different adventures to go on, you will have to be thoughtful in your choices! The strategic style of combat is turn-based and has a layered battle system as well. After you've been introduced to all the characters and their stories, it's easy to see how addicting this game can be!
Octopath Traveler is one of the best games for the Nintendo Switch, thanks to its beautiful graphics, relatable characters, and adventurous spirit. The unique battle system makes for an enjoyable play-through, and the characters themselves are arguably the most compelling parts of the game. The themes and depth to this game are astounding, outmatched only by the number one game on our list...
---
1. Monster Hunter: World

System: PS4, XBO, PC
Publisher: Capcom
Developer: Capcom
Release Dates: Jan. 26th, 2018
Monster Hunter: World is the ultimate hunting experience for all the most dangerous and unusual creatures you could think of! Travel through a variety of locales tracking down the latest beasts on your list, and use the rewards you receive to improve your weapons or armor. As the elder dragons are beginning their journey across the sea and the Guild is bent on pursuing one dangerous dragon, Zorah Magdaros, your own hunter's journey also starts…
The long-anticipated update for the franchise, Monster Hunter: World did not disappoint! The game seems intimidating for newcomers, but its gradient mechanics allow all players to meet the game with the level of skill they're at. Giving more attention to a personalized experience rather than any true story or tale, Monster Hunter: World nonetheless impresses with its gorgeous setting and the variety of creatures it manages to house. In true RPG format, the game allows players to step into another world and find their own place to feel right at home. For its variety in gameplay and dedication to the spirit of the genre, we believe Monster Hunter: World more than deserves our top spot on this list!
---
Final Thoughts
The RPGs on our list perfectly encompass what it means to be a game that you can lose yourself in. Whether it is through their detailed graphics, their immersive stories or the imaginative and vibrant characters we meet along the way, a role-playing game is meant to be a game where you can see yourself as part of that world, if only for a short time.
What did you think of the games on our list? Did you have a favorite not included? Let us know in the comments!
---