También puedes leer este artículo en:Español
There are many ways to describe the content of anime from shounen, shoujo to hentai. And these descriptions are divided into many sub categories that it's hard to keep track and some are redundant, or not being used in other parts of the world like Japan. Some such categories are ecchi anime and borderline hentai anime. In actuality, there is no such category as "borderline hentai" and none of the most popular anime-related websites use this. If there's a show with a ton of fanservice, it's called an ecchi anime, but there are certain shows that pushes the limits of what fanservice to show while avoiding the hentai brand, fans call this type of anime as borderline hentai anime.
To put this into perspective: Imagine yourself watching an ecchi show that is so risque, you've went into puberty and perhaps grew a couple of chest hairs. That, dear viewer, is what a borderline hentai anime is like.
Yeah, we know, that doesn't say much, but thankfully we've prepared an updated list to help you visual what instant puberty feels like! Now without further ado, here is Honey's Anime's updated Top 10 Borderline Hentai Anime!
10. Amai Choubatsu: Watashi wa Kanshu Senyou Pet

Episodes: 13
Aired: April 2018-June 2018
Let's start our list with a new breed of anime that has been airing this past couple of years that are 1-2 episode hentai OVAs, but with the sex scenes removed, chopped up into bite-sized episodes, air them on public television, and the uncut version broadcasted on the web or in the DVD/Blu-ray physical releases. One such anime is Amai Choubatsu: Watashi wa Kanshu Senyou Pet that tells of the story of Saotome Hina was found guilty for embezzling millions of dollars from a company, and is sentenced to one year in prison. As the only woman in the prison, she is a target of the inmates, and a target for sexual pleasure by the deliciously handsome chief security guard Myoujin Gakita.
Apart from the Gakita and the guards wearing what appears to be Schutzstaffel (SS) officer uniforms from the Nazi Regime, Amai Choubatsu is a short smut anime where Hina is subject to many sexual acts, and eventually, she ends up liking it. You'll only experience these sexual torture scenes in the R-18 version of the anime, and the all-ages version is still kinky enough, but you'll instantly notice that there are many jump cuts.
Fun fact: Japanese youths love to cosplay as Schutzstaffel officers because the uniforms look awesome, especially when they're holding a horse whip. Or maybe it's a fetish getting abused by a handsome Nazi soldier that will make you scream for pleasure?
---
9. Sin: Nanatsu no Taizai (Seven Mortal Sins)

Episodes: 12
Aired: April 2017-July 2017
The archangel Lucifer was cast out from heaven by God for her pride and rebellious ways. Lucifer was sent to Hell and she encounters the Seven Deadly Sins or the Seven Demon Kings of Hell. During Lucifer's struggle in Hell, she is cursed by one of the Sins and retreated to the human world where she meets a young girl named Maria. Against Maria's will, she became Lucifer's servant and together with a demon named Levi, Lucifer must do battle against the demon kings and rid herself of a curse.
If you think Sin: Nanatsu no Taizai as an inferior rip-off of Queen's Blade, no one can blame you for finding similarities because the anime came from the same creators of Queen's Blade. Though if we consider the hentai nature of the anime and how recent it is, Sin: Nanatsu no Taizai is as lewd and borderline hentai as Queen's Blade. Scantily-clad women warriors? Check. Tons of boob and crotch shots? Check. Questionable scenes that will make you look behind and see no one else is in the room? Double check. You'll love this anime! Not for the story, obviously.
---
8. Masou Gakuen HxH (Hybrid × Heart Magias Academy Ataraxia)

Episodes: 12
Aired: July 2016-September 2016
An interdimensional race of machines has invaded Earth and forced the surviving human race to flee to the ocean using giant floating cities called Mega Floats, and ever since the first invasion, mankind has developed new technologies like the Heart Hybrid Gear to combat the invaders. The story begins with Hida Kizuna who is being called by his sister to study in the Strategic Defense Academy Ataraxia. Why was Kizuna summoned to the academy? Is it related to his past and a secret he's carry with him?
When the anime starts with an aroused girl doing a lap dance, you'll know instantly that this anime is not for everyone. Taking cues from the infamously borderline hentai anime Valkyrie Drive: Mermaid, Masou Gakuen HxH is an action sci-fi series that involves girls gaining superhuman powers through sexual arousal to fight an otherworld race of machines destroying Earth. The girls require energy to power their Heart Hybrid Gear powersuits and the only way to do it is through the abled hands of our hero Hida Kizuna. The more pleasure the girls get, the more power they recieve. Of course fondling the breasts are often not enough to increase their power output so Kizuna has to be, uh, you know, be creative with his limbs. All 5 of them.
---
7. 25-sai no Joshikousei

Episodes: 12
Aired: January 2018-March 2018
Get this: Natori Hana, 25 years old, was convinced by her aunt to attend high school in place of her cousin Kaho because, you know, teenagers. It should be okay though because Hana and Kaho look alike, but sadly for Hana, things didn't turn out as she expected. Unfortunately an old classmate of hers Kanie Okito has became a teacher of the school and he saw through her disguise. Hana shouldn't worry because Okito promised he won't expose her identity… If…
It's another smut anime like Amai Choubatsu, and the anime comes into two flavors: the all-age version and the uncut version, and of course, your mileage varies on what version you've watched. If you went with the all-ages version, every episode is focused on Hana getting seduced by the admittedly hunky teacher that involves kissing and caressing. In the uncut version… well… the teacher really loves that "two-finger salute." We'll just leave it at that and let your pervy imagination run wild.
---
6. Omiai Aite wa Oshiego, Tsuyoki na, Mondaiji.

Episodes: 12
Aired: October 2017-December 2017
The family of high school teacher Saikawa Nano has arranged a marriage interview with the family friend's son Takamiya Souichirou. Reluctant at first, Nano was entranced by the well-mannered and exceptionally handsome Souichirou, and the two got intimately close, so much so the two ended up in bed together. As things heat up after a few exchanges of saliva and probing of their bodies, Nano was shocked to see that the man she's making love to isn't Souichirou, but rather it's his younger brother Souji, her student. Now that's awkward.
Short smut anime has been popping out very recently and perhaps this will become a new trend in anime for the next few years. Anyway, the pacing and story of Omiai Aite is similar to 25-sai no Joshikousei, but the roles are reversed—this time the guy is the student and is having a romantic relationship with his female teacher. After Nano found out her student Souji posed as the arranged bachelor, and Souji has the hots for her, the everyday school life as teacher will never be the same as Souji couldn't resist his lust, like, you know, teenagers. And yes, the Clark Kent Disguise routine worked surprisingly well, apparently.
---
5. Monster Musume no Iru Nichijou (Everyday Life with Monster Girls)

Episodes: 12
Aired: July 2015-September 2015
Monsters are actually real and they're already living with humans. With the combined efforts of humans and non-humans, they passed the Interspecies Cultural Exchange Act — All manner of beasts and mythical creatures are assigned to live with host families to help them adapt to human society. Kurusu Kimihito is one of these hosts who lives with Miia, a lamia—a half human, half snake being who is madly in love with our hero. As host of Miia, Kimihito must do what he can to help Miia adapt to her new world. Since our hero is the nicest guy on Earth, and with some "help" from Agent Smi—Ms. Smith, more monster girls have fallen in love with Kurusu and are now living with him. Is he the luckiest guy on Earth, or the unluckiest?
Monster Musume is like an alternative choice for harem anime. Tired of seeing harem anime featuring a ton of lovely girls falling in love with a loser main character but a caring main character nonetheless? Then how about a harem anime featuring a ton of lovely monster girls falling in love with a non-loser main character and an attractive one at that? BAM! You get Monster Musume. It's the little things that make all the difference in the world!
Anyway, Monster Musume plays like like a typical ecchi anime, but the stories revolve around every unique traits of monster girls that are living in the Kurusu Household. And since these monsters are based on certain creatures, Kimihito has to carefully deal with them when it's that "time of season."
---
4. Aki Sora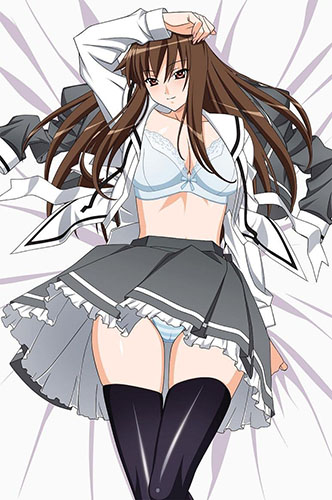 Episodes: 1
Aired: December 2009
Aoi Aki and Aoi Sora are a pair of close siblings that shared a strong intimate bond when they were young. During their puberty, Aki finally realized her real feelings towards her brother Sora, and eventually they made love. Aki and Sora have another sibling, Aoi Nami, and wouldn't you know it, Nami wants a piece of the action.
Aki Sora is a very well-known manga for the right and wrong reasons. Centered around incest with tons of sexually suggestive and actual sex scenes, it's one of the popular series that got affected by Bill 156—Tokyo Metropolitan Ordinance Regarding the Healthy Development of Youths, and the publication was forced to end the series way sooner due to the series's explicit incestuous nature. Before the bill was passed, Aki Sora got an anime adaptation and sequel that are equally raunchy with a good amount of sex scenes. The sex, by comparison to modern hentai, is tame by showing the characters thrusting during sex but didn't show the genitalia or the actual penetration. This limitation and among other factors (loopholes in rating titles), prevented Aki Sora from being labeled as hentai, and that didn't stop Aki Sora from being extremely erotic featuring a group of young people, some of them are blood-related siblings having sex and other indecent things.
---
3. Skirt no Naka wa Kedamono Deshita.

Episodes: 12
Aired: July 2017-September 2017
The shy and conservative college girl Kominami Shizuka went to a college mixer so she could hang out with other people and perhaps get rid her uneasiness around men. There, Shizuka meets Kirishima Ryou, a tall beautiful woman who is extremely polite and mature. Enamoured by Ryou's beauty, the two spent the night talking and drinking. After too many drinks, Ryou takes the drunk Shizuka to her apartment only to seduce her. The worst part is, Ryou is actually a cross-dressing man.
Another "lady porn" anime series that is catered to women!. While the core story is about rape and Shizuka developing Stockholm Syndrome towards seducer Ryou, that's only skin deep and the anime is more focused on titillating its viewers rather telling a dark story of abused women. Though you won't experience that sort of extreme because Skirt no Naka has two versions: Lewd-free, yet sexually suggestive all-ages version and the R-18 version online available in the official BD releases. If you're the type who is not a fan of sexual abuse, you can stomach the all-ages version, but if you're the type who wants danger and excitement in your stories, then the R-18 will not disappoint.
---
2. Joshiochi!: 2-kai kara Onnanoko ga... Futtekita!?

Episodes: 9
Aired: July 2018-August 2018
Aikawa Sousuke is your average guy who works part-time, and despite being an average guy, he was lucky enough to be living in rundown apartment with the beautiful landowner Yuki and a very attractive woman Sunao living in a room above Sousuke. On a typical sunny day, the unexpected happened: Sousuke's ceiling collapsed and Sunao fell through the ngaping hole. Fortunately Sousuke was quick on his feet and cushioned Sunao's fall, but the problem is Sunao landed with Sousuke's penis… in her vagina...
Yeah, that's literally the premise of this show and nothing much else is added because each episode is very short from around 3 minutes to 6 minutes. Each episode focuses on our (un)fortunate hero Sousuke getting into kinky situations that usually results in him having his way with the ladies because he lacks self-control. There are scenes showing off some skin, scenes of girls getting horny, and some dirty dialogue to make Joshiochi! a borderline hentai anime that got televised. But that's not the end of it, oh no, dear reader! The one you just saw is the all-ages version!
Just like Skirt no Naka wa Kedamono Deshita., 25-sai no Joshikousei, and Omiai Aite wa Oshiego, Tsuyoki na, Mondaiji., there's a second uncut version of Joshiochi! that contains every removed sex scenes from the all-ages version, and goes literally "in-depth" as to what really happened after Sunao fell from ceiling and landed on Sousuke. All we can say, it was very, very kinky. How did Sunao land perfectly on top of Sousuke is anybody's guess, but now you know, Joshiochi! is an anime series with a kinky personality only ardent fans know about. A piece of advice: Don't try what Sousuke did. You'll just end up breaking your, uh, thing.
---
1. To Love-Ru Darkness

Episodes: 12
Aired: October 2012-December 2012
To Love-Ru Darkness is a continuation of the story of Yuuki Rito and his adventures with Lala Satalin Deviluke, an alien from another planet, and a huge cast of lovely girls who happen to harbor some romantic feelings towards our hero. In Darkness, Lala's sisters Momo and Nana have moved in to Earth to hang out with her and cause mayhem to Rito and everyone in the neighborhood and school. While their presence increases the chances for Rito to slip and grab the undergarments of girls and cop a feel at their bodies, Momo has other motives and that involves convincing Rito to create a harem for himself if he wants to be the ruler of the universe.
Before High School DxD, there was To Love-Ru, a harem anime series known amongst fans as one of the very first anime that pushes the boundaries on what's allowed to be shown on TV. The first To Love-Ru adaptation is your run-of-the-mill ecchi harem anime covering every possible fetish from vanilla fanservice to aliens and tentacles, but it was not until the anime's third season—To Love-Ru Darkness—where we see a shift in fan service delivery—fan service is more deliberate with constant boob and panty shots, and the tone leans toward on the sexual kind, usually involving Momo's plan to create a harem for Rito. There are lots of close call moments like Rito's hands inching towards the girl's private parts, and scenes that involve kissing on the breasts, and, courtesy of Momo, kissing on Rito's manhood.
This shift in tone is thanks to the manga series moving to Jump Square, thus changing its target demographic from younger teens to older and adult readers. And it really shows because the fanservice in Darkness has the most raunchy scenes the series as a whole has done.
---
Final Thoughts
Ultimately the list boils down to one question: Can a series be entertaining, have a good story, a good cast of characters, and at the same time provide the highest tier of ecchi fanservice? Some of the anime listed here have sex scenes or scenes with crotch shots that warrant pixelations, but the storytelling and character development of these anime suffered because of their short length—As soon as things get interesting, the episode ends preventing you to grow an attachment to anything. "Anything" being literal here.
To Love-Ru Darkness has all the qualities and these are the reasons why To Love-Ru is a favorite among fans. Rito may be an idiot with unparallelled skill at tripping towards girls, but he has a heart of gold and a caring person. Each girl in Rito's life has unique personalities and has their own stories to tell. Momo wants to create a harem for Rito, but harbors personal feelings towards him. Nana is insecure about her bust size and gets teased on by her sister Momo, but she is a protective friend. Yui is very strict at maintaining order at school, but sometimes she can't control her feelings toward her childhood friend Rito. These are but a sample at how different each girl is and the anime has all the episodes it need to tell their stories. If you want a quality anime that doesn't offend its fans and gives you a good laugh, then To Love-Ru Darkness is arguably the best borderline hentai anime to date.
And that's the list! What do you think and did we miss any borderline hentai? As always, please share your thoughts in the comments section below!
---
---
If my memory served me right, Anime took a huge leap and poured out nudity or sexual explicity themes that's normally restricted to direct-to-video OVAs, movies or even Ero Anime/Hentai in the 2000s. Or did I miss the memo that anime had been doing this since forever?
Whatever the case is, nudity and sex is part of anime and one of the traits that differentiates itself from Western anime. Don't get me wrong, there are some pornographic cartoons out there, but in terms of scope, anime beats the West 1 quintillion anime with nudity to 1. And yeah, I made those statistics up.
So yeah, if you look at, say, this season's list of anime, you'll see a bunch of fanservice-centric shows and they're so common, we often don't mind because that's how anime is — blurring the line of what is okay or not okay for public broadcast. And every now and then, an anime show, uh, shows up and dared to lean over to the hentai category.
In this list I'm going name 10 anime shows with fanservice that may be considered too lewd for public broadcast. Flashing bare boobs and panties does not count. What counts are scenes or acts that leans too close to pornography. Or to put it simply: Scenes that makes you wonder: "Is this porn?"
10. Kanokon (Kanokon: The Girl Who Cried Fox)

Episodes: 12
Aired: April 2008-June 2008
Oyamada Kouta is a country boy that moved to the city to attend high school. His life changed quite chaotically as he encountered Minamoto Chizuru — a well-endowed fox spirit… girl. As typical as anime goes, Chizuru finds Kouta very attractive and spared no expense trying to seduce him. Things get more chaotic after the two attracted a wolf spirit named Ezomori Nozomu.
With two supernatural entities around him, trouble is bound to happen — Kouta is involved in many supernatural events. Kouta's high school life will never be the same.
Let's start with something, uh, light, I suppose. Kanokon doesn't have any sex scenes of any sort, but it does have some very lewd moments involving Chizuru intentionally, or unintentionally, seducing our short hero Kouta. Now that may sound pretty normal in a harem anime and it's not borderline, but the detailed artstyle made each scene look way too detailed to simply be just for comedic purposes. Tap that ass, Kouta-kun!
---
9. Kiss x Sis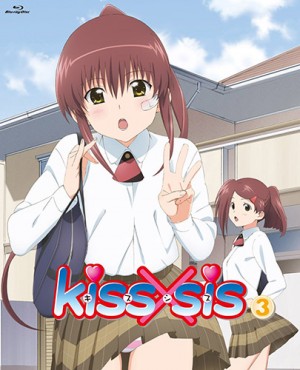 Episodes: 12
Aired: April 2010-June 2010
Suminoe Keita, Suminoe Ako, and Suminoe Riko are step siblings after their parents remarried. Since this is a romance-centric anime, the sisters are very attracted to our hero in a very, very, very, VERY lustful way.
Initially Keita avoided his sisters' advances since he thought it wasn't right to get so—romantically involved with his new family. Things changed after Keita transferred to the same school as his sisters. He's slowly getting attracted to them.
You'll probably see a few more incest-centric shows in the list, so I'll start with Kiss x Sis. Keita is getting pampered by his step-sisters way too much that they're almost sexual. Keita sometimes try to avoid any intimate contact with his sisters but like any other young man, he can't suppress his urges all the time.
Fanservice usually range from the three in a bathroom together, the three in Keita's room, or doing some lewd things in a karaoke room drunk. Now you may think this is normal like any fanservice show, but the anime takes a step further to make the scenes borderline hentai. Like Keita getting pinned on the bathroom floor with his clenched hand on top of one of the twin's crotch, his hand loses grip and fingers slide over the crotch one by one. Yeah, I know, Keita is one lucky basta—fella.
---
8. Queen's Blade

Episodes: 12
Aired: April 2009-June 2009
The Queen's Blade tournament is held every four years to determine the most beautiful and powerful Queen. Enter Leina Vance, the heiress of the Vance Family and next in line for the throne, who is seeking the title of Queen. As she travels the land of Gainos, she meets other warriors from various lands also seeking the title.
Queen's Blade is a fanservice show with the intent of titillating the viewers. You are bombarded with boob shots, jiggle boob shots, pantie shots, wardrobe malfunctions, and raunchy scenes ranging from sexually suggestive strangle holds; like girls drooling or getting aroused, sexual poses (seriously, a nun posing for a crotch shot), bare breast groping, and borderline yuri rape.
Despite its effort in telling a story, Queen's Blade's main selling point is seeing these busty girls do some lewd things unintentionally. Or were they intentional? Anyways, Queen's Blade is still a fanservice show that crammed every possible fetish in one thick package.
---
7. Highschool DxD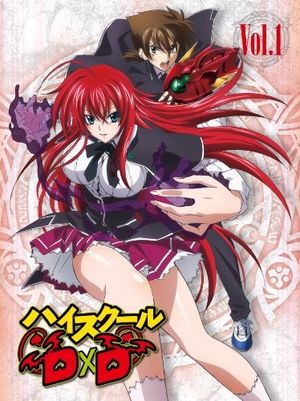 Episodes: 12
Aired: January 2012-March 2012
Hyoudou Issei and his two friends are a trio of boys who, I think, just reached puberty — They can't stop thinking about girls' breasts and their 3 sizes. Unfortunately for them, they're all spineless at talking to girls and the entire school sees them as perverts. On a typical day, Issei got lucky when a girl confessed her feelings and like any desperate guy, our hero accepted the girl's confession (whom he just met, by the way) and started dating.
Things turned for the worst for Issei when the girl he was dating is actually a fallen angel sent to kill him. Issei was killed by a stab to the chest, but he was revived by a beautiful redhead girl named Gremory Rias, and he became her servant.
Season 1 doesn't have that borderline hentai lewdness, but things get raunchy in Season 2 and Season 3 with the girls trying to get into Issei's pants, and then conveniently interrupted. It's like they're putting a stop sign telling the anime that's far enough. Your mileage may vary depending if you like our perverted, yet capable hero, Issei.
---
6. Shinmai Maou no Testament (The Testament of Sister New Devil)

Episodes: 12
Aired: January 2015-March 2015
Father and son Toujou Jin and Basara is gonna have company, or rather, more family members. Jin is finally getting remarried and and wouldn't you know, Basara has now two cute little sisters Naruse Mio and Naruse Maria!
After unexpected news, Basara's father got a call and will travel outside the country, thus leaving Basara with his new step sisters all alone. After their father left, Basara was shocked to see Maria a succubus and Mio the daughter of the Demon King! And here's another twist, Basara has supernatural powers as well!
The entire premise is another occult fantasy involving demons set in a slice-of-life style scenario. After knowing Mio and Maria's situation, Basara must do whatever it takes to protect Mio from the demons that are sent out to kill her. Where is the lewd, you ask? Maria is a crafty little devil that tricked Basara and Mio to form a master-servant ritual, thus making Mio's body into arousal overload if she becomes disobedient or anything the plot finds convenient. In order to suppress this, Basara must perform, uh, you know, body massage.
Things get intense with Maria's antics, and Basara discovering he needs to grope and suck on the girls to increase his power. Thankfully for Basara, he has a servant and a harem.
---
5. Seikon no Qwaser (The Qwaser of Stigmata)

Episodes: 24
Aired: January 2010-June 2010
Oribe Mafuyu and Yamanobe Tomo rescued a wounded boy without realizing what they were getting themselves into. The boy is named Alexander Nikolaevith Hell and he is a Qwaser, a kind of superhuman who can draw the power of elements and use them as powerful weapons, as the fate of the world hangs in the balance. The bizarre twist is that the Qwasers require a special kind of liquid to recharge their powers and this liquid is none other than breast milk.
The premise is similar to Valkyrie Drive: Mermaid in terms of the usage of nudity or fetishtic acts as part of the central main plot. Alexander "Sasha" and similar warriors needs to extract Soma, a special essence, found in women's breasts to harness the power of the elements. The potency of the Soma depends on the individual, so Sasha must take it from someone with a set of qualities.
Ah, fetishes.
---
4. Kodomo no Jikan (A Child's Time)

Episodes: 12
Aired: October 2007-December 2007
Daisuke Aoki is a 3rd grade teacher who meets Kokonoe Rin, a very young girl with long hair. After an act of kindness from Aoki, Rin made Aoki, her teacher, her lover. Rin literally wants her 3rd grade teacher to be her lover. Who would have thought that your biggest obstacles in your life comes from the most unexpected places. But is Rin's love for Aoki really true? Are her feelings just puppy love? Or is it genuine true love? Does actively seducing Aoki mean something else?
Think of a school romance with the girl falling in love with her teacher and the girl actively seduces the teacher like peeping under her skirt with panties down, or crawls on his bed naked without him knowing and the girl backed off because the she realized it was too big and won't fit? And what if I say the girl is an underaged loli? Yeah… This is Kodomo no Jikan.
But behind the fap-bait-like premise involving a developing sexual relationship of a grown man and a very young girl, lies an intriguing story of love, sadness and acceptance.
---
3. Valkyrie Drive: Mermaid

Episodes: 12
Aired: October 2015-December 2015
Tokomome Mamori is a special kind of girl who was transferred to a mysterious island chain in the middle of the ocean in the most unconventional way. The young cast away was suddenly attacked by the island inhabitants, but then was luckily saved by a girl named Shikishima Mirei. As their assailants pressed on with their attack, Mirei suddenly kissed Mamori, and Mamori turns into a sword!
This is a blatant softcore lesbian porn and the anime doesn't even hide it. The main gimmick/theme/selling point is the girl-on-girl acts, Liberators, needed to perform to activate their partner, the Exters, into weapons of mass destruction ranging from guns, swords, and even vehicles. You see, the Exters needs stimulation in order for them to transform and the best way to do it is for their Liberators to perform various deeds like French kissing, groping of the breasts, caressing of the body and stroking, or inserting fingers to their partner's privates. And this is not a one time thing, you'll see a lot of them throughout the show. The anime even went further by adding a tentacle rape scene, but it's tame enough to avoid the R18. Nice, Japan.
---
2. Aki Sora (Autumn Sky)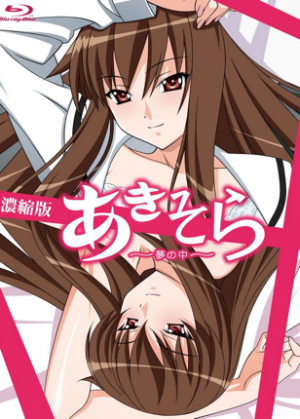 Episodes: 1
Aired: December 2009
Aoi Aki and Aoi Sora are a pair of close siblings that shared a strong intimate bond when they were young. During their puberty, Aki finally realized her real feelings towards her brother Sora, and eventually they made love. Aki and Sora have another sibling, Aoi Nami, and wouldn't you know it, Nami wants a piece of the action.
Aki Sora is a modern anime that feels like a hentai show that depicted a lot of sexual acts ranging from fellatio to futa fantasies. Personally I enjoyed the anime when it first came out, but after watching the follow-up Aki Sora: Yume no Naka, I've grown to dislike the anime. I'm not sure why, really. Maybe I don't like the older girl and short younger guy thing, or they ditched a good chunk of the story and replace them with lengthy sex, or the story was just overall sad.
The story had no conclusion, so if you wanna see the story of Aki, Sora, Nami, and their sexual development, you need to read the manga.
---
1. Yosuga no Sora: In Solitude, Where We Are Least Alone.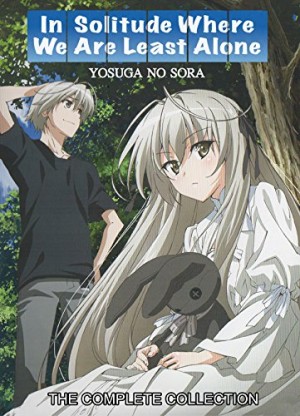 Episodes: 12
Aired: October 2010-December 2010
Yosuga no Sora is one of the recent modern anime to depict actual sexual acts on screen involving two blood-related siblings. The anime starts off with the twins Kasugano Sora and Haruka returning to the countryside to start a new life after their parents died from a freak car accident. There they meet with childhood friends and their new life began, but little do everybody knows that the twins carry a secret and forbidden relationship behind closed doors.
The anime, for the first half at least, is your typical visual novel adapted anime with lots of supporting characters that are potential love interest for Sora, but then the anime suddenly took a nosedive to focus on the incestuous sexual relationship between the siblings. There are no multiple arcs, or fillers — Yosuga no Sora tells the story of a pair of twins' bond, love and sexual discovery. Oh yeah, the anime's most memorable scene is probably this: One of Sora's friend caught the twins having sex in their home's front entrance, and it took Sora a few seconds to notice someone in front of him while continuing pounding his twin sister. Eh, the phrase "my hips are moving on their own!" really fits here.
What makes this number 1? Simple: It has actual sex albeit in a softcore kind of manner with no visible penetration and genitalia, the couple are blood related, and it was aired on local TV. Aki Sora had more sex per minute and there is incest as well, but it was in OVA format, so it made a little impact on how anime almost crossing the line on what's porn or not. Yosuga no Sora was heavily censored on local TV, but the sexual acts are still there. And hey, they need to sell their DVDs with uncensored content to sell, right?
---
Conclusion
The question is why are shows that aired on TV which have sexual acts not branded as hentai and not restricted to home video? I have no clear answer to that, but one thing's for sure, Japan has the R16 rating that is below R18, and above Teen. All anime with clear depictions of upper nudity, sexual situations, and acts with no visible penetration and genitalia are rated R16, a rating that is below R18 and above Teen in Western ratings.
It's probably a culture thing. Japan has their own depictions and views of sex than the West, so when these shows are localized, they fall to the R18 category because R16 or something equivalent doesn't exist.
So, yeah, there you have it! What do you think of the list? Do you know any more anime that you think are way too lewd? Please leave a comment below!
---