También puedes leer este artículo en:Español
It is time that we honour our feline lords, don't you think the same? We have featured a few articles about cats in Honey's Anime. Because we cannot get enough of these furry critters, we are going to re-check the best in Cat Anime. Let's see who still keeps a position in our coveted Top 10!
10. Cyborg Kuro-chan

Episodes: 66
Aired: Oct 2, 1999 to Jan 6, 2001
Anime a few years back was a bit more complex and crazy regarding animals. That is why we have Kuro, a cat who wants to protect his owners. One day, our cat hero is kidnapped by an evil scientist who turns him into a robot. Now that he has super abilities and can talk like a human, Kuro decides to pretend he still is a normal pet… but when danger calls, he will be ready for it.
At first glance, we might think that Kuro is one of those quirky and fun anime, but look again. Pretty much as Astroboy's legacy, this cat's adventures are full with danger and drama. If you think that slice of life is not your cup of tea but long for action, Cyborg Kuro-chan might be your ideal Cat Anime. Plus, it is loooong, so the more adventure, the better.
---
9. Youkai Watch

Episodes: 214
Aired: Jan 8, 2014 to Mar 30, 2018
When Keita Amano went lost in the forest, he could not imagine that he would set Whisper free. Whisper is a youkai who grants Keita a Youkai Watch, which enables him to see and talk with other youkai. Together with the cat spirit Jibanyan, Keita and Whisper will try their best to help the youkai. However, maybe others can see the youkai as well?...
What is better than a cat hero? A youkai at hero, of course! The popularity of the adventures of Jibanyan and company has endured for the last four years. Based on a video game with similarities to Pokemon, Youkai Watch offers us all the variety that nature and the Japanese imagination can offer. This cat anime is ideal for children otaku souls out there!
---
8. Fuujin Monogatari (Windy Tales)

Episodes: 13
Aired: Sep 11, 2004 to Feb 26, 2005
What do you do when you are one of the only two members of the Digital Camera Club in the school? Shoot only skies and clouds as Nao does, of course! Everything changes for her when she finds a cat who can manipulate the wind. It turns out that the cat is not the only one with this ability, and Nao will discover many interesting people because of that reason.
Fuujin Monogatari is living proof that a good story well told makes for superior anime. The combination between slice of life and a bit of magic is one of its strongest points. Also, the uniqueness of its rough and apparently unfinished art style helps us focus in the characters instead of focusing on superficial details. If you are into alternative anime that is deeper than the average, Fuujin Monogatari is an excellent cat anime option!
---
7. Ginga Tetsudou no Yoru (Night on the Galactic Road)

Episodes: 1
Aired: Jul 13, 1985
Kenji Miyazawa inspired the legendary Leiji Matsumoto with his intergalactic train. In this rendition to Miyazawa's classical tale, we meet Giovanni the cat, who is a bit of an isolated guy. He travels throughout the galaxy on board of a mysterious train that can fly. Giovanni will meet all sorts of cat people in different planets, always in the search for a cure for his mother.
Ginga Tetsudou no Yoru has all the qualities of a trippy dream. It can be watched by both children and adults, as it is a multilayered story not so different from The Little Prince. This movie might be old, but the combination of animation styles makes an interesting narrative. Plus, we all like a good story in outer space, right?
---
6. Nekojiru Sou (Cat Soup)

Episodes: 1
Aired: Feb 21, 2001
Warning: the following content is not suitable for children. Proceed with caution.
Nekojiru Sou could be considered the opposite of Ginga Tetsudou no Yoru. Nyako is a kitty whose soul was ripped in two. Her little brother Nyatta watched how a Jizou (some sort of death spirit) took one half while he got a hold of the other half. Therefore, the brother and sister go into a journey to recover Nyako.
While Ginga Tetsudou no Yoru is slightly trippy, Nekojiru Sou goes all the way to an alternative universe. Full of allegories and fantastic creatures, this work is a masterful piece of anime that does not look much like anime in the traditional sense. We should warn you it might get a bit depressing sometimes, so do not watch it if you like happy cats. However, if you are into artistic anime, this critically acclaimed film will fit the bill.
---
5. Fruits Basket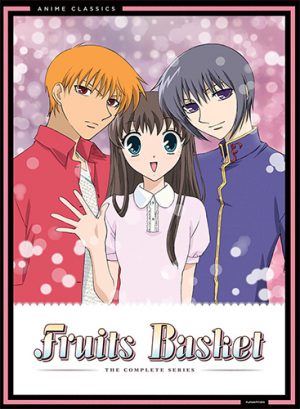 Episodes: 26
Aired: Jul 5, 2001 to Dec 27, 2001
Tooru lost her mother and decides to not burden her family by living alone. When she even loses her tent in the woods, Yuki and Shigure Souma invite her to live with them. Tooru will discover that they all can transform into animals. Together with other members of the Souma family, Tooru will try to find out how to get rid of this course, while she falls in love with a couple of them, of course.
Kyou Soma is our adorable cat in this anime full of comedy and shoujo style romance. Fruits Basket does a perfect work in balancing the light hearted parts with the more serious worries of the Souma family. Tooru is an adorable teenager who finds her place in the world in the least expected place. Her spicy relationship with Kyou is one of the funniest ever!
---
4. Chi's Sweet Home

Episodes: 104
Aired: Mar 31, 2008 to Sep 25, 2008
An anime about the daily life of an ordinary cat? Sounds boring for some, but wait until you meet Miss Chi Yamada. Separated from her mother by accident, she is adopted by Youhei Yamada and his mother. Together with her new family, baby Chi will experience everything great that life has to offer.
One of the secrets behind Chi's success is that her adventures were delivered in short chapters. Her creator studied real cat behavior deeply, giving us one of the most realistic and cute cat characters, all in one. Chi's personality is truly outstanding! If your thing is the slice of life anime, the innocent days of the Yamadas are exactly the type of high quality anime you want.
---
3. Neko no Ongaeshi (The Cat Returns)

Episodes: 1
Aired: Jul 20, 2002
Haru Yoshioka is a normal high school girl who one day, spots a cat crossing the road. When a truck goes straight for the feline, Haru jumps to save it. Little does she know, she just saved Lune, the Prince of the Cats. What will our heroine do when the Prince offers to marry her in gratitude?!
We could not avoid mentioning a Ghibli classic among the Top Ten Cat Anime. Let's face it, Ghibli knows how to choose their stories, connect to their audience and create awesome animation. Haru is a girl who has to learn who she is in the middle of an adventure full of magic and fantasy combined with daily life. Also, the cat Baron from Mimi wo Sumaseba returns in this movie with his awesome chivalrous personality.
---
2. Natsume Yuujinchou (Natsume's Book of Friends)

Episodes: 13
Aired: Jul 8, 2008 to Sep 30, 2008
Natsume Takashi has always been chased by youkai. When he discovers that the reason is the Yuujinchou that his grandmother left to him, Natsume decides to free the youkai. Together with Madara the cat, Natsume will travel to set himself free of the chasing course. However, Madara has his own reasons to help the guy.
As we have mentioned before, if there is something better than an anime cat, it is an anime spirit cat. The adventures of Natsume and Madara are mostly in good vibes despite them being surrounded by youkai. There is also mystery, but above all, the realization that youkai can become real friends once you know them well. Beautiful scenery, slice of life and magic… what else can you wish from a cat anime?
---
1. Stand by Me Doraemon!

Episodes: 1
Aired: Aug 8, 2014
We end our list with one of the best anime movies in recent years! Doraemon is a cat from the 22nd century. Sewashi Nobi requests him to go back to the past to help his ancestor Nobita to be happy. If Doraemon does not succeed, the future will be terrible! Therefore, the robot cat travels to the past to meet the lazy and unlucky Nobita.
The story of Doraemon and Nobita never gets old. In a way, it is a symbol of the rise of technology in Japan, but it is also a reminder of how valuable true friendship is. Stand by Me Doraemon! is the perfect anime for children who are discovering the world. This version is not only aided by nostalgia, but by modern animation techniques.
---
Final Thoughts
Small or big, ordinary or fantastic, cats rule the anime world. Their enormous eyes will continue mesmerizing us for ages to come, that is for sure. The lazy ones, the active ones and the talkative ones will always be our adventure companions, but in anime, they are preserved for new generations to appreciate them. Which is your favorite Cat Anime? Comment away! See you soon 🙂
​
---
---
If there is one animal that seems to be popular in anime, it has to be cats. From kittens to full grown cats, they are featured everywhere! They laze around, give our main character's attitude, and just cause trouble, but when there is a cat on the scene, we just cannot help but be drawn to those ferocious felines. What is cuter than when a cat goes "Nya~"? Damn, those cats are cute!
With everyone's love of cats, did you know there are some anime that revolve around a cat(s)? Yes, there are plenty of cat anime out there that you just have yet to be discovered! You will see the stuffed animals in stores, but believe it or not, many of them have an anime that will just have you going "kyaa!" over their cuteness. Now, enough anticipation; here is our list of the Top 10 Cat Anime!
10. Kanojo to Kanojo no Neko (She and Her Cat)

Episodes: 1
Aired: April 2002
She is a woman whose name is never mentioned. She has a pet cat named Chobi. They met one fateful, rainy day when She discovers Chobi abandoned outdoors. She decides to take him home and take care of Chobi. Chobi instantly adores her. She gave him a home, but soon, the cat develops a feeling of love for her. Can they really be something more than a pet and his owner?
Kanojo to Kanojo no Neko, also known as She and Her Cat, is a short OVA cat anime that is told from the viewpoint of a stray cat named Chobi. Chobi does not care for the small stuff, but he does care for one thing: Her. There is a love here that is not perverse but rather, it is the love of a cat for his owner. What she means to him. What importance she has in his life. Even when Chobi's life continues on, he still has love for his owner that is only known by "She".
---
9. Kuruneko

Episodes: 50
Aired: July 2009 - June 2010
Based on a manga, Kuruneko follows the life of a woman who loves sake and her cats. She adores cats so much, she even goes to the pet store to watch the cats even when she has a cat at home. This is a woman who loves cats!
Kuruneko is a cat anime with short episodes revolving around the life of a woman and her cats. The cats all have their own personalities, but that doesn't mean the woman loves them any less. She is always willing to open her home to a cat who needs one. This may be an anime about a woman and her pet cats, but when you watch it, you really have to ask, who is the real pet here? Perhaps this is what happens when you own a cat.
---
8. Nyanpire the Animation

Episodes: 12
Aired: July 2011 - September 2011
Nyanpire the Animation is an anime about a stray cat who, while lying on his death bed, is pitied by a vampire and given his blood. Nyanpire now has the gift of immortality, however at a price: Nyanpire must live the life of a vampire! One day, a girl named Misaki takes Nyanpire home to take care of, but what is going to happen to this cute little vampire cat whose favorite saying is, "Give me blood, Nya!"
If you think vampires are hot, well check out this creature of the night! Nyanpire is one adorable kitten who just wants one thing: blood! And he is not shy about his lust for blood. This short cat anime will surely have you entranced by its adorable Nyanpire who will do anything to quench his thirst. Would you mind feeding this cute little cat?
---
7. Poyopoyo Kansatsu Nikki (Poyopoyo)

Episodes: 52
Aired: January 2012 - December 2012
One day, Sato Moe comes across a stray cat. He's round and cute, but he charms Moe so she ends up adopting him into her home. Moe named him Poyo due to his roundness. Poyo is starting to become an important part of the Sato family.
Poyo, also known as Puffy in English, is one adorable cat that you will not want to miss! Poyopoyo Kansatsu Nikko is a cat anime tale about the adorable Sato Poyo, a strangely round cat who just wins everyone's hearts. Well, everyone but Moe's brother, Hide. Poyo is a good cat who doesn't cause trouble, except when he feels mischievous, and treats everyone with adoration, except Hide. Watch Poyopoyo Kansatsu Nikki for some cat anime cuteness! Poyo's roundness is sure to capture any cat lover's heart.
---
6. Fuujin Monogatari (Windy Tales)

Episodes: 13
Aired: September 2004 - February 2005
The Digital Camera Club has but two members. One of the members of the club is Nao, who also plays the part of the manager. However, Nao has no interest in shooting pictures in anything other than clouds and the sky until one day, when Nao comes across a cat on her favorite picture taking spot. This cat is special because it can manipulate the winds! Then there's the other member of the Digital Camera Club, Miki, who is also Nao's best friend. Taiki-sensei is the one who taught the cat its ability to manipulate wind. Then there's Ryoko, a girl who likes Taiki-sensei, Jun who aids the Digital Camera Club with finding a cat with the ability to fly, and Yukio who is a widow. The "Wind Handlers" have formed and now, a special event called the Wind Festival is about to commence.
While a lot goes on in Fuujin Monogatari, the main focus is mainly on the cats! It is a cat anime after all. These cats have a peculiar power which allows them to manipulate the winds, which can give them the ability to fly. What would you do if cats could fly? Cats are very complex creatures that we humans may not always understand, but when they become so intelligent they can manipulate air, you know you just have to find out more. Watch Fuujin Monogatari to find out the tale of these wind manipulating cats and the "Wind Handlers" who, like you, just need to know more.
---
5. Youkai Watch (Yo-Kai Watch)

Episodes: Unknown
Aired: January 2014 - Ongoing
Amano Keita is as innocent as any other young boy his age. However, Keita's life changes when he comes across a strange capsule while venturing through the forest one day. Whisper emerges from the capsule after being imprisoned for 190 years after Keita sets him free. As a reward, Whisper decides to become Keita's guardian in the face of the supernatural. As it turns out, Whisper is a Yokai and he gives Keita a Yokai Watch to gives Keita the ability to interact with other Yokai. Using the Yokai Watch and with Whisper by his side, Keita will learn more about the Yokai as friends and the force that fixes all the problems the yokai create. Once a boring student, Keita is now living the life that no primary school student ever dreamt of.
Yokai Watch is regarded as "the new Pokemon," but let us not get the two confused, shall we? Yokai Watch has been gaining in popularity since its first showing and the release of the Yokai Watch video game, but it's the cute cat yokai that just have us all over the place! Yes, there is a lot that goes on this anime, but when it comes to trouble, the cat yokai just cannot be beat. You will definitely want to give Yokai Watch a see.
---
4. Nyan Koi!

Episodes: 12
Aired: October 2009 - December 2009
Kousaka Junpei is allergic to cats, but his crush, Mizuno Kaede loves cats but doesn't know how to treat them properly. Unfortunately for Junpei, he accidentally breaks the head off of a cat shrine while attempting to kick a can into a trash can. As punishment, the cat deity has cursed Junpei, requiring him to perform 100 good deeds for cats in order to break the curse. With his crush on Kaede and the cats' less than pleasant requests, Junpei has a lot on his hands. To top it off, Junpei must keep the curse a secret or else it will get worse! Now, with a cat named Nyamusas, Junpei must work hard to break the curse or face the rest of his life as a cat.
While the main character is most certainly not a cat, Junpei is one lucky bastard who finds himself suddenly surrounded by the cute felines. Nyan Koi! is one cat anime whose plot revolves around cats and their problems, with our main character, Junpei, as the cats' hapless servant. If they have problems, you bet Junpei will be there to resolve them. Although the cats can be, well, catty, they are all definitely full of personality! No two cats are the same, and Nyan Koi! is one cat anime that will show you just what type of personality lies behind the "nyaa".
---
3. Natsume Yuujinchou (Natsume's Book of Friends)

Episodes: 13
Aired: July 2008 - September 2008
Takashi Natsume is an odd boy who has a horrific secret, but it has nothing to do with girls, as is normal for boys his age. No, Natsume's secret is about yokai who have been chasing him for as long as he can remember. Natsume's deceased grandmother Reiko has left him the Yuujinchou, otherwise known as the "Book of Friends". Reiko had taken control of many spirits, placing their names within the Yuujinchou. Now, the yokai haunt Natsume in order to gain their freedom. Natsume doesn't have much good in his life; he merely wants some place to belong. The only solace that Natsume can find is in his self-proclaimed bodyguard, a feline spirit named Madara, who Natsume also refers to as Nyanko-sensei.
Cat yokai appear to be quite the popular in anime, so the cat anime Natsume Yuujinchou just cannot be ignored. While Natsume may not know how to handle the yokai, he can count on our dear Nyanko-sensei to teach him the ropes and watch over him should things go wrong. How many of us would pass up a cat guardian like Madara? Many of us love having cats as companions, but what about a cat bodyguard? Cats are special creatures and Madara is no exception. Why else do you see so many Madara plushies? Natsume's Book of Friends is a cat anime worth checking out.
---
2. Chi's Sweet Home

Episodes: 104
Aired: March 2008 - September 2008
One day, a gray and white kitten bearing black stripes gets lost wandering away from her mother and siblings. Unsure of how to find home, the kitten is soon discovered by a mother and her little boy, Youhei. Kittens are not allowed in their housing complex, so even though they take the kitten home, they know they cannot keep her so they attempt to find her a new home. It has been a difficult task, but soon the kitten that they named "Chi" establishes a place in their lovely home.
If you have ever enjoyed Hamtaro, you will be sure to enjoy Chi's Sweet Home, which is a cat anime about a kitten just trying to find her way back to her mom. Chi is a curious little kitten who just keeps getting distracted. How will Chi ever find her way back home? In the mean time, her new humans are not so bad. Chi may be a young kitten who wants to go back home to her mom and siblings, but maybe there is a new home awaiting Chi. What is a curious little kitten to do?
---
1. Neko no Ongaeshi (The Cat Returns)

Episodes: 1
Aired: July 2002
Neko Ongaeshi, otherwise known as The Cat Returns, is based on the novel by Hiiragi Aoi, Neko Danshaku. This anime movie follows a 17 year old girl named Haru who is not special in anyway. Haru can be quite dimwitted and she's not blessed with great beauty. Haru cannot even make choices regarding her own life, so she will often follow someone else's opinion rather than contemplating her own. Then one fateful day, Haru comes across a cat whom she saves without hesitation. The cat whom she saves is actually the Cat Prince which leads Haru to be trapped in the Kingdom of Cats. It is now up to Muta and Baron to save Haru from the Kingdom of Cats.
By Studio Ghibli, Neko Ongaeshi is not an anime movie to be taken likely. It is sometimes viewed as a spin-off from Whisper of the Heart where Muta and Baron were first seen, but do not think they are the same anime movie! As a cat anime, The Cat Returns is set in a cat kingdom with cats playing a big part, character-wise, but it is our heroes who go out to save the girl, Haru that really stand out. While we do not want to spoil too much about the movie, we do want to say one thing: The Cat Returns truly deserves the top of our list of cat anime.
---
Final Thoughts
From cuddly creatures to full on main characters, cats can be seen playing all sorts of parts in anime. Don't let the cute faces fool you, cats should not be taken lightly. They are some fierce felines with attitude! Don't you just love them?
Now, we shared our favorite cat anime. Do you have a favorite from our list? Or maybe you have another cat anime in mind. Are there a few cat anime that you can think of that belong on this list? Share your favorite feline friends so we can all enjoy what cats have to offer!
---