Warning: There are minor spoilers in the article. Proceed with caution.
Bittersweet and stylish, the worlds of Ai Yazawa are not easy reads. They can be fun and happy, but there always is a shadow of sad reality on them. That is why her characters are so complex and realistic. For that reason, let's remember some of the best Characters Designed by Ai Yazawa!
10. Midori Saejima from Tenshi Nanka Janai

Volumes: 8
Released: September 1991 – November 1994
So here we are, in one of the first Yazawa's adventures. Midori is a girl who, in hopes of winning the love of a guy named Akira, enters the student council. However, she is heartbroken when she finds out that the object of her affections is fascinated with the art teacher. Will Midori be able to conquer Akira's heart or will she be happy with just being his friend? We are not telling 😉
Midori has all the retro look on her. She could easily be mistaken by someone from the 60's or even 40's, especially when she wears her hair short. However, her sunny personality and positive outlook in life is what distinguishes Midori apart. For a girl in high school, Midori already has a defined personality and style.
---
9. Tsutomu Yamaguchi from Gokinjo Monogatari

Volumes: 7
Released: February 1995 - October 1997
Let's move to another neighborhood, where the prestigious Yazawa Arts School can be found. The students here are expected to be the best of the best in terms of well, art and design. In the case of Tsutomu Yamaguchi, he has a thing for contemporary art. That also includes a certain girl who dreams about becoming a fashion designer, but we will talk more about her later… :p
There is no doubt that Tsutomu has always lived in a creative world of his own, but as the manga progresses, his style marks the way. Have you seen Tsutomu with glasses, or with a formal suit? And how about the times when he combines his outfit with Mikako? No wonder he is mistaken for a famous star! However, his motto could be "Keep moving forward by doing your best in the moment". Tsutomu's laid back attitude is an integral part of his charm.
---
8. George Koizumi from Paradise Kiss

Volumes: 5
Released: February 1999 - 2003
If Tsutomu is the kind and reliable boy, Jouji "George" Koizumi is the dark side of the force. This cool guy with blue eyes and hair is a senior at the Yazagaku fashion school. Eccentric and an hedonist, George is also revealed to be bisexual. His creations in the fashion world are breath-taking to say the least.
What has not been said of George? He has elements of the alpha macho but also of the sensitive artist. Thanks to his being the son of a wealthy man and his mistress, George has been surrounded by freedom and luxury since birth. That is why George has been able to pursue a fashion career and leave beautiful girls like Yukari (and a few of us) heart broken but standing strong.
---
7. Mizuki Mochizuki from Kagen no Tsuki

Volumes: 3
Released: February 1998 - 1999
Kagen no Tsuki is Ai Yazawa's attempt to tell us a ghost story. What would you do if you wake up from a coma and see a ghost called Eve in a "haunted house"? In reality, Eve was a girl who was involved in an accident, but she cannot remember who she is. At first, the only thing we find out about her is that her name is Mizuki Mochizuki.
One of the features of Mizuki is that, most of the time, she is seen wearing the white dress and shoes that her ex boyfriend Tomoki gave her. Nevertheless, as any of Yazawa's characters, Mizuki looks stylish at any occasion. Her personality is a contrast to her mother, who killed herself when her spouse cheated on her. We have to admit that another strong point of Mizuki is the mystery that surrounds her for most of the story.
---
6. Mikako Kouda from Gokinjo Monogatari

Volumes: 7
Released: February 1995 - October 1997
Let's go back to Yazawa Arts School for a while. Remember the girl Tsutomu fancies? Her name is Mikako Kouda, and she is so ambitious that one day, she will have a fashion company called Happy Berry, aided by her cute Lolita sister Miwako. However, Gokinjo Monogatari tells us about Mikako's student days.
So, what makes of Mikako a special character? Well, just look at her. She designs most of her super cute and upbeat clothes. Mikako is also one of the first unapologetically strong female characters by Yazawa. She also tends to change her hair-style when she is dealing with a deep emotion in her heart.
---
5. Ren Hojo from NaNa

Volumes: 21
Released: July 2000 - on hiatus
Although NaNa is a story mainly about the friendship of two girls, we have to admit that many members of the masculine cast catch our attention. We have selected Ren Hojo because, after all, he is the official boyfriend of one of the manga protagonists. Ren grew up in an orphanage and learnt to take care of himself. The only thing he is very talented at is playing music. That is why he grew up to become a star in the band Trapnest.
Ren also has a conflictive personality. Although he is very ambitious and cares for his career, he also worries about his friends and loved ones. Ren's relationship with Nana Osaki is so intense (well, possessive), that sometimes he wishes to kill her. Nevertheless, he also breaks up with her when he decides to join Trapnest. Guys can be indecisive as well...
---
4. Nana Oosaki from NaNa

Volumes: 21
Released: July 2000 - on hiatus
Here we have Ren's sweetheart. They might be apart due to dozens of reasons, but we were not going to separate them in this Top Ten. Nana Oosaki is an independent woman, who was taught music by none other than Ren. They formed the band of Black Stones in their hometown before Ren left them.
Among Yazawa's characters, Nana is probably one of the most complex ones. Although young, Nana knows perfectly well what she wants. However, she struggles between love and independence, especially in terms of her career. Nana is also a clear example of the breakdown a strong woman can suffer when too much pressure and adversity accumulates over her.
---
3. Isabella Yamamoto from Paradise Kiss

Volumes: 5
Released: February 1999 - 2003
We have mentioned George from Paradise Kiss before in this list, so, we could not omit one of his long time companions. Actually, Isabella met George when they were small children. The very first dress that George made ended up in Isabella's hands. From that point on, there was no turning back, as Daisuke became Isabella Yamamoto.
This purple haired and tall transgender woman is the definition of class and elegance herself. She is part of the talented Paradise Kiss group where she helps George to create the most beautiful fashion. Isabella is also well known for her motherly instinct and how well she advises everyone around her.
---
2. Nana Komatsu from NaNa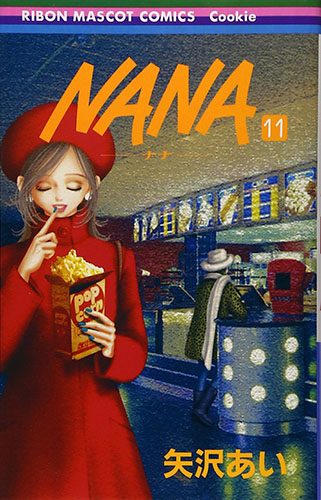 Volumes: 21
Released: July 2000 - on hiatus
This was a difficult decision for which some fans might be against. Why isn't strong willed Nana Osaki higher in the ranking? Why is Hachi here? Calm down a bit, have a Pocky or two and we will explain.
It is true that Nana Komatsu a.k.a. Hachi started as a spoiled girl pursuing a boyfriend to the great city of Tokyo. However, when it turns out that she got pregnant, she had to make one of the hardest decisions in the story: marrying the father of her baby instead of her true love. Hachi was also at Nana's side in the most difficult moments, until unfortunately, Nana ran away. We later find Hachi as a responsible mother, not very happy, but doing the best she can and as stylish and cute as ever.
---
1. Yukari Hayasaka from Paradise Kiss

Volumes: 5
Released: February 1999 - 2003
And finally, from Yazawa's opera prima, we could not forget to mention Yukari Hayasaka. She starts the story as a pretty but plain high school student. Other than studying, Yukari is a blank page in terms of personality. It is due to her encounter with the Paradise Kiss crew that she becomes their model.
Nicknamed Caroline in her new "job", Yukari discovered love, passion and purpose, which helped developing her personality. A bit dry and sarcastic, but ultimately mature, Yukari opened up to the world with new confidence. That is why she is the top character designed by Ai Yazawa!
---
Final Thoughts
Style and visuals apart, Ai Yazawa's stories leave us with the impression that things can be more complex than they look at first sight. When one of her characters is happy, we can understand that they totally deserve it. Which other characters by Yazawa do you like? Comment away! See you soon 🙂
---