También puedes leer este artículo en:Español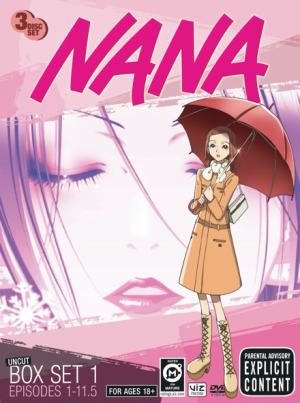 NANA revolves around the lives of two girls who share the same first name: Nana. Komatsu Nana is an eccentric girl who has this nasty habit of falling in love with every cool guy she sees. On her way to Tokyo, she meets the punk rock vocalist Osaki Nana and in a bizarre twist of fate, these two girls ended up living together and not only they share the same name and apartment, they're both looking for a meaning of their lives.
One can easily classify NANA as Slice of Life, like, you know, shows about a normal-looking guy getting all the girls for some reason, or girls going about their club activities at school while not doing actual club work at all – I'm looking at you, K-ON! — Wait, I love K-ON!, so please put down those pitchforks! *ahem* NANA is one of the best examples of mature Slice of Life stories that don't rely on the typical high school romantic harem comedy show with panty shots every 5 seconds formula and doesn't spend half of the episode discussing how to eat food (that's a thing).
NANA is all about the relatable characters (oddly enough, 90% of them are heavy smokers), how they deal with their love lives, and/or how they struggle as flawed human beings. With these themes in mind, here are six similar Slice of Life anime with just as mature stories to tell.
Similar Anime to NANA
1. Kimi ga Nozomu Eien (Rumbling Hearts)

Episodes: 14
Aired: October 2003 - January 2004
Adapted from a visual novel, Kimi ga Nozomu Eien (KimiNozo for short) tells the story of four best friends: Narumi Takayuki, Hayase Mitsuki, Suzumiya Haruka, and Taira Shinji. Friendship grew to love however and after a shocking incident that befell the group, their lives changed throughout the years. KimiNozo is a story of love, friendship, betrayal and shows how love can easily sway one's heart.
Right off the bat, the first thing that makes KimiNozo similar to NANA is the rather complicated relationships of the characters. Komatsu Nana has a few guys in her life — the married man, the college sweetheart, and the rockstar. Was the college sweetheart cheating on her or was it just a misunderstanding and her blowing things out of proportion? Will she continue rejecting him and move on with the other guy she met?
These are tough decisions for one girl to make. Same goes with the characters of KimiNozo — Will Takayuki continue loving Mitsuki after years of being together or will he abandon her because he made a promise to Haruka back when they were young? Will Mitsuki give up because Haruka is her best friend or fight in the name of love? Ugh, that last line was cheesy…
Kimi ga Nozomu Eien - Opening Theme
---
2. NHK ni Youkoso! (Welcome to the NHK)

Episodes: 24
Aired: July 2006 - December 2006
After dropping out of college, 22-year-old Tatsuhiro Satou is living his life as a shut-in. He is lazy, rarely leaves his room, sleeps 16 hours a day and spends the rest of the day getting annoyed by his loud neighbor. He didn't ask for this lifestyle and then discovers that a mysterious group called the NHK is the reason why he became a hikikimori.
But then one day, he met a young girl named Nakahara Misaki and his life starts changing for the better... or does it? Is this young girl his saving grace or is she a secret agent of the NHK out to keep his life a living hell? Welcome to the NHK.
Welcome to the NHK doesn't focus on romance like NANA or KimiNozo, but it does share the portrayal of relatable human interaction and how fragile it is. Satou is a good example of a real shut-in living his life in seclusion. His life is miserable and he is in no way a superhero nor does he have magical powers like you see in anime.
He's just a normal guy who had lost his way and blames an organization he didn't even know existed for his shortcomings. He will not meet a love interest with magical powers nor does he have friends to cheer him up. The people he meets are the same as him — sociopaths struggling with their lives.
Depressing list, don't you think? Not to worry, the next one will bring a smile to your face!
NHK ni Youkoso! - Opening Theme
---
3. Kimi ni Todoke (From Me to You, Reaching You)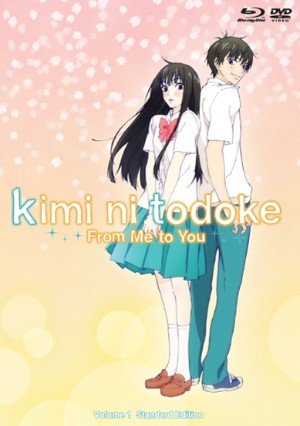 Episodes: 25
Aired: October 2009 - March 2010
Kimi ni Todoke is a shoujo anime with a similar art style as NANA (piercing eyes, guys with shoulders wider than a chalkboard, etc.). That's it. Now on to the fourth anim—Right, right.
Kimi ni Todoke tells the story of Sawako Kuronuma who longs to make new friends in high school. But because of her resemblance to the ghost from the "The Ring", and because people often mistake her timid demeanor for maliciousness, she has earned the nickname "Sadako."
Enter Kazehaya Shouta, the kind and popular guy in class. He is Sadako's inspiration to try harder to make friends. Sawako's school life slowly changes as she and Shouta become friends and like every romance story out there, love starts from that friendship.
The story is lighthearted, very funny, yet heart-warming. The character development and the relationships are the anime's strongest point. Yeah, the character development is sorta less complex and often predictable, but the characters are so colorful and very relatable. Especially Ume-chan. I can relate to her in many ways and I like her so much I often cheered for her, the "bad guy," more than Sawako. Don't misunderstand me, Sawako is a great female lead, but I just can't ignore Kurumizawa Ume's charm. Go, go, Ume-chan!
Kimi ni Todoke - Opening Theme
---
Any Animes Like NANA ?
4. Hachimitsu to Clover (Honey and Clover)

Episodes: 24
Aired: April 2005-September 2005
Honey and Clover tells the story of art students Takemoto Yuuta, Mayama Takumi, Morita Shinobu, Yamada Ayumi, and Hanamoto Hagumi as they go about their colorful and often chaotic lives.
This is the liveliest anime on the list. Don't be fooled by Shinobu's crazy antics and funny reactions, like every show on this list, Honey and Clover is filled with relatable characters and stories. Whether it's Yuuta finding love for the first time, Takumi doing his best to finish college while dealing with is love life, Ayumi struggling with her unrequited love, or Hagumi dealing with rejection and slowly earning friends, it's a ride you'll be glad to go on. And despite being the oddest oddball of the bunch, Shinobu is always there to provide comedic and moral support to his friends. Dammit, Morita-san!
Hachimitsu to Clover - Official Trailer (English)
---
5. Toradora!

Episodes: 25
Aired: October 2008-March 2009
Takasu Ryuuji is a nice guy, but due to his intimidating eyes, people only see him as a delinquent and so he's totally hopeless about his chances at making friends, never mind getting a girlfriend. On his first day as a second-year highschool student, he is happy to be in the same class with his best pal Kitamura Yuusaku and his crush Kushieda Minori. However, he unwittingly bumps into Aisaka Taiga, the school's "most dangerous animal."
Despite having the seemingly typical cast of stereotypes in an average high school romance setting, Toradora! ends up telling a mature story with characters that are not who they seem. Much like everything on this list, Toradora! is chockful of great characters, love triangles, friendships and break-ups – even more so than NANA.
If you ask me, Kawashima Ami is my favorite character in the show. At first, she's this egotistic supermodel and as the show goes on, her perspective and attitude changes after meeting with the other cast like Taiga, Ryuuji and especially Minori. If you watched Toradora! when it aired in 2008-2009, I'm sure you know the nickname fans gave her — Ami-bro.
Toradora! - 2nd Opening Theme
---
6. Full Moon wo Sagashite (Searching for a Full Moon)

Episodes: 52
Aired: April 2002-March 2003
12-year-old Kouyama Mitsuki has big dreams of becoming a singer. One day, she made a promise with a boy named Eiichi that one day, when they meet again, they will have both fulfilled their dreams. Unfortunately for Mitsuki, she is diagnosed with a growth on her throat and if left untreated, the tumor will take her life. However, she refuses to be treated because in doing so, she will forever lose her ability to sing and fulfill her promise to the boy.
As her last days pass by, she is visited by two soul takers (shinigami), Takuto and Meroko to prepare for her departure to the afterlife. Refusing to give up, Mitsuki shows her resolve and passion to sing and convinced Takuto to help her. With his powers, and with some reluctant support from Meroko, they push Mitsuki to pursue her dreams by giving her a temporarily healthy body. Will Mitsuki fulfill her dream as a singer and meet Eiichi or will she fail and succumb to her illness?
Don't be fooled by the kiddy nature of the art style and mahou shoujo-esque idol story because Full Moon wo Sagashite is a story about growing up, self discovery and fighting against all odds so you can reach your dream. Full Moon is very similar to NANA in many ways — the main character is a singer pursuing her career and tries to catch up to the person she holds dear.
Mitsuki meets friends and rivals along the way and she has to deal with a shaky love triangle between her and the shinigami pair, Takuto and Meroko. And of course, there's the music. While the track list is small compared to other idol anime, it compensates by how powerful each song is. Sung by MYCO with music by Changin' My Life, each song has a purpose, a meaning in terms of the story and Mitsuki herself.
Full Moon wo Sagashite - Opening Theme
---
There you have it, folks, six anime that're thematically very similar to NANA. Yeah, I know I didn't include the obvious choice, Paradise Kiss (created by Yazawa Ai who also create NANA), but this was because I wanted each entry on the list to be a different experience, with similar themes. I feel that anime sharing the same creator doesn't totally achieve that. I hope this list has piqued your interest in checking out the anime shown above, and please do bring a lot of tissues, you're gonna need them.
---