Eyes are the windows to the soul. Think of this proverb what you want, but at least in the anime universe there is some truth to it.
Not only are the eyes of anime characters ridiculously enlarged and have impossible colors, but they play a big role when it comes to depicting emotions. Whether big or small, brown, green or blue, there are a lot of great eye designs out there and we want to find the best of them. It's about time that we honor the best eyes in the form of a Top 10 list.
What are we waiting for? Let's dive right into the Top 10 characters with the best eyes. Enjoy!
10. Eru Chitanda from Hyouka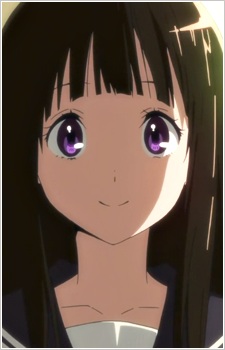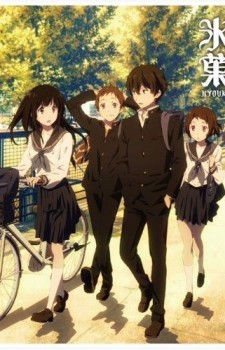 Episodes: 22
Aired: April 2012 - September 2012
We are starting this list off with a girl whose eyes seem to stare right into your soul.
Hyuoka is a Slice of Life show by Kyoto Animation, telling the story of a group of high school students who are all members in the Classics Club. Their club life turns out to be much more interesting than old books and ancient history. Together, these students embark on a journey full of secrets and mysteries waiting to be solved.
Chitanda is the president of the school club and loves it with all her heart. Her usual calmness is replaced by childish excitement whenever something interesting starts to happen. What really stands out about her though are her purple eyes. Not only do they have a striking color to begin with, but their animation is simply beautifully executed and goes hand in hand with all of her emotions.
9. Kurumi Tokisaki from Date a Live

Episodes: 12
Aired: Kurumi Tokisaki from Date a Live
Next up we have another girl with eyes that you definitely won't forget. It's Kurumi Tokisaki from Date a Live.
In this anime you will meet Itsuka Shido, a typical high school boy who gets caught up in a not-so-typical adventure. His story includes a lot of explosions, unusual enemies, colorful outfits and lots and lots of girls he's supposed to date.
One of these girls is Kurumi who looks like a sweet-hearted girl at first. But looks can be deceiving. She is actually one of the main antagonists of the series and proves more than once that she has a split personality. It's not surprising that such a complex character gets a pretty cool pair of eyes, right? While having a red eye is already impressive enough, having an eye with a clock face on it is even better. With her two-faced appearance Kurumi gets the second spot on this list.
8. Akashi Seijuro from Kuroko no Basket

Episodes: 25
Aired: April 2012 - September 2012
We have not forgotten about the eyes of all the men in the anime universe, so next up is Akashi Seijuro with his Emperor Eye.
For those of you that haven't heard of Kuroko no Basket yet (and are definitely missing out on a great series), let me give you a quick overview of the storyline. This show introduces you into the world of high school Basketball with Kuroko Tetsuya as the main hero. His sport is more than just a passion and he is determined to defeat any team standing in his way. Get ready for a show full of action, dramatic moments and great jokes!
Not only does Seijuro look pretty fierce, he is also a force to be reckoned with on the court. His success is due to his incredible eyes - he can see his opponent's body with such precision that he is able to predict their future movements. Make of this what you want, but his eyes are more than just a design element and that is why we had to include him on our list.
7. Ken Kaneki from Tokyo Ghoul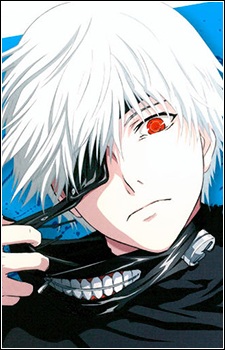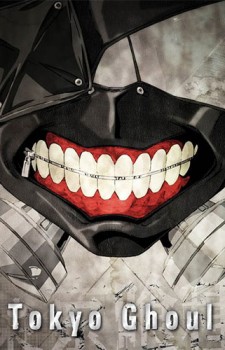 Episodes: 12
Aired: July 2014 - September 2014
One pair of eyes - or should I rather say just one eye - has been especially dominant in the past seasons and it belongs to no one less than Ken Kaneki from Tokyo Ghoul.
Tokyo Ghoul shows you the darker side of an alternative version of Tokyo. It's a universe where ghouls and humans have to coexist, but keep clashing into each other in fights of life and death. Kaneki gets drawn into this fight when he turns from a human to a half-ghoul and now a completely new war is about to begin - a war within himself.
Kaneki's red eye is infamous and is used throughout the show as a stylistic tool. At first, he hides this other side of him behind an eye patch since Kaneki is not ready to accept his new identity. But things begin to change and slowly the viewers get to see more of his darker side. Let's be honest who didn't get chills when seeing his ghoul form with a flaming red eye for the first time? Kaneki is without a doubt a worthy nomination for anime characters with great eyes.
6. Jibril from No Game No Life

Episodes: 12
Aired: April 2014 - June 2014
It's time to go back to our girls with stunning eyes, even though Jibril from No Game No Life could hardly be described as just a "girl".
No Game No Life shows you a fantastic new world that is completely ruled by games. All disputes and problems are solved through puzzles, board games and bets and no one else could enjoy this universe more than siblings Sora and Shiro, shut-ins that spend all day long playing video games. Their story is one that you will not forget too fast.
Admittedly, all characters in No Game No Life have outstanding eyes to top off the already amazing character designs. But not only is Jibril an incredible character - beautiful and soft-spoken yet ready to destroy civilizations in the blink of an eye - her eyes are just mesmerizing. They are already beautiful in their normal golden purple state, but when she casts a spell they almost glow in a shimmering gold and her pupils turn into eerie crosses. We love them!
---
5. Allen Walker from D.Gray-Man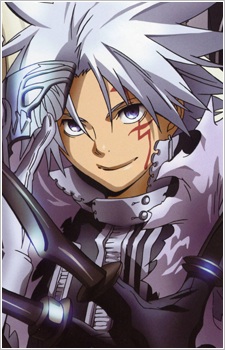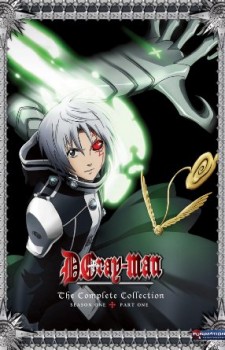 Episodes: 103
Aired: October 2006 - September 2008
We are slowly reaching the second half of this Top 10 list and the next character we want to introduce you to is Allen Walker from D.Gray-Man.
D.Gray-Man is an older anime with a lot of episodes that nevertheless still deserves some love. Allen Walker is the main hero of this story and is part of an organization that puts an end to the evil spirits roaming on earth. Equipped with a cursed eye and a weapon as an arm he is ready to take on anyone standing in his way.
D.Gray-Man is a great story and Allen is an even better main character. He definitely has a softer and innocent side to him, but when it comes down to it he will get any job done. We already established that having one red eye is pretty cool, but it's really the abilities it grants Allen that make it so memorable. So if you haven't watched this anime yet it's about time to change that!
4. Shiki Ryougi from Kara no Kyoukai 1: Fukan Fuukei (The Garden of Sinners Chapter 1: Overlooking View)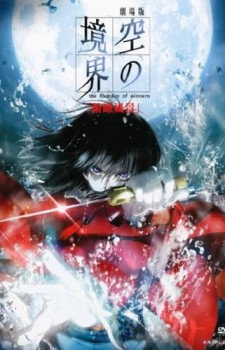 Episodes: 1
Aired: December 2007
Some eyes are lesser known than others, but that doesn't mean that they don't deserve some recognition as well. The eyes of Shiki Ryougi are a great example.
Over the course of several movies you will get to know Shiki Ryougi who is part of a detective agency focusing on paranormal occurrences. With her cool personality and outstanding abilities she needs to put an end to a mysterious suicide streak hitting Japan. Will her skills be enough?
Shiki is actually another character whose eyes have special abilities. With her "mystic eyes of death perception" she can see and bring death to the objects around her. Not only are her eyes deadly, but they are also beautifully animated. Seeing her common dark eyes slowly come to life in vivid colors is a spectacular sight and that is why Shiki deserves to be mentioned on this list.
---
3. Ciel Phantomhive from Kuroshitsuji (Black Butler)

Episodes: 24
Aired: October 2008 - March 2009
We all know that when a character wears an eye patch he is hiding something extraordinary underneath it. Ciel Phantomhive is no exception.
Black Butler, one of the most famous anime series out there, tells the story of aristocratic son Ciel Phantomhive and his butler Sebastian. Despite his young age, Ciel is the head of a noble family and runs his own company, all while keeping a cool facade at all times. But there are dark secrets he is hiding and his eyes are just one of them.
His right eye might be covered most of the time, but when you do get to see the purple pentacle sign inside of it, it definitely leaves an impression on you. But it is more than just a simple gimmick. The pentacle sign is actually a common motif for contracts between human and demons and fits perfectly into the whole story of Black Butler. As a well-known symbol that got a new twist and Japanese touch, Ciel's eyes deserve a spot on our list.
---
2. Sasuke Uchiha from Naruto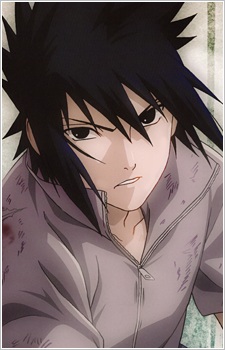 Episodes: 220
Aired: October 2002 - February 2007
Let's be honest, is anyone surprised to see Sasuke on this list? We highly doubt it, since his Sharingan is almost infamous in the anime universe.
With the love/hate relationship that Sasuke has with Naruto we get to constantly see the two of them compete against each other and strive to improve themselves. Sasuke definitely isn't ready to give in and slowly but surely brings his skills to an extraordinary level - Sharingan included.
Of course there are a lot of great eyes in the Naruto series - just look at Kakashi, the Hyuga clan or the other Uchihas, to name a few examples. We simply had to pick Sasuke though since he has been important from the very beginning of the series and his Sharingan was used to advance the plot many times. Sasuke definitely deserves a big shout-out.
---
1. Lelouch Lamperouge from Code Geass: Hangyaku no Lelouch (Code Geass: Lelouch of the Rebellion)

Episodes: 25
Aired: October 2006 - July 2007
It's time for our final pick and there is one character left that we just couldn't leave out. It's no one less than Lelouch from Code Geass.
Code Geass is a more than just a little bit popular series that shows Japan in an alternative universe. In this setting, Japan is under the power of the Holy Empire of Britannia and the population has lost all of its independence. In this dystopian setting one man emerges who gains an indescribable power that might be the secret to finally taking down Britannia: Lelouch Lamperouge.
So, what makes Lelouch's eyes so different from all the other amazing eyes on this list? Maybe not that much, to be honest; after all, eyes with special abilities seem to be a common element in anime shows. But it's the way that this ability plays into the storyline of Code Geass that really makes them special to us. Not only that, but the effects that the Geass has on Lelouch's personality and how they dictate his character development makes the whole series worthwhile. Our final choice for this list!
---
Conclusion
Eyes are more than just windows to the soul, at least in the anime universe. They can be deadly weapons, hide supernatural powers or indicate a second identity. No wonder that many producers go out of their way to create the most unique and captivating eyes for their characters. After all, they are one of the first things you notice and hopefully the last thing you forget about a character.
This list definitely isn't complete, so let us know which other anime characters have some amazing eyes. Your feedback and comments are as always more than welcome down below.
---