También puedes leer este artículo en:Español
In case you haven't been to your nearest shopping mall lately and weren't exposed to shiny ornaments and well-known jingles, let me remind you: Christmas is just around the corner.
And you know what that means? The weather is finally cold enough to justify you staying inside and watching your favorite anime shows. To get you into the right mood for the winter holidays we have compiled a list of our favorite Christmas specials, laughs and cheers guaranteed. Whether you are just looking for a fun filler episode or some romantic stories taking place around Christmas day, we have it all.
So lean back and enjoy today's cheerful edition of our Top 10 recommendations.
10. Episode 19 of School Rumble Ni Gakki (School Rumble 2nd Term)

Episodes: 26
Aired: April 2006 - September 2006
It's the second season of School Rumble and the story of delinquent Harima and his crush Tenma continues.
Harima finishes his manga script and wants no one else to be the first person to read it than Tenma. But this turns out to be a harder task than expected since he also has to fight through a blizzard and hurry to hand his manuscript over to his editor. Will Tenma finally recognize his efforts and the feelings he has for her?
This episode is a really fun continuation of the normal storyline. You still have the same cast fighting the same problems, but the Christmas setting makes it feel more special. You will root for Harima and just wonder how his story will turn out. This special deserves the first spot on our list with lots of laughs, craziness, romance and unspoken love confessions.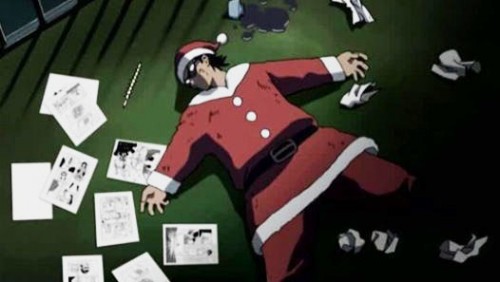 ---
9. Episode 12 of Chrno Crusade (Chrono Crusade)

Episodes: 24
Aired: November 2003 - June 2004
Next up is a special episode from an all-time favorite show, Chrono Crusade.
For this episode, the main cast takes a break from hunting demonic powers and instead goes out to the streets and performs charity work. The three girls try their best to act according to the spirit of the season, but soon realize that one of them, Azmaria, has in fact never had a real Christmas. They spend her first Christmas together and celebrate the cheerful and charitable side of the season.
The atmosphere of this episode is really heartwarming since it shows a different side of Christmas, without all the expensive presents and decorated shopping malls. Maybe it was because of the scene at a local orphanage, but somehow this episode really reminded me of the story of A Christmas Carol. This special definitely deserves a spot on this list.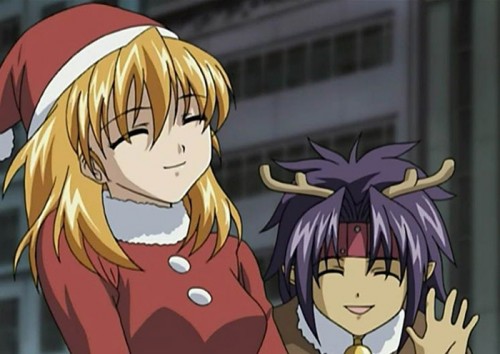 ---
8. Episode 17 of Azumanga Daioh

Episodes: 26
Aired: April 2002 - October 2002
Fans of school and Slice of Life stories are probably already familiar with the unique girls of Azumanga Daioh. In Episode 17 they get their very own Christmas adventure!
The girls get in an argument over Santa Claus and whether he really exists. 10-year-old Chiyo insists that he is real and even goes as far as saying that he is her father. But the Christmas madness doesn't stop there and the girls spend a crazy day together filled with presents, reindeers, Christmas trees and late-night karaoke.
The strength of Azumanga Daioh is the fact that it stays down to earth and really revolves around what the main cast experiences in their everyday lives. This episode is no exception and tells the story of how the girls spend Christmas together. Fans of the anime should definitely rewatch this episode and everyone who is new to Azumanga Daioh should still be able to enjoy the cheerful and easygoing vibe of this special.
---
7. Episode 31 of Hetalia: Axis Powers

Episodes: 52
Aired: January 2009 - March 2010
They hype over Hetalia might be over, but that doesn't mean that you should completely forget about these international boys.
In their Christmas special the main cast gets together to spend this special day together. Of course they are all their stereotypical selves, depicting exaggerated versions of their nationalities. This episode revolves all around how each boy spends Christmas and how they plan on enjoying their winter holidays.
Hetalia has a unique concept and that's what makes it so special. Each boy has his very own personality and when they all come together you can be sure there will be chaos, fights and lots of fun. This is definitely the case for this special episode which will bring you a little bit closer to the main cast. More importantly, you can actually learn something about Christmas traditions in different countries, so why not give it a try?
---
6. Episode 22 of Shakugan no Shana: Season II

Episodes: 24
Aired: October 2007 to March 2008
Let's move on from comedy shows to a more serious story, with the second season of Shakugan no Shana.
Episode 22 explores the romantic side of this anime. I don't mean to spoiler the fun for those of you that didn't get to enjoy this show yet, but let me just say that there will be love letters, confessions of feelings and an unexpected twist towards the end, all centered around the romantic setting of Christmas Eve.
What makes this episode so special is the fact that it builds up towards the finale of the season. You can already see how the characters are drawn to each other and how everything will soon come to an end. Starting the final chapter of this show on Christmas Eve makes it even more special, so check Shakugan no Shana's second season out if you haven't already.
---
5. Episode 12 of Minami-ke (The Minami Family)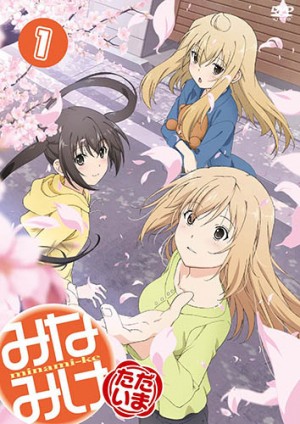 Episodes: 13
Aired: October 2007 - December 2007
The three Minami sisters are not known to take a break and Christmas definitely isn't an exception.
Their Christmas adventure is mostly set at home and really shows the importance of spending this day together with your family and loved ones. Just like in Azumanga Daioh we have a girl who still believes in Santa Claus and a group of friends that enjoys themselves over a delicious Christmas dinner.
Minami-ke really brought their show to a nice ending, since the final episode after this special is set on New Year's Eve. Even though this show might be short with just 13 episodes, by the end of it you will feel connected to the characters; it is episodes like this Christmas special that make this possible. Nothing outstanding really happens, but you can really feel how the sisters care for each other and how much they enjoy spending Christmas together.
---
4. Episode 7 of K-On!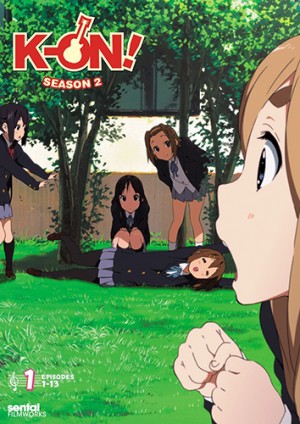 Episodes: 13
Aired: April 2009 - June 2009
Who could resist the charming girls of K-On!, especially during this snowy winter tale?
Most of the episode is told from the perspective of Ui, Yui's little sister. She remembers how, many years ago, Yui tried to make a white Christmas happen with the help of pillow stuffing. Now, they main cast gets together to enjoy Christmas dinner together and exchange presents.
This episode just tells a wonderful story of sisterly love. It is so touching to see how Yui and Ui help each other out and how much they mean to each other. By the end of the episode, as they finally get their white Christmas, you will be filled with all the holiday cheers and feels that are so special to this day.
---
3. Episode 11 of Lucky☆Star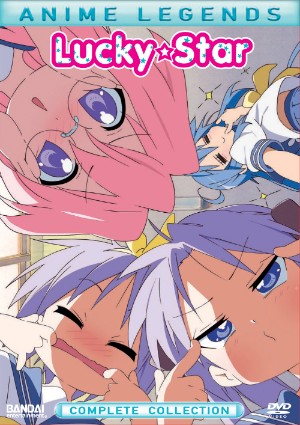 Episodes: 24
Aired: April 2007 - September 2007
At least as charming as the girls from K-On! is the main cast of Lucky☆Star. Care to find out how they spend the last days of their year?
Trying to sum up everything that happens in this special is a hard task. Lucky Star episodes are a crazy mixture of lots of different events and conversations going on, all held together by the four friends. Their Christmas is shaped by studying for exams, comparing bust sizes, exchanging presents and talks about Christmas cakes and Santa Claus.
Maybe it is the fact that this episode first aired in June instead of December that didn't make it feel forced. It perfectly ties in with the rest of the show and feels like any other episode - with a little bit more holiday feelings and fun. A must-watch for fans of the show and viewers who like to see some innocent Christmas fun.
---
2. Episode 22 of Kimi ni Todoke (Kimi ni Todoke: From Me to You)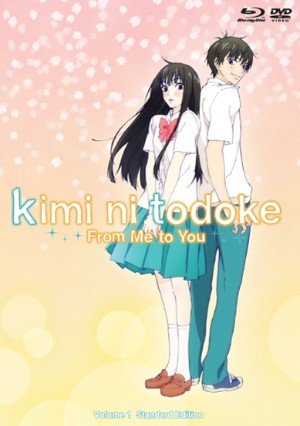 Episodes: 25
Aired: October 2009 - March 2010
Those of you that have already watched Kimi ni Todoke will certainly remember their Christmas episode. Everyone else should definitely check it out.
Sawako's class is holding a Christmas party and even though she would love to join, she feels obligated to spend the day with her family. Instead, she makes Christmas presents for Chizuru and Ayane as well as - of course - Kazehaya. Just as she has given up on actually getting to spend the day with her friends, a small Christmas miracle happens.
It's hard to describe this episode as anything less than just heartwarming. It is a romantic Christmas story with a beautiful illuminated and snowy setting. Not only that, but we also see Sawako growing up and letting go of her parents. Just like some previous recommendations, this episode sets the beginning for a beautiful ending of the whole show.
---
1. Toradora! episode 19

Episodes: 25
Aired: October 2008 - March 2009
Last but not least we have another Christmas story with the unlikely couple of Toradora!.
The Christmas party is finally here and the main cast gets caught up in a love triangle. While Ryuuji tries to cheer up Taiga in a Bear Santa Claus costume he still has feelings for Minori. Taiga tries her best to support him, but soon has to realize that she doesn't want him to leave her side. How will their story turn out?
What made this episode so special to me is, again, the fact that it doesn't feel forced. In fact, the previous two episodes already revolved around the preparations for the Christmas party and the storyline keeps moving forward steadily. Viewers will get more than just one Christmas episode that immediately leads back to the normal setting. Instead, you get to see how Ryuuji and Taiga spend their holidays together and how their love story finally takes a turn.
---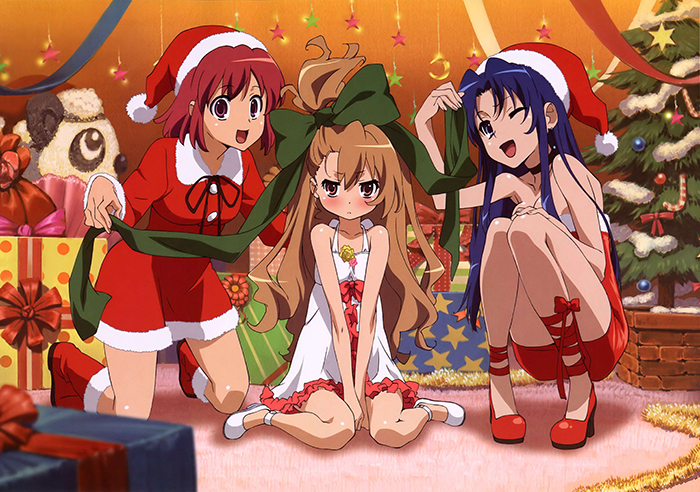 This concludes our Top 10 List of best Christmas specials. Holiday-related episodes can go one of two ways: they are either boring and feel too forced or will cheer you up with their special flair. It all depends on how much effort the producers put into their work and whether the special actually contributes to the storyline. The shows we have presented above should prepare all of you for the most joyful season of the year.
What do you think of Christmas specials or holiday specials in general? Have we missed your favorite episode? Let us know down below!
---
Enjoy the Holidays with our Christmas Articles!