También puedes leer este artículo en:Español
We love to invite friends over to play games! Some games are single player, however, and may not be as fun at parties. When there is a need for people to gather in one place to celebrate, there are games perhaps more suited than others. Party games create memories, like that one time someone tried "DDR" on the highest difficulty, and looked like they were having a seizure. Or perhaps that other time someone's drumstick flew off into your friends wedding picture while playing Rock Band. Ah, memories.
Console party games have more potential to make lasting memories with friends, than say, a single player FPS does at parties. With the ability to go online now, some party games have evolved, and now your friends can compete with other friends around the globe! Good party games will make the night go by fast, and sometimes have you forgetting about the pizza delivery guy at the front door. Some party games can even be used to try and predict the future outcome of sports events, like the NFL "Super Bowl"! Whatever your party is for, we have the top 10 console party games below, just for you!
10. The Jackbox Party Pack

System/Platform: Amazon Fire TV, Macintosh, Ouya, PC, Playstation 3, Playstation 4, Xbox 360, Xbox One
Publisher: Jackbox Games, Inc., Telltale Games, Avanquest Software
Developer: Jackbox Games, Inc., Telltale Games, Avanquest Software
Release Date: Nov. 18, 2014
The Jackbox Party Pack is on a lot of platforms! From the "Lie Swatter" to "Bomb Core" all of the games contained in "The Jackbox Party Pack" are filled with hilarious fun! You can also use your phones and tablets as controllers. It contains all of the fun of "You don't know Jack" and more! Even the advertisements for the game are funny. While it may not have anything in the way of story
(and most party games don't), it will have you playing trivia and other mini-games into the early morning hours!
You know multiplayer games, but you may not know about 100-player multiplayer games! Some of the games require you to have a cell phone that works due to the drawing games, which can be a bummer for some people. If you have enough people with smartphones, you can also take your entire party online. You can have up to 3-8 people playing "Drawful"! If you do take your game online, beware of the people who will draw nothing but certain body parts. This would be higher on our list if cell phones weren't such a large requirement. But since it's available for just about everything, and it's worth playing, it earns a spot on the list!
---
9. Fruit Ninja Kinect 2

System/Platform: Xbox One
Developer: Halfbrick Studios
Publisher: Halfbrick Studio
Release Date: Mar. 18, 2015
There are many versions of Fruit Ninja, but perhaps the best one was custom made for the "Kinect". You and a friend can take turns chopping the air while your pets look at you funny. Of course what you're really doing is trying to chop all the fruit you can without hitting a bomb. It's a simple plot, but the better you are, the more things you unlock in the game. There are different modes, and the game can be very challenging!
If you've already done your weight lifting for the day, you may find it exhausting to keep chopping over and over again, so play at your own risk. Speaking of risk, please try to stand apart from each other so you don't smack people in the face while you're chopping fruit. You don't need any real life casualties. The game modes are all fun, and it's easy to get lost in the simplicity of the game! We've noticed some people don't really like to think too much when they're at parties. So, the simple party games tend to be quite popular!
---
8. Mario Party 9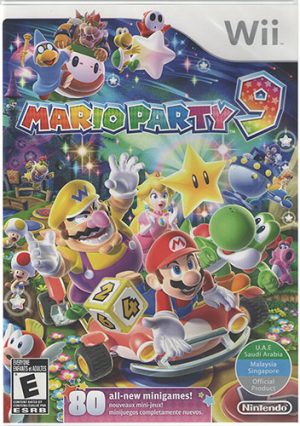 System/Platform: Wii
Developer: Nd Cube
Publisher: Nintendo
Release Date: Mar. 11, 2012
Most people have played board games before. No one likes it, however, when people lose important pieces of the actual board games down the sink, or a heater vent. Luckily for us the Mario Party games are around to keep you from doing that! No longer will you have to worry about ruining the experience of a board game. You will pick your character, and try to roll higher than the other people to get ahead of them, and win. Then, once you're ahead, watch as other people take you down with mini games, and other items!
You and up to 4 players can partake in the crazy, and color-filled Mario Party 9. While there was a Mario Party 10, it wasn't as well reviewed. In the end, you can pick which Mario Party better suits you. The Mario Party games are made specifically for parties. You should get your hands on one of them because they really are a blast when you have friends over! It's another game where you don't have to think too much, though strategies may be formed against the people who are winning.
---
7. Mario Kart 8

System/Platform: Nintendo Switch, Wii U
Developer: Nintendo
Publisher: Nintendo
Release Date: May 30, 2014
Mario takes many forms, not the least of which is a racing game! Mario Kart has been around since the SNES days, and has never died out! In this latest version, people can now play on the go with the Nintendo Switch! The Switch version features all of the downloadable content you could get on the Wii U version, and an improved battle mode! So, definitely get the Switch version, if you don't have it yet! Choose your favorite Nintendo character and race your friends, or take it online and race many others.
Mario Kart 8 allows for a unique experience. You can group up with your friends and take others on online. You can now hold two items in your inventory to throw at players, or make yourself super powerful. It has never been more irritating to be in the first place spotlight, because everyone tries to take you down. Sometimes, people who pair up at home and go online, can coordinate better strategies, to take you down. So if you're one of those people who play alone online, be prepared to get bombarded by everyone else. No matter how you play, though, this game is another party favorite!
---
6. Super Smash Bros. Wii U

System/Platform: Wii U, 3DS
Developer: Bandai Namco Games
Publisher: Nintendo
Release Date: Oct. 3, 2014
While the latest version of "Super Smash Bros." is also available for the 3DS, the one we recommend for parties, is the one for Wii U. "Super Smash Bros." is a title that many didn't think they would be seeing again after the N64 version. However, Nintendo made an impression and it's become a long-running franchise. Nintendo learned from their mistakes from previous games, and now it's become an amazing fighting game! No one thought we'd be seeing this roster of heroes for the latest version of Smash. Who would have thought Cloud Strife could be in the same game as Link?
If you're ever bored at a party, just whip out SSB and let the 8 player chaos begin! If you're really feeling brave, you can all pick the same character, and watch everyone try to figure out which character is theirs! A Nintendo Switch version may be on the way, however, that hasn't really been touched on much. Right now the Wii U version is the best for parties. Nintendo's new pay-to-play online policy is due to start in 2018, so play online for free while you can!
---
5. Guitar Hero 5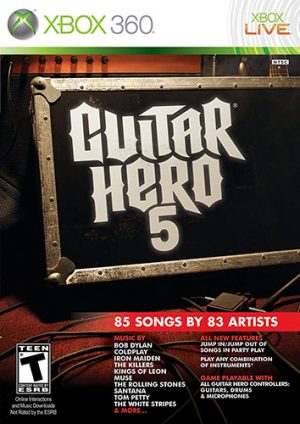 System/Platform: Android, Playstation 2, Playstation 3, Wii, Windows Mobile, Xbox 360
Developer: Glu Mobile, BudCat, Neversoft Entertainment, Vicarious Visions
Publisher: Glu Mobile, Activision
Release Date: Sep. 1, 2009
While it can be on the pricey side to buy all of the guitars, Guitar Hero 5 is one of the best party games around. There are very few things that can bring people together quite like music can. Play all of the best rock songs with your friends, and laugh at how astoundingly bad everyone is! It's a fun game that demands you keep time with music, and hit buttons. Sounds simple enough, yes? Well, there is more to it than that. Once you master your guitar skills, go online! Or maybe just sit and eat popcorn and watch.
Guitar Hero games are also games you can enjoy when you're watching people play. Some of your favorite music might be in the game. In fact, people may find themselves humming the tunes long after the game is done. The console versions of the game are recommended for parties, playing on a phone may not be as great in that situation. You can have up to 8 players. This game can get crazy, and have you forgetting about everything around you.
---
4. Splatoon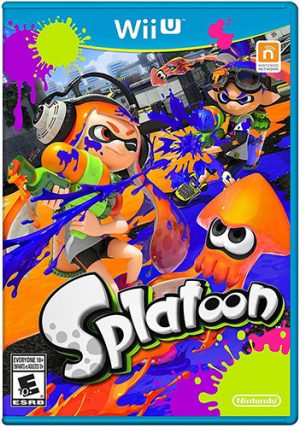 System/Platform: Wii U
Developer: Nintendo
Publisher: Nintendo
Release Date: May 29, 2015
With Splatoon 2 on the horizon it's a good time to mention its predecessor! Splatoon was an original concept, which took squid-people and made them shoot ink at each other. Your goal is to spray the arena with your team's color, and eliminate the enemy team with your color ink. In order to complete your task, the "inkling" of your choice, must try to not step in the enemy's color. You will also unlock abilities to help you later. The team who has the most of the arena covered in their color wins.
Splatoon adds just the right amount of color to any party! If you're one of those people that don't really like a ton of violence, then this is the shooter for you. The characters you choose can get "splatted" but they never really die. You're basically shooting paint at each other, so it's light-hearted fun. With that said, some people can get pretty salty when they lose any game. Splatoon makes a fun game for any party!
---
3. Madden NFL 2017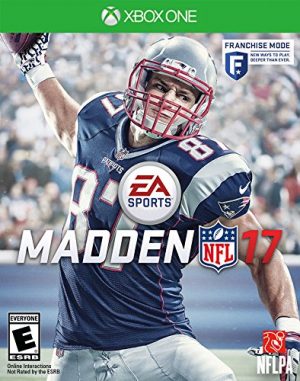 System/Platform: Playstation 3, Playstation 4, Xbox 360, Xbox One
Developer: EA Sports
Publisher: EA Sports, Electronic Arts
Release Date: Aug. 23, 2016
Almost every year we see a new Madden NFL game, however, that doesn't mean they should be overlooked. Madden NFL 2017 in particular was used to predict the outcome of the Superbowl LI NFL match. In a simulated game they pitted the Atlanta Falcons against the New England Patriots. Before these two teams even played each other in the Superbowl, the game predicted the Patriots would win. Surprisingly, the Madden NFL games have correctly predicted a total of "9/13" Superbowls, according to Forbes.
American football brings a lot of people together, and it's really no surprise that the video games do too! Madden NFL games have always been a shining example of what graphics can do. It's an extremely attractive game, and people will always gather around to play, or watch someone else play. People who aren't into the NFL may not be around the screen much, however. You can take your games online too, and try your hand at franchise mode! Madden NFL 2017 is actually a game where you don't even have to play, just pit teams together and watch the game unfold. Fantasy football has never been more fun!
---
2. Dance Dance Revolution

System/Platform: Wii, Playstation 3, Playstation 2, Xbox 360, PC, Arcade Games
Developer: Konami
Publisher: Konami
Release Date: Nov. 16, 2010
There are arcades to this day that have Dance Dance Revolution machines! We remember walking through the mall, and seeing that one guy going to town on the dance pad. Most people remember seeing people play, and have an uncontrollable urge to try it themselves. Your goal is simple, to dance to the beat in time, and step on the correct arrows. While it sounds simple, the difficulty varies in the game, and person to person. Not everyone likes to exert themselves for a game. But even those who don't play, usually find DDR to be a hypnotic experience!
Dance Dance Revolution has seen new arcade editions in 2013 and 2016, but it's hard to find on the newer consoles. You are in luck, however, because anyone can get any version of the game at "ddrgame.com". You can select from the cheap dance pads, or even the metal ones! DDR is one of the best party games out there, and it comes with the added benefit of weight loss. According to "livestrong.com" you can burn up to 8.1 calories per minute when playing on the highest difficulty. We highly recommend having a laptop, and getting the PC version of DDR for mobility. Having the PC version also means access to a better selection of music. But it's up to you!
---
1. Rock Band 4

System/Platform: Playstation 4, Xbox One
Developer: Harmonix Music Systems
Publisher: Mad Catz, Performance Designed Products, Harmonix Music Systems
Release Date: Oct. 6, 2015
Rock Band 4 is an award-winning video game, and for good reason! Like "Guitar Hero", you play music in time with the scrolling colored notes on the screen. Unlike Guitar Hero, you can play the drums, and also sing! You and 4 people can play at once, two people on guitar, one on drums, and one on vocals. You can customize the look of your band, and take your show online! While it has a small "touring the world" story, no one really pays too much attention to it. You'll be too busy watching the time tick away, especially with friends!
Remember that part at the beginning of the article about the drumstick flying off into a wedding photo? Well, that's based on a true story. Rock Band doesn't have you dancing around a dance pad, but when it gets intense, you can still sweat! Nothing brings people together quite like your best friends singing off-key. Take turns with the party guests, and watch everyone laugh hard (mostly at the singers). Rock Band is the ultimate party game, and though it's pricey with all of the instruments, it's well worth it!
---
Final Thoughts
We love parties, and we love making friends too! There are honorable mentions like Dance Central and Just Dance. Heck, there are even throwbacks to the Dreamcast/Wii days with Samba De Amigo! People may even have fun with the Wii's bowling games. We feel, however, the very best of the best party games are on this list. We may not know about every party game ever made, though. Do you have a suggestion that didn't make our list? Please let us know what your favorite console party games are below!
by Samuel Mackey
---