Anime fans are well aware of the sister medium to their favourite – manga. There is currently a growing interest in the comics that aren't from Japan; the manhwa. Manhwa is a Korean medium, not unlike manga apart from the fact that it is normal for them to be in colour! With manhwa, we are invariably exposed to a wide variety of artistic direction and stories that show off awesome plot and characterisation. However, these awesome stories are not always easy to find, so we decided to put you on and help you find ten manhwa that are really easy to find and read!
10. True Beauty

Authors: Yaongyi
Genres: Drama
Volumes: 40+
Published: August 2018 – Ongoing
Jugyeong is a nerdy high school student with low self-esteem who decides to master the art of make-up after binge-watching beauty videos on YouTube. With her appearance improved by her make-up use, she sees her social standing rise up literally overnight, but at what cost? Will her newly found elite status be compatible with the person she is and continues to be regardless of her appearance? What if the cute boy she likes finds out the truth behind the facebeat?
For anyone who is a fan of the overnight beauty trope, True Beauty explores lookism in a drama that is quite substantial in its dramatic content but there is also ample opportunity for laughs! The art is good especially when it comes to the accuracy of some of the characters' faces (yes, "accuracy". We'll let you figure that one out for yourselves), as well as their reactions. The story sets itself up very patiently and subtly explores some dark themes too! True Beauty is easily accessible on LINE's Webtoon platform.
---
9. Tower of God

Authors: SIU
Genres: Fantasy
Volumes: 424+
Published: July 2014 – Ongoing
Twenty-Fifth Bam is a boy who has lived his entire life trapped beneath a mysterious tower, with only his best friend, Rachel, to keep him company. When Rachel enters the Tower one day, Bam manages to open a door into it, with the intent of finding his friend in the labyrinth that awaits him within. On each floor of the Tower, Bam faces gruelling challenges that could very well cause him to lose his life.
Brought to us by LINE Webtoon, Tower of God is a fantasy adventure title that has been running for quite some time and is consistently rated highly. Our characters are interesting and develop quite decently, particularly the protagonist, Twenty-Fifth Bam. The art is also quite the marvel and each page of a consistently high quality throughout the series. It almost feels unfair how easy it is to come across a work as well put-together as Tower of God as easily as it is to do so!
---
8. Killing Stalking

Authors: Koogi
Genres: Drama, Psychological, Horror
Volumes: 67
Published: November 2016 – March 2019
Oh Sang Woo is a charming college student who is hiding a dark secret: he is actually a sadistic serial killer. He kidnaps Yoon Bum, a stranger who had been stalking him obsessively. Bum had broken into Sang Woo's home when he was discovered and then held captive and constantly tortured. Yoon Bum makes multiple attempts to escape; however, he is often unsuccessful. Be that as it may, as time goes on, Yoon Bum and Oh Sang Woo develop a strange, toxic interest in each other.
Dark and gritty with art that reflects beauty as well as gory thrill, Killing Stalking is really heavy for those with an aversion to violence and dark themes like abuse, torture and the like. However, it is an incredibly entrapping read, once you've picked up Killing Stalking, you're either invested or put off. The manhwa can be found on publisher Lehzin's website and application, and creating a Lehzin account is fairly simple too.
---
7. DICE: The Cube That Changes Everything

Authors: Yun Hyun Seok
Genres: Fantasy
Volumes: 255+
Published: July 2014 - Ongoing
What would you do if you could change your fate? Dongtae is a short, timid and unattractive high school boy who has a crush on Eunjoo, the most popular girl at his school. He has always been relentlessly bullied, shunned and dehumanised by the people around him, but she… she's different. When a transfer student named Taebin enters the fray, Dongatae's unrequited love bites differently as the near-perfect new kid asks her out. Jealous, Dongtae decides to stalk Taebin, hoping to find something suspicious. While spying on him, Dongtae finds a strange die and rolls it. He is surprised to realise he has become a "Dicer", a person who performs quests in order to earn dice which are then rolled and converted into points that can be used to boost one's own attributes. Excited for the prospect of a better life, Dongtae doesn't realise the darkness behind the cubes.
Also featured on LINE Webtoon for quite a long time is the DICE manhwa series which is set to reach its conclusion soon. The series is dark and bubbles out from the central idea of innate ability and human insecurity, but the themes continue to expand as one gets further in the events of the series. The art is also a major plus for this series as it greatly augments the awesome fights and overall DICE universe.
---
6. Girls of the Wild's

Authors: Kim Hye-Jin (Art), HUN (Story)
Genres: Action, Comedy, Drama, Martial Arts, Romance, School, Harem
Volumes: 260
Published: November 2012 – October 2016
Wild's High is a prestigious all-girls high school with a 42-year history of training its students in some of the deadliest forms of martial arts on the planet. Every year the school hosts a widely broadcasted tournament known as the Wild's League where only the most formidable succeed. This year, Wild's High has changed its policies, opening its doors to male students for the first time. The only male applicant is one Song Jae Gu, who has been granted a scholarship for the entirety of his time at the school. For the past two years, Jae Gu has been preoccupied with taking care of his younger twin siblings and with his new school journey underway, Jae Gu finds himself in a messy situation after accidentally spilling coffee on Queen, the current champion of the Wild's League! Can Jae Gu go through his school days quietly, or is everything already beyond repair from the word "go"?
Kicking its way onto our list at position number 6 is the martial arts-centred manhwa, Girls of the Wild's. Boasting a vivid romantic element that later grows into the series' main investment, Girls of the Wild's is a compelling story about struggle and triumph, and the way in which protagonist Song Jae Gu experiences an overall transformation in his life from the intense hardship we see him go through is enough to warm the heart for future rereading. Girls of the Wild's is available on LINE's Webtoon platform.
---
5. I Love Yoo

Authors: Quimchee
Genres: Comedy, Drama, Romance
Volumes: 89+
Published: April 2017 – ???
Yoo Shin Ae is a girl who has been plagued with pain and misfortune since she was younger and has hence decided that she wants nothing to do with people. Content with her antisocial, loveless life that's everything short of exciting, Shin Ae's life starts to change when she accidentally ruins an unsuspecting stranger's clothes. Will Shin Ae go back to the boring life she lived before, or will she be inviting change?
I Love Yoo is currently on hiatus; which gives anyone who hasn't read it already enough time to read and catch up because it is absolutely brilliant! The cynical protagonist, Shin Ae, goes through intense hardship in her life; however, is it possible that these new and annoying people in her life might just be the very thing she needed? Boasting immense characters and writing, I Love Yoo is an awesome manhwa and can easily be found on LINE Webtoon!
---
4. Orange Marmalade

Authors: Seokwoo
Genres: Comedy, Drama, Romance, School, Shoujo, Vampire, Slice of Life
Volumes: 119
Published: February 2011 – December 2013
In a time where vampires are a known entity throughout human society and completely vilified, they are forced to keep their identities hidden. Two centuries ago, human beings and vampires signed a treaty prohibiting vampires from feeding on humans. Nowadays vampires satisfy their hunger with pig's blood. Baek Ma Ri is a teenage vampire who has gone through many difficult periods in her life as a result of her vampirism. Her family has moved several times to start over after their secret is revealed. As a result, Ma Ri sees no value in making friends and getting close to people; however, when she first catches a whiff of Jung Jae Min's blood, she finds herself unable to resist. After the strange encounter, the young man finds himself falling in love with her.
Anyone who is a fan of vampires and love stories will love a healthy serving of Orange Marmalade! The story has great art and explores themes like the obvious trust and romance, but also discrimination in human society using supernatural protagonists. There is also some complex areas to the overall character that is Baek Ma Ri that are interesting to pick up on throughout the series, but the best part is slowly watching her form significant relationships with some of the human characters. Orange Marmalade is available on LINE Webtoon.
---
3. Lookism

Authors: Park Tae Jun
Genres: Action, Comedy, Drama, Supernatural
Volumes: 228+
Published: November 2014 – Ongoing
Park Hyun Suk is an overweight and unattractive boy who is constantly bullied and abused at school and he wishes things could be different. When his mother witnesses him being bullied, she refuses to stand for it and sends him to another town, where something strange happens: he wakes up one day to find that he has a second body, one that is attractive, tall and athletic! Maybe things are finally turning around for him… but is it really that simple?
Those who have read Lookism have had their minds blown by the overall impact the work actually has. From plot to art to characters, Lookism is quite the marvel and the way in which it touches upon some of the darker themes that go unexplored or ignored by many people in a way that really makes a lasting impression. Like most of the other manhwa on this list, Lookism can be found on LINE Webtoon!
---
2. God of High School

Authors: Park Yong Je
Genres: Action, Adventure, Comedy, Fantasy, Martial Arts, Sci-Fi, Supernatural
Volumes: 408+
Published: April 2011 – Ongoing
17-year-old Jin Mo Ri is a young Taekwondo specialist and high schooler who claims to be the best fighter in Korea. When a mysterious blonde-haired man invites Jin to a martial arts tournament known as "The God of High School", Jin agrees only after finding himself knocked out by the blonde in a single blow. Soon, Jin Mo Ri learns that there is much more to this tournament than he initially thought.
With awesome martial-arts centred action, a likeable protagonist with immense strength and secrets about the universe that are hidden and slowly explored, God of High School is a shounen lover's dream come true! God of High School is also one of the longer running manhwa on this list, which is a word to the quality of the manhwa. God of High School is readily available on LINE Webtoon!
---
1. Noblesse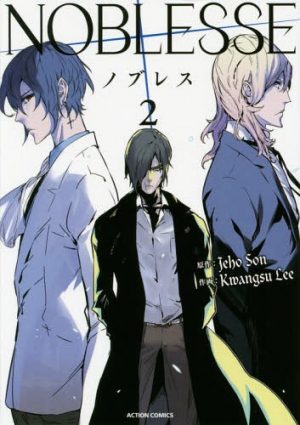 Authors: Son, Jae-Ho (Story), Lee, Gwang-Su (Art)
Genres: Action, Adventure, Comedy, School, Supernatural
Volumes: 531+
Published: Ongoing
Cadis Etrama Di Raizel is a vampire of noble lineage who wakes up from an 820-year-long sleep, finding himself in modern day Korea. He starts a new life as a student, attending the high school established by his loyal servant, Frankenstein. However, the time for peaceful class attendance is short-lived as a mysterious group known as the Unions begins to threaten the peace in a society that has long forgotten about the existence of phenomena such as these.
Fans of supernatural works will definitely love Noblesse! From the very beginning, we're given a true taste of the gritty underground of this universe, which involves various supernatural entities, particularly the main vampire, Cadis Etrama Di Raizel. Noblesse is very popular and has even has a short animation based on the early events of the manhwa. In addition to cool supernatural elements, Noblesse brings to the fore some of the best art of the titles on this list and clinches our number 1 spot. Noblesse can be found on LINE Webtoon.
---
Final Thoughts
For quite a long time, anime fans had to deal with being unable to access the content that they really wanted. Now with the internet making it much easier to access and share, we're spoilt for choice with the various anime, manga and manhwa works that we have access to! That being said, we try really hard to sometimes but we can't always find the best series or miss out on others that are brilliant but underrated. Help us out and drop a comment below about your favourite manhwa that is easy to find and read!
---