Manga has come a long way from its early beginnings. Many story elements are in play at once in the current offering of titles, and when it comes to translations, a lot of details can be lost. Whether it's from cultural differences or just misunderstandings, manga plots can sometimes be tough to grasp. Isekai manga are often more difficult than some other genres. That's why we've put together a list of top 10 isekai manga that are easy to read if you just want to quickly pick one up and enjoy it. Let's begin!
10. Death March kara Hajimaru Isekai Kyousoukyoku (Death March to the Parallel World Rhapsody)

Authors: Ainana, Hiro
Genres: Adventure, Drama, Harem, Fantasy
Volumes: 8
Published: November 2014 - Ongoing
The 29-year-old game programmer Suzuki Ichirou finds himself transported into the game he was working on and becomes 15-year-old Satou. Using his vast understanding of the game, he quickly becomes one of the most powerful beings in the world, leading to some very curious situations. He finds himself freeing slaves and amassing a harem all on auto-pilot, narrating his thoughts and actions along the way. If you're looking for a simple story that meets all the criteria for an isekai, this is the manga for you.
---
9. Souzai Saishuka no Isekai Ryokouki

Authors: Kinoko, Masuo
Genres: Adventure, Comedy, Fantasy
Volumes: 1
Published: December 2017 - Ongoing
Fate made Takeru Kamishiro a boring middle-aged salaryman, but a whimsical god reincarnated him in a strange new fantasy world. Not only that, he has a new perfect body, but he's pretty much clueless as to how it or the world works. Finding himself skilled at tracking down rare ingredients, he searches for ways to earn a living alongside his newfound dragon pal. This is a very simple lighthearted read for budding isekai readers.
---
8. Orenchi ni Kita Onna Kishi to Inakagurashi Surukotoninatta Ken

Authors: Sakuta
Genres: Drama, Fantasy, Romance, Slice of Life
Volumes: 2
Published: 2018 - Ongoing
While tending to his farm, Saeki Kanji finds a female knight who has somehow been transported to our world. She is confused, scared, and most of all, hungry. After feeding her, he begins to believe her story, but there's nothing they can do to return her, so she's here to stay. Thus begin the subtly romantic days of a middle-aged farmer and a perky, precocious knight from another world. While it begins simply enough, the plot starts going in some unexpected directions that will leave readers guessing.
---
7. Kenja no Mago

Authors: Yoshioka, Tsuyoshi
Genres: Action, Comedy, Fantasy, Romance
Volumes: 11
Published: March 2016 - Ongoing
After dying in an accident, Shin Walford reincarnated as an orphan alone in the woods and was raised by renowned magician grandparents. Now, newly introduced to society after years of isolation, he has made some new friends and powerful enemies. He's loving civilized life, but the very demonic threat that his grandparents fought years ago is resurging in force. Kenja no Mago is a simple isekai story all about how overpowered its protagonist can be.
---
6. Exterminator

Authors: Hanabokuro
Genres: Action, Comedy, Fantasy, Harem, Slice of Life
Volumes: 3
Published: June 2017 - Ongoing
Imagine, out of all the job titles you could have upon reincarnating in another world, you pick the one you just had before you died. Finding himself reborn in a fantasy world, seasoned exterminator Naoki opts to buy some ingredients and make his own pesticide in another world. He's so good at it that he levels up to an insane degree from killing mass amounts of monsters that most adventurers ignore from disgust. Bringing a level head to his encounters and explaining his methods along the way, Naoki helps those in need on his fantasy world adventures. This is a very straightforward and enjoyable read.
---
5. Tensei Kizoku no Isekai Boukenroku ~Jichou wo Shiranai Kamigami no Shito~ (Wonderful adventure in Another world! "God... That's going too far!!" he said…)

Authors: Yashu
Genres: Action, Adventure, Fantasy, Romance
Volumes: 2
Published: 2018 - Ongoing
Shiina Kazuya heroically died saving both his sister and his childhood friend from a mugging and was reborn as the young and cute Cain Von Silford, third son of a noble house. The gods must have been impressed with the way he went out, because in this new world, he has just about all of their protections, blessings, and skills that can possibly be bestowed. Cain is all about experiencing the fantasy lifestyle of being in another world, but his powers and gifts make him stand out even more than you might expect. This is a simple to follow isekai manga with an exceedingly long name, but quite enjoyable to read.
---
4. Re:Monster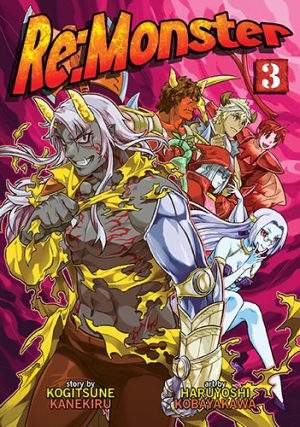 Authors: Kanekiru, Kogitsune
Genres: Action, Comedy, Drama, Fantasy
Volumes: 5
Published: March 2014 - Ongoing
Shortly after dying, Tomokui Kanata found himself reincarnated as a goblin, destined to lead a short life as one of the weakest monsters. However, he changed his fate and that of the other members of his clan through his retained memories of combat and strategy from his previous life. Quickly rising through the evolutionary ladder, the newly reborn Rou has discovered the ability to empower himself by eating strong monsters and his defeated foes. Full of his own inner monologues and observations of this new world, Re:Monster is an isekai that puts you inside the mind of a ruthless demon warlord in the making.
---
3. Isekai Nonbiri Nouka

Authors: Naitou, Kinosuke
Genres: Comedy, Fantasy, Harem, Slice of Life
Volumes: 3
Published: October 2017 - Ongoing
Machio Hiraku succumbed to sickness at the age of 39 but was given another chance at life by a god who directly granted his wishes for what his new life would be. Given an indestructible body and a magical farming tool, he slowly establishes a farm in what he believes is simply an empty forest. It isn't long before the strongest and strangest creatures and beasts are drawn to his work and find his skills and company irresistible. Before long, Hiraku finds himself building the most sought-after village in the world, and becoming one of its biggest world powers. However, all he wants to do is live a simple life, but his wives have other plans for his time, at least at night that is.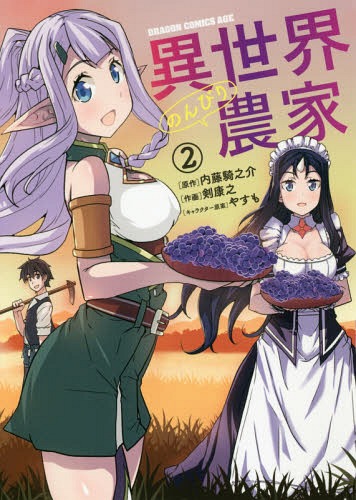 ---
2. Tensei Ouji wa Daraketai

Authors: ASAHINA, Nagomu
Genres: Comedy, Fantasy, Slice of Life
Volumes: 1
Published: January 2018 - Ongoing
Overworked Haruto was literally isekai'd by truck-kun out of nowhere, but all's good now, he's the 5th son of a royal family. He's loved, respected, and above all, insanely gifted with his abilities, however, he wants nothing but leisure time so he hides away all of his talents as much as possible. His plan fails, as he quickly tames the legendary beast Kuro who he had met in the forest. Now with a god of destruction in tow, he's standing out more than ever despite trying to keep a low profile. A funny story about the world's most powerful isekai child trying to stay under the radar, this series is a lighthearted and enjoyable read.
---
1. Kamitachi ni Hirowareta Otoko (The man picked up by the gods)

Authors: Roy
Genres: Adventure, Drama, Fantasy, Slice of Life
Volumes: 3
Published: November 2017 - Ongoing
Overworked and alone, Ryouma Takuma died in his sleep at the age of 39. Heartbroken at seeing the tragedy of his life, gods of another world brought his soul to theirs and bestowed to him powers and gifts to make his new life as pain-free as possible. Reincarnated as a young boy alone in the woods, he comes to the aid of passing nobles who quickly try to adopt him into their family after learning of his situation. No matter who he meets, they quickly learn that he is more than meets the eye and wields as much power as the gods themselves. This is one of the best isekai stories you'll read and very easy to understand.
---
Final Thoughts
Many isekai manga can be incredibly overwhelming as many authors stuff as many details as they can in order to stand out. Stuff like adventurers guilds, rankings, magic explanations, dungeon levels—it's all kinds of mind-boggling and different from each manga you read. Thankfully, that's not the case for these stories! They keep it simple, and we appreciate that.
Do you have any recommendations for easy to read isekai manga? Maybe we missed some good ones. Let us know in the comments!
---