What You Need to Know:
A poll was conducted on Anime! Anime! asking Japanese fans which anime they'd like to cosplay the most from the Fall 2015 lineup.
The poll was held for 5 days from October 27 to October 31, and received a total of 386 responses with the majority being teenagers.
See the results below!
---
Top 10 Fall 2015 Anime to Cosplay
---
9. Lupin the Third
Synopsis
Lupin will be starring as the main character in this upcoming series set to take place in Italy and San Marino.
Reflecting its setting, the anime will debut in Italy before airing in Japan. Lupin III fans will note that the titular thief now has a blue coat, following his earlier appearances in green (first series and some OVAs), red (the second series as well as most films and television specials) or pink (third series).
(Source: Crunchyroll)
9. Osomatsu-san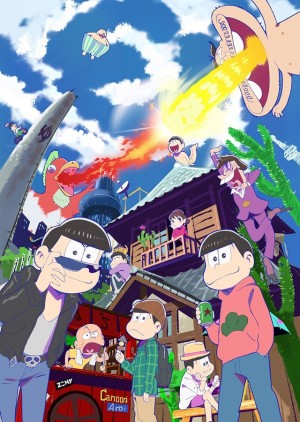 Synopsis
Matsuno household has six naughty and mischievous sons (who are sextuplets), led by the eldest Osomatsu. They were grade schoolers back in the Shouwa period, but despite of still living in the same old household, the street view as well as the life style of modern day society have changed drastically.
(Source: ANN)
8. The Asterisk War
Synopsis
The Academy City on the water, Rikka (otherwise known as Asterisk) is the world's largest stage for the integrated battle entertainment, "Star Wars Festival." The young boys and girls of the "Starpulse Generation" belonging to the six academies made their wishes with Shining Armaments in their hands, vying for supremacy—Amagiri Ayato is one of them.
Ayato arrived at Rikka at the invitation of the Student Council President of the Seidoukan Academy, Claudia, and right after that he incurred the wrath of the "Petalblaze Witch" Julis, and ended up having to duel her.
The greatest academy battle entertainment, begins here!
(Source: jCafe24)
7. Owarimonogatari
Synopsis
During the month of October of his third year in high school, Koyomi Araragi is introduced to a transfer student named Ougi Oshino by his underclassman Kanbaru Suruga. Ougi tells Koyomi that she has something she wishes to consult with him. When she draws the map of Naoestu High School, she finds something peculiar. This discovery reveals a tale that wasn't meant to be told, and this makes Koyomi's high school life totally different. This is the story that brings to light "what" makes Koyomi Araragi. This is the story that reveals the "beginning" of everything.
(Source: ANN)
6. One-Punch Man
Synopsis
One-Punch Man is a super hero who has trained so hard that his hair has fallen out, and who can overcome any enemy with one punch. However, because he is so strong, he has become bored and frustrated with winning all his battles so easily.
(Source: ANN)
5. Is the Order a Rabbit??
Synopsis
Cocoa arrives at the cafe Rabbit House one day, excited for rabbits. She actually all but lives in that cafe. She meets lots of different girls there, including a tiny and cool girl named Chino, a tough and soldier-esque girl named Rize, a spacey and quintessentially Japanese girl named Chiyo, and the ordinary but dignified Sharo.
(Source: ANN)
3. Haikyuu!!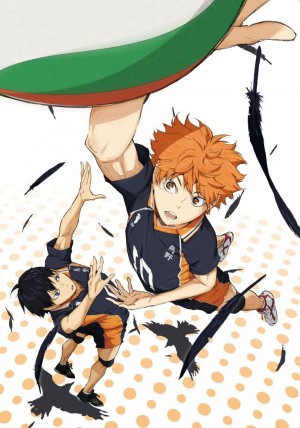 Synopsis
Inspired after watching a volleyball ace nicknamed "Little Giant" in action, small-statured Shouyou Hinata revives the volleyball club at his middle school. The newly-formed team even makes it to a tournament; however, their first match turns out to be their last when they are brutally squashed by the "King of the Court," Tobio Kageyama. Hinata vows to surpass Kageyama, and so after graduating from middle school, he joins Karasuno High School's volleyball team—only to find that his sworn rival, Kageyama, is now his teammate.
(Source: MAL)
3. Noragami Aragoto
Synopsis
In the second season of Noragami the main focus is on Bishamon, god of combat. She has many shinki due to her being unable to abandon spirits attacked by Ayakashi. She has a large group of shinki with her as leader, causing her trouble as she sometimes cannot tend to all of them properly, especially when one of them gets sick or is in pain. She has a strong hate for Yato, as a dark past binds the two of them. How will the horrifying events dated hundreds of years ago in combination with current evil happenings affect Yato and Yukine?
Edit
(Source: MAL)
2. K: Return of Kings
Synopsis
In modern Japan, where history has strangely overlapped with reality. There, seven "Kings" with great superpowers existed. Along with their clansman to whom they shared their own power with, the kings each formed clans. Order bound by blue, red flames that cause chaos, irregularities that shine in white, and reforms branched off into green. The Kings, each with their own abilities, now...
With "jungle" once again jumping back into action, the fates of the various Kings are brought together.
(Source: MAL)
1. Owari no Seraph: Nagoya Kessen-hen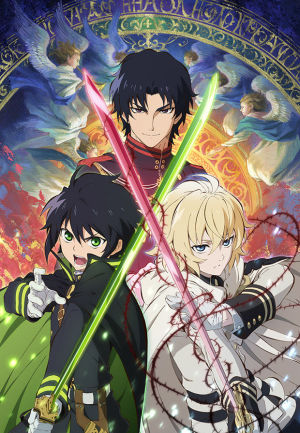 Synopsis
Yuuichirou has reunited with Mikaela at the Shinjuku Battle. But Mikaela was turned into a vampire... To save the "family," and to protect his fellow members, Yuuichirou needed to gain knowledge and power. He searched for ways to bring back vampire to human beings, and at the same time, trained hard working on the Cursed Gear.
Meanwhile, Kureto calls Guren and tells him a shocking truth. That in one month, the main unit of the vampire will start attacking Tokyo. To get a head start against vampires, Kureto orders Guren to go to Nagoya. The noble extermination mission is about to open fire!
(Source: Official website)
Source: Anime! Anime!
---
I think I'd make a good Mikaela, hehe.
Oh, you would Honey-chan. But please do a Bishamon first.
---
[ad_dfp position="bottom1" unit_pc1="true" unit_pc2="true" unit_sp1="true" class="mt40"]