Families are important in both the real world and in media like light novels. The idea behind a family joining together to fight against bad guys or finding joy together through some means is a touching theme that really makes you appreciate your own family. That's why we here at Honey's Anime went on a mission as a family ourselves. We scoured the internet and our own personal light novel collections to find family themed light novels we personally loved and know you guys and girls will too. Welcome, everyone out there on the web, to our Top 10 Family Light Novels list.
Now by definition, a family in light novels isn't always a simple idea. There are numerous tales of families made from adopted siblings and or families of strangers who come together to survive and find comfort in one another. We tried to make sure to find similar light novels that keep the family theme first and foremost as it makes sense for this list. Some of these stories you may know very well. Others we guarantee very few have. Regardless we hope you enjoy this list of family themed light novels and to begin reading all you need to do is scroll down.
10. Black Bullet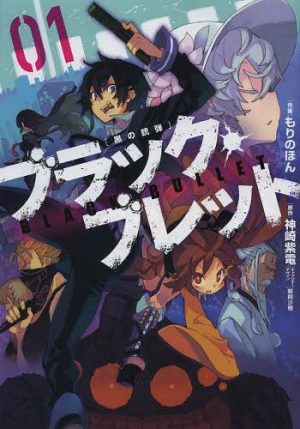 Authors: Kanzaki, Shiden- Ukai, Saki
Genres: Action, Drama, Horror, Romance, Sci-fi, Seinen
Volumes: 7
Published: Jul, 2011- Present
No one knew where they came from but one-day humanity found itself facing a horrible parasitic virus. Dubbed the Gastrea, these parasitic beings invaded various creatures and even humans changing them into horrible monsters. With most of the world in a panic, only some areas such as Tokyo have decided to fight back. Arming civilians with powerful weapons to fight against the Gastrea, the so called Civil Security are trained to defend Tokyo from the Gastrea threat. They even use female children infected with Gastrea—though they can harness the parasite's power to become heightened warriors—as partners to keep humanity from reaching utter annihilation. Our tale focuses on Rentaro and his partner Enju as they are about to fight battles they never saw coming…
Beginning our Top 10 Family Light Novels list, we look at a unique series called Black Bullet. While Black Bullet may have action and horror, the family element comes in the form of Rentaro and Enju. These two allies might constantly bicker and act kind of weird—especially Enju and her love for Rentaro—but their bond is what keeps us invested in each volume. Seeing them conquer enemies together and surviving the dark world around them is both cute and truly emotional. At 7 volumes long—though currently in hiatus—Black Bullet is truly a fun family light novel series that isn't blatantly obvious at first.
---
9. No Game No Life

Authors: Kamiya, Yuu
Genres: Adventure, Comedy, Drama, Ecchi, Fantasy, Harem, Romance, Seinen, Shounen, Supernatural
Volumes: 9
Published: Apr, 2012- Present
Imagine a world where money isn't a thing. A world where you get what you want by not working for it but by playing games. That is the world Sora and his sister Shiro have just been teleported to. Now, they must harness their skills of games and use that to show this world who truly is the master of gaming. Welcome to the world of games in No Game No Life.
Siblings are definitely a family in every sense of the word. That's why we love No Game No Life here at Honey's Anime. Sora and Shiro use their odd natures to conquer the games they are forced to play in order to obtain what they wish for in this foreign land. Filled with comedy, fun games and tons of ecchi—seriously a ton of it—No Game No Life is an enjoyable series to read. Watch brother and sister team up to conquer a very strange world in No Game No Life!
---
8. Fullmetal Alchemist

Authors: Inoue, Makoto- Arakawa, Hiromu
Genres: Action, Adventure, Comedy, Mystery, Drama, Historical, Shounen, Supernatural, Psychological
Volumes: 7
Published: Feb, 2003- Apr, 2010
In this world, mankind may not have magic, but they have something even better, alchemy. Humans known as Alchemists can actually transmogrify objects into various materials as long as they sacrifice something of equivalent value. However, some things even alchemy can't solve as two young boys found out when trying to revive their dead mother. Known as the Elric brothers, Edward Elric lost an arm and a leg while Alphonse Elric lost his entire body but had his soul placed into a suit of armor. The two brothers now search for a means of gaining their bodies back via a powerful alchemy creation known simply as The Philosopher's Stone.
Many fans of the loved Fullmetal Alchemist series don't know that there are actually several light novels that are available to read. Each story follows the Elric brothers as they go through various trials and tribulations in search of the Philosopher's Stone. For fans, many of these stories are seen in the anime and manga versions but in light novel form. Even if you know the Elric's story, seeing them in light novels is truly a breath of fresh air and one we recommend taking. There are few siblings better known than Edward and Alphonse Elric and that's why they are perfect for this list in our minds.
---
7. Hai to Gensou no Grimgar (Grimgar of Fantasy and Ash)

Authors: Jyumonji, Ao- Shirai, Eiri
Genres: Action, Adventure, Drama, Fantasy
Volumes: 10
Published: Jun, 2013- Present
Many would love to live in a fantasy world. The ability to fight monsters and earn gold sounds like a cool world to be in, right? Well, imagine if the fantasy world you lived in became real and fighting wasn't just for fun but a means to survive and earn money. In this world known as Grimgar, several strangers will learn that fantasy can be both beautiful and deadly. Together they will survive or together they will fall in Hai to Gensou no Grimgar.
Sometimes a family doesn't choose to become one. For the cast of characters in Hai to Gensou no Grimgar, they were thrown together into a dangerous world but decided to help each other in this strange world. Living for not just themselves, characters like Haruhiro, Ranta, Merry, Moguzo and Yume have become a family despite never knowing each other initially. That's what makes Hai to Gensou no Grimgar such an amazing family themed light novel. It shows that strangers can become friends and can then become the people you love and need the most in life.
---
6. Onegai Twins

Authors: Zappa, Go- Gouda, Hiroaki- Uon, Taraku
Genres: Comedy, Drama, Romance, Shounen, Slice of Life
Volumes: 2
Published: 2004
Maiku Kamishiro has had a tough time. Despite being a high school student, he also has a stressful job. However, things get crazier when two girls arrive in Maiku's life claiming they are his sisters! Now, Maiku must live with Karen Onodera and Miina Miyafuji and figure out who is truly his sister and who is not. Though it won't be easy seeing as how these girls have fallen for him and Maiku has fallen for them as well!
Onegai Twins seems like an odd story but contained within this short 2 volume series is a great romance and family story. Maiku's relationship with his sisters Miina and Karen can be a bit awkward at times—usually sisters getting with possible brothers will cause that to be the case—but it can also be quite endearing. Learning who the true sister is in Onegai Twins is also a reason we loved reading it. If you want a series not talked about too much you should check out Onegai Twins. Trust us, ignore the possible incestuous concepts in Onegai Twins, it won't be creepy once you get further into the tale.
---
5. Naruto: Itachi's Story

Authors: Yano. Takashi- Towada, Shin- Kishimoto, Masashi
Genres: Action, Adventure, Martial Arts, Shounen, Super Powers
Volumes: 3
Published: Sept, 2015- Nov, 2015
Many folks know the story of Naruto in and out. They know the lore for many of the main heroes like Naruto, Kakashi and even Sakura. However, Naruto: Itachi's Story tells a tale hidden behind the scenes. Focusing on Itachi Uchiha, glimpse into the tale of the traitorous shinobi and what events caused this to happen. What led to the Uchiha's downfall? It's time to learn the truth in this tale told from the eyes of Itachi.
Not all family stories can have happy endings. Fans of the Naruto franchise know Itachi's tale won't end on a happy note. However, the struggles Itachi endures and the lengths he goes to for his brother Sasuke makes for one heck of an enjoyable read. Itachi's story makes for an interesting real-life family concept. What are you willing to sacrifice for those in your family?
---
4. Kimi no Na wa (Your Name)

Authors: Shinkai, Makoto
Genres: Comedy, Drama, Fantasy, Gender Bender, Romance, Tragedy
Volumes: 1
Published: 2016
Taki and Mitsuha may come from different places in Japan—Taki from the big city of Tokyo and Mitsuha from the small village of Hida region—but they are about to learn a lot about each other. Though this won't be because the two meet each other. Instead, both Taki and Mitsuha are about to trade places with each other in every sense of the word. Swapping bodies at random times, the two live each other lives with some comedic results. However, the reason for Taki and Mitsuha's body swapping might have a reason and they will soon learn why this power might be what saves one of them from a cruel fate…
Besides being a critically acclaimed movie, Kimi no Na wa is also a light novel as well. The story told in Kimi no Na wa tells of how much love and bonds transcend time and even reality. While neither Taki and Mitsuha may be considered family, their body swapping leads to them learning about each other's and even possibly why the body swapping is so important. Kimi no Na wa shows one thing very few of these light novels on this list of the Top 10 Family Light Novels list. The idea of how a family can be born through very special ways.
---
3. Bakemono no Ko (The Boy and The Beast)

Authors: Hosoda, Mamoru- Yamashita, Takaaki- Hirasawa, Geko
Genres: Adventure, Fantasy
Volumes: 1
Published: Jul, 2015
Hidden behind the world of humans exists the realm of bakemono. When one young boy who lost his family stumbles into this strange bakemono world, he meets a powerful beast called Kumatetsu. Similar to the young boy, Kumatetsu lacks a family and more importantly, a ward to train. Kumatetsu takes the young boy under his wing, names his Ren and begins to learn how a family can change even the toughest of warriors. Watch as two lonely souls grow together in Bakemono no Ko.
Bakemono no Ko is a short light novel—which is also a film—that truly makes your emotions stir. The idea of a father and son truly beams brightly in Bakemono no Ko even though the family in question isn't per say a normal one. Ren and Kumatetsu's relationship is tested constantly in Bakemono no Ko but that's what makes the story feel like a real family relationship. Sometimes we all struggle to find love in our family because of our own differences. However, a true family will always see past differences and love each other unconditionally and that's the beauty of Bakemono no Ko.
---
2. Papa no Iukoto wo Kikinasai! (Listen to me, girls. I am your father!)

Authors: Matsu, Tomohiro- Nakajima, Yuka
Genres: Comedy, Drama, Romance, School, Slice of Life
Volumes: 18
Published: Dec, 2009- Mar, 2015
University seemed like it was a tough enough future ahead for 19-year-old Segawa Yuuta. Though fate didn't seem to think that was the case. After Yuuta's elder sister and brother law go missing when their plane disappears, Yuuta finds himself taking care of his nieces, Sora who is 14, Miu who is 10 and the young Hina who is only 3 years old. Now, Yuuta has a new life to deal with, raising these three girls as their new father. College should have been the toughest thing for Yuuta but fatherhood he will realize is ten times harder!
Coming in at number 2 on our list of the Top 10 Family Light Novels is Papa no Iukoto wo Kikinasai! Mixing comedy and drama with just a tad of romance, Papa no Iukoto wo Kikinasai! is a truly fun family geared light novel series. With 18 volumes—yes, it's that long—Papa no Iukoto wo Kikinasai! offers a great look at into living a father's life despite being very young. We get to see the beauties of parenthood and the difficulties it sometimes comes with as well. If you want a truly fun story that is family based you need to read Papa no Iukoto wo Kikinasai!
---
1. Uchi no Musume no Tame naraba, Ore wa Moshikashitara Maou mo Taoseru kamo Shirenai. (If it's for My Daughter, I'd Even Defeat a Demon Lord)

Authors: CHIROLU- Truffle
Genres: Adventure, Comedy, Fantasy, Shounen, Slice of Life
Volumes: 2
Published: Feb, 2015- Present
Dale has gone on many adventures in his young life. On his journeys he has shown his talents and skills despite being so fresh. Though none of his adventures could have prepared Dale for one discovery in the forest. Coming across a little devil girl, Dale takes her under his care to save her life. Though who is this little devil girl and why does she have a brand that's usually associated with criminals? Dale's life is about to change dramatically but some changes lead to great adventures and Dale is about to see that first hand in Uchi no Musume no tame Naraba, Ore wa Moshikashitara Mao mo Taoseru Kamo Shirenai.
Are you ready for a cute adventure story? If you said you are, we have the perfect solution here at Honey's Anime. Uchi no Musume no tame Naraba, Ore wa Moshikashitara Mao mo Taoseru Kamo Shirenai is the family tale that truly makes your heart go aww and your eyes tear up at times. While Uchi no Musume no tame Naraba, Ore wa Moshikashitara Mao mo Taoseru Kamo Shirenai is only 2 volumes currently, we already see this series becoming bigger as it progresses. How will Dale and his new devil daughter get along in Uchi no Musume no tame Naraba, Ore wa Moshikashitara Mao mo Taoseru Kamo Shirenai? We don't know for certain yet but we can't wait to see what the author CHIROLU can do to make this one of the best family themed light novel series ever!
---
Final Thoughts
The word family is indeed a very open-ended word. What defines a family isn't something that is so easy to explain. Though that's the beauty of a family, it's people who love each other and that's all that matters. What do you think about the word family and what does it mean to you? We would love to hear from you by using those comments down below. If you like this article we have plenty more like it for you to enjoy so be sure to read them courtesy of our family here at Honey's Anime.
---