También puedes leer este artículo en:Español
Christmas is already around the corner, and it's one of the very few days wherein every member of the family can enjoy and have some rest. That said, there's no better bonding activity than getting some snacks, setting up the living room, and watching some good anime movies. Since the whole family's watching, the movies have to be safe for the general population's eyes. And as always, we've got you covered. Here are 10 amazing family anime movies perfect for your holiday family nights.
10. Suzumiya Haruhi no Shoushitsu (The Disappearance of Haruhi Suzumiya)

The SOS Brigade is never peaceful, especially with Haruhi Suzumiya around. One Christmas, however, Kyon discovers that Haruhi has disappeared. This isn't just like one of Haruhi's typical impulsive activities, though. She's literally just vanished, and everybody except Kyon seems to also forget about her existence. While Kyon is having a bit of an identity crisis, he discovers that Haruhi's disappearance has caused more than just a little change to the reality he knows.
First and foremost, there's one important thing that is to be considered before choosing this movie. This is kind of a sequel to the first two seasons of the renowned Haruhi Suzumiya anime, so better put this aside for now if you are unfamiliar with the anime. However, the Haruhi Suzumiya series has a cult-like following, which is why we've included it on this list. Like the other entries in the franchise, The Disappearance of Haruhi Suzumiya contains a lot of bizarre events that will take its viewers on a rollercoaster ride. It has multiple plot twists, confusing turns, and a mind-boggling setting that will all tie up in the end. That said, it remains a must-watch for fans of the series this holiday season.
---
9. Sailor Moon S: The Movie

When Tokyo is hit by an unusual snowstorm, it's discovered that there's something more sinister happening. Kaguya, an evil snow queen, is planning to turn the Earth into a frozen hell. As always, it is up to the Sailor Senshi to save the Earth from peril. While all this is happening, Luna finds herself in a different dilemma. She falls in love with an astronaut, and she then wishes to become human in order to help him with his illness.
This classic will surely bring together a family as Sailor Moon's popularity transcends the ages. The older generations are undoubtedly familiar with the franchise, while the anime's charm is sure to captivate the younger generations' hearts. While the transformations are obvious eye-catchers, the best thing about Sailor Moon S: The Movie is its music. It also has a decent plot and enjoyable progression. It's a nice fluffy movie for the whole family to enjoy.
---
8. Hello World

It's now 2027, and Tokyo has developed so much, technology-wise. One of its residents is Naomi Katagaki, a socially-awkward bookworm. This, however, changes when a mysterious event leads him to meet a person claiming to be him from ten years in the future. Future Naomi claims that he has to start moving if he wants to save Ruri Ichigyou, a cold girl who shares his love for books, from imminent danger the moment they start dating. Taking his future self's mission with a grain of salt, Naomi now tries to save Ruri.
Hello World can be hit-or-miss. Some may like it; some may not. On one hand, it's a sci-fi romance with colorful CGI animation, some great music, and a decent romance. On the other hand, the science stuff can be really confusing at times. The viewers must also pay attention or else they may find themselves going "Huh?" multiple times towards the latter parts of the film. With that considered, this is a notable choice if your family enjoys sci-fi movies with a hint of romance.
---
7. Nakitai Watashi wa Neko wo Kaburu (A Whisker Away )

Miyo Sasaki is one of the unfortunate humans that's born into a broken family. Her only family now is his father who lacks any sort of confidence and her stepmother. The crux of the story, however, is Miyo's relationship with her crush, Kento Hinode. Her unusual ways of trying to interact with him aren't bearing any fruit, but Kento weirdly adores her when she's turned into a cat. Now, Miyo's facing a dilemma as her cat form cannot help Kento's human woes. Revealing that she's been the cat all along, however, may break the trust he's given to her as a cat.
The movie does a great job painting Miyo as this annoying, doesn't know any better girl during the first few minutes, but it proves to be useful in emphasizing her character development during the later scenes. Her character slowly turns into a relatable one as the story progress. The film also has a mixture of sad and happy parts, but nothing too deep that will keep some audiences away. It also has pretty great art and beautiful soundtracks. That said, it's an overall good watch.
---
6. Coquelicot-zaka kara (From Up on Poppy Hill)

With the Olympic Games looming, mass demolitions are being held. One casualty of which is a beloved old clubhouse. However, the student body won't let it be destroyed just like that. They've gathered in order to prevent this from happening. Umi Matsuzaki, who has been helping the Newspaper Club, meets Shun Kazama, an orphan. As she's starting to fall in love with him, she helps him search for clues regarding his past. That's when one discovery leads to another.
Picking up a Studio Ghibli film is almost always a good decision to make. While they tackle dark themes, it's always presented as a vibrant event that will easily go over younger ones' heads. Even though From Up on Poppy Hill may not be perfect, it is more than good enough of a film. It has an engaging story, as well as characters that we just can't hate. The supporting characters also do a pretty good job adding fun into the film while the main characters go about figuring things out. Best of all, From Up on Poppy Hill isn't in a rush to tell its story. It takes its time narrating at a nice and beautiful pace, resulting in a relaxing viewing experience for the holidays.
---
5. Tenki no Ko (Weathering with You)

A runaway high school student realizes that the promise of Tokyo giving a better life to people going there is nothing more than just a flowery lie. His unfortunate realization is partnered by the fact that Tokyo is also being plagued by an eternal downpour. Left with no other choice, Hodaka Morishima, a high school student, ends up working for a small-time publisher for peanuts. That's when he meets Hina Amano, a girl that has an interesting ability. However, this ability turns out to have a hefty price.
From the same creator of Kimi no Na Wa (Your Name), Weathering with You promises a similar melancholic but emotional experience. Even with that said, do not expect the film to be a reiteration of its predecessor. Weathering with You follows a realistic setting. Its fantastical element is based on local folklore, which is why it doesn't really seem absurd. It also has a beautiful art style and fantastic music that's sure to entertain viewers of any age. While it does have a romantic element, it doesn't go too deep that will make the atmosphere awkward for your family, but it's also not bland that it becomes boring. Overall, Weathering with You is an entertaining movie to watch with the whole family.
---
4. Byousoku 5 Centimeter (5 Centimeters Per Second)

Takaki Toono and Akari Shinohara are childhood friends who have fallen in love with each other. However, fate has other plans for them. They are separated from one another, and the distance between them only grows wider as time passes by. Even so, the two promise to stay in contact and hold on to the memories they've created. The question is, what is the right thing to do?
5 Centimeters Per Second is a beautiful film tackling long-distance relationships, from struggles and loyalty to bitter-sweet emotions. That being said, consider watching this with family members that are mature enough to understand its theme. 5 Centimeters Per Second has very human characters. By that, we mean Toono is as vulnerable as any of us, and the movie beautifully portrays that. Following him from childhood to becoming an adult, prepare your heart as you empathize with him during his lowest of low.
---
3. Wakaokami wa Shougakusei! Movie (Okko's Inn)

Oriko Seki, who's more commonly called Okko, is forced by her parents to attend a festival in their rural hometown. When they get there, both of Okko's parents become unfortunate victims of a car accident. Okko is then forced to live with her grandmother in her traditional hot springs inn. That's where she meets a barefooted ghost who urges Okko to follow in her grandmother's footsteps. This is the start of Okko's journey to finding her own path in life.
Okko's Inn is a heartwarming story of moving on after an awful tragedy. Despite Okko's sudden loss, her journey of healing through serving others is both captivating and heartwarming. The art, music, and animation further accentuate the film's soothing atmosphere. Even though it's tackling a rather dark theme, Okko's Inn is surprisingly light. However, some tears may be shed during the viewing process, so make sure to prepare some tissues.
---
2. Sen to Chihiro no Kamikakushi (Spirited away )

A young Chihiro Ogino is dragged into an abandoned amusement park her parents discovered on their way to their new home. Left with no choice, she follows them as they head inside. She then discovers that this place is more than what meets the eye. Her parents sit on a stall and have a feast. To Chihiro's surprise, they slowly transform into pigs the more they eat. The next thing Chihiro knows is that she has already entered the spirit world, must find a way to turn her parents back to normal, and return to the world of mortals.
One of Studio Ghibli's most acclaimed movies, Spirited Away is a masterpiece that transcends time and space. The movie is nothing grand, but not in the sense that it's bland. We mean that there are no epic battle scenes, no heart-ripping drama, and no grand quest of slaying the greatest of evils. It's all about enjoying and appreciating the world Chihiro finds herself in, but not too long as we don't want her being stuck there. It's a beautiful movie that is definitely perfect for a whole family to watch.
---
1. Tokyo Godfathers

While three friends namely Gin, Hana, and Eve were rummaging trash heaps hoping to find Christmas presents, they've found the greatest gift of all—the gift of life. However, that doesn't mean that they'll wholeheartedly accept it. After all, three homeless people don't have the resources to raise a child. But with Hana's maternal instincts kicking in, the three set on a journey to find the baby's mother and give her a piece of their mind. Their journey doesn't go so smoothly, though. Certain events cause their search to go haywire, resulting in a more complicated adventure than they hoped for.
If there's one anime film that you must watch every Christmas, then it's Tokyo Godfathers. For one, it's actually set on Christmas day and features us, ordinary people. It embodies the true meaning of the season—being happy even during the triest of times. Our three main characters have greatly contrasting characters, but also weirdly fit each other. They are the best representation of a family that has no blood relation, and that is something that must be celebrated during this season.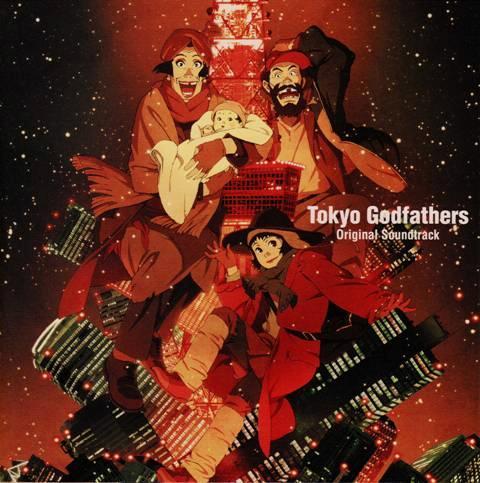 ---
Final Thoughts
One of our, and probably a lot of you, favorite holiday activities is watching anime movies. After all, nothing beats sitting back and watching one of these movies without any worry about work, school, and other stressors. It's one luxury we always look forward to at the end of each year. If you're like us, we hope that you find your next watch from this list. If you have other films you want to add on this list, feel free to recommend it in the comment section below.
---
---
It's that time of year again, and while you're busy stringing up lights, wrapping presents, and hanging mistletoes, we here at Honey's Anime would like to give a little something extra for the big day. We present to you all, our Top 10 Anime Movies to Watch with Family During Christmas; because nothing brings the family together like a great anime film.
10. Children Who Chase Lost Voices (Hoshi wo Ou Kodomo)

Episodes: 1
Aired: May. 2011
Asuna Watase, a girl living a very casual life, finds herself mixed in the tangles of a hidden society of people and creatures after encountering a strange boy. Soon, her life is turned inside out as she engages further within this brave new land. Eventually finding herself embroiled within its people, mysteries, and conflicts. But if her curiosity holds on, then she just may come to learn a few things about her own world and the life of the people living within it as well.
A tale of hope meddling in a sea of discovery and growth. The picture of progression and perseverance towards a common goal is depicted just as beautifully as the animation on screen. Imbued with a heart-soothing atmosphere against the backdrop of a gorgeous landscape, you will sink into your seat as you delve into this ever-growing world with each passing second. The emphasis on family, and our beliefs on life after death; watching as Asuna struggles with her own placement against the conflicts of a newly discovered world, will empower us to look within ourselves, as well as towards those we hold dearest in our hearts.
Packed with mystical creatures and mythological ornamentation, this film is sure to warm up your household during a lovely Christmas evening.
---
9. Steins;Gate Movie: Fuka Ryouiki no Déjà vu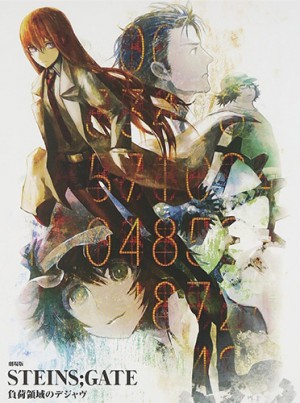 Episodes: 1
Aired: Apr. 2013
Returning from America, Kurisu Makise's life is thrown out of whack once her friend, Rintarou Okabe, begins to suffer from strange side effects brought on by his use of time travel. To add fuel to the fire, Okabe soon vanishes entirely, with only a faint memory of his existence still held onto by a distraught Kurisu. With the past, present, and future at stake if the timeline is to be altered, Kurisu is pegged with the decision of either respecting Okabe's last wish and leaving things as they are, or choosing her feelings over the fate of time itself and saving her lost friend.
Time travel may seem like an adventurous journey, but could it be a sin to manipulate what destiny has laid out before us? Is it selfish to disrupt the lives of many, for the sake of but one person? Is there even a right or a wrong answer to these questions? Wants and necessities are often hard to differentiate between, but are often the backbone of how we choose to proceed towards our future. As we try to uphold ethics within our lives, we are often urged to diverge from the beaten path of doing what's right, in favor of what's beneficial at the moment. An experience that our parents know well, and our children have looming in the years ahead of them. Steins;Gate will help bridge the family as one with its artistic time-bending caveats, layered alongside a nimble tale of relationships and destiny.
There's simply no better way to spend your time.
---
8. Hotarubi no Mori E

Episodes: 1
Aired: Sep. 2011
When Hotaru Takegawa stumbles across a masked spirit named Gin while traveling through an ancient forest, she immediately becomes attached to him. After leading her out of the forest, Gin warns her to never return, but not before explaining to the young six-year-old that if he is to be touched by a human, he would disappear for forever. Despite his words, Hotaru continues to visit Gin every summer; slowly building a bridge between the two. Ultimately, as Hotaru grows older, and romantic feelings begin to surface, the relationship between these two grows harder to maintain balanced; for after all, they must never come into physical contact.
Hotarubi no Mori E portrays budding love in a calm manner, just as evoking as the tranquil forest setting in which it takes place. Love and tragedy permeate within our lives, and are as necessary as the flora and fauna that we walk upon beneath our feet. Wallowing whenever we face the loss of love, we question why such attachments amongst one another are such a highly sought after gem. Hotaru, a young girl unaware of true love, walks a path that develops our own questions towards what love and affection truly mean. Not only between a couple, but amongst our own family and friends as well. An inspiring tale ripe for the holiday season. Adding Hotarubi no Mori E to your list of lighthearted Christmas merriments will certainly uplift your festive spirit.
---
7. The Girl Who Leapt Through Time (Toki wo Kakeru Shoujo)

Episodes: 1
Aired: Jul. 2006
Senior year of High School can be one the most stressful periods of a student's life, and for Makoto Konno, the pressure to decide her future while still unwilling to let go of the present keeps the stress well intact. That is, until she discovers her ability to travel through time. Taking her newfound abilities out for a ride, Makoto will soon discover that everything we do in life has its repercussions.
Time travel may seem like a godsend, but in The Girl Who Leapt Through Time, turning the book back to page one and rewriting the story may not always be the best decision.
A low-key telling of life makes this film a pleasure to pass through on any given day. Looking back on our past, in hopes of learning how to develop our future, is right on task with Christmas marking the last stride towards the start of a new year. The big question here is, what would you do if you could travel through time? An interesting perspective to view life by, and a wonderful way to spend time alongside those closest to us all. The dynamic of undoing the wrong rather than facing one's mistakes is a life lesson that gives us a taste of how understanding our actions can help better our journey throughout life.
---
6. Howl's Moving Castle (Howl no Ugoku Shiro)

Episodes: 1
Aired: Nov. 2004
Sophie Hatter is nothing but a regular person expected to live out her life working as a hatmaker in her father's shop. One day, after being saved by the wizard, Howl; who roams around in his creaking, steam-filled junkyard of a castle, Sophie gets plunged into the magical world beyond her everyday life when the Witch of the Waste casts an irreversible curse on her. Now, in search of becoming normal again, Sophie accompanies Howl onto his castle. But with a war raging within his kingdom, it seems that these two may have bitten off more than they can chew.
A staple in the world of anime greats, Howl's Moving Castle is a highly acclaimed piece that no family should miss out on. Cascaded by magical imagery as eye-popping as its vibrant and colorful visuals. We are blessed with a story about the strength of will power deep within a person's heart, stacked up against the weighted hand of an unrelenting evil. The elements that help build this unique world will dance throughout your thoughts long after the movie comes to its end. Sprinkled with quirky entertainment and lovable characters, this anime film is an engaging and fun watch for anyone regardless of age. Without a second put to waste, Howl's Moving Castle will be one of the best spent moments of your Christmas day.
---
5. Tokyo Godfathers

Episodes: 1
Aired: Aug. 2003
When three homeless friends discover an abandoned newborn child on Christmas Eve, they make it their duty to do what's right, and look for the child's mother. They name the baby Kiyoko, and take her throughout the vast city as they encounter everything it has to offer. While looking to ensure Kiyoko's future, each one of these three; Miyuki, Hana, and Gin, inevitably face their own life struggles as well. Thus, setting the table for everyone to reform the path to their futures.
Following an unlikely trio traversing through the lives of many, Tokyo Godfathers lays out a path that flows fluid like the words of a poem. All the while maintaining its representation of what the real world truly brings forth to one's life, and the tragedies that often come along for the ride. We get a sense of just how small this world truly is as Gin and his crew stumble upon multiple obstacles, all somehow still dragging forward towards their destination. We witness the beauty of a new life, while touching hands with the crude reality of easily having a life pulled right from beneath one's own feet. So many elements packed into one film, bridged together flawlessly in a way that will keep the whole family glued to the screen from start to finish.
---
4. Grave of the Fireflies (Hotaru no Haka)

Episodes: 1
Aired: Apr. 1988
World War II was a devastating point in history, and for siblings Seita and Setsuko, the beginning of a tragic struggle towards survival. Following the loss of their mother, and the roof over their heads, the two siblings strive for a brighter future. But with circumstances growing ever more desperate each day, even those who are closest to them begin to turn their backs. In this dark world, all they have left is their youthful sense of hope to help pull them through.
As beautiful as it is heart-wrenching, the many lessons to be learned through Grave of The Fireflies make this film a refreshing watch no matter how many times you view it. War is a tragedy that we unfortunately still witness today; but sometimes keep ourselves too disconnected from to truly understand its impact. However, when presented in an attractive manner such as Grave of The Fireflies, we get a story that is appealing to both adults and children alike; simultaneously reminding us not to forget the mistakes that are still made around the world every day, while teaching our young ones not to repeat them. Grave of The Fireflies is an unforgettable masterpiece that will help us learn to cherish one another, and bring forth love and compassion to the holiday season.
---
3. My Neighbor Totoro (Tonari no Totoro)

Episodes: 1
Aired: Apr. 1988
To be closer to their mother, who is hospitalized due to health issues, sisters Satsuki and Mei move to the countryside and must now grow accustomed to the rural life. When Mei discovers what seems to be a bunny in the yard, she chases after it and finds herself face to face with "Totoro". A giant, animal-looking spirit that befriends Mei and her sister Satsuki. Before long, these girls are thrown into a fantasy world inhabited by mystical creatures and exciting adventures. All of which take place in the quiet era of 1950s Japan.
My Neighbor Totoro is an immaculate, heartwarming piece that draws out all your emotions without ever making you feel even a bit overwhelmed. Poured deep into its creative world, you will feel touched by its light-hearted animation, humored by its glittered comedy, saddened by its expression of heartbreak, and excited to stand alongside the journey of its well-depicted characters; but most of all, you will feel content through its gift of sentiment towards its viewers. Taking us back to the magic of childhood and its gracefulness, My Neighbor Totoro will invoke your imagination to flourish in ways unimaginable. If spending time with the family is on your list of must-do's, then we here at Honey's Anime suggest My Neighbor Totoro with no regrets.
---
2. Wolf Children (Ookami Kodomo no Ame to Yuki)

Episodes: 1
Aired: Jul. 2012
Studious college student, Hana, discovers true love after falling for a mysterious man who she encounters in one of her classes. This man, later reveals that he is but the last werewolf left alive; and despite this, still manages to build a relationship with Hana. After giving birth to two children; Ame and Yuki, Hana's lover passes away. Leaving Hana to raise the children, who share their father's werewolf traits, all by herself. In hopes of creating a more suitable life for her unique children, Hana decides to move to the countryside. And thus, begins the tale of Wolf Children.
Mothers are a child's entire world. They are its creation, and everything that inhabits it. However, mothers are still human, and must handle the everyday struggles of life just like everyone else. While we would all like to represent the mothers of the world as goddesses, their hard work deserves a very real representation. Thus, for our number 2 pick we suggest a piece that provides that appreciation in a manner sure to leave its imprint set in stone. An exceptional tale of family and bonds atop the struggle of a mother fending for her children in an unforgiving world, gives birth to true strength, undying hope, and the power of love. It'll set itself naturally within your hearts, and stay with you like the warm touch of a mother's hand.
---
1. Kimi no Na Wa (Your Name)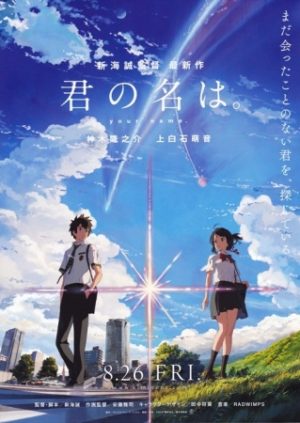 Episodes: 1
Aired: Aug. 2016
A country girl, Mitsuha Miyamizu, who yearns to experience the life of a boy in the city; and a city boy, Taki Tachibana, who puts forth vast efforts to maintain his life and pave way towards his future. Two seemingly separate lives suddenly mixed together by one event; switching bodies. Experiencing a life completely opposite of their own, these two high schoolers seek an answer to their unfortunate situation. With everything they do affecting each other's lives drastically, they both set out in search of one another, hoping to return things back to normal.
From laughing, to crying, to smiling, Kimi no Na wa is a heartfelt piece sure to touch the souls of its viewers. An invoking sense of personal pain intertwined within the atmosphere of its jaw dropping scenery, will have you emotionally hooked right from the start. Complimented by a tear-jerking story of love within the distance, diverging and converging down its path like a moving train, make Kimi no Na wa one unforgettable experience. Letting Christmas pass without watching this film is simply not an option.
---
Final Thoughts
As you may have already realized, Santa's around early this year with these 10 great recommendations sure to make your Christmas a memorable one. And because we appreciate you all so much, we would like to recommend She and Her Cat – Everything Flows as another short piece that will do right by your best holiday intentions. A gift from us to you.
Now, if you're feeling a bit festive, then why not swing by the comments section below and let us know what anime films help brighten up your family on Christmas. It's the giving season after all.
Happy Anime
---