También puedes leer este artículo en:Español
It's that time of year again, and while you're busy stringing up lights, wrapping presents, and hanging mistletoes, we here at Honey's Anime would like to give a little something extra for the big day. We present to you all, our Top 10 Anime Movies to Watch with Family During Christmas; because nothing brings the family together like a great anime film.
10. Children Who Chase Lost Voices (Hoshi wo Ou Kodomo)

Episodes: 1
Aired: May. 2011
Asuna Watase, a girl living a very casual life, finds herself mixed in the tangles of a hidden society of people and creatures after encountering a strange boy. Soon, her life is turned inside out as she engages further within this brave new land. Eventually finding herself embroiled within its people, mysteries, and conflicts. But if her curiosity holds on, then she just may come to learn a few things about her own world and the life of the people living within it as well.
A tale of hope meddling in a sea of discovery and growth. The picture of progression and perseverance towards a common goal is depicted just as beautifully as the animation on screen. Imbued with a heart-soothing atmosphere against the backdrop of a gorgeous landscape, you will sink into your seat as you delve into this ever-growing world with each passing second. The emphasis on family, and our beliefs on life after death; watching as Asuna struggles with her own placement against the conflicts of a newly discovered world, will empower us to look within ourselves, as well as towards those we hold dearest in our hearts.
Packed with mystical creatures and mythological ornamentation, this film is sure to warm up your household during a lovely Christmas evening.
---
9. Steins;Gate Movie: Fuka Ryouiki no Déjà vu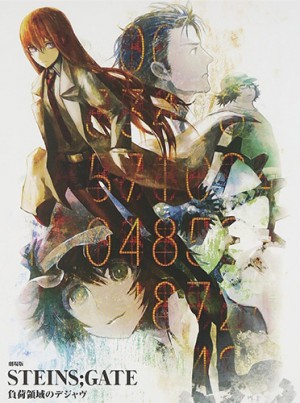 Episodes: 1
Aired: Apr. 2013
Returning from America, Kurisu Makise's life is thrown out of whack once her friend, Rintarou Okabe, begins to suffer from strange side effects brought on by his use of time travel. To add fuel to the fire, Okabe soon vanishes entirely, with only a faint memory of his existence still held onto by a distraught Kurisu. With the past, present, and future at stake if the timeline is to be altered, Kurisu is pegged with the decision of either respecting Okabe's last wish and leaving things as they are, or choosing her feelings over the fate of time itself and saving her lost friend.
Time travel may seem like an adventurous journey, but could it be a sin to manipulate what destiny has laid out before us? Is it selfish to disrupt the lives of many, for the sake of but one person? Is there even a right or a wrong answer to these questions? Wants and necessities are often hard to differentiate between, but are often the backbone of how we choose to proceed towards our future. As we try to uphold ethics within our lives, we are often urged to diverge from the beaten path of doing what's right, in favor of what's beneficial at the moment. An experience that our parents know well, and our children have looming in the years ahead of them. Steins;Gate will help bridge the family as one with its artistic time-bending caveats, layered alongside a nimble tale of relationships and destiny.
There's simply no better way to spend your time.
---
8. Hotarubi no Mori E

Episodes: 1
Aired: Sep. 2011
When Hotaru Takegawa stumbles across a masked spirit named Gin while traveling through an ancient forest, she immediately becomes attached to him. After leading her out of the forest, Gin warns her to never return, but not before explaining to the young six-year-old that if he is to be touched by a human, he would disappear for forever. Despite his words, Hotaru continues to visit Gin every summer; slowly building a bridge between the two. Ultimately, as Hotaru grows older, and romantic feelings begin to surface, the relationship between these two grows harder to maintain balanced; for after all, they must never come into physical contact.
Hotarubi no Mori E portrays budding love in a calm manner, just as evoking as the tranquil forest setting in which it takes place. Love and tragedy permeate within our lives, and are as necessary as the flora and fauna that we walk upon beneath our feet. Wallowing whenever we face the loss of love, we question why such attachments amongst one another are such a highly sought after gem. Hotaru, a young girl unaware of true love, walks a path that develops our own questions towards what love and affection truly mean. Not only between a couple, but amongst our own family and friends as well. An inspiring tale ripe for the holiday season. Adding Hotarubi no Mori E to your list of lighthearted Christmas merriments will certainly uplift your festive spirit.
---
7. The Girl Who Leapt Through Time (Toki wo Kakeru Shoujo)

Episodes: 1
Aired: Jul. 2006
Senior year of High School can be one the most stressful periods of a student's life, and for Makoto Konno, the pressure to decide her future while still unwilling to let go of the present keeps the stress well intact. That is, until she discovers her ability to travel through time. Taking her newfound abilities out for a ride, Makoto will soon discover that everything we do in life has its repercussions.
Time travel may seem like a godsend, but in The Girl Who Leapt Through Time, turning the book back to page one and rewriting the story may not always be the best decision.
A low-key telling of life makes this film a pleasure to pass through on any given day. Looking back on our past, in hopes of learning how to develop our future, is right on task with Christmas marking the last stride towards the start of a new year. The big question here is, what would you do if you could travel through time? An interesting perspective to view life by, and a wonderful way to spend time alongside those closest to us all. The dynamic of undoing the wrong rather than facing one's mistakes is a life lesson that gives us a taste of how understanding our actions can help better our journey throughout life.
---
6. Howl's Moving Castle (Howl no Ugoku Shiro)

Episodes: 1
Aired: Nov. 2004
Sophie Hatter is nothing but a regular person expected to live out her life working as a hatmaker in her father's shop. One day, after being saved by the wizard, Howl; who roams around in his creaking, steam-filled junkyard of a castle, Sophie gets plunged into the magical world beyond her everyday life when the Witch of the Waste casts an irreversible curse on her. Now, in search of becoming normal again, Sophie accompanies Howl onto his castle. But with a war raging within his kingdom, it seems that these two may have bitten off more than they can chew.
A staple in the world of anime greats, Howl's Moving Castle is a highly acclaimed piece that no family should miss out on. Cascaded by magical imagery as eye-popping as its vibrant and colorful visuals. We are blessed with a story about the strength of will power deep within a person's heart, stacked up against the weighted hand of an unrelenting evil. The elements that help build this unique world will dance throughout your thoughts long after the movie comes to its end. Sprinkled with quirky entertainment and lovable characters, this anime film is an engaging and fun watch for anyone regardless of age. Without a second put to waste, Howl's Moving Castle will be one of the best spent moments of your Christmas day.
---
5. Tokyo Godfathers

Episodes: 1
Aired: Aug. 2003
When three homeless friends discover an abandoned newborn child on Christmas Eve, they make it their duty to do what's right, and look for the child's mother. They name the baby Kiyoko, and take her throughout the vast city as they encounter everything it has to offer. While looking to ensure Kiyoko's future, each one of these three; Miyuki, Hana, and Gin, inevitably face their own life struggles as well. Thus, setting the table for everyone to reform the path to their futures.
Following an unlikely trio traversing through the lives of many, Tokyo Godfathers lays out a path that flows fluid like the words of a poem. All the while maintaining its representation of what the real world truly brings forth to one's life, and the tragedies that often come along for the ride. We get a sense of just how small this world truly is as Gin and his crew stumble upon multiple obstacles, all somehow still dragging forward towards their destination. We witness the beauty of a new life, while touching hands with the crude reality of easily having a life pulled right from beneath one's own feet. So many elements packed into one film, bridged together flawlessly in a way that will keep the whole family glued to the screen from start to finish.
---
4. Grave of the Fireflies (Hotaru no Haka)

Episodes: 1
Aired: Apr. 1988
World War II was a devastating point in history, and for siblings Seita and Setsuko, the beginning of a tragic struggle towards survival. Following the loss of their mother, and the roof over their heads, the two siblings strive for a brighter future. But with circumstances growing ever more desperate each day, even those who are closest to them begin to turn their backs. In this dark world, all they have left is their youthful sense of hope to help pull them through.
As beautiful as it is heart-wrenching, the many lessons to be learned through Grave of The Fireflies make this film a refreshing watch no matter how many times you view it. War is a tragedy that we unfortunately still witness today; but sometimes keep ourselves too disconnected from to truly understand its impact. However, when presented in an attractive manner such as Grave of The Fireflies, we get a story that is appealing to both adults and children alike; simultaneously reminding us not to forget the mistakes that are still made around the world every day, while teaching our young ones not to repeat them. Grave of The Fireflies is an unforgettable masterpiece that will help us learn to cherish one another, and bring forth love and compassion to the holiday season.
---
3. My Neighbor Totoro (Tonari no Totoro)

Episodes: 1
Aired: Apr. 1988
To be closer to their mother, who is hospitalized due to health issues, sisters Satsuki and Mei move to the countryside and must now grow accustomed to the rural life. When Mei discovers what seems to be a bunny in the yard, she chases after it and finds herself face to face with "Totoro". A giant, animal-looking spirit that befriends Mei and her sister Satsuki. Before long, these girls are thrown into a fantasy world inhabited by mystical creatures and exciting adventures. All of which take place in the quiet era of 1950s Japan.
My Neighbor Totoro is an immaculate, heartwarming piece that draws out all your emotions without ever making you feel even a bit overwhelmed. Poured deep into its creative world, you will feel touched by its light-hearted animation, humored by its glittered comedy, saddened by its expression of heartbreak, and excited to stand alongside the journey of its well-depicted characters; but most of all, you will feel content through its gift of sentiment towards its viewers. Taking us back to the magic of childhood and its gracefulness, My Neighbor Totoro will invoke your imagination to flourish in ways unimaginable. If spending time with the family is on your list of must-do's, then we here at Honey's Anime suggest My Neighbor Totoro with no regrets.
---
2. Wolf Children (Ookami Kodomo no Ame to Yuki)

Episodes: 1
Aired: Jul. 2012
Studious college student, Hana, discovers true love after falling for a mysterious man who she encounters in one of her classes. This man, later reveals that he is but the last werewolf left alive; and despite this, still manages to build a relationship with Hana. After giving birth to two children; Ame and Yuki, Hana's lover passes away. Leaving Hana to raise the children, who share their father's werewolf traits, all by herself. In hopes of creating a more suitable life for her unique children, Hana decides to move to the countryside. And thus, begins the tale of Wolf Children.
Mothers are a child's entire world. They are its creation, and everything that inhabits it. However, mothers are still human, and must handle the everyday struggles of life just like everyone else. While we would all like to represent the mothers of the world as goddesses, their hard work deserves a very real representation. Thus, for our number 2 pick we suggest a piece that provides that appreciation in a manner sure to leave its imprint set in stone. An exceptional tale of family and bonds atop the struggle of a mother fending for her children in an unforgiving world, gives birth to true strength, undying hope, and the power of love. It'll set itself naturally within your hearts, and stay with you like the warm touch of a mother's hand.
---
1. Kimi no Na Wa (Your Name)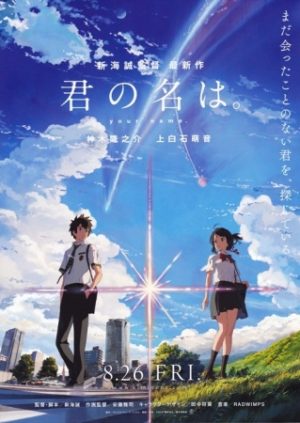 Episodes: 1
Aired: Aug. 2016
A country girl, Mitsuha Miyamizu, who yearns to experience the life of a boy in the city; and a city boy, Taki Tachibana, who puts forth vast efforts to maintain his life and pave way towards his future. Two seemingly separate lives suddenly mixed together by one event; switching bodies. Experiencing a life completely opposite of their own, these two high schoolers seek an answer to their unfortunate situation. With everything they do affecting each other's lives drastically, they both set out in search of one another, hoping to return things back to normal.
From laughing, to crying, to smiling, Kimi no Na wa is a heartfelt piece sure to touch the souls of its viewers. An invoking sense of personal pain intertwined within the atmosphere of its jaw dropping scenery, will have you emotionally hooked right from the start. Complimented by a tear-jerking story of love within the distance, diverging and converging down its path like a moving train, make Kimi no Na wa one unforgettable experience. Letting Christmas pass without watching this film is simply not an option.
---
Final Thoughts
As you may have already realized, Santa's around early this year with these 10 great recommendations sure to make your Christmas a memorable one. And because we appreciate you all so much, we would like to recommend She and Her Cat – Everything Flows as another short piece that will do right by your best holiday intentions. A gift from us to you.
Now, if you're feeling a bit festive, then why not swing by the comments section below and let us know what anime films help brighten up your family on Christmas. It's the giving season after all.
Happy Anime
---