Reverse harem is an anime genre referring to those shows which feature your average girl as the center of the story, surrounded by handsome men who try to win her heart over. Usually, the heroines of these shows are normal girls thrown into unusual circumstances, or they deal with family issues, or find themselves in trouble; the handsome men surrounding the heroine have a reason to do so, and try to catch her attention, while helping her out of trouble. Therefore, in these kinds of anime, our heroine gets to spend a lot of time with the men courting her, and eventually they manage to build a deep friendship; sometimes, though, our heroine chooses the person toward whom she feels something deeper than friendship.
Some heroines distinguished themselves for their strong-willed personality, and the way they faced trouble head-on. That's why, in this ranking, we'll mention ten female leads in reverse harem anime who really stood out. Stick with us to discover our picks!
10. Ema Hinata from Brothers Conflict

Episodes: 12
Air Date: Jul 2013 – Sep 2013
Ema Hinata's father falls in love with Miwa Asahina, and then marries her. Consequently, Ema feels the urge to give the newly-wed couple some space, so she moves in the Sunrise Residence, when her thirteen step-brothers live. Ema is enthusiast about her new life in a big family, surrounded by love and affection, but as time goes by, she realizes that her step-brothers may feel a deeper affection towards her...
Ema is a real cutie-pie, as she is very honest, good-natured, and easily embarrassed. It's easy to see what her step-brothers see in her, as she is modest, and cares deeply about her family. But Ema isn't just your typical shoujo heroine; in fact, her dream is to enter Meiji University, and she will put forth a lot of effort to realize her dream. What's more, when her step-brothers show her a deeper affection and start bickering with one another, she feels guilty for wreaking havoc in the family. We really thought such a cutie needed to be mentioned, when talking about reverse harem shows!
---
9. Haruka Nanami from Uta no☆Prince-sama♪ Maji Love 1000% (Uta no Prince Sama)

Episodes: 13
Air Date: Jul 2011 – Sep 2011
Haruka Nanami has a dream: she wishes to become a composer, and write music for her favorite idol. In order to chase after her dream, she leaves the countryside and enroll the Saotome Academy – a vocational school for the performing arts – only to discover how fierce the competition among students is, and how her classmates are more talented than she is. Haruka soon begins to waver, but one night, while walking around the school wondering whether to give up her dream or not, she has a fated meeting that will change her life for good...
Haruka Nanami needed to be mentioned among the female leads in reverse harem anime, as she is a perfect example of a girl not wanting to give up her dreams, in spite of them looking so unreachable. The viewers witness her growth: from a scared girl, deprived of self-confidence, she turns to a girl who realizes her worth, even thanks to the beautiful aspiring idols who keep wanting have her write their music. Haruka is a hard-working girl, and her optimistic attitude moves her colleague's hearts, who really admire her and her determination. We like a girl like Haruka!
---
8. Yui Kusanagi from Kamigami no Asobi

Episodes: 12
Air Date: Apr 2014 – Jun 2014
Yui Kusanagi is a high school girl whose passions are kendo, and martial arts in general. One day, without knowing how, she wakes up in a different place. She finds herself in a new school, and right after she gets summoned by Zeus in person. Zeus explains what is her purpose: there are six gods who don't know what love is, and have been acting selfishly; Yui has the task to help them understand the importance of bonds among people.
Yui is a hardworking girl who really takes to heart teaching the gods about human life. She puts all her efforts to educate them, in spite of being thrown into a completely new situation, not knowing exactly what to do. With each of the gods she will create a deep bond of friendship, even with those who wouldn't accept her right away. Yui lives up to Zeus expectations, and in the meantime she'll learn something, as well. Because of her strong personality, and the ability to not get discouraged easily, Yui really deserved a mention here.
---
7. Chizuru Yukimura from Hakuouki (Hakuoki ~Demon of the Fleeting Blossom~)

Episodes: 12
Air Date: Apr 2010 – Jun 2010
It's 1860, and Chizuru Yukimura's father leaves her, heading to Kyoto because of some business. Afraid that something may have happened to him, Chizuru decides to reach him to Kyoto. Disguised as a man, she leaves, but upon her arrival she suddenly gets attacked by a strange creature. One of the members of the Shinsengumi rescues her, and then takes her to the headquarters. The man who saved her, and the other men of the Shinsengumi, begin debating whether to kill her, or keep her alive...
Being thrown into a dangerous situation, discovering the truth about your father, finding yourself without a home to go back to are experiences that every person would find challenging. Chizuru faces all of this head-on, proving to be rather fearless, and able to adapt to the new life very soon in order to survive. In time, after spending a lot of time with the Shinsengumi leaders, she begins to care deeply for each of them. Thanks to her compassionate character, even the Shinsengumi members begin to consider Chizuru one of them. Chizuru Yukimura is the kind of female lead in the reverse harem universe impossible to forget: give Hakuouki a try, and see for yourself!
---
6. Kahoko Hino from Kiniro no Corda: Primo Passo (La corda d'oro: primo passo)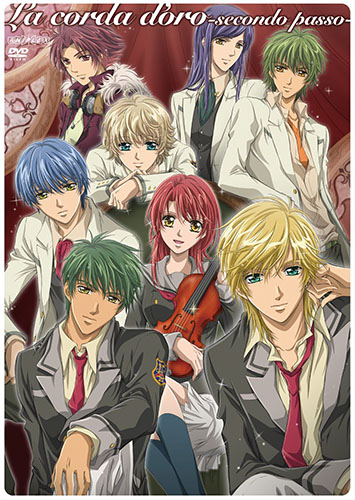 Episodes: 25
Air Date: Oct 2006 – Mar 2007
Hino Kahoko attends a school in which the students get divided into two branches: the Normal Branch, and the Music Branch. The Normal Branch students wear a gray uniform, while the Music Branch ones wear white. The school hosts a traditional music competition, and usually the chosen ones to compete are the Music Branch students, but due to some circumstances Kahoko, with no musical knowledge whatsoever, gets chosen. A fairy named Lili grants her a magic violin, and now she has to face the music competition!
Here's to another amazing female lead in the reverse harem anime universe! Kahoko Hino is a very humble girl, considerate of other people's feelings. Even if she gets surrounded by beautiful boys trying to win her attention, she stays focused on the competition, so much so that she prioritizes it more than her grades. Kahoko is a hardworking girl who doesn't like to show off, yet she is determined to give her best as the only Normal Branch student participating in the traditional competition. We really thought an honest, and easygoing girl like here needed to be here!
---
5. Aoi Tsubaki from Kakuriyo no Yadomeshi (Kakuriyo: Bed & Breakfast for Spirits)

Episodes: 26
Air Date: Apr 2018 – Sep 2018
Aoi Tsubaki is a college student with the ability to see the spirits, which she inherited from her grandfather. Her life changed drastically when he passed away, as she began living on her own. In fact, a demon named Oodanna appeared before her eyes, stating that her late grandfather had a huge debt with him, so as a relative, it's up to Aoi to pay it by becoming the ogre's bride. Aoi refuses right away, but in exchange she offers to pay the debt by working for Oodanna. And that's how her life surrounded by spirits began!
Even with a kind attitude, and a friendly, and caring personality, Aoi Tsubaki shows the viewers she can be stubborn, as well. In fact, she refuses Oodanna's conditions, and decides to pay off her debts her own way: by working hard for the spirits. This is very saying about her personality, in fact Aoi is very strong, determined, and unwilling to bow her head. While working for Oodanna, she gets surrounded by the most beautiful spirits, who grow very fond of her. Yet, her eyes will turn in one direction, the most unexpected one! Give Kakuriyo no Yadomeishi a shot: this reverse harem won't fail you, neither will our heroine.
---
4. Yona from Akatsuki no Yona (Yona of the Dawn)

Episodes: 24
Air Date: Oct 2014 – Mar 2015
Yona is the red-headed princess of the Kouka Kingdom, and she lived a comfortable life, surrounded by people who adored her, and spoiled her. Completely unaware of what was the real world like, her days went by thinking only about trivial stuff, and her crush: Soo-won, Yona's cousin. One day, though, Yona's eyes were forcibly opened when an unsuspecting person killed her father, and she was forced to run away with Son Hak – her childhood friend – by her side...
Yona is yet another strong-willed heroine of the reverse harem shows that really had to be here! In fact, we see her life being turned upside down, and Yona turn to a strong woman struggling to protect her kingdom. Yona demonstrated an incredible willing to change, and improve, and worked really hard to overcome all the hardships that she encountered. Surrounded by Son Hak – in love with her since their childhood – and other beautiful, and brave guys, she will prove her worth to all the people who underestimated her!
---
3. Sunako Nakahara from Yamato Nadeshiko Shichihenge (The Seven Metamorphoses of Yamato Nadeshiko)

Episodes: 25
Air Date: Oct 2006 – Mar 2007
In a beautiful mansion live for free four high school boys, in order to attend school. They have to respect one condition, though: Sunako Nakahara – the niece of the mansion's owner – needs to be transformed into a lady within three years. But the task is a really hard one. Firstly, because Sunako is a recluse, secondly because she likes horror movies, and comfy outfits, and thirdly because she suffers a trauma from when a boy she liked told her she was ugly. The four boys need to make a miracle happen, but will they be able to?
Sunako Nakahara had to be mentioned as the most non-conventional heroine in reverse harem anime! In fact, she has a dark side, what with her love for horror movies, or her collection of skeletons. She lacks self-esteem, and believes she's ugly. However, thanks to the four boys surrounding her, the nice sides of her character will pop up one after the other, and she will put all her efforts to try to improve herself, and her attitude toward herself. Scratching the surface, and facing the trauma from the past, Sunako will eventually begin to believe in herself, and understand her worth. Tell us if she didn't deserve a mention here!
---
2. Nanami Momozono from Kamisama Hajimemashita (Kamisama Kiss)

Episodes: 13
Air Date: Oct 2012 – Dec 2012
Nanami Momozono has just been left without a roof on her head because of a gambler father, and of course she's broke. Alone, and desperate, she begins wandering around the town, when she encounters a man harassed by a dog, and rescues him. Seeing Nanami's situation, the mysterious man offers her his own house. Even skeptical, Nanami heads to the address, only to discover that the house is actually a shrine, and she's just become the new Land God. What's more, she meets Tomoe, a guy with fox ears who was Mikage's former familiar, clearly unwilling to accept her presence...
Nanami Momozono has a sparkly personality, and definitely deserved to be mentioned among the leads of the reverse harem shows! Even though she had to suffer numerous family dramas, and her classmates bullied her, she never showed signs of docility. On the contrary, she proved to be strong-willed and determined to give her best in spite of the hardships. Nanami found herself surrounded by different kinds of ayakashi, but she only had eyes for Tomoe from the beginning. Give Kamisama Hajimemashita a shot, and enjoy Nanami and Tomoe's deeds!
---
1. Haruhi Fujioka from Ouran Koukou Host Club (Ouran High School Host Club)

Episodes: 26
Air Date: Apr 2006 – Sep 2006
Haruhi Fujioka is a poor student on a scholarship, and she attends the Ouran High School, which normally is a school for rich kids. This elite school has a club called the "Host Club", in which six beautiful boys entertain girls out of boredom. Haruhi has no interest in the club, but one day she breaks a valuable vase in the club room. Mistaken for a boy, in order to repay the debt, she is forced to join the Host Club...
Haruhi Fujioka is an amazing female lead, and now we'll list down the reasons why she deserved our first position among the female leads in reverse harem anime. She's straightforward, and hardworking; surrounded by beautiful boys, she stays unfazed. Dressing like a boy, and with androgynous features, Haruhi immediately becomes popular among the ladies when working for the Host Club. She's also clumsy, and rather oblivious when it comes to her emotions; in fact, she doesn't even realize to be in love with one of the hosts. We really like a girl like Haruhi, who put all her efforts to keep her scholarship, while working hard to repay her debt, able to stand alone, and choose for herself. Meet her and the host boys of Ouran Koukou Host Club, and you won't be disappointed!
---
Final Thoughts
This is how our ranking came to an end! How did you like it? What other reverse harem anime heroines do you think would fit in this chart? There are a lot of other reverse harem out there, all equally amusing, and featuring other amazing female leads, but having to choose, these were our picks! These ten ladies faced the strangest situations, and proved to be determined to fight for themselves, even when surrounded by willing men prone to help them. Now please, don't hesitate to let us know what you think in the comments below. See you next time!
---