También puedes leer este artículo en:Español
Warning: This article is not suitable for people who are extremely nationalistic. Some of the titles also have sensitive content. Proceed with caution.
Manga usually invite us to travel to Japan, and where the action is not there, it is a voyage to the Japanese mind. What happens when such minds decide to depict foreigners? Or how about Japanese characters in foreign lands? Who does the best job at understanding other peoples and places? We are going to answer those questions with this Top Ten of Foreigners in Manga. Let's go!
10. Yune from Ikoku Meiro no Croisée (Croisée in a Foreign Labyrinth)

Authors: Hinata Takeda
Genres: Historical, Slice of Life, Seinen
Volumes: 2
Release: 2006 to 2011
This manga and Fushigi no Kuni no Bird are place in roughly the same time period. However, Yune is a fictional Japanese girl who travels to Paris. She will become the shop clerk in Galerie Du Roy while she gets used to the cultural differences. She also will interact with the Claudel family, although her full story is to be discovered.
What makes Yune so special at first sight is the kawaii factor. She looks so outrageously different from everyone and everything else in Paris! However, Yune's sweetness and hard work conquer all the hearts. If you love the slice of life, the wa lolita style and Europe, this is the manga with the right mix for you.
---
9. Sen Owari from Under (xGround) Grand Hotel

Authors: Mika Sadahiro
Genres: Drama, Yaoi
Volumes: 3
Release: Apr 25, 2003 to Oct 25, 2005
Let's go to a very different place and time, concretely in US. We are in an underground prison where our protagonist ends up jailed. Sen Owari had a peaceful life as an exchange student in America… until he (ehem) murders his lover. Nevertheless, the leader of the prisoners takes a special interest in him. Will love and jail be compatible? That is something you will have to find out in Under (xGround) Grand Hotel.
The story of Sen is not for those who are seeking a fluffy love manga. This character is into the gloomier side, as his life sometimes is put on the line. Violence, remorse, and a potential multiracial romance at the door… Sen has his plate pretty full. If a transnational yaoi with a moody character is what you are looking for, we can amply recommend Sen's endeavours.
---
8. Isabella Bird from Fushigi no Kuni no Bird

Authors: Sassa Taiga
Genres: Historical, Slice of Life, Seinen
Volumes: 4
Release: Mar 15, 2013 to present
This, my dear otakus, is a manga based on a real person. The Scottish lady Isabella Bird travelled through Japan in order to study the Ainu in Hokkaido. However, she had to go all throughout the country and was one of the first Western foreigners to visit several locations. This manga covers her adventures!
The ever enthusiastic Isabella was not an amateur when she decided to embark to Japan. She was one of the female adventurers from the end of the 19th century and beginning of the 20th century who decided to travel across the world instead of being one more "Angel of the House". Although it was very difficult for her to find her way through the different language and fashions she encountered in Japan, Isabella never gave up in her mission. For being a resilient and independent lady, we have included Isabella Bird in this Top Ten.
---
7. Kujo Kazuya from Gosick

Authors: Kazuki Sakuraba
Genres: Mystery, Historical, Shounen
Volumes: 8
Release: Dec 8, 2007 to Apr 9, 2012
Welcome to the fictional country of Soruvia! Kujo Kazuya is a student from Japan on his first trip to Europe. One fine day, he encounters the mysterious student Victorique de Blois in the school library. From that point on, Kazuya will live many adventures by her side, solving crime.
Kazuya is a typical Japanese in terms of being overshadowed by his successful family members. Frustrated at first, he ends up accepting he cannot compete in the same grounds. That is why he finds new territory in Soruvia. Kind but also supportive, Kazuya is the ideal adventure companion for the eccentric Victorique, much like her Watson.
---
6. Shut Hell from Shut Hell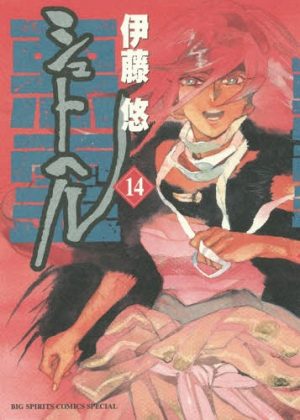 Authors: Yuu Itou
Genres: Action, Drama, Historical, Seinen, Gender Bender
Volumes: 14
Release: Dec 22, 2008 to Mar 27, 2017
For our next manga, we have to travel to East Asia in the 13th century. The Mongol Empire was invading a Tibetan territory where the Tangut people lived. Shut Hell tells us the story of a Tangut female warrior nicknamed Shut Hell, as she was like pure terror for the Mongols. However, there is at least one of them who does not fear her: Prince Yurul, who has more vision than most and is worried about the future.
Shut Hell is an underrated piece of epic storytelling. Well researched and formidably paced, it starts in a relatable point with two students in modern Japan. In a supernatural swing, they rediscover their pasts as Shut Hell and Yurul! The conflicts between fear, acceptance, vengeance and survival are embodied in our protagonist, who is far from the damsel in distress.
---
5. Jodie Starling from Detective Conan (Case Closed)

Authors: Gosho Aoyama
Genres: Adventure, Comedy, Mystery, Shounen, Police
Volumes: 94
Release: Feb 2, 1994 to present
Shinichi Kudou is the superstar detective of the Japanese Police force despite his young age. Unfortunately, he is transformed into a little boy during one of his encounters with the bad guys. That will not stop Shinichi from fighting crime with the pseudonym of Conan Edogawa, of course! At 94 volumes and running, Detective Conan is one of the most famous manga of all times!
Among the long list of characters that had appeared with Conan, one of the most beloved is Jodie Starling, who at first was undercover as a teacher in Conan's school. With an outgoing but apparently harmless personality, Jodie is an FBI agent with a personal vendetta against Vermouth. She also wears a pair of glasses that belonged to her father. For being a solid backup for the protagonists of the manga, we simply could not omit this American lady.
---
4. User Ramses from Sora wa Akai Kawa no Hotori (Red River)

Authors: Chie Shinohara
Genres: Action, Adventure, Drama, Fantasy, Historical, Romance, Shoujo, Supernatural
Volumes: 28
Release: Jan 5, 1995 to Jun 5, 2002
Here we have another underrated manga full of romance, action and based on a historical background. This time, we are traveling to the 14th century to what is now Turkey. Yuri Suzuki is spirited away from modern Japan to this time period, where she will have to survive the conspirations of the evil Queen Nakia, who needs her for a dark magic incantation. With Nakia in one side and Prince Kail trying to protect Yuri in the other, our protagonist has to learn to survive with the tools she has acquired from her own time.
Although many characters stand out in this manga, User Ramses makes the perfect love triangle with Prince Kail and Yuri. This Egyptian general is handsome, resourceful, enigmatic and is in line for the throne of his country, just like Prince Kail of the Hittite Kingdom! Their rivalry is so intense that their encounters send sparks flying. And well, whenever Yuri is in danger, he will also protect her at all costs… while trying to seduce her, the sly guy. Actually, User is one of the few characters that recognizes Yuri's real caliber from the beginning and never failed on his loyalty to her, so we have to mention him for being dependable.
---
3. Franz Von Stresemann from Nodame Cantabile

Authors: Tomoki Ninomiya
Genres: Comedy, Romance, Slice of Life, Josei
Volumes: 25
Release: Jul 10, 2001 to Aug 25, 2010
Advancing to the most coveted posts, we find a manga about music. Shinichi Chiaki has always aspired to become an orchestra director, but due to his fear of airplanes, he is stuck in Japan as a piano student. When the quirky, extravagant and talented Megumi Noda "Nodame" enters his life, Chiaki finds finds that "something" that his music was missing. As for Nodame, she falls in love with Chiaki, deciding to polish herself and become more ambitious with her career.
Among the several unforgettable characters we find in Nodame Cantabile, we have to mention both Chiaki and Nodame's mentor: Milch, better known in the professional circles as Franz Von Stresemann. This visiting professor is all party and apparently no action, but his talent is so bright that proud Shinichi asks to be his apprentice. Pervert, funny and irresponsible, he ends up caring about his talented students. However, this soft side of him is more evident in further chapters of the manga, when the action travels to Europe.
---
2. Chise from Mahoutsukai no Yome

Authors: Kore Yamazaki
Genres: Fantasy, Magic, Shounen, Slice of Life
Volumes: 8
Release: Nov 30, 2013 to present
Let's stay in Europe for a while. Somewhere in the Islands that form Great Britain, you might be able to spot a bone headed creature accompanied by a red haired Japanese teenager. Mahoutsukai Yome tells us the adventures of this two while the creature trains the girl in the many arts and woes of magic. The girl, apathetic at first, slowly wins back her will to live that she thought buried forever.
Yes, Chise Hatori is our choice for one of the best foreigners in manga. Just look at her! She has been able to progress from emo to heroine in a relatively short time. Open to new adventures and experiences but practical and calm at the same time, Chise has gone through much more than the normal mortal. Plus, did we mention that she is one of the most powerful magicians you will ever meet?
---
1. Henry Smith from Otoyomegatari (A Bride's Story)

Authors: Kaoru Mori
Genres: Drama, Historical, Romance, Seinen
Volumes: 9
Release: Oct 14, 2008 to present
We end this Top Ten with a story from Central Asia. It is not known exactly where the author located the action, but according to the cultural cues, it might be somewhere between Turkey and Uzbekistan, in the beginning of the 19th century. A bride from a nomad tribe called Amir enters the Eihon household. Little does she know that all her knowledge and bravery will be tested when her original tribe invades the village where she lives now.
Otoyomegatari is composed by several interrelated stories. One of the arcs presents us an English explorer called Henry Smith, who was a guest of the Eihons before traveling West to eventually return to England. On the way, he encounters love in the shape of a woman from a totally different nationality and culture than his. The curiosity, openness and clumsiness of this character does not prepare us for the interesting drama that follows in his own arc.
---
Final Thoughts
The world of travellers and travel in manga does not stop to surprise us. Do you notice there are many interesting stories from recent years? With so many options, we can surely find a favorite foreigner to tag along their adventures. Who is your favorite foreign character in manga? Comment away! See you soon.
---