También puedes leer este artículo en:Español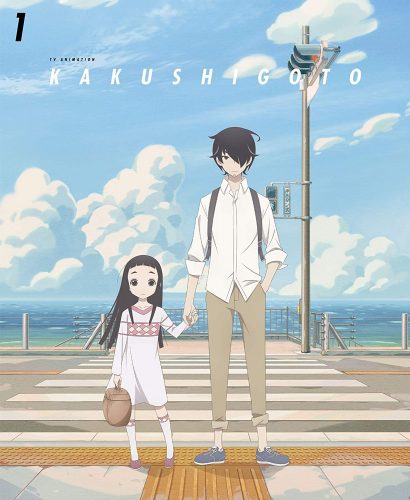 These dads have shown what it means to be a caring father and loving parent even when their own situations aren't that great. Constantly showing their love, these dads are the fathers we think everyone should have and after you read our list, we're pretty sure you fellow otaku will agree. Let's look at 5 Good Anime Dads and try not to cry as we see their various actions to being such good dads.
5. Natsuki Kenichi from Re: Zero kara Hajimeru Isekai Seikatsu 2nd Season (Re: Zero –Starting Life in Another World – Season 2)

During the second season of Re: Zero our hero Subaru finds himself going through several trials that cause the participant to see their past, for better and worse. During said trial, Subaru finds himself lost in the memories of his past life living with his parents and for the first time we see Subaru's dad Kenichi who we immediately fell in love with. Cool and playful--who else has a dad wrestling their son to eat breakfast--Kenichi is like a teenager in an older man's body.Despite his son's bad behavior ditching school and acting a bit like a brat, Kenichi wasn't hard on his son and let him find his own way in life.Kenichi listened to Subaru and was quick to remind him that he was great regardless of what happened or happens in the future. A good dad needs to support their children and Kenichi does this all in the time frame of one episode as we see small flashbacks of him all throughout the episode. Even in this singular episode, Kenichi proves he's indeed Subaru's dad and that he is a truly amazing one at that.
---
4. Byakuya Ishigami from Dr. Stone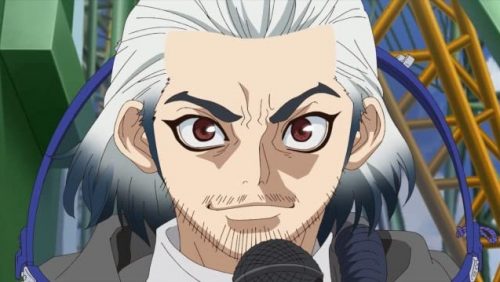 Byakuya Ishigami is one of those dads that goes to their kid and reminds them that no dream is too big to claim as your own. As an inspiring astronaut, Byakuya noticed his "adopted" son Senku and his amazing intelligence at an early age. This father went and sold his own car, not for himself, but to give Senku tools to expand his scientific prowess that was already beginning to show. When the petrification began to consume the world, Byakuya was saved due to being in space but eventually made his way back to Earth and began setting up a means for Senku to restore the world as he knew only he could. Byakuya is an amazing dad who gave and gave till the very end and we really think he proves blood doesn't matter in being a good dad. What matters is loving your child to the stars and above.
---
3. Thors Snorresson from Vinland Saga

Living during the times of Vikings must have been quite a challenge. Not only were you forced to live off the land but you had to survive numerous invading forces. Thors Snorresson shines as a warrior who left his legendary past behind him to focus on making a new home for his family and to keep them away from the world of bloodshed he once inhabited. Thors, unfortunately, learns that his past is always several steps behind him and his son—Thorfinn—eventually must enter his world despite his attempts at giving his family a new life. Thors cared for his family so much that he would pay the ultimate price in keeping them safe and to us, that is the best type of anime dad out there.
---
2. Kakushi Gotou from Kakushigoto

Being a single dad is definitely no small feat, but add to that working as a single parent and the challenge only grows in difficulty. Kakushi Gotou is the dad we're talking about who works hard to provide a stable life for his daughter Hime. The other challenge our father Gotou faces is that he works as an adult manga artist and tries his hardest to hide this from Hime. This man has literally remodeled his office--which screamed adult manga workshop--to make it look plain so Hime wouldn't be shocked. Willing to do anything to pretend he has a normal job so his Hime can be shielded from the adult world he works in, Gotou wins best dad of the year for sure. We really need cooler dads in anime like Gotou.
---
1. Kohei Inuzuka from Amaama to Inazuma (Sweetness and Lightning)

In first place on our 5 Best Anime Dads list, we look at teacher by day and father all day Kohei Inuzuka from Sweetness and Lightning. Kohei lost his wife early on in Sweetness and Lightning, making him the sole parent of his extremely energetic daughter Tsumugi. Despite Tsumugi's extreme energy, Kohei tries his best to be the best dad ever by learning how to cook—so she will stay healthy—and to continue working to pay for their bills. Kohei is not only a respected teacher at his school—and has his fans like Kotori Iida—but he's an amazing dad who earns himself some praise from us here at Honey's Anime.
---
Final Thoughts
Regardless if you're fighting invading forces or trying to work a not so typical 9-5 job, being a good dad isn't an impossible task. What makes the men above gain our recognition is that they are amazing dads who go above and beyond given their various challenges in life. These dads should all be given medals and we think should be given silent prayers when Father's dad comes around. Did we miss any amazing anime dads out there? Leave us a comment below to let us know! For even more anime lists and articles keep stuck to our nurturing hive here at Honey's Anime!
---
---
We all need positive role models in our lives. Last year, we had an article on anime dads, but we thought we could update the list a little. So that we can explore parenthood from new angles and tell our dads, hey, I bet you can be as cool as ___________ if you try ☺.
For that reason we also tried to include the cool anime dad, the chill anime dad, the clever anime dad, the kind anime dad, and the like. Because, without variety, our lives would not be interesting, and what makes a good dad comes in all sorts of packages.
So, without further ado, let's start our top 10 good anime dads!
10. Souichirou Yagami from Death Note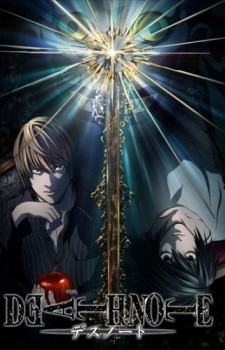 Episodes: 37
Aired: Oct 2006 - Jun 2007
Originally a manga written by Tsugumi Ohba and illustrated by Takeshi Obata, this story has unstoppable action and suspense. Light Yagami became the owner of a mysterious notebook that can kill, releasing a wave of terror in the world. He is pursued by a team of detectives which include the eccentric L, and is being supervised by Ryuk, a God of Death.
Who hasn't dreamt of having a detective as father? Souichirou aims for justice and truth, always, making him a sort of hero closer to real life than other anime dads. Unfortunately, his son Light turned out to be intelligent but morally twisted. And that was Souichirou's ultimate doom. It's so sad when the battle between darkness and light reaches a family...
---
9. Hiroshi Nohara from Crayon Shin-chan

Episodes: 888
Aired: Apr 1992 - ongoing
Yoshito Usui is the genius behind the creation of Shin-chan, a mischievous and adventurous boy who uses language without the minimum respect for the adult world.
Hiroshi's first act of responsibility as a father was to marry Misae when they found out she was pregnant. He is lovable towards his two children, and if there was a prize for paternal patience, we should give it to him. Living under the same room as Shin-chan, sharing everyday life and trying to be the best father possible for him, deserve recognition. Hiroshi also provides a contrast to his rather violent and punishment lover wife.
---
8. Soujirou Izumi from Lucky Star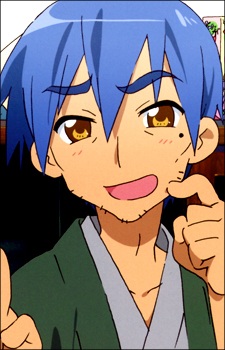 Episodes: 24
Aired: Apr 2007 - Sep 2007
Lucky Star is the brainchild of Kagami Yoshimizu. Originally a four panel comic, it shows the everyday life of the lazy Konata Izumi and her three High-school friends.
How great it would be to have a dad who understands your anime cravings? Someone you can watch your favorite programs with, play your favorite games, and even cosplay together (there are some real life dads who do just that). Soujirou also teaches Konata that love should go beyond appearances, and to respect individual tastes when they discuss her former mother. Unfortunately, we have to put him low in the list because his daughter pretty much doesn't do anything else but being a faithful image of him.
---
7. Kagetora Aida from Kuroko no Basket (Kuroko's Basketball)

Episodes: 25
Aired: Apr 2012 - Sep 2012
Tadatoshi Fujimaki's original story centers on various children who played Basketball together in Junior High, and become rivals when they spread to different schools later.
Kagetora could be considered the opposite to easy going Soujirou from Lucky Star. He works as a coach, so we can expect him to be an active, sporty type of dad. Kagetora's daughter Riko inherited some of his abilities, but nevertheless, he is loving and protective towards her. Although strict when training, Kagetora also has a cool attitude, giving nicknames to people. So, basketball fans, here we have the perfect father for you!
---
6. Germán Luis from Garo: Honoo no Kokuin (Garo: The Animation)

Episodes: 24
Aired: Oct 2014 - Ongoing
This time we have to travel to a fictional Spain during the times of the Inquisition. Yuichirou Hayashi directed the chronicles of Leon, a Golden Knight to be.
Germán Luis combines the roles of father of a hero and hero with a dab of comedy. A Makai Knight with the title of Zoro the Shadow Cutting Knight, he also is a womanizer, cooky and slightly rueful, apparently not taking life seriously. Nevertheless, when things look ugly, Germán is a great warrior and a support for his son Leon. He even had to rescue him when his sweetheart Anna was burned in a stake while giving birth!
---
5. Kotetsu Kaburagi from Tiger & Bunny

Episodes: 25
Aired: Apr 2011 - Sep 2011
This anime directed by Keiichi Satou takes place in the city of New York of an alternate universe. Heroes with super-human abilities work to protect the city, and their adventures are broadcasted on live TV, while aiming to become the "King of heroes" at the end of the season.
Our father this time is one of the protagonists, and a veteran superhero. Kotetsu even has a nickname, the "Crusher for Justice", how cool is that? And when he finds out his abilities will disappear, he vows to continue being a hero for as long as he can.
Kotetsu has a daughter named Kaede. She lives in another city, so that she can be safe until her own power awakens. Kotetsu works hard towards balancing his hero and father roles, an objective in which he eventually succeeds. For not giving up as a dad, we give him a spot in our Top Ten.
---
4. Tadayoshi Kisaragi from Blood-C

Episodes: 12
Aired: Jul 2011 - Sep 2011
Part of the Blood franchise, this anime was a collaboration between Production I.G. and CLAMP. The story of Saya, the vampire, and her eternal fight with the creatures of the night that menace humanity comes back with stylized and cute designs, without leaving out the characteristical horror and gore of the franchise.
After so many tribulations, and rather sad and lonely stories, it was about time that Saya got an enduring loving father figure in her endless quest to free the world from dark beings. The results of such relationship are evident. We never had such a cheerful Saya before, and whenever she has to fight, Tadayoshi is the most supporting and composed being ever. For raising a vampire girl the right way, he has a spot in our Top Ten.
---
3. Fujitaka Kinomoto from Cardcaptor Sakura / Tsubasa Chronicles

Episodes: 70
Aired: Apr 1998 - Mar 2000
CLAMP scores again with one of the most memorable fathers in anime history.
We met Professor Fujitaka in the sweet and happy adventure of his daughter, Card Captor Sakura, on her quest to hunt the magical Clow Cards. Who doesn't love him? He is the perfect combination between a working dad and a loving, supporting dad. He raised two responsible and marvellous kids despite his wife's death.
We later revisited these characters in the parallel universe of Tsubasa Chronicles, where Fujitaka is an archeologist and the foster father of Li Shaoran, a mysterious boy who has a crush on Sakura, the princess of Clow country. Fujitaka is still a lovable guy with a passion for knowledge, and a primary positive influence for Li Shaoran, who was cold and distant when they met. Fujitaka really knows how to raise kids well!
---
2. Shirou Fujimoto from Ao no Exorcist (Blue Exorcist)
Episodes: 25
Aired: Apr 2011 - Oct 2011
Originally a manga by Kazue Sato, this is the story of the twins Rin and Yukio Okumura, the sons of Satan.
Shirou is a charismatic character, with a past of hate towards demons. He gradually changed and one of the important factors for this change, was a certain baby who smiled at him: his future foster son Rin. Shirou ended up being a caring, responsible father, and even dies for the sake of his children. This prompts Rin to become an exorcist just like his father, quite the contrary of what could be expected from his demonic genes. For being the perfect combination between fatherhood, eccentricity and bravery, we give Shirou a high spot in this top ten.
But my friends, the number one post goes to the coolest anime dad ever...
---
1. Igneel from Fairy Tail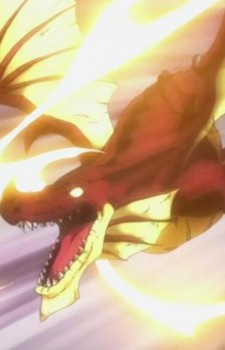 Episodes: 274
Aired: Oct 2009 - Ongoing
Fairy Tail was originally a manga by Hiro Mashima. The wonderful world of Earth-land populated with fantastic creatures and magic guilds, is the background for the adventures of Natsu Dragneel and Lucy Heartfilia, members of one of these guilds.
How cool it would be to have a dragon as dad? Natsu Dragneel has that privilege, and he turned out well. Although reckless, Igneel is fiercely loyal towards his friends and a rightful warrior. Besides that, Igneel knows when the time is right to let his child live and take his own decisions without stopping to care for him. That is parenting at its best! For being the most balanced and powerful looking father, he has the first place in our top ten.
---
So, did you like our selections of good anime dads? Who else do you think should be on the list? We welcome all your comments and suggestions!
---