También puedes leer este artículo en:Español
We here at Honey's Anime have once before looked at the world of anime and the various bad dads within it and we came up with quite a list of some truly despicable fathers. Some of these dads sacrificed their own children—we're looking at you Shou Tucker—and others like Gendo Ikari remind us to truly love our dads who don't force us to fight in giant robots made from the souls of our moms. That being said, we have found several worse anime dads and trust us readers out there…these dads are pretty horrible. Let's look at the 5 Worst Anime Dads and see just how bad an anime parent can be.
5. Gakuho Asano from Ansatsu Kyoushitsu (Assassination Classroom)

A good dad needs to occasionally push their child to better themselves and aim for the stars. A bad dad does that in a twisted way. Meet Gakuho Asano, the man who literally tells kids to poison other students' food sources so they can score better on a test…yes that is just a small example of this evil dad. Gakuho—father to Gakushu Asano—acts as a board chairman for the prestigious Kunugigaoka Junior High School and while it is admirable he wishes for students to excel his methods are akin to nefarious and diabolical. Next time your dad makes you do homework be sure to thank him for not making you try to kill a fellow classroom.
---
4. Paul Greyrat from Mushoku Tensei: Isekai Ittara Honki Dasu (Mushoku Tensei: Jobless Reincarnation)

When you get summoned to another world, you're going to want some good parental support. You need a strong dad who will support you and be a good role model of how you should be in this new world. Paul Greyrat is indeed a tough warrior who can be quite cool at times, but as a dad, he's the prime example of scum. Paul in the world of Jobless Reincarnation not only had an affair with his wife with their maid but he also is pretty much the type of dad who doesn't seem to care if his young son grows up as morally messed up as he is. Paul has some redeeming features as a dad but overall won't be getting a "greatest dad" coffee cup from us here at Honey's Anime.
---
3. Ging Freecss from Hunter x Hunter

Goku is usually considered one of the worst shounen dads around but we personally think there is someone way worse. Ging Freecss from the wonderful Hunter x Hunter series is without a doubt worse than Goku for a multitude of reasons. This usually absent father barely raised his son—in this case, Gon—but also didn't care to even stop what he was doing when his own flesh and blood was dying in the hospital. Ging is usually given a pass since he seems to want his son to become extremely powerful and succeed using his own two feet but that doesn't warrant never being around to even help his son through some of the harder challenges he would end up facing. Goku is bad but at least this alien father was around his kid occasionally…
---
2. Kagemitsu Daigo from Dororo

Kagemitsu Daigo…this is an example of a father who is truly demented and cruel. In Dororo, Daigo wished his kingdom would thrive and sacrificed his firstborn son's body—literally—for his wish to become fulfilled. Born as a strange skinless-like being, Daigo wanted his "son" to be removed so he could escape the realization of what he did and just try again. Daigo's son would survive thanks to a passerby who raised him more like a father than Daigo did but his future would be filled with constant challenge. As time passed, the son he gave up—Hyakkimaru—would eventually begin to rise up and defeat the demons that took his body leaving Daigo in utter shock. Overall, though, Daigo shouldn't even be called a father, seeing as how he placed a kingdom above his own child.
---
1. Grisha Yeager from Shingeki no Kyojin (Attack on Titan)

What makes the worst dad ever? Is it sacrificing your own kid for revenge? Maybe ruin their child's entire future for world-changing purposes? In the case of Grisha Yeager, it's all of the above as this father is hands down one of the worst anime dads we've seen in a long time. We understand that Grisha's life wasn't an easy one but this man allowed revenge and idealism to doom his own child—Eren Yeager—and didn't think twice about it. We have seen some horrible anime dads in our lifetime but Grisha is easily the worst of the worst and makes us want to go hug our own dads for not making us into man-eating giants.
---
Final Thoughts
This Father's Day, we for sure value the great dads of the anime world. Yet, we needed to look at the truly horrible ones to remind us what being a good dad actually means. Did we find all the newer bad dads of the anime world or do you have some recommendations? Comment below to let us know! For even more lists be sure to keep stuck to our amazing hive here at Honey's Anime!
---
---
Oh, the father. That main figure of our childhood that will greatly determine how we interact with the world once we become grown-ups. The one that has to balance a caring nature with support, courage and strength all through our childhood and adolescent days. And as much as we could wish for the best, sometimes the most odd and unfitting people turn out to be fathers.
Anime has a diverse collection of thieves, criminals, cold, sadistic and downright evil dads. At least we can console ourselves or our unfortunate friends with the following list of the worst fathers from the anime world.
10. Souichirou Shimogamo from Uchouten Kazoku (The Eccentric Family)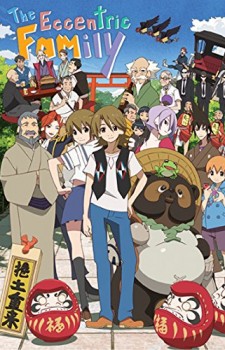 Episodes: 13
Aired: Jul 2013 – Sep 2013
Uchouten Kazoku (also known as The Eccentric Family) was originally written by Tomihiko Morimi. The story is about families of tanuki, tengu and humans. Our protagonist, the young tanuki Yasaburou, has to deal with his father's absence while interacting with members from the other families in a delicate (and often comical) balance.
Souichirou is a tanuki (a type of raccoon), which are believed to have magical powers. Tanuki are creatures of mischievous nature, and among their abilities they can turn into any object or living thing possible. Souichirou went overconfident of his abilities and ended his days eaten by humans. This meant his full family was labelled as a disgrace to the magical creatures of Japan. For leaving his family to fend for themselves, we give him a spot on our Top ten.
---
9. Touichi Kuroba from Magic Kaito 1412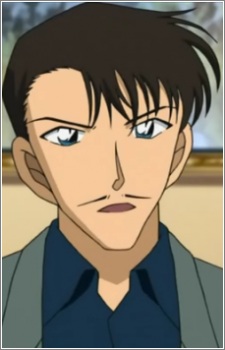 Episodes: 24
Aired: Oct 2014 – March 2015
This prequel for the famous Detective Conan tells us the story of our hero's father in his quest to find out what happened to his own father. Originally created by Gosho Aoyama, a shoujo manga artist, it also has a hint of romance.
Touichi Kuroba was an international criminal known as the Phantom Thief, who was killed when he refused to help an organization in their quest to obtain immortality. Always absent from home, Touichi is not the best role model for Kaito (Conan's father), who also has to find out the details about his death. So, what does Kaito do? Becoming a thief himself! Like father, like son. Kids, stealing might look exciting, but this is not a good role model to follow.
---
8. Sabato Rokudou from Kyoukai no Rinne (RIN-NE)

Episodes: 25
Aired: Apr 2015 – Sep 2015
From the Goddess of Manga herself (that would be Rumiko Takahashi), here comes the story of Sakura, a girl who can see spirits, and Rinne, a shinigami in charge of guiding such spirits towards reincarnation.
Rinne's father is, in short words, a womanizer and money lover. He has his son in constant debt, for God's sake! Sabato also pressures Rinne to eventually lead the family company instead of letting him choose his future life. At least father and son don't live together, unlike our next unfortunate protagonist.
---
7. Genma Saotome from Ranma 1/2

Episodes: 161
Aired: Apr 1989 – Sep 1992
One of the first globally successful works from Rumiko Takahashi, Ranma is a karateka who becomes a girl if you pour cold water over him. Our hero lives in a love/hate relationship with his fiancee Akane, and has crazy adventures with many other characters who love or hate him sometimes for the most hilarious reasons.
Genma Saotome makes his son Ranma to provide for food, shelter and daughters-in-law whenever he is not rigorously "training" him. The curse that turns Ranma into a girl is his father's fault as well. Also, most of Ranma's problems are derived from his father's wonderful abilities to deal with life as an adult. And when things run out of hand, what does Genma do? Either turn himself into a panda or run away. Enough said.
But wait, are there worse anime fathers? You bet there are!
---
6. Gambino from Berserk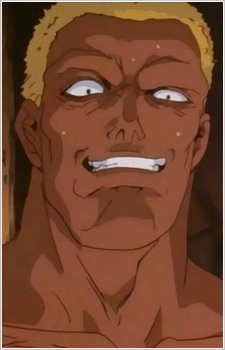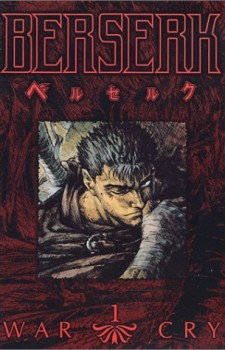 Episodes: 25
Aired: Oct 1997 – Apr 1998
This is a dark story by Kentaro Miura, full of war, demi-gods and mercenaries. Watch out for a lot of blood and strong language combined with epic battles and a love triangle!
We all know the life of a warrior is hard and competitive, but some start with more obstacles than others. Our hero Guts was given such a wonderful name because Gambino found him hanging of the corpse of his mother. So now Guts has a nice way to remember his birth (ugh!). Gambino is also the leader of a band of mercenaries and bullied Guts as a kid. Oh, and Gambino always despises him. That's some of the worst foster parenting ever.
---
5. Rasa from Naruto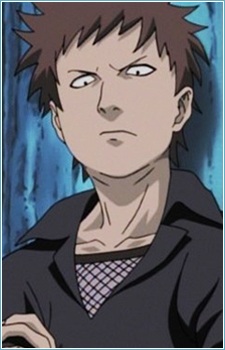 Episodes: 220
Aired: Oct 2002 – Feb 2007
Although there are several examples of bad parenting in Naruto's journey to become a recognized ninja instead of a recognized menace for humanity, Rasa deserves a special mention. He certainly meant good when he tried to seal the legendary beast Shukaku into his own youngest son… But first, his wife died during birth. Then his son Gaara was not able to control the power of the beast, so he orders to murder him (yeah, right, make others deal with your mess).
On his behalf, we can say Rasa is meaner in the anime than in the manga, but that does not take points off from trying to use an ancient power on his own son without properly knowing how to handle it.
---
4. Sougon Kenzaki from Aquarion Logos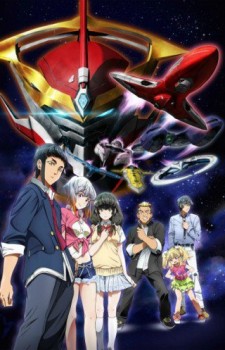 Episodes: 26
Aired: Jul 2015 – Dec 2015
Aquarion Logos, the third part of the Aquarion franchise, was directed by Eiichi Sato. This anime tells a story about the power of words combined with mecha action and lots of otaku culture.
Here we also have a very good example on how not to parent your foster child. You simply don't lobotomize him and his friends, even if it is for the sake of the world! Sougon was cold and distant towards Subete for most of his life, while the desperate young man tried everything to please him. In the end, Subete was nothing but the main tool in the evil plans of his father. For being one of the more complex villains in the recent anime history, plus being a bad father, Sougon deserves a spot on our list.
---
3. Gendou Ikari from Evangelion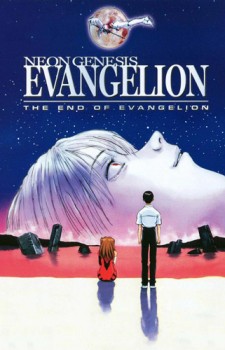 Episodes: 26
Aired: Oct 1995 – March 1996
The mecha-apocalyptic story by Hideaki Anno that changed anime forever is here again to teach us how not to be a father. See? Anime can be so educational sometimes!
Among the cold irresponsible anime fathers, we first had Gendou Ikari. After the death of his wife he left Shinji to be raised by someone else, dedicating himself to science. Gendou also uses people (particularly women) for the sake of his own egoistic objectives. Clever but humanly inept, he is largely responsible for Shinji's "Hedgehog dilemma", meaning that getting closer to another human being equals hurt.
But let's prepare ourselves for the worst of the worst in fatherhood.
---
2. Shou Tucker from Fullmetal Alchemist

Episodes: 51
Aired: Oct 2003 – Oct 2004
This anime was born as a manga by Hiromu Arakawa.
The adventures of the Elric brothers on their quest to perform better alchemy left us with a memorable father. Shou is similar to Gendou Ikari in several ways: science men who devote themselves to achievement and neglect their families. Only that Shou sacrificed his wife and later his daughter without showing any remorse. Let me repeat that, he used his wife and daughter as part of his experiments because he feared his alchemist license would be taken away. Moreover, he states that Edward Elric is exactly the same kind of person as he is. And here we thought at first Shou was a kind and harmless guy…
---
1. Charles zi Britannia from Code Geass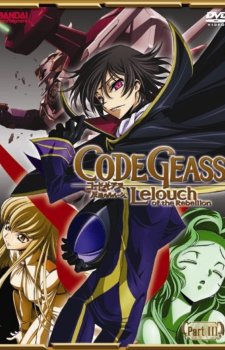 Episodes: 25
Aired: Oct 2006 – July 2007
Code Geass, also known as Lelouch of the Rebellion, is directed by Goro Taniguchi. On this anime, we see the quest of Lelouch zi Britannia towards recovering the independence of Japan, among suicidal attacks, carefully calculated strategies and his gift of making people do whatever he wishes with his eye contact.
Here we have another cold and egoistic father who is mean not to one, but to his many children. Raised in a difficult political climate, Charles enjoys watching his offspring as if they were a social experiment, viewing them as parts of the collective consciousness. The disturbing fact is that he wanted to destroy the collective consciousness. Besides that, a father who tells you that being truthful and that respecting life go against progress is a psychopath. His many crimes and evil perspectives about humanity makes him the worst anime father ever.
---
We decided to make an honorable mention. Although he is a lovable character who fights for the world, his parenting skills are, well… not very good, plus he remains mainly absent from his children's lives, we are talking about Goku from Dragon Ball.
So, what do you think about our selections? Who else is a really bad anime dad? We are waiting for your comments and suggestions!
---