Graphic Adventure games have been around for quite some time, but many people aren't too familiar with the genre since generally it's split up into various categories. The main genre that most are aware of is adventure, while graphic adventures fall under its subgenre. They pertain to games which focus on point and click styles, escape the room scenarios, challenging puzzles and exploration. Visual novels also fall under this category and so you'll most likely see some notable names on our list. Graphic adventure games come with a lot of variety and take you on a journey filled with curiosity, discovery, and abundant joy.
10. Hotel Dusk: Room 215

System/Platform: Nintendo DS
Publisher: Nintendo
Developer: Nintendo
Release Date: January 22, 2007
Hotel Dusk: Room 215 takes you on a investigation adventure, where you'll need to uncover clues from residents in the hotel about a murder that recently took place. Hotel Dusk: Room 215 took great advantage of the DS interface by allowing you to use the stylus to point and click your way through environments to pick up clues, while speaking with residents to gather more evidence. The aspect pertaining to Hotel Dusk: Room 215 is that while the adventure may be thrilling, it's also a risky ride because any slip up and you may have to start over.
When questioning the residents, some of them will give off some tells and emotional cues that you'll need to take note off, but going too far with your interrogation may actually scare them away completely which leads you down a cold path. So the game encourages you to use your judgement wisely and not press too aggressively otherwise you'll lose out on important clues to get you closer to the end game. In spite of all that the game is a bit slow at times so patience is certainly required as you read through the dialogue, but once you get over that hump, Hotel Dusk: Room 215 is one hotel that you'll want to check in at.
---
9. Amnesia: Memories

System/Platform: PlayStation Vita, Windows
Publisher: Idea Factory International
Developer: Idea Factory
Release Date: December 19, 2013
Amnesia: Memories is one otome title that fans of the genre will certainly not forget, because it demonstrates how an otome game should be made along with other great features that stand out on their own. You play as a nameless character with a sidekick, Orion, who tags along acting as the "inner voice" helping to restore your memories. Since he doesn't come from the world you live in, Orion needs you to recover as much details as possible otherwise he'll be unable to return back to his original world.
In spite of the game being tailored to a more female audience, males can pick up the game and find interest in its emotionally riveting story about a woman trying to find love along with her memories, while also learning a little bit more about what women go through sometimes. It's by no means a way into the minds of a female, but it's always nice to take on a different perspective to see just why this genre is popular among a particular demographic. It not only makes you understand two sides of the spectrum more succinctly, but perhaps throughout the wonderful gameplay you'll find some understanding within yourself.
---
8. Criminal Girls 2: Party Favors

System/Platform: PlayStation Vita, Windows
Publisher: Nippon Ichi Software
Developer: Nippon Ichi Software
Release Date: November 26, 2015
Criminal Girls 2: Party Favors puts you in the position of a prison guard who must protect and guide these lewd and pesky girls out of the depths of hell known as the Reformation Program. One of the girls in your group doesn't seem to be entirely reassuring, and so you'll need to make your way through the Hell Spire trying to deal with mistrust while uniting with the team in order to help them overcome their sins. With each girl having their own unique story and personalities, you'll need to uncover more behind each backstory while ensuring that they all find redemption.
We just completed Criminal Girls: Invite Only, which is now available on steam for you to try out. If you'd like to see our detailed review of Criminal Girls: Invite Only, then be sure to check out our review section for more. Party Favors retains the same gameplay from the original, while throwing in some new features to keep things exciting. For anyone who loves some lewd gameplay, fun mini games along with a humorous dialogue, then definitely pick up a copy of Criminal Girls 2: Party Favors soon!
---
7. Danganronpa: Goodbye Despair

System/Platform: Multi Platform
Publisher: Nippon Ichi Software
Developer: Spike Chunsoft
Release Date: July 26, 2012
Danganronpa: Goodbye Despair is all about trying to uncover who the culprit is, in this crazy game of death that pits you against the other students as you work your way through puzzles and uncovering clues. This game grown a very large cult following because it's not just the story that really brings everything together, but it's so visually appealing that it melds so well with everything happening around you. The gameplay, of course, is where the game shines, along with the strong dialogue that keeps you coming back for more each time.
With various spin offs along with Danganronpa V3 being released in Japan just a few days ago, the Danganronpa series doesn't seem to be slowing down anytime soon, especially with how well developed the story is. In spite of being a little old compared to more recent visual novel adventures, Goodbye Despair is still a title that holds true to its values and doesn't stray off course at all in order to maintain a harmonious relationship between the game and the player. This is one truly entertaining game that more people should dive into because it truly tests your ability to pay attention to details, while also taking note of everything that happens throughout each interaction.
---
6. Clannad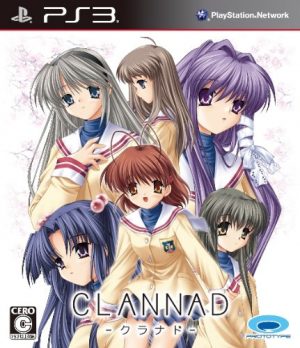 System/Platform: Multi Platform
Publisher: Visual Arts
Developer: Key
Release Date: November 25, 2005 [JP] | July 1, 2016 [WW]
Clannad is one story that any fan of anime doesn't want to miss because it incorporates real life scenarios that truly bring the story to life. Much of it all deals with human nature and the many circumstances we go through in life, while trying to muster up enough strength to continue pressing on to achieve self fulfillment. Tomoya is a young and troubled boy who finds himself in a conundrum in life, he's not too sure of what he wants to pursue and he's already been through a rough past. Tomoya attends a school hoping things could possibly change for him, and through his school life not only did these individuals help to inspire him to make a difference, it inspired him to alter their lives as well.
One major selling point about Clannad despite being emotionally riveting experience, is that it's very clear in its premise and doesn't try to shortcut its way out of what's being illustrated. Each character is distinctively different and yet they're very much the same in that, they're all just humans going through various experiences at different times. As you tap your way through each part of the dialogue in game, it's almost as if the game is educating you on life itself and how to overcome tough times by simply opening your heart to others, with the faith that they too will open themselves up to you as well.
---
5. Zero Time Dilemma

System/Platform: Nintendo 3DS, PlayStation Vita, Windows
Publisher: Spike Chunsoft | Aksys Games
Developer: Chime
Release Date: June 28, 2016
Zero Time Dilemma is another fantastic title that puts players to the test, and has you on the edge of your seat every time to prevent imminent death. The game seems to take reference from the Saw series pertaining to some events that happen throughout the story, but we'll leave that part up to you to discover. Basically, this game is all about trying to make moral decisions, problem solving, and coming up with clever ways to avoid running into a tragic dead end. Much of the gameplay revolves around escaping the room mechanic, where you'll need to decipher puzzles and do so with a calm and clear mind. Any slip up and you may find yourself covered in blood, but that's perhaps the finer aspect about Zero Time Dilemma.
While much of the game does leave you scratching your head and going back to square one to determine the right answer, the trail and error aspect is what truly makes this experience more gratifying because you know that once everything is all stitched together, you feel this sense of reward and self fulfillment. Mentally stimulating titles like Zero Time Dilemma are what this industry needs more of, instead of the stale shooters that we often see being released. Let's hope Chime and Spike Chunsoft can make that happen.
---
4. 999: Nine Hours, Nine Persons, Nine Doors

System/Platform: Multi Platform
Publisher: Spike Chunsoft | Aksys Games
Developer: Spike Chunsoft
Release Date: December 10, 2009
999: Nine Hours, Nine Persons, Nine Doors has been on our top ten list quite a number of times, and it should come as sign that this game is not one to ignore. The game throws you right into the shark's den where you and 8 other individuals are trapped on a ship. The only way out is to either cooperate with one another or go about on your own. The only thing is that you'll need to make tough choices along way such as leaving someone behind to die, because there can only be one survivor and of course, you want to be the one to stay alive.
This is a visual novel puzzle adventure that truly tests you to make sure you're actually paying attention to what's happening around you at all times. 999: Nine Hours, Nine Persons, Nine Doors throws challenges at you at a rapid rate, and so it's required that you use your intuition to make the right decisions otherwise you may find yourself with numerous bad endings. The wonderful thing about the game is that it encourages you to play through it differently in order to reach every ending, which eventually reveals the true ending once you've managed to get through them all. Will you be able to survive on the ship and get out in one piece? Be sure to try out this classic DS title to find out.
---
3. Phoenix Wright: Ace Attorney ~ Spirit of Justice ~

System/Platform: Nintendo 3DS
Publisher: Capcom
Developer: Capcom
Release Date: September 18, 2016 [WW] | June 9, 2016 [JP]
This series just doesn't seem to stop pushing out sheer quality in terms of gameplay, and we're constantly impressed by it all as we simply can't put it down. Phoenix Wright is the popular series from Capcom that stars a young rookie defense attorney doing his best to become a notable figure in the courtroom. With many cases to solve and clues to uncover, Phoenix Wright will do what it takes to track down the culprit and place them behind bars as soon as possible.
In the latest installment of the series Spirit of Justice, the gameplay has seen a huge revamp in terms of how players can gauge the witness and those who testify on stand. It's great being able to use certain strategies to find certain tells, or paying close attention to the emotions of a character to determine whether or not they're bluffing. All of these along with other challenging aspects of Phoenix Wright: Ace Attorney ~Spirit of Justice~ make the game a gem to play. With more titles coming down the pipeline, we can only expect the best from the Capcom team to pull through.
---
2. Steins;Gate 0

System/Platform: PlayStation 3, PlayStation 4, PlayStation Vita, Windows
Publisher: 5pb.
Developer: 5pb. | Nitroplus
Release Date: December 10, 2015
We all know by now that Steins;Gate is a series that demonstrates just how a visual novel experience should be, and so much more. What Steins;Gate has to truly make itself stand out is, perhaps, its remarkable story, along with characters that feel believable and relatable. You're taken on this wild ride of unexpected results, and so you'll need to pay close attention to every detail that you come across whether it be in the dialogue or thrown somewhere in a cut scene. It's these subtleties that make Steins;Gate such an incredibly fun game to sit down and play, whether you're fan of visual novels or not.
In Steins;Gate 0 (which by the way we did a review on and can check it out in our gaming section), you star as Rintaro who finds himself in a tragic scenario after he's killed a colleague of his and now is trying to rewrite time to recover the Steins;Gate, but also save the world from more danger. You team up with the Future Gadget Lab as they must now uncover clues around the current situation, while going back in time and the future to find the clues needed to prevent catastrophe. This is one visual novel experience you can't sleep on and honestly it will keep you pondering right up to the end of the compelling story.
---
1. Professor Layton and the Azran Legacy

System/Platform: Nintendo 3DS
Publisher: Nintendo | Level-5
Developer: Level-5
Release Date: February 28, 2013
Professor Layton seems to find itself sandwiched nicely between easy and difficult, providing you with an experience that's not only challenging enough to keep you coming back for more, but truly rewarding once you're able to solve the problems as they come at you. In Professor Layton and the Azran Legacy, you star as Layton who must uncover clues behind the mysterious Azran artifacts while trying to apprehend the criminal who's trying to steal it all for themselves.
While every story of the Layton series is refreshingly difficult and certainly appealing, it's the thought provoking gameplay that keeps you hooked for hours. Every puzzle is slightly more challenging than the last, with clues thrown everywhere and you'll need to use your stylus to collect them as you progress. Perhaps the more enthralling experience about the Layton series is that you never know what to expect and so everything always feels brand new, especially as the series continues to redefine itself pertaining to its story and overall features.
---
Final Thoughts
We hope to see the graphic adventure genre grow in some way, bringing new innovative ways to play along with challenging puzzles to keep us thinking for hours. There's a lot to offer in these games, with many endings to unlock along with many clues to uncover and use to your advantage. We simply couldn't list every great game on our list and so we'll leave that up to you to leave us with your favorite graphic adventure anime games in the comments below. Also be sure to follow us on social media to stay up to date, but also share, like and follow us to keep the community buzzing!
As always, if you want to know about all the latest buzz straight from the bee's nest in Japan, be sure to keep it locked here at Honey's Anime.
---