Text Adventure games have existed for decades, perhaps well before many of us were actually born, but only recently have text adventure games become a shining achievement on their own. In the west, text adventures span back to the 1970's when games like Adventureland released along with several popular Atari titles that many old school junkies may reminisce about. As of late the genre has transformed into more of a visual novel approach, with many of them coming from out of Japan. These visual novels took everything that was great from the classic titles and created a new formula which not only implemented a well written narrative, but threw in modern elements to appease the crowd. Whether you're a veteran of the genre or simply just curious about what's out there, the text adventure experience is a wonderful way to kick back and relax while the game moves along with you.
10. Umineko no Naku Koro Ni

System/Platform: Windows, Mobile, PlayStation Portable, PlayStation 3
Publisher: 07th Expansion
Developer: 07th Expansion
Release Date: August 17, 2007
Umineko no Naku Koro Ni is another awesome text adventure experience that we recommend you all check out because it comes with all of the bells and whistles, and other little treats to keep you engaged for hours. This game was so popular in Japan that it sold it out in minutes at Comiket, Japan's largest comic market for Doujin, where artists come together to showcase their talents. Much of the story has you trying to solve a murder on an island, and trying to determine whether the killer is a human or some other creature that you're unfamiliar with.
07th Expansion made sure to incorporate many surprises in the story which only makes it more thrilling as you make your way towards the end. The anime itself does a great job of reinterpreting the events that took place on the island, but we assure you that playing the PSP and PS3 versions of this spectacular game will give you a much more enriching experience. The dialogue is witty, the story is concrete, and the character relationships in the game are brilliant.
---
9. Hatoful Boyfriend

System/Platform: Multi Platform
Publisher: Mist[PSI]Press
Developer: PigeoNation Inc. | Mediatonic
Release Date: July 31, 2011
Those who are new to the whole otome realm of games may not be familiar with Hatoful Boyfriend, but we assure you that when you do pick this game up you'll be pleasantly surprised by how well scripted it is. At first glance you'd probably be slightly surprised that the main character is in love with pigeons, but the more you dive into this amusing love story you begin to realize that there's more than meets the eye. We've all heard the cliche phrase to not judge a book by its cover, well Hatoful Boyfriend certainly fits that phrase very well because despite its very odd appearance, the story is satisfying and heartwarming.
Hatoful Boyfriend was one of the first titles to get a western release because so many people were hungry to know more about why this girl was so in love with these birds. Once you dive deeper into this incredible adventure, everything starts to slowly unravel and then you immediately have this look of amazement on your face because everything was so well written, that you couldn't stop reading.
---
8. Amnesia: Memories

System/Platform: PlayStation Vita, Windows
Publisher: Idea Factory International
Developer: Idea Factory
Release Date: December 19, 2013
Suffering from amnesia is never a good look for anyone, because not being able to recall any of your memories just feels demoralizing and painful. However this game is sure to leave a mark in your memories for a long time that it will be hard for you to forget. Amnesia: Memories is a popular otome game that throws you into a romantic world where you must build new romantic love interests with handsome male characters, and rebuild new memories as you go along.
You play as Orion who acts as the narrator of the story, and helps you along the way providing you with new perspectives on things, acting as the "inner voice" so to speak. He desperately needs you to recover as much as you can otherwise he can't return to his own world, and that's where the fun begins. This game is mainly targeted towards the female audience hence the term otome, but if you're one of those curious males out there who just want a change of pace or perhaps to understand the female psyche a little better, don't forget to pick up Amnesia: Memories.
---
7. Tomoya After ~ It's a Wonderful Life

System/Platform: Multi Platform
Publisher: Visual Arts
Developer: Key
Release Date: November 25, 2005 [JP] | July 1, 2016 [WW]
Tomoya After ~ It's a Wonderful Life is one of the first games that Honey's Anime reviewed, so if you'd like to know more about this great game in more detail, be sure to hit up our gaming section to learn more. The game is a spin off from the critically acclaimed Clannad series, which focuses on Tomoya and his growing relationship with the beautiful Sakagami Tomoyo. It's a very beautiful text adventure title that expresses the enlightening experiences of building a family, while coming to terms with personal events that sometimes create a little turmoil.
We really enjoyed this game for a variety of reasons, one of which is just how emotionally attached you become with every character that Tomoya interacts with, while watching him mature as an individual throughout the story. As we stated earlier, you get this feeling of being invited into a family that's slowly trying to piece things together, learning from one another while overcoming personal burdens to ensure everyone sticks together. It's warm, non abrasive and very moving as you work your way through a wonderful story with a splending ending to have you itching to play through again.
---
6. Zero Escape: Virtue's Last Reward

System/Platform: Nintendo 3DS, PlayStation Vita, PlayStation 4, Windows
Publisher: Spike Chunsoft
Developer: Spike Chunsoft
Release Date: February 16, 2012
Zero Escape: Virtue's Last Reward is a title that focuses more on the rush and problem solving aspects rather than an emotionally gripping backstory. In this game you need to basically rely on your instincts to get you out of hot water, while reading the dialogue very carefully in order to pick up on certain clues to avoid being killed. Zero Escape is a lot like the game of death, where you're given a certain period of time to figure out a problem before you succumb to a gruesome death.
It challenges you in many ways which really makes the game more addicting to play through more than once. The multiple endings that you can achieve are what creates the thrill because you're just itching to know how everything unfolds depending on the actions you take. Zero Escape: Virtue's Last Reward takes you well beyond the norm and throws you into this world where decisions matter and reading between the lines can save you from harm. This is one text adventure experience you don't want to miss out on especially if you enjoy a lot of puzzles, unexpected events, and a great ending that will shock you.
---
5. Clannad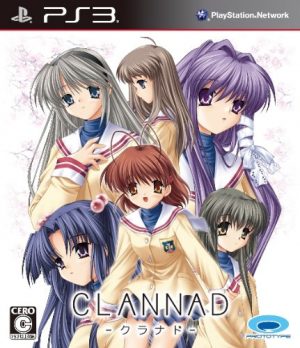 System/Platform: Multi Platform
Publisher: Visual Arts
Developer: Key
Release Date: April 18, 2004
Tomoya starts off as a lost child, one with no future and what feels like no hope in this emotionally touching story of self development, friendship, and love. Clannad is one of the classics when it comes to text adventures and still carries a lot of weight in terms of popularity in the anime community. What makes Clannad such a wonderful series is that it's relatable in every possible way, you can totally feel what each character is going through and that's what creates this deep profound sense of enjoyment as you read through the dialogue.
While there are moments of laughter and joy, Clannad combines every element of emotion to really generate different responses out of the player. One moment you're really attached to the relationships that Tomoya starts to build with all of the girls he encounters, then find yourself weeping profusely because something shocking took place that just pulled your heartstrings and you can't avoid it. Games like Clannad are a rare gem because they embody a very humanistic feeling to it, and every encounter you come across doesn't feel contrived in any way but rather invokes this feeling of warmth and sense of belonging that no other game can match.
---
4. Chaos;Child

System/Platform: Multi Platform
Publisher: 5pb. | Nitroplus
Developer: 5pb.
Release Date: December 18, 2014
The Chaos;Child series is created by 5pb., the same team behind the globally popular Steins;Gate series and a wide array of other brilliantly made text adventure titles. Now while we're using the term text adventure to emphasize this article, visual novel is still the more widely used term to define this particular genre so don't be too confused. Chaos;Child takes place in Shibuya which had been hit with a large earthquake several years earlier, leaving the city in ruin. Takuru is one of the survivors of the event who teams up with Serika, Nono, and other main leads to uncover just what's happening and to come to a conclusion on how to solve a gruesome murder.
Chaos;Child is a game that provides this very smooth emotional flow that really captures the essence behind what the story is trying to explain. As you listen to the incredibly gripping narrative and fall in love with these intriguingly beautiful characters, you start to find yourself so enveloped in it all that you sometimes forget you're playing a game. Everything feels real as you're a part of this wild journey to uncovering clues to solve a mysterious event, while being able to choose the direction to take in order to find solutions. With the anime slated to release this winter season, be sure to check it out to get a feel for the awesome story and fantastic character personas.
---
3. Phoenix Wright: Ace Attorney ~ Spirit of Justice ~

System/Platform: Nintendo 3DS
Publisher: Capcom
Developer: Capcom
Release Date: September 18, 2016 [WW] | June 9, 2016 [JP]
Phoenix Wright really blew audiences away with its spectacular rendition of a court scene where the tensions are high, and anything could explode at any given moment. You play as the rookie Phoenix Wright who's a defense attorney looking to make a name for himself in the world of law. Your mission is to collect evidence and listen to witness testimony in order to conclude who the culprit is. This thrilling experience is what makes the series so brilliant because, you're just never sure what to expect and the puzzles that you have to solve along the way are truly a fun engagement.
Ace Attorney ~Spirit of Justice~ takes everything you loved from past iterations and revamps the gameplay in a remarkable way. Using spirit mediums to call upon the dead to help guide you towards to real killer, paying close attention to tells that witnesses give off during testimonies, or observing the emotions of each individual to see whether they're lying or not. All of these features are what truly make the Phoenix Wright franchise such a blast to play, regardless of whether you're a seasoned vet or just someone looking for a new experience.
---
2. Danganronpa 2: Goodbye Despair

System/Platform: Multi Platform
Publisher: Nippon Ichi Software | Spike Chunsoft
Developer: Spike Chunsoft
Release Date: July 26, 2012
Trigger Happy Havoc was the first in the Danganronpa series which took players on a wild ride to seek out who the real murderer is, and try to stay alive for as long as possible. This game of death type of adventure is a satisfying upgrade from the classic text adventures where it was all mostly about reading but no interaction. One thing that Danganronpa tries to do is really encourage the player to take part in the story, being able to manipulate it in their own way so as to allow you to recreate the narrative. This major selling point is perhaps why the series is still incredibly popular worldwide, because it doesn't take anything away from the story but rather allows you to dive deeper and create something personal.
With Danganronpa V3 making its way to Japan very soon and a demo which is available to try on the PlayStation Network, the series doesn't seem to be slowing down anytime soon. Before grabbing V3 we definitely feel you should dive into Goodbye Despair because while the formula still remains, it's a fresh new story that challenges you every step of the way with addicting gameplay to keep you coming back for more.
---
1. Steins;Gate 0

System/Platform: PlayStation 3, PlayStation 4, PlayStation Vita, Windows
Publisher: 5pb.
Developer: 5pb. | Nitroplus
Release Date: December 10, 2015
Perhaps the most spoken about and celebrated text adventure anime title that's out right now is hands down Steins;Gate. We believe the reason for its massive surge in popularity is because Steins;Gate incorporates many intriguing elements that not only create this very powerful story, but breathes life into the characters that are within the game. Every bit of dialogue is well scripted and very detailed, while the personality of each character you encounter is mysterious yet enchanting because they all have something interesting to bring to the overall scope of the story. In Steins;Gate 0, which by the way you should check out in our game review section for more details, follows Rintaro on his journey to uncover more clues about Steins;Gate, while working alongside the Future Gadget Lab team to ensure the world remains in balance.
Steins;Gate is perhaps the series that really helped the text adventure series reach a wider audience, not only in Japan but overseas. The localization team behind the title does an exceptional job of ensuring to maintain the cultural integrity of Japan's outlooks, while still allowing players in the west to become well acquainted with everything at a very smooth and satisfying pace. There's simply no arguing that Steins;Gate does a stellar job in bridging the gap between the east and west, while still providing an experience that feels enriching and remarkably entertaining for hours on end.
---
Final Thoughts
Text adventure anime games are evolving rapidly as time progresses, and so we're starting to see a lot more elements implemented into the game to create a multitude of different experiences. With the mobile market being so big in Japan, the text adventure genre will always see growth in some way or another, and so we hope that trend can carry over to the west to keep this exciting genre alive a lot longer. What text adventure anime games did you enjoy? Let us know in the comments below, and of course be sure to like, share, and tweet our articles to keep the community buzzing!
As always, if you want to know about all the latest buzz straight from the bee's nest in Japan, be sure to keep it locked here at Honey's Anime.
---