We all love Halloween, but let's face it; we're all also extremely lazy. We love it when other people decorate their houses and apartments with cheesy B-horror-themed decorations, dress in their elaborate costumes, and give us candy, but we'd prefer not to leave our houses to do that. Especially when there are so many games to play.
Thankfully, the gaming industry has taken note of gamers' love of Halloween and have made sure we never leave our consoles. After all, these Halloween events only come around once a year for a limited time. The only thing scarier than our favorite characters dressed in monster garb? The knowledge that we could never get said costume for ourselves! If you play a lot, though, it might be hard to keep track of everything going on. Here's a quick list of all the major Halloween events that are happening right now!
10. Dragon Ball FighterZ

System: PC, Playstation 4, Xbox One, Nintendo Switch10
Publisher: Bandai-Namco Entertainment
Developer: Arc System Works
Release Dates: January 26, 2018 (US)
Whoever thought Dragon Ball Z would ever get into the holiday spirit? Yet Bandai-Namco is making sure it's doing just that this month with their fall update to Dragon Ball FighterZ. New monster-themed avatars are available for the lobby, including a Frankenstein'd Android 16 and a Werewolf Goku. In addition to that, you can also get some orange skins for several different characters. So if you've ever wanted a pumpkin-spiced Perfect Cell, now's your chance!
What's neat about this update, though, is that Arc System Works took the opportunity to actually add some pretty tangible additions to the game while they were at it. Along with all the Halloween goodies, we've also gotten 1v1 and 2v2 offline play modes, which were originally exclusive for the Switch version. There's even a brand new stage: the Galactic Arena from Dragon Ball Super. And it's all available right now!
---
9. Fortnite: Halloween Update9.

System: PC, Playstation 4, Xbox One, Nintendo Switch, Android/iOS
Publisher: Gearbox Publishing, Epic Games
Developer: Epic Games
Release Dates: July 21, 2017
Do you ever want to just chop some fools while rockin' the Ichabod Crane look? Fortnite looks to finally provide some resolution to that oddly specific desire. Fortnite fans can currently purchase the Hollowhead costume for just 1,500 V-Bucks, complete with carving Ax weapon. Or, if that's not to your tastes, you can repurchase the Skull Trooper costume from last year, which was one of Fortnite's original skins before it blew up like it did!
Beyond that, though?... We actually have little idea what Fornite's got in store this year. However, we know an event is coming. One of the most interesting aspects of the Fortnite fanbase is that data mining has become just as much a part of the hype cycle of the game as the actual events themselves. Fans have found in the code that a timed event is in fact coming and should correlate with Halloween this year. Twitch star Ninja has thrown even more fuel onto that fire by saying he's been teased some things in private himself. We can't wait to see what it is!
---
8. Rocket League: Haunted Halloween8.

System: PC, Playstation 4, Xbox One, Nintendo Switch
Publisher: 505 Games
Developer: Psyonix
Release Dates: July 5, 2015
Question: what do you do with Candy Corn on Halloween? Is your answer, "eat it"? Then you're lying. No one actually eats wax. However, Rocket League has an event going on where you can earn some digital candy corn by competing in online matches, which you can redeem for a Golden Pumpkin. No, you don't mush that pumpkin into spice and add it to literally any food you can think of; there's actually an exclusive customization item in there! And, yes, those items are naturally horror-themed. No worries about needing a Decryptor this year either; Psyonix has removed that restriction for this year's event.
Maybe Rocket League isn't the spookiest game out there, but hey, what's scarier than leading the entire match only to have your opponent sneak in an extra goal towards the end? Rocket League is just one of those games that you can play for any amount of time, whether it's just getting a match in before work or blowing your entire weekend on tournaments. If you haven't picked it up in a while, why not now? Haunted Hallows is in progress as we speak won't end until November 5th, making it perfect if you just can't let go of Halloween once the party's over.
---
7. Overwatch: Halloween Terror7.

System: PC, Playstation 4, Xbox One
Publisher: Blizzard Entertainment
Developer: Blizzard Entertainment
Release Dates: May 24, 2016
Halloween Terror returns for its 3rd annual event! There are 9 new Halloween-themed skins up for grabs, including 6 Legendary ones. You've got a Jack-o'-Lantern themed Wrecking Ball, an adorable pumpkin-clad Mei, Sombra as the Bride of Frankenstein, and many more! Even better, if you missed out on any other previous years' costumes, you can actually buy them flat-out at a heavily discounted price!
Also worth noting is the return of Junkenstein's Revenge, which was an entirely exclusive PvE mode that's only available for the holiday season. However, Blizzard has added the ability to play as Tracer and Brigette to the mode, which should ease some frustration with the harder difficulty levels. Beyond that, not much is different this year, but that doesn't mean it shouldn't be a blast!
---
6. Destiny 2: Festival of the Lost6.

System: PC, Playstation 4, Xbox One
Publisher: Activision
Developer: Bungie
Release Dates: September 6, 2017
The game is afoot, and it's murder most foul! Master Ives has been murdered at the masquerade ball and it's up you to crack the case! Who knows? You might get a really decent reward in gratitude for your service. Or, if you don't really feel like playing Sherlock, you can always check out the Haunted Forest, which is an event being added to the Infinite Forest. The deeper you go in, the more dangerous it becomes.
This actually isn't Destiny's first haunted rodeo. Bungie's actually been creating unique Halloween events since the original Destiny. Someone at Bungie must really love everything about the holiday too, as that event actually required players to go trick-or-treating. It's great to see a company come up with so many unique ways to play their game just for Halloween, so we expect great things when the murder mystery goes live on October 30!
---
5. Fire Emblem Heroes: The Land's Bounty5.

System: Android/iOS
Publisher: Nintendo
Developer: Intelligent Systems
Release Dates: February 2, 2017
There's a new Halloween Banner in Fire Emblem Heroes, this time focusing on some fan favorites in dressed up for some trick-or-treating. There's Path of Radiance beloved underdog Mia dressed up in witch garb, the oft-forgotten thousand-year-old dragon Myrrh dressed up as an adorable bat, ever dreamy Niles in full-vampire garb, and Kagero dressed as maid throwing… erm, "juice" bottles. Naturally, along with these new characters comes a special extra quest, so hop to it and earn some orbs for your pulls!
Not making any assumptions about our reader base here, but we're guessing anime gacha games are perhaps more relevant to your interests over sports games and online shooters. Fire Emblem Heroes is one of the few to really take off in the West too, and part of that is most likely due to just how many different events the game has every year. Every month gets a new big seasonal event, and this year's is actually the second Halloween event. So if you've been playing since last year, break out last year's characters and get to rolling to complete the new set!
---
4. Final Fantasy XIV: All Saint's Wake4.

System: PC, PlayStation 3, Playstation 4
Publisher: Square-Enix
Developer: Square-Enix
Release Dates: August 27, 2013
It's time once again for the yearly All Saints' Wake in Gridania. The Continental Circus has returned, and this time they've got a surprise for everyone! It's a masquerade ball being held at their ever-extravagant mansion, and everyone with a costume is invited. For those uninterested, there are special All Saints' Wake themed decorations for sale at the local vendor. Those who attend the ball though might find more than what they originally bargained for.
What's so fascinating about Final Fantasy XIV is how much it incorporates its big events into the lore of game. All Saints' Wake is no exception. In fact, Square-Enix has been running All Saints' Wake for over 7 years now, each one its own exclusive and unique event! So rarely do we get to see online games last this long that they can build up their own lore surrounding their own holiday-themed events that it's a real treat to see Final Fantasy XIV get to this point.
---
3. Animal Crossing: New Leaf Halloween3.

System: 3DS
Publisher: Nintendo
Developer: Nintendo EAD
Release Dates: June 9, 2013 (US)
If it's been a while since you've cracked out your 3DS, now may be a good time to check your Animal Crossing: New Leaf town. After you're done lamenting over how many weeds you have to pull, head over to Tom Nook's shop and you might notice he's selling candy. Make sure you buy candy every day and store it for as long as possible. On the 31st, Jack will be coming to town, and he'll trade you some exclusive Halloween furniture! However, you'll have to track him down in town first, and while you're searching for him, you'll be accosted by all the other villagers who also want some candy!
We had to mention Animal Crossing here because it was such a trendsetter back in the day. The original Animal Crossing was actually a huge revolution in games for actually holding these sorts of timed, holiday events by reading the internal date of the GameCube's internal clock. Sure, it was super easy to game the system by just changing the time settings, but really, where's the fun in that? That tradition holds true with the 3DS version as well, so don't even think of trying any funny business!
---
2. Splatoon 2: Splatoween2.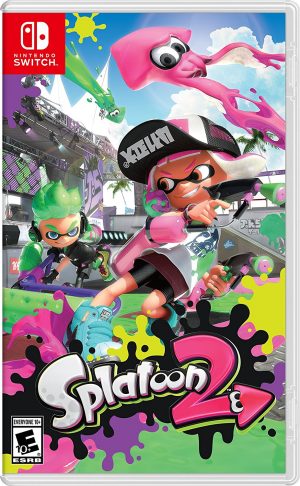 System: Nintendo Switch
Publisher: Nintendo
Developer: Nintendo EPD
Release Dates: July 21, 2017
Splatoon 2 did not have a Halloween event last year despite being out for a few months beforehand. However, it appears as if Splatoon was just fashionably late to the party! It's a grand Halloween Splatfest that goes on all weekend from October 20 through October 21, marking the first time a Splatfest has been available for more than a single day. You'll find Inkopolis decorated for the event with exclusive Halloween gear up for grabs, so make use of your time wisely!
Nintendo's been a bit slow to enter the Games as a Service business, but Splatoon 2 shows a significant change in philosophy for the company. It appears as if they might even be incorporating some lore into the event, as the promotional art for Splatoween predominantly features an Octoling, which as diehard Splatoon fans know was the focal point of the recent DLC. Maybe it won't lead to anything, but who knows? It's exciting nonetheless!
---
1. Pokemon Go: Halloween 20181.

System: iOS/Android
Publisher: Niantic
Developer: Niantic
Release Dates: July 6, 2016
What do you think of when you think of Halloween? Scary things and candy. Naturally, Pokemon Go has both of those in high supply. Starting October 20, you'll get double candy for various activities. Catching Pokemon? Twice the candy. Hatching Eggs? You better believe you're getting an extra helping for that. And so forth. Not only that, but you should find more Ghost- and Dark-type Pokemon roaming around at this time. So if you're looking for a killer Gengar or Houndoom, now's the time.
Plus, if you've got kids who are going trick-or-treating, Pokemon Go is the perfect game to bring with you while you wait for them to get their snacks! It's a game entirely designed around wandering around, so who knows? Maybe you'll end up staying out longer than them, or maybe they'll even want to join in on the fun and forgo the candy altogether?... Okay probably not, but regardless, that doesn't change the fact that Pokemon Go was absolutely made for these sorts of special events.
---
Final Thoughts
Hopefully, these events are enough of a treat you satisfy your urges for Halloween goodies. After all, you can never have too much Halloween in your life. Maybe these aren't the scariest or most horrifying Halloween events, but they are definitely some of the biggest around.
Do you know of any other big Halloween gaming events taking place right now? Well, please, just let us know in the comments below!
---