Not long ago, people in video games were just a combination of rough polygons and a lot of imagination. Expressionless faces, weird-looking bodies, hair with a "plastic" feeling... and that's not to mention the 8-bit era when you couldn't tell a person from a bunch of random pixels. But now? We have heroes, villains and even random secondary characters that look like top models, sometimes based on real people's factions!
To name a few of these handsome people we've put together a list with 10 beautiful men in video games, those that make you either be like them or be with them. Will your video game crush make the cut? There's only one way to find out!
10. Goro Majima from Yakuza 0

System: PlayStation 4 and Microsoft Windows
Publisher: Sega
Developer: Sega CS1
Release Dates: Jan. 24, 2017 (PS4), Aug. 1, 2018 (PC)
Yakuza 0 is an action-adventure game with a pretty intense plot involving mafia wars. Although Kazuma Kiryu is the main character in the series we can play as Goro Majima too, another recurring character. In this case, after losing his yakuza title Majima wants to rejoin the Tojo clan and accepts a mission to kill a woman, but that's just the tip of the iceberg.
They say a clean suit makes any man handsome enough, and we say it's easier with Majima's perfect ponytail, clean face and serious, cold look. He even punches people with grace! If you want to grow in the yakuza business, you have to look good and menacing even if you lose an eye, and Goro Majima —known as the One-Eyed Demon for a reason— is a perfect example of it.
---
9. Agent 47 from Hitman: Definitive Edition

System: PlayStation 4, Xbox One and Microsoft Windows
Publisher: Square Enix
Developer: IO Interactive
Release Dates: May 18, 2018
Speaking of good-looking, menacing people who wear suits, we have to mention another handsome criminal: Agent 47, the protagonist of the Hitman series and one of gaming most cold-blooded killers. To be fair, this is not a real man but a genetically engineered clone, and what a great job of science!
The Hitman is a middle-aged bald man that never laughs and always wears the same suit and tie to work. Yeah, that definition doesn't sound sexy at all, right? However, he has that something that makes women fall for him with just a few words, and he's totally hot for those who like experienced guys. All in all, this is one of those men who is better left alone. Just look but don't touch!
---
8. Vega (Balrog) from Street Fighter V

System: Arcade, PlayStation 4, Xbox One and Microsoft Windows
Publisher: Capcom
Developer: Capcom, Dimps Corporation
Release Dates: Feb. 16, 2016
Since Street Fighter II, one of the characters present in every main game of the series is Vega, the Spanish torero also known as Balrog in the original Japanese versions. A valuable member of Shadaloo, Vega is a vicious assassin with a terrible hatred towards everything ugly, so one of the ways for him not to kill you is to be beautiful yourself.
This narcissistic guy definitely knows how handsome he is, and that's why in every fight he protects his face with a mask. Oddly enough, this particular thing makes most people aim for the face and even some of his allies have tried to leave a scar on him! His signature long gold braid and torero outfit, a well-worked body and a dragon tattoo for that "pretty boy gone bad" feeling. What's not to like about Vega?!
---
7. Sir Hans Capon from Kingdom Come: Deliverance

System: Microsoft Windows, PlayStation 4 and Xbox One
Publisher: Deep Silver, Warhorse Studios
Developer: Warhorse Studios
Release Dates: Feb. 13, 2018
Kingdom Come: Deliverance is the story of a man who lost it all, preparing vengeance against those who burned his village and killed his parents. In the process, this character simply-known as Henry befriends Sir Hans Capon, heir of the most powerful city in the region and quite a funny guy... even though their first encounters weren't friendly at all.
Capon is a young but troublesome nobleman modeled after a not so well known British actor called Luke Dale. We're talking of a man with no signs of hard-work in his hands or face, so by XV century European standards that's enough to consider him handsome. If we look at him with modern eyes, he's a gorgeous blonde with blue eyes and a totally cool haircut. Not many men can rock a yellow outfit!
---
6. Jacob Taylor from Mass Effect 2

System: PlayStation 3, Microsoft Windows and Xbox 360
Publisher: Electronic Arts
Developer: BioWare
Release Dates: Jan. 26, 2010
Mass Effect 2 is one of the best games in the series if not the best of all. Here we play as Commander Shepard after being brought back to life with the help of the Lazarus Project, in which Jacob Taylor had a significant role. This remarkable space opera has quite the ending! We're sure you already heard of the famous suicide mission, do you? Well, the best word of advice is not to get attached to Jacob… just in case.
Alright, let's face it: Jacob Taylor is a hunk, and everyone in his team knows that. He has the looks, he has some flirty lines and, like every other soldier, he definitely has an enviable body. However, romancing Jacob looks like one of the worst things you can do, and the Mass Effect saga has a lot of hints about it. Please, remember this is a list of handsome men and not interesting male characters! Sorry, Garrus fans!
---
5. Dante from Devil May Cry

System: PlayStation 2
Publisher: Capcom
Developer: Capcom
Release Dates: Oct. 16, 2001
Dante's look has changed over the years, and we can agree on him becoming less cool with every sequel. In fact, newer entries went for a less anime-ish face with short hair and less extravagant clothes, but what fans hate the most is Dante's black hair in DmC: Devil May Cry. At least platinum hair is back for DMC 5, right?
One of the best versions of this demon-slayer is the one from the original Devil May Cry, with an imposing red costume and enough sex-appeal to make us forget he's half a demon. With a strong sense of justice and a kind heart, Dante was lucky enough to inherit human traits from his mother, captivating every girl with a thing for androgynous guys. And not looking like a freak!
---
4. Snow Villiers from Final Fantasy XIII

System: PlayStation 3, Xbox 360 and Microsoft Windows
Publisher: Square Enix
Developer: Square Enix
Release Dates: Mar. 9, 2010 (PS3/360), Oct. 9, 2014 (PC)
To be fair, Sephirot could also have a place among these handsome men, but he's always in this kind of lists and we wanted to give other good-looking Final Fantasy characters the chance to shine. For example, we have the lovable Snow Villiers, arrogant leader of Team NORA and one of the most interesting characters in Final Fantasy XIII.
If you can say a man is handsome even if he dresses like a homeless bum, then he definitely deserves a spot in here! Snow is a blue-eyed, tall, blonde guy in his early twenties, generally sporting a stubble beard and a bandana. Aside from his questionable fashion choices, hyper-realistic graphics definitely make Snow a favor, and you can find enough screenshots and gifs over the internet to prove it!
---
3. Geralt of Rivia from The Witcher 3: Wild Hunt

System: Microsoft Windows, PlayStation 4 and Xbox One
Publisher: CD Projekt
Developer: CD Projekt Red
Release Dates: May 19, 2015
How can a man around a hundred years old compete with younger handsome guys and even beat them? Heck, how can a man with a nasty scar in the face beat some boys with perfect skin and beautiful traits? If you aren't able to answer this then you have to play The Witcher 3: Wild Hunt to find out! And no, the answer is not necessarily being a witcher, although it may have something to do.
There are many incarnations of Geralt if we look at all the adaptations this novel had, but there's a general consensus on this one being the hotter representation of our hero. Long ash-gray hair, a fully trained body (also full of scars) and a lot of hot scenes that show us how much do women desire him. Geralt is one of those men who got better with time, and being a part of one of the best video games out there adds many points to his cause.
---
2. William "BJ" Blazkowicz from Wolfenstein II: The New Colossus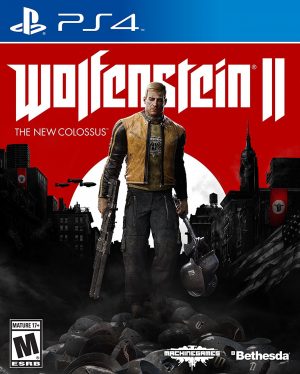 System: Microsoft Windows, Nintendo Switch, PlayStation 4 and Xbox One
Publisher: Bethesda Softworks
Developer: MachineGames
Release Dates: ___content4___
If killing Nazis became the go-to plot for a lot of Shooter games, we have to thank Wolfenstein 3D and all its sequels. Now that we have better graphics we also have to thank Wolfenstein II: The New Colossus for giving us the most handsome version of William Joseph Blazkowicz so far. And yes, we know that during the game he goes under a few "physical improvements", but how could anyone deny him as the hottest one-man-army ever?
For a game full of Nazi aspects, having a Jewish protagonist who also fits the idea of Aryan beauty may not be a coincidence. He's tall (when not in a wheelchair), muscular, blonde and has blue eyes. Eat that, Hitler! For everyone already falling in love with him, let us add that "Terror Billy" is happily engaged and playing this game will make that pretty clear. He wouldn't lose his head for any other woman, you know?
---
1. Leon S. Kennedy from Resident Evil 6

System: PlayStation 3, Xbox 360, PlayStation 4, Xbox One and Microsoft Windows
Publisher: Capcom
Developer: Capcom
Release Dates: Oct. 2, 2012 (PS3/360), Mar. 22, 2013 (PC), Mar. 29, 2016 (PS4, X1)
So who's the gorgeous man that every other video game male characters should be looking at? Well, it's none other than Leon Scott Kennedy, a Raccoon City rookie policeman turned zombie-killer who can easily defeat a horde or make ladies fall for him, whatever happens first. In Resident Evil 6, Leon works for the Division of Security Operations confirming his part as a fundamental cog in the Government's plans to end bio-terrorism, alongside fellow survivors of previous games.
Leon was already beautiful in Resident Evil 4, but his appearance in Resident Evil 6 is borderline perfection! Adding his confident attitude, his signature trendy haircut and a strong sense of justice, no wonder he confirmed himself as the most popular character of the franchise. Unfortunately, the RE saga is now exploring other horizons and Leon wasn't a part of the seventh game. Who else votes for this handsome man leading Resident Evil 8?!
---
Final Thoughts
Truth be told, it's nearly impossible to make this kind of rankings without being a little subjective, but we're sure that every man on this list has what it takes to be considered among the most beautiful men in gaming history. With so many options, we're pretty much sure that some other video game Adonis may have been forgotten. What about leaving a comment with your own top 10?