También puedes leer este artículo en:Español
As someone who was brought up in the UK, a walk around a forest was never a particularly rare thing. Venturing through the pillars of bark, there was always something new to explore as the light shone through the blanket of leaves. To put it short, forests are a magical place and for me in particular, bring back a sense of childlike wonder that just can't be recreated in so many other media. Anime rarely attempts to portray moments as photorealistic and through art, we find a new perspective on what forests mean to them and the majesty that they hide behind their branches. So, at the risk of diving into an anecdote, here are ten moments where forests enhance the experience.
10. Gin no Saji (Silver Spoon) - Episode 5

Episodes: 11
Aired: Jul 12, 2013 to Sep 20, 2013
Silver Spoon is an incredible series. Hitting the peak of the slice of life genre, this show builds up a familiar, yet foreign world that we can really get invested in. As those "darn city-folk", being introduced to a rural perspective, particularly in regards to farm-life can give the experience of culture shock, through the medium of narrative.
One of the highlights of Silver Spoon shows the members of the Boys Dormitory escaping into the forest, on their way to find a unique sight (Initially inferred to be aliens). However, the highlight of this moment isn't the punchline at the end where it's shown to be a particularly cool tractor, but rather the moments that lead up to this. Our protagonist, Hachiken has felt like an outsider from the very start, but this escape is one of his first moments of true camaraderie with his classmates.
Each of them stays back due to varying circumstances, urging everyone else to go on ahead and sacrifice the experience that they'd been preparing for all day. Of course, it's a funny scene and it's got great dialogue, but it's also heavily important to the development of Hachiken as an outsider.
---
9. Nanatsu no Taizai (The Seven Deadly Sins) - Episode 7

Episodes: 24
Aired: Oct 5, 2014 to Mar 29, 2015
Taking a step away from the light hearted comedy, let's move onto heartbreak. Nanatsu no Taizai is an action series that got muddled up. All of our characters have gone through their training, acquired their legendary weapons and achieved true strength… and lost it. Now, with their sights on redemption, they are prepared to get back what they lost. This means that the show is composed of many flashback opportunities to build context.
One such moment is when Ban recalls how he achieved invincibility. Up until this point, the characters and audience were combined in the opinion that he had achieved it through shifty means, something Ban never attempted to deny. However, when this scene in the Fairy King Forest is shown, our perspective on Ban changes completely. As a thief, he arrives at the Fountain of Youth with the intention of stealing it, until the protector of the Fountain stops him.
But Ban never resorts to violence and decides to stay at the Fountain, eventually becoming friends. Only when the fountain is attacked by a demon does Ban drink the water, but this time reluctantly and at the demands of the protector who gave her life. It's a strong scene and the development of their relationship is powerful and eventually heartbreaking as they're torn apart.
---
8. Hai to Gensou no Grimgar - Episode 1

Episodes: 12
Aired: Jan 11, 2016 to Mar 28, 2016
Those that are into MMORPGs will know the mechanics to a well fought battle. Synergy, teamwork, co-ordination. These are the elements that make up a victory for those who battle in a fantasy world. So to see Grimgar take a perspective on this that is built on incompetent human characters, it's interesting to see their attempts and be able to spot each of the subtle mistakes they make.
This is the scene that the audience is treated to from the very start of the show. To the sound of [K]_NoW_NAME's first track, this battle is both beautiful and terrifying as we watch through every clumsy motion. Ryosuke Nakamura's visual style is at its best within a forest environment and this painted aesthetic really comes alive as each motion plays out like a stroke of a brush. Goblins aren't your typical lifeless enemy and here, they are real beings who are fighting for their own lives and trying to achieve their own victories. It's a brilliant way to start off the show and whilst it may make for an uncomfortable watch, it's a valuable one.
---
7. Hotarubi no Mori e - Meeting

Episodes: Movie
Aired: Apr 15, 1988
Hotarubi no Mori e is one of those brilliant short films that we just don't get often in anime. Usually our options are constricted between either feature length films or TV productions, but at 40 minutes, this supernatural shoujo film is something that shouldn't be missed. As a romance story, we follow Hotaru through her life and her encounters with the supernatural Gin.
Gin finds a six year old Hotaru lost in the forest and quickly befriends the eccentric girl as Gin introduces himself as a spiritual entity that can only remain on Earth as long as no human ever touches him. It's a sweet idea for a romance film and this scene deep in the forest offers the premise to a relationship that is destined to never work out.
---
6. Tonari no Totoro (My Neighbour Totoro) - Inside the Tree

Episodes: Movie
Aired: Apr 16, 1988
As a Studio Ghibli classic, My Neighbour Totoro is a spiritual adventure that never fails to impress after countless rewatches. When the Kusakabe family move into an old house in the middle of the forest, they encounter a variety of spiritual beings that eventually help the kids visit their mother. As the figurehead of the spiritual bunch of characters, Totoro stands tall as the silly lump of fur that is always trying to help those that pay it kindness.
Unable to retain her curiosity, Mei explores the forest, following magical creatures until they lead her deeper into the forest and inside the trunk of a tree. Here, Mei lands directly on the huge belly of Totoro, a creature so large that any scrap of sanity would cry, "Run away!" But after learning his name (Or rather giving one to him), Mei befriends the creature. But despite the fact that she can't find him immediately after, he always returns when she needs him most.
---
5. Piano no Mori - The Piano in the Forest

Episodes: Movie
Aired: Jul 21, 2007
For fans of the old Studio Madhouse where auteurs were aplenty, Piano no Mori is the perfect film to bring up as a representation of one of Masayuki Kojima's best. Piano no Mori is the story of an unlikely friendship and passion between a boy who dreams too much and a boy that doesn't dream enough.
After Shuhei is forced to go deep into the forest and play the cursed piano, Kai joins him, attempting to prove that there is nothing wrong with the piano at all. However, after Shuhei attempts to play the piano and delivers no sound, Kai moves in and tries it himself. The result is a brilliant piece that spreads throughout the forest, despite Kai not knowing how to play the piano at all. It's the premise to a friendship born around the music and a new passion as they decide to achieve their dreams together.
---
4. Shingeki no Kyojin (Attack on Titan) - Episode 21

Episodes: 25
Aired: Apr 7, 2013 to Sep 29, 2013
2
Onto more action-packed moments, Attack on Titan delivers with an explosive duel on a titanic scale. This immensely popular action thriller series gave viewers the opportunity to enter a world from the perspective of those that live in fear behind colossal walls from the beasts that lie beyond. With a 2 cour season, several OVAs, 2 movies and its own spinoff series, Attack on Titan reached a global scale in terms of its popularity, appealing even to an audience unfamiliar with anime, but could get attached to the Hollywood action that the series provides.
One such moment of Hollywood action is this particular scene and every moment is set alight as debris fly out with every blow. To the epic music of Hiroyuki Sawano, this scene in the oversized forest is particularly brilliant, providing the climax to the arc and showing the importance of Eren's titan powers within the Recon Squad. The battles between titans were highlights within the show and we can expect a lot more in the second season.
---
3. Berserk - Episode 13

Episodes: 25
Aired: Oct 8, 1997 to Apr 1, 1998
There's one moment early on within Berserk that truly establishes the extent of Guts' character. Berserk is a dark fantasy showcasing the events that transpire perhaps the most unfortunate man in the world. Every stage of Guts' life is wrapped in tragedy and with his enormous sword, he takes any opportunity to return some of that grief to the world.
The iconic scene where Guts slays 100 men isn't one of glory. There's no hi-fiving or celebration to be had as Guts exhaustingly slays an entire group of knights to protect Casca. Guts has always been portrayed as a powerful character, but this is was the first time we'd really seen him stretched to his limits, a trend that continued later in the show as Guts became more and more powerful.
---
2. Ookami Kodomo no Ame to Yuki (Wolf Children) - In the Snow

Episodes: Movie
Aired: Jul 21, 2012
In the much less brutal Wolf Children, Mamoru Hosoda portrayed family in one of the most unique ways in anime. In this film, Hana must deal with looking after and protecting her two half-wolf children as a single mother. It's a story that is both heartbreaking and heartwarming at the same time as her children forge their own paths in life, thanks to the support of a mother who didn't give up no matter what.
This scene is one of the moments where we really see Hana getting involved in her children's life as they tumble down a snowy hill together. It's a big break from the stressful scenes prior where the family were trying to get used to a life in the country and offers a nice moment before further problems arise later on. The forest played a large part within the film, offering a chance for the children to be themselves and eventually became more significant later on as the children decide their future.
---
1. Mononoke Hime (Princess Mononoke) - The Forest Spirit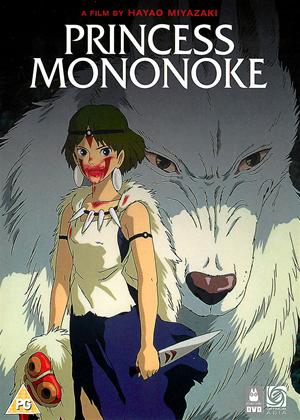 Episodes: Movie
Aired: Jul 12, 1997
Princess Mononoke still remains my favourite Ghibli film and it offered a perfect balance of environmentalist messages alongside spiritual and traditional themes. It's very much one of Miyazaki's darker works with various brutal moments throughout in this battle between man and nature where there's no real villain. There's a huge variety of scenes to be selected here and this list could very well be transformed into "Top 10 Impressive Forest Scenes That Just So Happen To All Be Princess Mononoke".
But as an animation fan, I have to select the extraordinary debut of The Forest Spirit, animated by Makiko Futaki. As the symbol for nature itself, The Forest Spirit is a truly majestic entity, looking back at us with a human face until it goes on a rampage and becomes something as far away from "human" as possible. It was around this moment that the protagonist Ashitaka's place in the story became clear as he works to protect both the forest as well as the humans and settle a dispute based on fear of the unknown.
---
So these are my favourite forest scenes in anime. Forests can allow for new meaning and purpose within scenes or occasionally just allow for a nice backdrop. Whether it's the detailed backgrounds of Studio Ghibli or the visual expression of Ryosuke Nakamura, this setting lets creators shine as they begin to recreate one of the most beautiful parts of nature. Let me know your favourite forest scenes in the comments below.
---