With back to school season in full swing, it's impossible not to feel nostalgic for school days gone past; the nervousness of seeing folks after a summer, nay, a lifetime apart, the excitement of seeing which of your friends are in your classes, the greasy cafeteria food. But let's be real; normal public school, no matter the country, can't compare to the glamorous, ridiculous, overly-sexy, sometimes outright dangerous educational institutions in our favorite anime. For the following ten schools, making the honor roll is often times the least of your concerns.
10. Ouran Academy – Ouran High School Host Club

Episodes: 26
Aired: April 2006 – September 2006
Who among us doesn't look back on high school and wish our experiences had been a bit more sophisticated, a bit more refined, a bit more… classy? At Ouran Academy, a prestigious Tokyo institution home to the heirs of Japan's upper crust, family lineage and economic standing are the social currency. The question isn't who you are going to go to the dance with, but rather, who are you going to invite to the private ballroom gala your family is throwing next week? Glamourous extra-curricular activities aren't just a family affair, as proved by the unconventional Host Club, a weekly-themed after-school hang out where girls swarm to find the perfect man (in most cases) to keep them company.
If, somehow, you aren't the scion of a multinational conglomerate, then you better study up. If you score high enough on your entrance exams, like young braniac Haruhi, you might win one of their coveted academic scholarships.
---
9. Ooezo Agricultural High School – Silver Spoon (Gin no Saji)

Episodes: 22
Aired: July 2013 – March 2014
If you're a tactile learner who enjoys a more experiential education, and loves animals, then look no further. Set in the idyllic isolation of Japan's northernmost island, with beautiful mountain vistas and fields as far as the eye can see, Ooezo is the school for you. At Ooezo, the time students spend outside of the classroom is just as important as time spent inside, because, as unwitting attendant Hachiken finds out, it's all about learning through doing.
They offer a variety of courses related to (you guessed it) farm life; from animal husbandry, veterinary studies, farm management, and food processing, there are plenty of ways to get your hands dirty. And the myriad clubs the school offers might seem a little unconventional (we're looking at you, Holstein Club), where else are you going to be able to ride horses and cultivate your own cheese?
Just try not to think too hard about where the bacon you have for breakfast comes from.
---
8. Cromartie High – Cromartie High School

Episodes: 26
Aired: October 2003 – March 2004
For those of you who are tough as nails, looking to prove you're the king of the animal kingdom that is high school, Cromartie High will feel like home. For those of you who aren't, just keep your head down and try not to make eye contact (especially with Gorilla). Gone are the conservative dress codes (Mohawk and leather, optional), strict codes of social and classroom conduct, and emphasis on academic performance.
But in exchange for the uneasiness that the constant threat of physical bodily harm causes, you'll be sure to make plenty of, ahem, colorful friends; would-be comedian Kamiyama, robo-brothers Mechazawa, an older-looking student who is sure to remind you of the lead man of a legendary 80s rock band, and many more. Who needs a future with friends like those?
---
7. Holy Forest Academy – Great Teacher Onizuka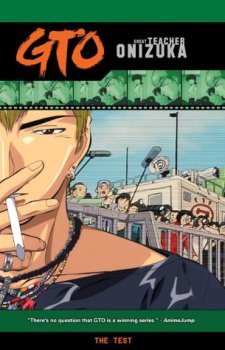 Episodes: 43
Aired: June 1999 – September 2000
Although not known for having the greatest track record with its previous teachers, Holy Forest Academy really turned its reputation around with the arrival of unorthodox teacher Eikichi Onizuka. Although it's located in the Tokyo suburb Kichiijoji, Holy Forest is home to rather mischievous student body, to say the least.
This school is perfect for those of us who have a hard time facing our demons; regardless of how tough a nut you are to crack, Onizuka's particular brand of tough love is sure to help you realize your potential and start loving yourself for who you really are. After all, a quality education begins on the inside.
But please, don't let your mother go the parent teacher conferences.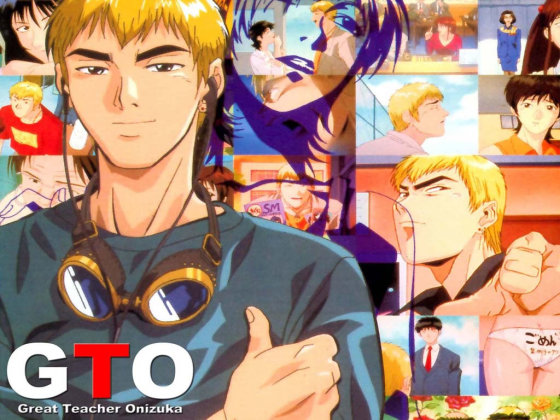 ---
6. Ayami Academy – Strike the Blood

Episodes: 24
Aired: October 2013 – March 2014
Ayami Academy is the perfect school for anyone interested in a more unconventional education. Located on a man-made island off the coast of Japan, in the aptly named "Demon District" of Itogami City, the school is home to students who put the "body" in "student body," and are all rather special.
Too often people find themselves looking back on high school, thinking about times gone by and things they would do different, or better. Ayami Academy tosses this impulse out the window, thanks in no small part to the fact that most of its students are supernatural creatures that don't age. If you'd rather learn how to master your god-like vampiric abilities, how to cast magic spells, or how to properly control your legions of familiars, instead of algebra, then this is the school for you. Just be careful which social circles you choose to run in, because if you make the wrong choice, it might come back and bite you.
---
5. Totsuki Academy – Food Wars! Shokugeki no Soma

Episodes: 24
Aired: April 2015 - Ongoing
High school doesn't have to be strictly about an academic education; sometimes it's better to go to a trade school and learn a valuable practical skill for your future. Totsuki Academy is the perfect place for those who think that the easiest way to someone's heart is through their stomach. You'll learn all sorts of cutting edge and classical cooking techniques, and regularly put your skills to the test.
But much like the culinary world in real life, Totsuki Academy is not for the faint of heart. With a 90% failure rate of its student body, and a faculty with palettes so refined they scare away most prospective students, attendees must be willing to pour their hearts and souls into the dishes they create, just like hot shot freshman Soma Yukihira. With a lot of hard work, and a little bit of luck, you might be able to create a dish that blows their socks (and the rest of their wardrobe) off.
---
4. North High School – The Melancholy of Haruhi Suzumiya

Episodes: 28
Aired: April 2006 – October 2009
North High seems like a nice, if average, high school to attend. But once you've settled into your classroom routine, why not check out the extra-curricular possibilities? If you're feeling adventurous, the SOS Brigade is right for you.
Short for "Spreading Excitement All Over the World with Haruhi Suzumiya" Brigade, members find themselves, led by charismatic seeker of the supernatural Haruhi, seeking out answers to otherworldly phenomena and mysteries, from aliens and spirits, to time travel and robots. Once you've gotten to know your fellow members a little better, you might realize that things are a lot weirder than you thought, a lot closer to home.
Make sure to keep your energy as high as possible, and to keep things exciting. Haruhi gets some strange ideas when she's bored.
---
3. Suimei University of the Arts – The Pet Girl of Sakurasou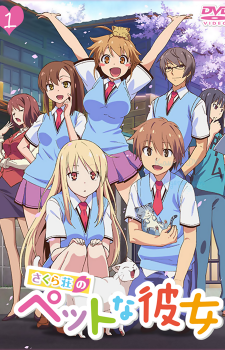 Episodes: 24
Aired: October 2012 – March 2013
High school is a time for young people to start really figuring out the type of person they hope to become, in between stressful exam periods and college searches, as well as sporting and social events. If you're more of an ambitious creative type, there's no better place to get a jump start on your future and blossom into a truly independent person than as a resident of the Sakura Dormitory while attending the high school affiliated with the Suimei University of the Arts.
Sure, some of your neighbors might seem weird, like cat-obsessed Sorata Kanda, and his brilliantly talented but woefully incapable de-facto ward, Mashiro Shiina. But once you get below the surface and get to know them for who they really are, you'll learn a lot about yourself, and about life. Watch out for the dorm supervisor, Chihiro. They think she has a drinking problem, and she might try to hit on your dad.
---
2. Sanada North High/"Funky Girls" High – Daily Lives of High School Boys

Episodes: 12 (+8 pilot episodes)
Aired: January 2012 – March 2012
Part of the appeal of attending a high school in an international environment is how different it can be from your own personal expectations. If you're looking for a quintessential Japanese high school experience, then look no further than the Sanada school system. While you won't encounter any aliens, or super-powered demonic classmates here, you'll feel right at home as you acclimate yourself to the hilarious social pratfalls of day to day life in Japan.
Trying to navigate the complex and anxiety-inducing high school social ladder leads to embarrassment more often than you'd think. Although some of your classmates might seem skeevy at first, once you get past their weird nicknames and get to know the real people underneath, you'll be happy you did. But try not to get in fights with the girls…some of them have a tendency toward violence.
---
1. Honnouji Academy – Kill la Kill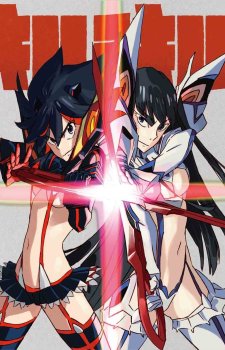 Episodes: 24
Aired: October 2013 – March 2014
Now, for something completely different. If you've a blood-hungry high schooler on the hunt for your father's murdered, the Tokyo-area Honnouji Academy is the place for you. Join up with transfer student Ryuko Matoi on her search for justice. Grab your weapon of choice and don one of the school's "Goku Uniforms," woven from a special material known as Life Fiber, capable of giving even the wimpiest high schooler superhuman martial prowess, and get ready to brawl.
Outside of its terrifying student council, there are a few things attendees need to watch out for. Nudist Beach sounds like a great place, but one run in with this militant organization will have you wondering about more than just their bizarre name. And make sure you take your uniform off daily, before it reveals itself as a human-devouring alien. You'll have to do more than make the honor roll if you hope to make it to graduation here.
---
I hope this selection of anime-based high schools has filled you with school pride and back-to-school spirit. Are there any schools that you would take even the most rigorous of entrance exams for that I neglected to include in my list? If there's a particular institution that you'd like to become student council president of, sound off in the comments and let everyone know.
---