Some of the best gaming memories we have here at Honey's Anime come from childhood. Games like Crash Bandicoot, Super Mario 64, Pokémon Red/Blue, and The Legend of Zelda: Ocarina of Time were some of our first experiences with video games. These early games were vital in creating a love of gaming in us early on, a love that would continue on even as graphics improved and video games became more expensive.
Of course, many of our own early childhood games are difficult to find nowadays, especially if you didn't save any of the consoles from the past! And if you have kids yourself, you may be wondering, what are some good video games to introduce my own child to? Fear not, for we at Honey's Anime have options for the kids in your life! The video games on our list are designed to introduce children to the excitement of gaming, all with a lighthearted feel. Games should be for people of any age – although some are certainly designed for a younger audience!
10. Yooka-Laylee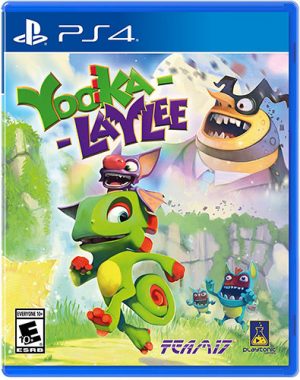 System: PS4, XBO, Nintendo Switch, PC
Publisher: Team17
Developer: Playtonic Games
Release Dates: Apr. 11th, 2017
A game that is sure to entice nostalgia for some, Yooka-Laylee was designed by the same people behind Banjo Kazooie and the Donkey Kong Country games. Compared to many platformers, this tale of friends Yooka and Laylee is relatively relaxed, although it still boasts gorgeous graphics and a number of challenging puzzles. Yooka-Laylee is a modern take on a classic style of game, bringing in many different worlds, characters and an overall epic adventure.
What makes this game so great for a younger audience is its easy introduction into the world of platformers. Yooka-Laylee provides the same sort of game that we all grew up with, combined with more modern graphics and excellent characters to draw kids into this genre. It's an experience in 3D platforming that every kid should have!
---
9. Arms

System: Nintendo Switch
Publisher: Nintendo
Developer: Nintendo
Release Dates: Jun. 16th, 2017
While there are many games now that boast the ability to get people up and moving, none are quite as entertaining as Nintendo's newest venture, Arms. Like a real-life boxer, gamers are encouraged to fight one another in head-to-head combat. There are plenty of different characters to choose from, each with their own advantageous abilities. While this is not the first live-action fighting game to be released by Nintendo, Arms has the unique aspect of Switch portability to make this game stand out.
For kids who shouldn't experience the graphic nature of mature fighting games, Arms is a great alternative for a younger generation. Not only does this game offer a chance for players to move around, they are also encouraged to share the game with friends. Arms brings a feeling of classic arcade gaming in this way. This game is certainly one of the best gaming options for kids who like to move around!
---
8. Poochy and Yoshi's Woolly World

System: 3DS
Publisher: Good-Feel
Developer: Nintendo
Release Dates: Jan. 19th, 2017
Poochy and Yoshi's Woolly World is a port of the original Yoshi's Woolly World for Nintendo's 3DS system. It is based on the older versions of Yoshi's Island and other Mario games, as a platforming adventure. The adorable yarn versions of Yoshi and Poochy are a definite draw to the game, along with the unique style of graphics overall. As you control Yoshi and his friends through their adventures, you will help the Yoshi tribe try to defeat the evil wizard Kamek. While the setting may be familiar to many of us, Poochy and Yoshi's Woolly World is an excellent way for new gamers to delve into this style of game.
Poochy and Yoshi's Woolly World is another good introduction to platforming. Being one of a classic series of games, this specific game can be a gateway to the rest of the Mario and Yoshi franchise. Woolly World is unique enough to make players fall in love with its whimsical style, yet challenging enough that it won't bore too easily.
---
7. Kirby's Epic Yarn

System: Wii
Publisher: Good-Feel, HAL Laboratory
Developer: Nintendo
Release Dates: Oct. 14th, 2010
When Kirby eats the wrong tomato, he is thrust into an unusual land where everything is made of yarn! The evil sorcerer Yin-Yarn banishes Kirby to this strange land, called Patch Land, where Kirby's abilities to swallow enemies and gain their powers becomes useless! Kirby must travel through Patch Land, gathering seven pieces of magic yarn in order to help Prince Fluff and get himself back to his own world. But without his abilities, how will Kirby find his way to freedom?
Similar to Yoshi's Woolly World, Kirby's Epic yarn has a lot of the same qualities that make it appealing to younger players. It also has an added bonus of introducing kids to the world of Kirby, a classic character who is beloved by many gamers. This is another wholesome game that would be great for a younger audience!
---
6. Mario Kart 8

System: Wii U, Nintendo Switch
Publisher: Nintendo
Developer: Nintendo
Release Dates: May 29th, 2014
Mario Kart 8 is the newest incarnation of Mario racing games. Mario, Luigi, Princess Peach and all their friends compete with one another for the first place trophy (and bragging rights). All the classic stages have returned, including the infamous Rainbow Road. With a few new stages and mechanics to improve the game, Mario Kart 8 is a great new adaptation of the classic game we all love.
Being the newest in the Mario Kart series, Mario Kart 8 is a great choice for new players to get into racing. The mechanics are fairly easy to learn, and the basis of the game is straightforward in itself. Obviously, Mario Kart is more entertaining to play with family or friends, but the online features with Mario Kart 8 give kids without immediate options a chance to enjoy the experience as well. For players who want to get into a racing game, Mario Kart 8 is probably the best video game out there!
---
5. Pokemon Ultra Sun/Moon

System: 3DS
Publisher: Game Freak
Developer: Nintendo, The Pokémon Company
Release Dates: Nov. 17th, 2017
The newest video game on our list, Pokémon Ultra Sun/Moon is a new adventure in the Alolan setting. Much of the story has similar characters and events. However, the improvements that Nintendo has made to these games make them well worth the purchase. There are brand new villains, events, and Pokémon just waiting to be discovered!
Pokémon is always a franchise that kids love getting to know. With a multitude of things to do and Pokémon to catch, there's a different way for each player to create their own experience. Pokémon Ultra Sun and Ultra Moon are brand new games with a fun story and great morals, which make this series an excellent choice for newcomers to get involved quickly. It won't be long before your children are Pokémon masters themselves!
---
4. Yo-kai Watch

System: 3DS
Publisher: Level-5
Developer: Nintendo, Level-5
Release Dates: Jul. 11th, 2013
In Yo-kai Watch, you must befriend the Yo-kai that haunt the city. Often, the Yo-kai in this game are similar to versions of real lore surrounding Yo-kai. However, they will have small twists in their character or personality that make them slightly different. If you are able to befriend a Yo-kai, you will be able to summon them through your special watch. You must then use the Yo-kai you have befriended to help you complete other tasks or fight off other Yo-kai threatening the city.
Yo-kai Watch is an adventurous game with plenty of characters to get to know! It's action-packed, but still at a relaxed level, easily comparable to the Pokémon series in terms of storyline. Yo-kai Watch is one of the more popular games among kids, and it's easy to see why, with such an interesting premise and plot!
---
3. Super Mario Odyssey

System: Nintendo Switch
Publisher: Nintendo
Developer: Nintendo
Release Dates: Oct. 27th, 2017
Super Mario Odyssey is a love letter to the original Mario games from our childhood, like Super Mario 64. A platforming adventure with a bit of a blast to the past, Mario sets out once again to rescue Princess Peach from Bowser. Working his way through various levels and different settings, Mario must collect moons to help him continue on and eventually rescue his princess. Super Mario Odyssey is truly a great video game, with hours of entertaining platforming levels for players to traverse through.
For those of us who grew up playing through Super Mario 64, Super Mario Odyssey is one of the best new twists on that same iconic game! It is just as infuriatingly frustrating, all while being completely addicting. And for kids who have never experienced the joy and anger behind a classic Mario game, Super Mario Odyssey gives them a chance to feel all of those emotions and more as they guide Mario to find moons. It is one of the best platforming games to introduce children to this style of genre.
---
2. Splatoon 2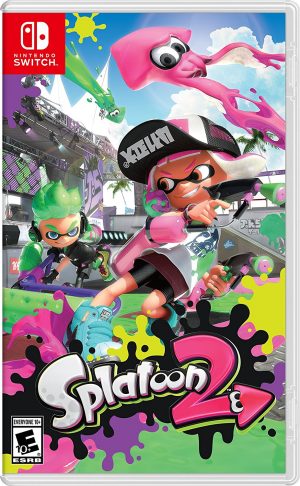 System: Nintendo Switch
Publisher: Nintendo
Developer: Nintendo
Release Dates: Jul 21st, 2017
One of the best team games made by Nintendo, Splatoon 2 is a shooter with a twist. Instead of shooting guns with bullets, players shoot colors onto the game area. Not only does this add points to your team based on the amount of color coverage in the area, it provides an advantage to your team in terms of mobility and sight during the battle. If you and your team work together well and plan out which characters to fight with, you will see a lot of success in Splatoon 2!
Splatoon 2 is a great introduction to shooters for the younger generation. Not only is it more relaxed and less graphic than games like Call of Duty, it's easier to manage the system and learn strategy for the battles. Splatoon 2 is also a fun game in its own right, and can be really addictive once you get the basics down!
---
1. Minecraft

System: PC, XB360, XBO, PS3, PS4
Publisher: Mojang
Developer: Mojang
Release Dates: Nov. 18th, 2011
Minecraft is iconic for its graphics and its unique style of game. A survival game unlike any other, Minecraft allows players an open world setting, with a crafting system that offers almost infinite possibilities. Players can build their own homes and buildings, fight off the dangers of the night or the Nether world, grow their own food and raise their own animals, and explore the vast lands around them. Minecraft really does offer an infinite number of options for gameplay, and with multiplayer servers, finding something new to compete in is easy!
Kids are often touted for having strong imaginations. Minecraft is the perfect outlet for the imagination, with no one's experience being the same as another person's. There's a reason that Minecraft is arguably the most popular game among kids today! And with something for just about everyone to enjoy, this game is a pretty safe bet for entertaining most children.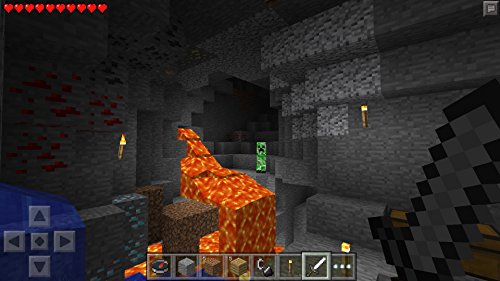 ---
Final Thoughts
Although the majority of the games on this list are from Nintendo, there are plenty of other games that kids might enjoy by other companies! The high number of Nintendo games on our list simply stems from the fact that Nintendo is a company well-known for creating games specifically for a younger generation, and doing an extremely good job of it. Even games which might seem less exciting for kids, like Animal Crossing, end up being very successful because of the way that Nintendo executes their games and maintains updates for them. And of course, just because a game is made for kids, it doesn't mean that others can't enjoy it as well!
So what do you think of our list? Are there any other games you might have included? Let us know in the comments section!
---