Here at Honey's we love recommending anime, and we also love seeing people starting their own otaku journey, so how could we miss a chance to recommend anime for kids? Watching anime could be a great experience if you find a deserving show, and there's a reason for most of us falling in love with anime while in our younger years. So, are you looking for some anime recommendations for kids? Look no further! Here's a list of 10 good shows for kids of all ages, and with a good variety of genres. Enjoy!
10. Idol Time PriPara

Episodes: 51
Aired: April 2017 - March 2018
Prism Paradise, better known as PriPara, is a well-known franchise in the anime world, but you don't have to be a girl to enjoy idol adventures. In fact, to better understand the last iteration, Idol Time PriPara, you don't even need to watch all of its seasons... although it has a few connections for long-time fans.
This shows always revolve around little girls dreaming of being famous idols, and this time the main character is Yui Yumekawa, who with the help of Laala Manaka —former main character— is about to discover the true meaning of being a star. With Laala unable to use her full magical powers, now is Yui's time to shine and demonstrate that girls can be idols too. Comedy, music and all things cute converge in Idol Time PriPara!
---
9. Pikaia!

Episodes: 13
Aired: April 2015 - July 2015
Do you consider the idol industry to be something frivolous? OK, then let's move on en talk about something more relevant as protecting our own planet. Pikaia! is a good show for kids as it's entertaining and educative in equal parts, with the addition of having a cute pet leading the adventure. You've probably seen a lot of stories starring dogs, cats or birds... but a pikaia can also steal the show!
Pikaias are extinct in reality and so is planet Earth at the start of this anime. It is the distant future where people live in space colonies, but researchers are still interested in discovering more about the Earth, thus creating the Cambrian Project with the objective of finding the Lost Code to return the planet Earth to the Cambrian era, where pikaias happened to live. With Vince, Hana and their pikaia as protagonists, this is a very good educational anime for kids.
---
8. Monster Hunter Stories: Ride On

Episodes: 75
Aired: October 2016 - April 2018
Based on Capcom's famous Monster Hunter video games, Monster Hunter Stories is a spin-off game for kids where you don't get to hunt and kill monsters but to tame, ride and befriend them. To promote the said game, there's also Monster Hunter Stories: Ride On, a fairly long anime series targeted for kids and full of adventures, colorful landscapes and all kinds of monster animals.
This is a world where kids turning 12 can finally undergo a ritual in order to become Riders, people with such a strong bond with monsters they're able to mount them. While Ryuto has always dreamed of this moment, fate comes a little bit earlier and so he finds a mysterious egg. Along with Cheval, Lilia, and Navirou, Ryuto is just about to start his journey of becoming the best Rider that ever existed.
---
7. Captain Tsubasa (2018)

Episodes: 52
Aired: April 2018 - ongoing
Captain Tsubasa is one of the most famous sports anime ever, and every 4 years the FIFA World Cup reignites that love we have for Tsubasa and friends. In this case, the World Cup was also the perfect reason to remake the first arcs with a fabulous story and up-to-date animation, and kids from newer generations can finally feel what we did more than 20 years ago.
Unlike the 2002 version, where Tsubasa was playing the World Cup in this alternate anime universe, Captain Tsubasa (2018) retells the story of Tsubasa Oozora and how he fell in love with football. From his arrival to Nankatsu city to his rivalries and friendships, where we find Genzou Wakabayashi, Kojiro Hyuuga, Tarou Misaki, and all the players that forged our childhoods. Believe us, this remake is as good as the original run.
---
6. Cardcaptor Sakura: Clear Card-hen

Episodes: 22
Aired: January 2018 - June 2018
Another anime from our childhoods that now tries to capture new fans is Cardcaptor Sakura, but this time we're not talking of a remake but a continuation of the story we all know and love. Sakura, Keroberos, Syaoran and all our beloved characters are back in action, even though Sakura Cards are now useless and the Clear Cards are wreaking havoc in Tomoeda.
The Clear Card arc brings us a few new faces too, like Sakura's new friend and classmate Akiho Shinomoto, her pet Momo, and her caretaker Yuna D. Kaito. Although it's nowhere near as good as the original series, Clear Card-hen still has the same essence, and kids will love discovering the magical world of Cardcaptor Sakura without the real need of understanding what happened before.
---
5. Cardfight!! Vanguard (2018)

Episodes: Unknown
Aired: May 2018 - ongoing
Trading card games are quite popular in Japan, so kids loving anime based on TCG should not surprise us anymore. In fact, most of you will probably remember the likes of Yu-Gi-Oh! and Duel Masters, but once those started to fade out, the game that took the crown is Vanguard. Although the story is nothing out of the ordinary, Cardfight!! Vanguard is a huge franchise itself, and there's a reason for it.
Cardfight!! Vanguard has everything a successful shounen anime should have: passionate characters, cool battles, an enjoyable mix of comedy and action, and life lessons like the power of friendship or hard work finally paying off in the end. If you are OK with kids watching anime made to promote merchandising and then asking for cards as Christmas or birthday presents, then Cardfight!! Vanguard is the way to go.
---
4. Kemono Friends

Episodes: 12
Aired: January 2017 - March 2017
Kemono Friends is the story of a little girl who got lost in an enormous safari park... but don't worry, she won't be running for her life surrounded by wild animals trying to eat her. In fact, Japari Park is the home of cute animal-inspired people who are helpful enough to take care of the new visitor, while searching for any clue about the girl's origins.
Animal people here are called Friends, and they are born thanks to a thing called Sandstar that comes out of a volcano. Are you in for some mysteries and moe girls? Kemono Friends may be an anime based on a video game, yes, but it has an enviable cozy feeling too. If you want to surprise yourself and entertain children at the same time, go ahead and give Kemono Friends a chance. There's a reason it was the most popular anime of the Winter 2017 season!
---
3. Mahoujin Guruguru (2017)

Episodes: 24
Aired: July 2017 - December 2017
Video games are great for kids, but a classic JRPG like Dragon Quest, Final Fantasy or Chrono Trigger can be too difficult for children to beat and understand. So, how about enjoying a marvelous JRPG-like quest in the form of an anime? Right, we already recommended Monster Hunter Stories: Ride On, but this is a show full of retro-style references and jokes. Like going back to the nineties!
In Mahoujin Guruguru, Nike and Kukuri are two kids starting the adventure of their lives: trying to save the world by defeating the awakening Demon King. Oh, but don't get us wrong, because this is not a show about being cool or serious! This anime is full of funny, sometimes bizarre yet intelligent gags, coming at you one after the other. There's no much anime series like Mahoujin Guruguru anymore, so this remake is definitely something any kid must watch.
---
2. Pokémon Sun & Moon

Episodes: Unknown
Aired: November 2016 - ongoing
After traveling and battling for years, Ash follows his mother on a trip to the paradisiac Alola region, a set of islands apparently inhabited by strange pokémon. After discovering this, Ash and Pikachu settle in the islands to assist a Pokémon School, where they and fellow classmates will learn a thing or two from Professor Kukui. However, Ash has us accustomed to his extraordinary luck to find legendary pokémon, and this will not be the exception!
Sun & Moon is very colorful and funny, and it certainly has few things in common with the previous seasons. Here you won't find gym battles but some kind of island challenges, where battling is not always involved. With a fair share of new monsters and some of our old friends looking particularly different, Pokémon's reinvention may seem like a controversial decision, but it's still a great chance for kids to discover one of the world's bigger franchises in anime.
---
1. Boku no Hero Academia

Episodes: 13
Aired: April 2016 - June 2016
With its third season currently airing, Boku no Hero Academia is one of the best shounen anime you can find. It follows the story of young Izuku Midoriya, a boy living in a world where almost everyone has some kind of superpower... everyone but him. Still dreaming of becoming one of the world's best heroes, Izuku never abandons his hopes and one day he meets by chance with his long-time idol, All Might, who saves his life and becomes his mentor. Well, this is just a short version of what happened that day, anyways!
A powerless boy becoming the very best hero is nothing new, but Izuku's story has a lot of highs and lows to make us get excited. He's not only a quirkless hero —"quirk" being how superpowers are called in the show— dreaming big, he's also the only quirkless student in the best superhero academy there is. Comedy, an emotional story and a lot of heroes and villains continuously fighting! Boku no Hero Academia in the animated, Japanese version to comic book heroes, and that's why we recommend it as the number one anime for kids.
---
Final Thoughts
While looking for a good anime for kids, there's a lot more than Ghibli movies and similar stuff. Another option for parents and elder siblings tends to be searching for old series that amazed us decades ago, but it doesn't mean that children nowadays would enjoy anime with an old-fashioned style.
This article tries to show you that there are still great anime shows for kids in recent years, and most of them have dubbed versions! So, have you found something interesting to watch with your kids? What other anime can you recommend for people in a similar situation? Feel free to leave us a comment, and thanks for visiting us!
---
---
I'm starting with an inevitable question: Until what age is someone considered a kid?. Seems the older people get, the more juvenile everyone younger than yourself looks. Remember the early days when you sat down in front of your TV watching anime shows? Maybe your relatives would often remind you that you would "grow out of" those "cartoons" for children? Yeah… nope. To give them some sort of credit, SOME of the anime we watched were really kind of childish and those are the anime I would like to mention in here.
The anime genre for kids is also called Kodomomuke, a Japanese word meaning "directed at children" and often include anime like Anpanman or Crayon Shin-chan. But as my personal opinion, kids don't stay that simple-minded for long. In this list, the target audience will be kids around the age of 5 to 13. I'll be choosing a mix between old and new anime as well as shows whose target audience lean towards girls or boys. These anime won't necessarily be classified under the kid genre, but they are enjoyable "kid-safe" series that are as qualified as a Kodomomuke. I hope to help anime-loving parents and siblings to guide the little ones down the correct path!
10. Doubutsu no Mori (Animal Crossing)

Episodes: Movie
Aired: December 16, 2006
Kids love watching movies over and over, I should at least include one on the list for them! What is better than one based on a game everyone loves? As you know, Animal Crossing was a hit game for the Gamecube and it's still rocking on the 3DS.
The anime starts just like in the game, a young girl named Ai moves into a new town called Animal Village. The village's name couldn't be more suitable as every resident is a cute animal… yes, this means furries! Anyways, Ai is very determined to fit in and tries to befriend everyone while working for the local delivery service and trying to help everyone as best she can. She's at the point in her life where she's trying to discover her purpose in life while building long term friendships and a healthy neighborhood life.
Why it's good for kids:
Children love animals, right? Here they enjoy energetic animal characters who all have different personalities. They learn from them that not everyone is the same but you can love and accept everyone for who they are. It teaches them the value of searching for their own talents and if they want a wish granted, they should work hard for it and it will be fulfilled. The plot is easy to watch, and very straight to the point; bright colors catch the eyes of younger children while the story may have a good impact on older ones. You can even introduce your child to the world of gaming with Animal Crossing!
---
9. Shirokuma Cafe (Polar Bear's Café)

Episodes: 50
Aired: Apr 5, 2012 to Mar 28, 2013
More furries! Well, in this show, animals are 100% loyal to their real form but they talk and… well, run a café. Polar Bear's Café is an adorable anime not only children should be watching – it's fun for everyone! It doesn't quite fall into any one category, but it's like an animal Slice of Life. It's about… you guessed it: a polar bear called Shirokuma and the café he runs near a zoo. The show is often stolen by the lazy customer Mr.Panda and talkative Mr. Penguin. Mainly the show focuses on what happens at the café and the zoo on a daily basis as well as on the characters who all seem to have personalities matching their real animal nature.
Why it's good for kids:
Kids can enjoy the well-designed animal characters in the series.They can learn about different wild animals, what they eat and like, very informative! The animals show the importance of work and providing good service with a friendly working atmosphere and even how to make coffee. It briefly touches on romance, family values, and many jokes! At times, Shirokuma plays a word game where they learn many new words, and this also works wonders for those studying the Japanese language. The music is very lively and fresh! Children could easily sing along to the many intro and ending songs.
---
8. Show By Rock!!

Episodes: 12
Aired: April 5, 2015 to June 21, 2015
Uh? More furries? I swear, it's called anthro in this case! But yeah, this also has some strange CG of full-on furries at times.
It's about a girl named Cyan and the all-girl rock band she joins. No, no one is talking about K-ON! These girls jump into a crazy digital world where they transform into cute animals while they battle monsters with the power of music. Once the fight is over, they transform into even cuter anthros in an alternate version of the digital world. There's sexy anthro guys in here as well! Cyan's guitar talks! And the band manager is an egg with a mustache! Yes, it's all over the place and it's kind of random but it's what sets it apart from the regular girl-band anime.
Why it's good for kids:
It's good for pre-teen girls that left behind the idea of being princesses and now want to get more into music. The music is actually not bad and it's rock + moe! Usually pre-teens secretly want to make a rock band at some point; this is one way to get them hyped. It's not too plot-based, and is fun to watch and introduces the viewer to J-Rock and Visual K. Thanks to the different bands shown, kids can learn about different types of rock and Japanese rock-star fashion.
---
7. Chi's Sweet Home: Atarashii Ouchi (Chi's New Address)

Episodes: 104
Aired: Mar 30, 2009 to Sep 24, 2009
This is for younger kids. A series about an adorable kitten named Chi whose owners move into a new house because they couldn't have pets in their apartment. Chi steals your heart barely 30 seconds into the show and once you hear her voice, she will almost kill you of a cuteness overload. The style is so simple, it almost doesn't look like an anime and instead seems like a children's story book. The episodes are 3 minutes long so even a baby could go through it without looking away from the screen.
Chi puts a smile on your face for over 100 episodes but don't get too confident – it has heart-touching moments that might make you cry too. The background music is delicat. It sounds like a music box most of the time, which is quite enjoyable for youngsters. It's good to get kids to understand the behaviours of animals if you're planning on moving or getting a new pet.
Why it's good for kids:
The adventures of Chi around her new home are simple but unforgettable! Surely parents will be stuck watching together with the kids. It teaches the impact a new pet has on the family and how your pet can become a family member. It also shows some great parent-child bonding concepts everyone should take notes on and it will absolutely make your kid want a cat; be careful!
---
6. Heartcatch Precure!

Episodes: 49
Aired: Feb 7, 2010 to Jan 30, 2011
Tsubomi together with her friend become pretty guardians that vow to protect everyone's hearts from evil villains who want to drain their energy. They battle, there's fairies, they use flashy magic moves, and have emotional problems; you get the deal. There's not much behind the story, the Precure franchise has many different versions around but Heartcatch at least has somewhat of a better story and it's hands-down the most popular.
Why it's good for kids:
It's a mega hit with Japanese little girls. Shiny, sparkly, magical girls... It's like a modern Sailor Moon, drowned in honey, sprinkles and glitter. Perfect for young little princesses… er, I mean girls! Bright fun adventures are waiting!
---
5. Doraemon (2005)

Episodes: 726+
Aired: Apr 15, 2005 to Present
This version of Doraemon is the newest. Yes, it's literally a Kodomomuke but I think that everyone starting to get into the world of anime has to watch at least a couple of episodes of this classic. One of the longest running and most loved by kids and adults in Japan, definitely one you should be showing kids.
It's about a boy named Nobita and how the earless robot-cat, Doraemon, came into his life to change his fate. This dorayaki-obsessed cat becomes Nobita's inseparable friend although his fantastic gadgets meant to better Nobita's future often end up being used for silly adventures in this kid's daily life.
Why it's good for kids:
It's simple to watch and you don't quite need to watch the episodes in any perfect order. Many children could rapidly identify with Nobita and be entertained by his misfortunes. The original anime is incredibly long so it will entertain the kids for years to come. Doraemon is a memorable character with possibly more merchandise than any other anime making it a good addition to the toy box or even room decoration theme.
---
4. Yu-Gi-Oh! Duel Monsters

Episodes: 224
Aired: April 18, 2000 to September 29, 2004
This is an epic adventure card game anime about Yuugi and his life after unleashing an alter ego hidden inside, with the help of an artifact named The Millennium Puzzle. Because this artifact possesses great power and the ability to grant wishes, many people seek it with evil intentions. Yuugi and his friends must protect it and decipher the mystery behind it, settling battles with a card game called "Duel Monsters". The cards come to life while in the battle arena. Will he have what it takes to win?
Why it's good for kids:
Yu-Gi-Oh! Has been a hit kids anime around the world. It's also a real card games kids can play and trade with their friends. These aren't cute monsters like other games, these look badass. They're easy eye catchers for boys. The story is easy to follow but a little more complex than a regular Kodomomuke. Yami Yuugi is a role model for kids to be more confident when they face any kind of trouble. With many different series of the same franchise, there's bound to be long days of fun for the kids.
---
3. Keroro Gunsou (Sergeant Frog)

Episodes: 358
Aired: Apr 3, 2004 to Apr 4, 2011
Keroro came to take over the world, if he only knew how! This wacky alien-frog and his troop try to take command over the human world but, tables have turned and unquestionably, they always fail. The characters are really diverse, all with totally different personalities; sometimes too complex for younger children to watch. This is definitely an anime for the older kids. It's a sitcom for children reaching through a variety of subjects in a parodic way. It's mostly aimed at boys, but girls can see it too! Find out how Sgt. Keroro and his Pokopen will take over the world… maybe?
Why it's good for kids:
Random and funny, just the type of humor kids are looking for. It's addictive to watch so it could leave kids hungry for more anime in the future. The music is, again, something kids would sing along to. Sometimes it includes some double-sensed jokes but that's nothing to be alarmed over. Clean minds would never laugh, it's good to watch it together with your kids and spot who is laughing at something they shouldn't!
---
2. Pokémon

Episodes: 895+
Aired: April 1, 1997
Pokémon has been around for almost 20 years, meaning it must have something good. Most of us were raised playing Pokémon games, watching the anime and there is something we all can agree on: It's unforgettable. Pokémon has a unique way of catching the hearts of children, with a colorful world filled with interesting creatures that you can collect and fight together with. What child wouldn't like that?
It's about the epic adventures of Ash (Satoshi) as he travels the world of Pokémon on his journey to become the very best Pokémon master. With his inseparable partner, Pikachu, and many friends they make along the way, you'll surely find something new in every episode. Ash is always far from his goal, but he has a further understanding of how Pokémon feel, and how to bond with them than anyone else. In this world of pokémon we meet many different creatures and trainers each co-existing in both harmony and chaos. What kind of pokémon will we see next? Let's make sure our kids discover the wonders of this fantastic world as we once did.
Why it's good for kids:
Do I even need to explain? Just to be sure. Pokémon is a real breathtaker for kids. This unique world readily catches the eyes of kids plus the plot is easy to process. Pokémon were designed to catch the eyes of kids, there's one for everyone. It teaches about companionship, healthy competitive activities, exploring, working hard, and following your dreams no matter what.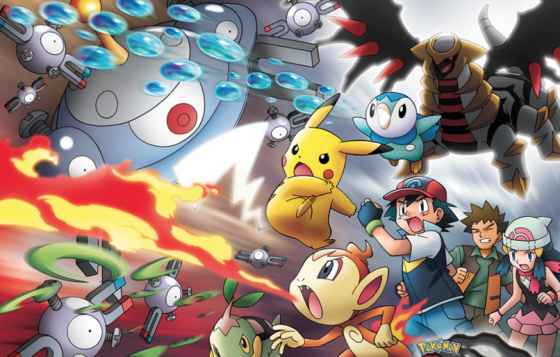 ---
1. Youkai Watch

Episodes: 80+
Aired: Jan 8, 2014
As much as I love Pokémon, I have to admit Youkai Watch is the new black. Honestly… It's good.
Similar to Pokémon yet not, it's about creatures you collect, yet not; it's unique and original. It's about this boy named Keita that for some strange coincidence found a youkai butler. Rejecting the idea at first, he unwillingly becomes entangled in the youkai-collecting world. Youkai are japanese spirits or ghosts, but these are nowhere near scary and most are rather funny.
He deals with the annoying youkai that pop up around in his daily life, always doing something either embarrassing to his friends / family or something that endangers his integrity and social life. Accompanying him are Whisper, his good-for-nothing youkai butler and his first befriended lazy cat-youkai Jibanyan. Not only for the kids, anyone will find this show hilarious - it will not disappoint, so in advance, you're welcome.
Why it's good for kids:
The best part of the show is the immense reference it makes to modern Japanese culture while mixing in the millennia-old Japanese youkai traditional stories. As addictive as Pokémon, yet as funny as top-notch comedy anime for "grown-ups", it's entertaining with a tad of old anime and western cartoon references. Well-balanced, much merchandise, many games, it's… it's.. just trust me with this! Watch!
---
Anime for kids are long and most have been running for decades. I tried avoiding old anime and picked some fresher ones. Even if I included some oldies, it's because they're a must-watch crucial show for life as an anime fan. Before many of you start flipping out or rolling your eyes at the conclusion of this list, I DID leave out many kids anime on purpose, to avoid being redundant with all the pages out there. I'm confident that my choices are fair, and should appeal to a wide audience. If you want to check out more examples of kids anime, I suggest you check out this article too:
---