What You Need to Know:
We're often bringing you recommendations from Japanese fans in the form of Japan Polls. Today we bring you something a little different - ten recommendations for anime beginners put together by My Navi Student!
Whether you're new to anime yourself or are looking for series to get your friends as hooked as you are, look no further than this list of anime recommendations from Japan, with selections from the late-night airing time slot.
Have you watched all of these easy-access anime? Would you add any other series to the list? Check out the recommendations below and let us know in the comments!
---
Top 10 - Top 6
---
10. Sakurako-san no Ashimoto ni wa Shitai ga Umatteiru
9. Lupin III
8. Kantai Collection: KanColle
7. Ansatsu Kyoushitsu
6. Chihayafuru
---
Top 5 - Top 1
---
5. Blue Spring Ride / Ao Haru Ride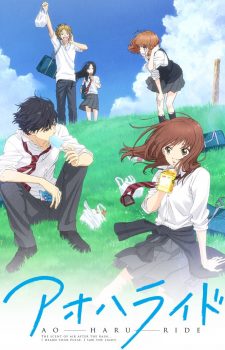 Episodes: 12
Aired: July 2014 - September 2014
Synopsis
Futaba Yoshioka used to be an attractive and popular middle-schooler—well liked by the opposite sex, but ostracized by the girls. Nevertheless, she was able to brush all that off, because the only opinion that truly mattered to her was that of Kou Tanaka, a classmate with whom she shared a shelter from rain once, followed by quite a few other precious and significant memories. She even succeeded at making plans to meet with the quiet and innocent boy at the summer festival, but a simple misunderstanding, and Tanaka's subsequent disappearance, left her walking the halls of her school friendless.
Now in high school, Futaba is not your typical adolescent girl. Determined to become a class favorite this time, she avoids all unwanted attention and, instead of acting cute and feminine, only stands out through her tomboyish behavior and disheveled look. But still, her world is soon turned upside down when the only boy she ever liked unexpectedly comes into her life once again—except he goes by the name of Kou Mabuchi now, and it is not his name alone that has gone through a sea change.
(Source: MAL Rewrite)
4. Natsume's Book of Friends / Natsume Yuujinchou
Episodes: 13
Aired: July 2008 - September 2008
Synopsis
While most fifteen-year-old boys, in one way or another, harbor secrets that are related to girls, Takashi Natsume has a peculiar and terrifying secret involving youkai: for as long as he can remember, he has been constantly chased by these spirits. Natsume soon discovers that his deceased grandmother Reiko had passed on to him the Yuujinchou, or "Book of Friends," which contains the names of the spirits whom she brought under her control. Now in Natsume's possession, the book gives Reiko's grandson this power as well, which is why these enraged beings now haunt him in hopes of somehow attaining their freedom.
Without parents and a loving home, and constantly being hunted by hostile, merciless youkai, Natsume is looking for solace—a place where he belongs. However, his only companion is a self-proclaimed bodyguard named Madara. Fondly referred to as Nyanko-sensei, Madara is a mysterious, pint-sized feline spirit who has his own reasons for sticking with the boy.
Based on the critically acclaimed manga by Yuki Midorikawa, Natsume Yuujinchou is an unconventional and supernatural slice-of-life series that follows Natsume as he, with his infamous protector Madara, endeavors to free the spirits bound by his grandmother's contract.
(Source: MAL Rewrite)
3. Your Lie in April / Shigatsu wa Kimi no Uso
Episodes: 22
Aired: October 2014 - March 2015
Synopsis
Music accompanies the path of the human metronome, the prodigious pianist Kousei Arima. But after the passing of his mother, Saki Arima, Kousei falls into a downward spiral, rendering him unable to hear the sound of his own piano.
Two years later, Kousei still avoids the piano, leaving behind his admirers and rivals, and lives a colorless life alongside his friends Tsubaki Sawabe and Ryouta Watari. However, everything changes when he meets a beautiful violinist, Kaori Miyazono, who stirs up his world and sets him on a journey to face music again.
Based on the manga series of the same name, Shigatsu wa Kimi no Uso approaches the story of Kousei's recovery as he discovers that music is more than playing each note perfectly, and a single melody can bring in the fresh spring air of April.
(Source: MAL Rewrite)
2. Kiniro Mosaic
Episodes: 12
Aired: July 2013 - September 2013
Synopsis
Shinobu Oomiya once left Japan to participate in a homestay in England. During her time there, she became close friends with Alice Cartelet, the daughter of the family she was living with. However, when it was time for Shinobu to return to Japan, the two were able to express their sorrow despite the language barrier between them.
Five years later, now a first year student in high school, Shinobu receives a letter by air mail in a language she does not
understand. This letter is penned by none other than Alice, detailing her own homestay in Japan. In fact, Alice will be attending Shinobu's high school and living with her! Alongside their friends Youko Inokuma, Aya Komichi, and Karen Kujou, the five girls attend school together and learn about what their different cultures have to offer, day after day.
(Source: MAL Rewrite)
1. Sound! Euphonium / Hibike! Euphonium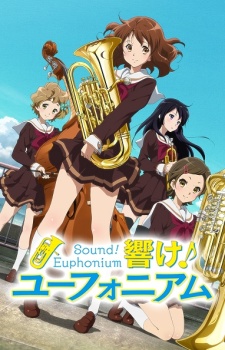 Episodes: 13
Aired: April 2015 - June 2015
Synopsis
After swearing off music due to an incident at the middle school regional brass band competition, euphonist Kumiko Oumae enters high school hoping for a fresh start. As fate would have it, she ends up being surrounded by people with an interest in the high school brass band. Kumiko finds the motivation she needs to make music once more with the help of her bandmates, some of whom are new like novice tubist Hazuki Katou; veteran contrabassist Sapphire Kawashima; and band vice president and fellow euphonist Asuka Tanaka. Others are old friends, like Kumiko's childhood friend and hornist-turned-trombonist Shuuichi Tsukamoto, and trumpeter and bandmate from middle school, Reina Kousaka.
However, in the band itself, chaos reigns supreme. Despite their intention to qualify for the national band competition, as they currently are, just competing in the local festival will be a challenge—unless the new band advisor Noboru Taki does something about it.
From the studio that animated Suzumiya Haruhi no Yuuutsu, Kyoto Animation's Hibike! Euphonium is a fresh and musical take on the slice-of-life staple that is the high school student's struggle to deal with their past, find romance, and realize their dreams and aspirations.
(Source: MAL Rewrite)
Source: My Navi
---
Hmm, this is good for more recent series but I'm pretty sure a lot of people didn't like the KanColle anime...
I like all of these series, I think they're easy to get into! Just make sure to warn your friends how depressing Shigatsu wa Kimi no Uso is!
---
[ad_dfp position="bottom1" unit_pc1="true" unit_pc2="true" unit_sp1="true" class="mt40"]