Welcome to the world of books, my dear otakus! Let's open a volume and smell the pages, but hold on! The ink dances and suddenly, the characters and settings come to life. Aren't anime just as magical as that sometimes?
That is the reason why we have prepared a special literary treat here at Honey's anime. Although Japanese have been inspired on great books and novels to make great shows since the very beginnings of the cartoon art, we have tried to collect a diverse range of universally loved works here. A lot of them have a unique Japanese style or reinterpretation. Anyway, without further ado, let's grab our library cards and check out the top 10 literary anime!
10. Wanwan Sanjushi (Dogtanian and the Three Muskehounds)

Episodes: 26
Aired: Oct 2, 1981 to Mar 26, 1982
This is a very old and curious rendition to the adventures of the Three Musketeers, a series of novels by the French writer Alexandre Dumas. It was a Spanish and Japanese production where the characters are animals. The protagonist is Dogtanian, a young dog from the countryside with a great ability with the sword who travels to Paris to become a Muskehound.
We can notice a dab of comedy that does not exist in the original literary version, but all the happy spirit of the Musketeers adventures while protecting and serving the French King Louis XIV was left intact. Teamwork and friendship are highly valued in this anime! A second season called The return of Dogtanian was released on the nineties, following the adventures of the quartet of Musketeers 20 years later, just as in the novels. So, if you are looking for a nostalgic anime that leaves you with a good mood, this might be the option for you.
---
9. Koutetsu Sangokushi

Episodes: 25
Aired: Apr 6, 2007 to Sep 28, 2007
Loosely based on the Chinese classic "Romance of the three kingdoms", this story by the studios Picture Magic take us to a tale of intrigue, war and betrayal. These are the adventures of Rikkuson, the guardian of a Seal with magical powers that counts with a magical arm himself. Rikkuson is a pacifist, but the Seal he is guarding is desired by more than one ambitious foe.
For being a shounen style anime, Koutetsu sangokushi contains a good dose of emotions and sensibility, reflected on the high quality of its art. If it is not higher on our countdown is because the original work was much longer and complex. Unfortunately, on terms of adaptation, the very old anime version from the eighties is superior. Nevertheless, if you are looking for a small bite of Chinese style legendary action, this anime might be perfect for you.
---
8. Agatha Christie no Meitantei Poirot to Marple (Agatha Christie's Great Detectives Poirot and Marple)

Episodes: 39
Aired: Jul 4, 2004 to May 15, 2005
The Queen of Crime is one of the best selling authors of all time still to date, so it is somewhat rare that anime has not exploited her works that much. So, to straighten things out, OLM studios adapted several of the most loved stories about two detectives created by Christie: the belgian detective Hercule Poirot and the old but wise Miss Marple. The protagonist of the anime is Mabel West, a young kawaii girl who dreams to be a detective and becomes a helper for Poirot under the condition of spending some time with her great aunt Miss Marple. Thus, Mabel functions as a bridge between the two characters.
Although the style of the animation is rather simple and infantile, the show works due to the interesting storylines. Perhaps the only flaw of these adaptations was to add Mabel and her duck mascot, which were unnecessary for the plots. Anyway, if you are a fan of mystery and who-dun-its, you can not pass this anime.
---
7. Saiyuki Reload

Episodes: 25
Aired: Oct 2, 2003 to Mar 25, 2004
Let´s continue with another anime inspired by Chinese epics, shall we? Saiyuki Reload is Studio Pierrot's rendition to the classic Journey to the West, attributed to Cheng En Wu. Originally a collection of oral stories about a supernatural monkey, Saiyuki Reload recovers the main characters, although with a different personality (more into the anti-hero style) and much better looks. We have the monk Genjyo Sanzo, the monkey king Son Goku, the half demon Sha Gojyo and the demon Cho Hakkai, bestowed by Buda for a dangerous mission.
They will make a journey to India in order to stop the resurrection of the demon king Gyoumao, with a lot of adventures and some dry humor on the way. The characters of Saiyuki Reload were truly updated in a cool, upbeat fashion without losing the premise of the fight between good and evil. Don't miss it out!
---
6. Romeo x Juliet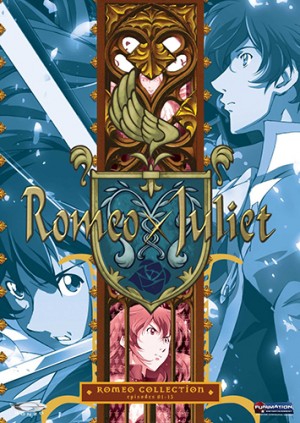 Episodes: 24
Aired: Apr 5, 2007 to Sep 26, 2007
Perhaps all of us have heard those old fashioned lines of "Romeo, Romeo", etc. The work of the genius stage writer William Shakespeare is among the ones with most adaptations, so, of course there had to be an anime version. Romeo and Juliet, members of rival families, meet on a ball and fall in love at first sight. They get married in secret but everything gets complicated and they end up, well, dead.
Yet, there is a key difference that contributes to make the story more enjoyable to modern audiences. While the original can be considered a tragedy-parody about love and rivalry, the adaptation left out the comical and satirical part. Studio Gonzo fleshed more Juliet's backstory, making of her a masked heroine pursuing vengeance for her demoted clan. Add some fantasy and sci-fi details plus great animation and music to the tragic romance, and you get a great animated rendition of Romeo and Juliet.
---
5. Les Miserables: Shoujo Cosette (2007)

Episodes: 52
Aired: Jan 7, 2007 to Dec 30, 2007
This is another immortal staple of literature that people simply can not forget. The French Victor Hugo wrote it from the point of view of modest and persecuted people that find a way to redeem themselves. Jean Valjean, convicted on his youth for stealing food, tries to rebuild his life. He rescues a girl under the name of Cosette from her cruel masters. They become a family and get out of poverty together as father and daughter, although they are caught in the middle of the French Revolution.
The anime covers all that makes the original work great: the drama, the romance, the regrets, and the daily fight of common people to keep their noble principles on a cruel world. Nippon animation was in charge of this anime, thus, the final product is not the latest cut in effects or style. Nevertheless, come on, it is Les Miserables. It works!
---
4. Arslan senki (The heroic legend of Arslan)

Episodes: 25
Aired: Apr 5, 2015 to Sep 27, 2015
The base material for Arslan senki is a mix of the Persian epic poems about Amir Arsalan, the poems of Shannameh (considered a national treasure of Iran), and the real antique history of the region. So, welcome to an imagined Middle East! The world of Arslan is full of epic battles and falling empires. Our protagonist is the young and kind prince Arslan, who is on the run to get allies and recover the kingdom his father lost.
Will it be possible for such an inexperienced warrior? With a great use of CG, music combining the best of classical and up-beat modern rithms and a varied set of characters, Arslan senki promises to keep you at the edge of your seat.
---
3. Zakuro Yashiki (La Grenadiere)

Episodes: 1 OVA
Aired: Aug 1, 2006
We definitely have to mention this curious OVA as a top literary anime work. The french writer Honore de Balzac has a long collection of stories, novels, essays and ideas collectively titled "The human comedy".
Toei animation enlisted the help of the painter Takeshi Fukazawa and a literary expert from Meiji University to create around 70 tempera paintings. Together, they retold one of the short stories from de Balzac's opera prima: La Grenadiere, the sad and inconclusive reflection of a mother trying to protect her children in the France of the 19th century.
---
2. Genji Monogatari Sennenki (The Tale of Genji)

Episodes: 11
Aired: Jan 16, 2009 to Mar 27, 2009
This is an adaptation of what is considered the first psychological novel in the history of mankind, written in the Heian period by lady Murasaki Shikibu. Genji Monogatari Sennenki is a coming of age history about the prince Hikaru Genji and the women who surround him throughout his life, as he tries to succeed on his career at the court.
We can find not only romance, but a whole era recreated with its customs, beliefs, art and poetic sensibility towards nature. Artfully produced by TMS Entertainment and Tezuka Productions, the only rather frustrating flaw of this anime is that it's way too short to make justice to the original material. That is why our number one is…
---
1. Gankutsuou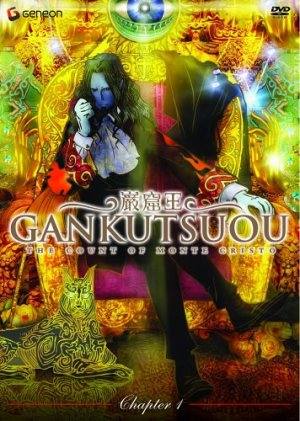 Episodes: 24
Aired: Oct 6, 2004 to Mar 30, 2005
Alexandre Dumas made it to our Top 10 twice! This writer was simply great into creating adventures. This time, the story is about vengeance. Our protagonist, Edmond Dantes, had everything he could have wished for in life... until his so called friends plotted how to implicate him in a crime and sent him to jail for long years, meanwhile they were having a good time. Dantes eventually came out and became a rich man, targeting everyone who had a hand on his demise and getting close to Albert Morcerf. This young and rather naive man is none other than the son of Dantes' lost love and one of his former traitor friends, so get ready for the vengeful ride!
What Studio Gonzo adds to this great story is a futuristic environment, groovy stylish animation and a combination of classical and electronic music. That is why this anime is the perfect mix of literary pleasure and modern entertainment. You won't see it coming!
---
Final thoughts
Phew! That was a voyage around the world through animated books. We can see how different forms of entertainment can be recombined to create memorable experiences. Hope you were able to find something of your taste or something completely different to awaken your curiosity. And now we are wondering, did we miss any good literary anime? Which great books would you love to see adapted as anime and why? Don't forget we will be waiting for your comments and questions. See you soon!
---