It is difficult to pinpoint how far back the relationship between humans and animals first began, but we are certainly glad it did! Many animal lovers can appreciate how much of an impact our furry and feathered friends make in our daily lives; never skipping a moment to share what silly or outrageous thing our animal friend did to catch our attention. More than that, animals are our companions, our helpers, and our source of livelihood. They appeared in ancient civilization and now in modern media. Some animals have been domesticated for centuries, while some remain wild, free, and to an extent, unfortunately, endangered. Overall, animals keep us company, giving us relief when we need it and also when we don't ask for it.
In the following manga, we present to you 10 recommendations for the best animals. We know there are so many more, but here's what we've gathered so far! Let us know what you think of these choices, whether we are barking mad or if these are absolutely purr-fect! Enjoy!
10. Sergeant Perkins from Apocalypse Meow (Cat Shit One)

Authors: Kobayashi, Motofumi
Genres: Drama, Historical, Military
Volumes: 3
Published: December 1996 – December 2001
During the time of the calamitous Vietnam War, a courageous Special Operations group fights alongside other brave southern troops against the tyrannical forces of the Viet Cong. This Special Operations Unit consists of Sergeant "Perky" Perkins and his unit, Rats, and Botasky, as they muddle through various strategic operations. Where this tale differs from many others of our time is that Sgt. Perkins and his comrades are rabbits, holding their own against the enemies, the felines. Read on to see how these anthropomorphs traverse through this colossal event, as they strive for survival in one of America's hopeless battle.
Apocalypse Meow is an interesting and engaging read that captures a part of our military history. Utilizing an approach that is truly entertaining, Apocalypse Meow highlights a topic not normally discussed in manga literature. Kobayashi includes a lot of detail in his work, as he expresses what occurrences may have taken place in an environment we imagine is filled with so much conflict and hardship. Moreover, he uses a cast of animals that we normally visualize as calm and passive creatures to portray the heinous events of the war. The thought of using real characters even decades after the Vietnam War may hit too close to home for some. Therefore, the use of humanoid animals is absolutely ingenious and an outstanding concept. Sgt. Perkins is depicted as a model soldier and stand out individual, a quality that shines in the most difficult circumstances.
---
9. Caesar from Wild Cats

Authors: Shimizu, Reiko
Genres: Comedy, Romance, Shoujo
Volumes: 1
Published: September 1997 – December 2000
Wild Cats is a story about a boy named Ryuuichi who finds a litter of abandoned cats. Giving the cats a loving home, Ryuuichi finds favor in the largest one of the group, naming her Caesar. Ryuuichi and Caesar form a unique and special bond, and over time, discover that Caesar is actually a lioness! As Ryuuichi and Caesar grow older and mature, will the duo be able to exert their independence from one another or will they close themselves off from the world and have only themselves to rely on?
If anyone has ever imagined what it would be like to keep a pet lion, Wild Cats provides excellent detail in that matter! Although this story isn't very lengthy, Wild Cats shows the intense relationship between human and animal. The affections kept by a person and a pet is difficult to put into words, but we can often associate the relationship with having warm feelings and immense devotion. Additionally, we are able to observe through each perspective, the strong connection Caesar and Ryuuichi have for each other, admiring the fact that loyalty goes beyond person to person interaction.
---
8. Ryouta Kawara from Hatoful Kareshi

Authors: Hato, Moa
Genres: Romance, School
Volumes: 1
Published: June 2012 – June 2013
Hatoful Boyfriend takes place in a post-apocalyptic Earth where a prominent bird-flu virus nearly wipes out humanity. A remedy vaccine is then established to counter the virus, but it unexpectedly backfires. On a global scale, bird species have developed human-level intelligence and currently coexist among humans in this dystopian future. Primarily set at St. PigeoNation's Institute, a bird-only high school, the academy has a change of heart and decides to allow human students to enroll in the institute. Introducing Hiyoko Tosaka, a young teenager, we observe her experiences in this new atmosphere as she interacts and dodges her slew of Pigeon suitors.
In Hatoful Kareshi, Ryouta Kawara is the main bird of the series who stands out from the rest of the flock. Ryouta is very kind, especially to Hiyoko, showing her a lot of compassion and affection. Ryouta is an advocate for bridging the gap between the human and birds, seeing a positive future for romance between him and Hiyoko. Overall, a pigeon/human partnership isn't a completely new concept, as people have been known to keep and tend pigeons. However, the idea of romance between the two species is a strange one for our list.
---
7. Weed from Ginga Legend Weed (Ginga Densetsu Weed)

Authors: Takahashi, Yoshihiro
Genres: Drama, Seinen
Volumes: 60
Published: May 1999 – July 2009
Ginga Densetsu Weed is the sequel to popular series, Ginga: Nagareboshi Gin. Following the tale of Weed, a young pup discovers that his legacy stems from a famed, victorious hero. After unearthing this information, Weed embarks on a quest to find his father, traversing through perilous domains, experiencing new things, and enduring countless tragedies and successes. As Weed and his buddy, GB, make many enemies and friends, Ginga Densetsu Weed is an adventurous and thrilling manga.
Weed's personality is irresistible, as he is a merciful soul and extremely kind regardless of whom he encounters and the various situations he faces. Even though we are reminded of his heritage as the son of the leader of Ohu, with such immense power, Weed only utilizes such strength and violence when the circumstances require him to do so. Seeing the world with young, innocent eyes, Weed's story is a refreshing and thriving occurrence that is very realistic to each of us coming into adulthood.
---
6. Hachi from Hachi – Yakusoku no Inu

Authors: Kurosawa, Akiyo
Genres: Drama, Slice of Life
Volumes: 1
Published: July 2009
Hachi - Yakusoku no Inu embraces the beautiful yet heartbreaking tale of companionship. The story accounts the lives of an American college professor named Parker and a stray dog he rescues named Hachi. Time after time, Hachi accompanies his best friend on his way to the train station and back. However, one day, this routine is broken when Parker does not return to the train station from the University. Not knowing that his best friend had passed, Hachi continues to wait every day for Parker to emerge from the subway line.
Probably one of the most iconic stories on this list, Hachi - Yakusoku no Inu shares an incredibly heartwarming story that is ingrained in Japanese culture, with a statue bust made in his honor sitting in front of Shinjuku station. Hachi's story also resonated into Western media with a live action film in 2009. Encompassing the definition of "man's best friend", this manga is one that tests what it truly means to have loyalty and love. Will someone stop cutting onions in here?!
---
5. Sergeant Keroro from Sergeant Frog (Keroro Gunsou)

Authors: Yoshizaki, Mine
Genres: Comedy, Drama, Sci-Fi, Shounen
Volumes: 28
Published: April 1999 – Ongoing
Sergeant Keroro is a frog-like creature sent to the planet Pokopen, a place bearing a close resemblance to Earth, to collect Intel for a massive operation. Bringing this intelligence to higher-ups, Sergeant Keroro must return to his home planet in order for forces to fully engage in Pokopen's total invasion. As the Captain of the Space Invasion Forces Special Advance Team, Sergeant Keroro experiences a little hiccup when his ship crashes, taking refuge at the Hinata residence. However, the Hinata children, Fukuki and Natsume, seize his weapons, leaving Sergeant Keroro defenseless and isolated. Abandoned and alone, Sergeant Keroro thinks all hope is lost, until he notices that there are other agents scattered across Pokopen.
Keroro Gunsou is a comedic and somewhat slice of life manga that is super entertaining. Another spin on "little green men" trying to take over the planet, Sergeant Keroro is ousted by the kids and is left to do menial housework. "Oh, how the mighty have fallen!" An original story in and of itself, this manga and the anime adaptation have garnered success for many seasons. The characters in Keroro Gunsou are absolutely unique and enjoyable, adding new and exciting elements that never get old or tiresome. In particular, Sergeant Keroro is quite a fireball, with a personality that doesn't slow down and is always absorbing.
---
4. Pao from Deep Love: Pao no Monogatari

Authors: Yoshi; Kurosawa, Akiyo
Genres: Drama, Shoujo, Slice of Life
Volumes: 2
Published: February 2005 – August 2006
Deep Love is a cell phone novel series written by Yoshi and is noted as the first of its kind in the literary game. Deep Love includes four novels, but later on, was adapted into five manga series. Pao no Monogatari is the third of the bunch. The story centers on the life of Pao told from his perspective. After experiencing neglect and abandonment from his previous owners, Pao slowly watches his mother succumb to death by starvation. From this tragedy, Pao part ways from his siblings, wandering about the city. Hoping to find a better life than that of his former home, Pao only experiences more mistreatment and sadness from others.
Following Pao's suffering and abuse, his current owner, Ayu and her Granny, later rescue him. It has been known that people are a product of their own environment and we observe that Pao is a guarded, protective, and loyal pup because of all the misfortune he's seen in his earlier life. Even though Pao has been through so much and holds reservations opening up, in life, it is always a bonus to not be completely closed off. Otherwise, you will limit yourself to many surprising possibilities in the future.
---
3. Legoshi from Beastars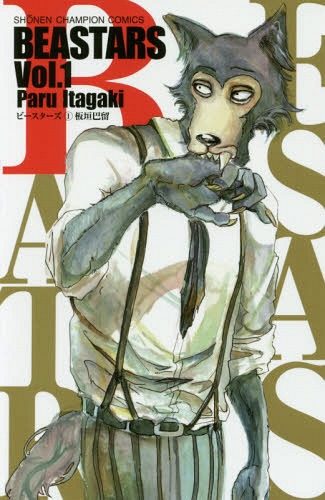 Authors: Itagaki, Paru
Genres: Drama, Shounen, Slice of Life, Psychological
Volumes: 6
Published: September 2016 - Ongoing
Beastars centers on a world that is inhabited by anthropomorphic animals, where both herbivores and carnivores live among each other. Life is no different for each species, as the teens of Cherryton School are dealt with high school drama that we all know and recognize in our own lives. The students at Cherryton experience their share of stirring disloyalties, clashing cliques, and teenage awkwardness, as well as hope and romance. One student who we've come to learn about is named Legoshi and he is a wolf. On the outside, Legoshi appears to be extremely intimidating, but in actuality, he is a very gentle soul. In its entirety, Beastars is an amusing story that shares various school-life encounters among human-like animals.
Legoshi is a member of the drama club. As a wolf, Legoshi has grown accustomed to others being afraid of him or disliking him because of that fact. However, despite his menacing appearance, Legoshi becomes more involved with his classmates, as many of them share in similar life barriers and situations. Growing more accessible to new ideas and conditions, Legoshi learns that herbivores and carnivores are not all that different. A life pro tip that we should all incorporate IRL, don't you think?
---
2. Nang-Nak and Soondae from My Young Cat and My Old Dog

Authors: Cho
Genres: Comedy, Drama, Slice of Life, Seinen
Volumes: 3
Published: April 2011 – January 2013
My Young Cat and My Old Dog is a collection of short and heartwarming stories chronicling the relationships between an old poodle named Nang-nak, a cute kitten named Soondae, and their loving owners. Each chapter shares stories of Cho's own experiences with his pets, while other stories are explained from the pets' point of view. Whichever standpoint the narrative takes, every tale provides an interesting, refreshing, and endearing account of the bond between human and pet.
Nang-Nak and Soondae are delicate reminders of how much joy and happiness pets bring into their owner's life. As a majority of the stories from My Young Cat and My Old Dog are about these two, we can't help but feel that our heart is melting every time we read through each occurrence. Punching us right in the feels, the short stories in this manga will compel you to give your pet a great big hug once you've completed it. Or just do it right now because you love them so much!
---
1. Happie from Stargazing Dog (Hoshi Mamoru Inu)

Authors: Murakami, Takashi
Genres: Slice of Life, Seinen
Volumes: 1
Published: August 2008 – February 2009
Hoshi Mamoru Inu follows the story of an Akita dog named Happie. Abandoned as a pup, a young girl rescues him from his cardboard box and brings him home. In his new home, Happie grows attached to the father of the household, looking forward to quality time with "Daddy." Years have gone by and "Daddy" is hit with a divorce, leading to infrequent visits from the wife and young girl who brought him home long ago. Down on his luck, "Daddy" decides to take Happie and drive south in the hope of finding luck and happiness in their travels. However, "Daddy" and Happie fall into hardship once again, as Happie becomes ill as well as "Daddy", swiftly passing before the canine.
A touching, uplifting and agonizing story of life and death, Hoshi Mamoru Inu is a manga that embraces the message that "time is best spent with good company." Until the very end, Happie remained at "Daddy's" side, demonstrating so much love and loyalty. That is why we at Honey's rate this manga at number one, showing how animals and humans heal each other in immeasurable ways.
---
Final Thoughts
We hope you enjoyed our recommendations for top 10 manga animals! If you haven't already, make sure to check out all of these great titles! Additionally, we wanted to leave you with a thought-provoking quote that will hopefully demonstrate the major impact animals can have in one's life. Most importantly, animals aren't creatures to be regarded as lower-level beings, but as intelligent, caring, and compassionate life forms.
"Until one has loved an animal, a part of one's soul remains unawakened." – Anatole France
We truly appreciate you guys tuning in and let us know if we've missed any other great manga animals by commenting below! Thanks, and see ya!
---