Video games have most certainly come a long way since their birth back in the late 70's to early 80's, and with technology always advancing in terms of performance there's no telling what direction the gaming world will head in. Little did we know however, that there are manga that exist out there that were created and are based off some of our favorite hit titles. Whether it's reading about battling enemies in search for the princess in Zelda, collecting ghosts in the family favorite Yokai Watch, to coming up with that perfect strategy to topple the enemy in Valkyrie Profile, there's a manga lying out there somewhere that correlates directly with that particular gaming franchise and we're here to shed some light on some of the best out there.
10. Final Fantasy XII

Mangaka: Amou, Gin
Genres: Action, Adventure, Drama, Fantasy, Shounen
Volumes: 5
Published: June 2006 - June 2009
Much of FFXII takes place in a world known as Ivalice, where magick is still commonly used among the people and airships taking to the sky for long adventures. Princess Ashe has had enough of how her country has turned out and is doing everything she can to restore it back to its original state. Along with some companions that stand loyal to her side, Ashe is determined to ensure peace is brought back and looks for the perfect chance to strike back in this video game adaptation.
Fans of the FF series will most certainly find this manga to be quite endearing, especially those who were quite fond of FFXII in particular. It follows the story directly from the video game and so you'll never feel out of place when comparing it to the game itself. With FFXV just releasing worldwide reaching mind blowing sales numbers, the Final Fantasy franchise is sure to entice just about anyone who's curious about the whole lore behind it all, but also die hard fans who just want a collectible to place on their already stacked shelf of FF memorabilia. While the FFXII story has come and gone, you can still read about it in your free time so be sure to add this one to your game manga list.
---
9. God Eater: Messiah no Kikan

Mangaka: Karasuyama, Eiji
Genres: Action, Drama, Fantasy, Sci-Fi, Shounen
Volumes: 5
Published: November 2009 - November 2011
Beasts known by many as Aragami, have marked their territory on Earth and are now wreaking havoc on just about anyone who stands in their way. The human population had already been facing endangerment from previous wars, but now they face extinction as the world around them may come to an end. However, there's a group of skilled individuals who possess the strength to take down these creatures, and they'll do whatever it takes to win. Using the Jinki, a biological weapon of massive power, the G.E. or God Eaters are about to encounter one of their biggest challenges yet.
God Eater: Messiah no Kikan looks at the life of main lead Silva, and his quest to restore hope back in the hearts of those afflicted. The video game franchise took off big time when the original released back in 2010 and still continues to grow its fan base over time. What makes God Eater such a cool story is that its artistic direction is quite intriguing, especially the Aragami who are just these gargantuan creatures with no mercy for anyone. What makes the manga so cool is how incredibly detailed all of the monsters are and how things just seem to pop out more during battles. It's do or die in this action packed series, so if you love some mastery swordplay with lots of blood to top it off then be sure to check out God Eater: Messiah no Kikan.
---
8. Corpse Party: Blood Covered

Mangaka: Kedouin, Makoto
Genres: Drama, Horror, Mystery, School Life, Shounen, Supernatural
Volumes: 10
Published: August 2008 - October 2012
A group of friends currently attend Kisaragi Academy, which is built on the same patch of land as Tenshin Elementary School, which was known for its string of random disappearances and gruesome murders. After a mysterious earthquake shakes up the town, these students are now in a conundrum as the remnants from Tenshin Elementary School are about to be resurrected in an alternate reality, and the murders still continue.
Perhaps many of you readers may or may not know of Corpse Party: Blood Covered, but we're here to shed some light for you. The video game was released back in 2008 as a PC remake of the original Corpse Party which had been released in 1996. While many in the west may be unfamiliar with the game itself, the manga will most surely provide all of the details you need to keep the excitement flowing. If you're into gruesome murders, random occurrences, and plenty of plot twists to keep you awake at night then Corpse Party: Blood Covered is the right pick for you.
---
7. Fate/Extra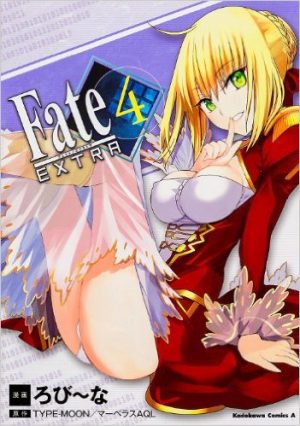 Genres: Action, Comedy, Ecchi, Fantasy, Supernatural
Volumes: 6
Published: April 2011 - November 2014
Hakuno wakes up totally unaware of his surroundings after being sucked into a virtual world, and must now use his wits to survive in an ongoing war that he's completely unaware of. The prize for winning the war is the opportunity to have your wish granted, and so Hakuno takes this opportunity to ensure he can get out alive. With the help of his servant Saber, the two must fight alongside each other in a game of death in order to gain possession of the Holy Grail but to also find out just why he was chosen in the first place.
Fate/Extra is based off of the popular PSP title which received positive reception upon its release, and still continues to be a sparkling franchise today. With plenty of twists and turns to keep you on the edge of your seat, with the stunningly attractive Saber to kick arse and take names, Fate/Extra has just about everything going for it in terms of value and story. In a game of death anything can happen and for Hakuno, he's about to learn the hard way in this magical battle manga series.
---
6. Valkyrie Profile 2: Silmeria

Mangaka: Hayashi, Fumino
Genres: Action, Adventure, Fantasy, Shounen, Supernatural
Volumes: 4
Published: June 2006 - February 2009
Alicia, known by many as the Princess of Dipan, was abandoned as a child and left to fend for herself growing up. Rumors had spread about her existence that she had become possessed by a demon, and succumbed to her injuries over time. The truth however is that Alicia inherits the soul of Silmeria, a battle maiden and one of the three valkyries, but Alicia is determined to keep it all a secret. One day, things take a turn for the worse when Odin, the ultimate ruler of the gods, decides to chase after the lost Valkyrie which now forces Alicia to come out of hiding and make her return to save Valhalla.
Valkyrie Profile 2: Silmeria is a direct sequel to the Valkyrie Profile Lenneth manga, so be sure to read that one also if you're a hardcore fan of the series. Silmeria is adaption of the PS2 title and pretty much runs in sync with the entire story, so if you've played through Valkyrie Profile 2 at some point in your life and perhaps need a refresher then here's your chance to relive the journey on the go. In an exciting world full of norse mythology, gods and goddesses out for trouble and tons of magic to throw around, Valkyrie Profile 2: Silmeria is an incredibly powerful piece of work and shouldn't go ignored.
---
5. Tales of Vesperia

Mangaka: Bandai Namco
Genres: Action, Adventure, Fantasy
Volumes: 3
Published: August 2008 - October 2010
Young and determined Yuna was raised in Zaphias, where he joins the Imperial Knights but eventually parts ways with them due to corruption within the organization. Now with his own plans at hand, Yuna works on his own helping to solve the many problems that people face in his hometown. As fate would have it Yuna runs into a young girl named Estelle and upon discovering that she wants to meet with Flynn, his childhood friend, Yuna decides to join her on the adventure. Little does Yuna know that this fateful decision is about to throw him into a spiral of events that will soon place him in a battle for survival.
The Tales series has surely come a long way and Vesperia is one of the great reasons why it still continues to shine on. Tales of Vesperia is arguably one of the better titles in the long running franchise simply due to its remarkable storytelling, emotionally riveting characters, and countless adventures. Of course, one could say that every Tales title is similar in that regard, but there's just something about Yuna and his cool persona that just stand out and make you fall in love with his tenacity to protect others, and restore peace to a corrupted kingdom.
---
4. The iDOLM@STER

Mangaka: Takahashi Tatsuya
Genres: Comedy, Drama, Music, Seinen
Volumes: 6
Published: August 2012 - August 2016
The iDOLM@STER is just what you're probably expecting in terms of the overall appeal, since it mostly revolves around 13 young and passionate girls who are willing to do whatever it takes to get signed to a music label, and make it into the spotlight. Along with many laughs, hardships, and accomplishments that these girls encounter, The iDOLM@STER puts the reader in the driver's seat as they get to experience first hand just what it's like to become a top idol in the Japanese music industry.
Otaku fans rejoice! The iDOLM@STER is here to satisfy your craving for cute girls who are all fighting for that number one spot in the spotlight, as Japan's number one idol in this comedic manga. Those who've played the popular rhythm game will more than likely already know the ins and outs of this one, but for anyone new to the series it's a story of dreams slowly manifesting into reality, and you're right there to see it all happen. While everything is mostly episodic, the manga will be sure to entertain you with its randomness and drama, all the while educating you on just how tough it can be to reach the top.
---
3. Zelda no Densetsu: Twilight Princess

Mangaka: Himekawa, Akira
Genres: Action, Adventure,Drama, Fantasy, Shounen
Volumes: 2
Published: February 2016 - Present
Zelda no Densetsu: Twilight Princess follows the life of Link, as his village is ransacked by monsters and children are kidnapped including his childhood friend Ilia. As he desperately chases after the monsters, he soon discovers that the entire world is covered in twilight. With this sudden change in environment Link transforms into the lone wolf and on his journey encounters a mysterious character named Midna. The two must now fight alongside one another, using whatever tools they can to restore peace back to the village of Ordon, and the world as a whole.
While Zelda no Densetsu: Twilight Princess saw its console release on the Wii back in 2006, it originally was to be developed for the Nintendo Gamecube but was delayed by Nintendo in order to redefine the title. Fast forward to 2016 and we now have a manga version of the hit title, with all of the same perks you'd find in the game itself. Despite how old the game may be, there's certainly something thrilling about being able to relive that same adventure once again in manga form, and seeing Link determined to save the world and restore light back to his village. With plenty of action and swift swordplay, along with the help of Midna, Zelda no Densetsu: Twilight Princess is sure to impress any Zelda fan and bring some nostalgia back into your life.
---
2. Youkai Watch

Mangaka: Level 5 | Konishi, Noriyuki
Genres: Action, Comedy, Drama, Shounen, Supernatural
Volumes: 11
Published: December 2012 - Present
Keita notices a random capsule toy machine lying in the middle of the forest near his home, and out of curiosity approaches it to learn more. He decides to buy a toy but what happens shortly after totally shocks him, as a ghostly creature known as Whispers appears from out of the capsule to greet him. Unperturbed by Whisper's sudden appearance, Whisper then hands him the Youkai Watch, a device which allows the user to see youkai, Japanese creatures of folklore that take on the form of various objects in real life and possess random magical abilities. With this new watch in hand Keita sets out to discover new youkai in town, resolving issues along the way, while making new friends on his brand new journey.
This award winning franchise sold millions during its initial release, and became one of Japan's biggest selling franchises for the 3DS at the time. Fast forward to today and the franchise created by famous developer Level 5, the same team behind Professor Layton, still continues to bring in big numbers and the manga is on the same track to attract fans. While many in the west have become more acquainted with Pokemon, Youkai Watch has yet to find its footing on a global scale, so perhaps this manga can help boost that in some way since it's more accessible to many, and it truly tells the story in a fantastic way.
---
1. Persona 4

Mangaka: Atlus | Sogabe, Shuji
Genres: Action, Comedy, Drama, Fantasy, Mystery, Romance, Seinen, Supernatural
Volumes: 10
Published: September 2008 - Present
The year is 2010, and Seta Soji decides that it's time to move into his uncle's house in the countryside due to both of his parents having strict work schedules. While his personality isn't engineered to be that of a socialite, Soji still makes some friends along the way as they all try to solve an ongoing mystery pertaining to serial murders that have plagued the area.
Persona 4 was one of the better selling Persona titles and really demonstrated just how masterful Atlus is when it comes to storytelling, and truly creating an immersive world for the player to enjoy. The manga follows much of the same path as the game itself, as Soji and his friends try to uncover the truth behind all of the constant murders that are taking place around them. While not as beefy in detail as the game itself, the story still maintains its integrity along with the beautifully drawn characters to wet your appetite. If you've played the game through and through then this manga is more or less a collectible to treasure, but if you're new to the Persona franchise this is most definitely the best option if you're low on cash to pick up the game, and will definitely help you catch up to everything that's happening.
---
Closing Statement
With so many new titles coming out by the minute, the video game industry is full of diversity and there's simply no shortage of games to choose from. Whether you enjoy the action and thrills of your action adventure, or the more slow paced and story driven RPG, there's a game (and manga now) for just about everyone to enjoy. Are there any video game manga that you thoroughly enjoyed? Let us know in the comments section below, and be sure to spread the joy on social media to keep the Honey's community buzzing!
As always, if you want to know about all the latest buzz straight from the bee's nest in Japan, be sure to keep it locked here at Honey's Anime.
---