También puedes leer este artículo en:Español
Fasten your seatbelts because we are heading to outer space! We are going to talk about one of the great mangakas of all time. An author that has influenced other great names such as Naoko Takeuchi, but his influence does not stop there: Star Wars and Daft Punk's Interstella 5555 also exist because of him. We are talking about the now septuagenarian Leiji Matsumoto, who started his career doing shoujo manga and creating a certain Licca-chan. However, the true call of Leiji Matsumoto was the space opera, so he dedicated most of the rest of his life to this genre. Anyway, let's start the trip through some of the best of his manga works!
10. Otoko Oidon

Genres: Shounen, Slice of Life
Volumes: 9
Published: May 1, 1971 to Aug 1, 1973
What? Leiji Matsumoto has a slice of life? Yes otakus, and a bitter slice of life this is. The protagonist of Otoko Oidon is Nobotta Ooyama, a ronin who is struggling with life. You know how tough things can be for someone who fails to enter to University and has to make sure to make ends meet while attempting to enter again.
So, for being his first shounen manga after spending a long time doing shoujo, Leiji Matsumoto kills it. Nobotta has a complex personality that in the surface, is quite arrogant and murky. Nevertheless, giving him a chance, it is shown that Nobotta is a nice guy who has a good relationship with several female characters. The bitter sweet humor will surely attract otaku who identify with the struggling side of Nobotta.
---
9. Muou no Hosomichi

Genres: Adventure, Drama, Seinen
Volumes: 1
Published: Apr 10 to Aug 10, 1991
We know that dreams sometimes don't make much sense, but at the same time, they can be interesting to record. Japanese have some artistic instances related to the subconscient, like Akira Kurosawa's movie Dreams. Of course that Leiji Matsumoto could not get behind, so he created Muou no Hosomichi. We can consider it some sort of diary of the dreams of this mangaka.
As soon as we see the cover and the first pages, we know we are in front of a Leiji Matsumoto manga. His stylish female characters and potato characters are there. Also, futuristic outlooks and sci-fi are at the order of the page. Combined with a slightly psychedelic and surreal atmosphere, Muou no Hosomichi guarantees a curious ride.
---
8. Wadachi

Genres: Action, Adventure, Comedy, Mecha, Sci-Fi
Volumes: 2
Published: 1975
Talking about humor, Leiji Matsumoto decided to not take himself too seriously in one of his next works. Here, he focus the comedy on everyday activities. Nevertheless, Leiji Matsumoto mixes it with what would later become his iconic science fiction style. He gives continuity with his Star System (the interrelations between his stories) on this volume as well.
What stands out on this volume is Leiji Matsumoto's treatment of his dwarf people, who are called potato people by some of his fans. Just looking at their expressions in the comedic situations make us laugh. Nevertheless, if you like adventure you will find some of it to satisfy your appetites. In sum, if you want something less tragic from Leiji Matsumoto, this manga should do the trick.
---
6. Jijo Eiyuuden (Shadow Warrior)

Genres: Adventure, Mystery, Sci-Fi, Space
Volumes: 2
Published: 1999
This is another unusual work by Leiji Matsumoto in terms of location. We travel to China in the Ming period to find a protagonist with memory loss. Shisanmei has to subsist among pirates and bandits, but somehow manages to form a crew with the help of the "Swords of the Seven Stars". Now she is off to do some justice!
Jijo Eiyuuden is all about the protagonist, Shisanmei. We can see the trademarks of Leiji Matsumoto in her: a strong female character who at first sight, looks fragile and weak. There is also magic, adventure, and a noble cause. What else can a shoujo manga lover need?
---
7. Yojigen Sekai (World of Four Dimensions)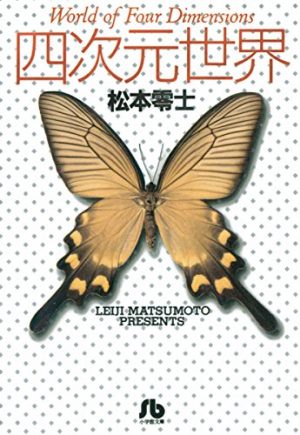 Genres: Action, Adventure, Mystery, Drama, Historical, Sci-Fi, Shounen, Supernatural
Volumes: 2
Published: 1995
Leiji Matsumoto invites us to a different world, much more varied and complex than the one we know. Through several short stories dating back to the seventies and eighties, we travel to find the true value of life and nature. Only that on this occasion, Leiji Matsumoto choses to focus on insects and their relationship with humans, which was an original topic for a manga in those times. Oh, and let's not forget the unavoidable space opera feeling mixed in the story 😉
For someone who is not attracted to nature related topics, Yojigen Sekai could sound as a boring option. However, just a quick look through the pages reveals kick ass adventures spread on dynamic panel layouts that are rather unpredictable. There are some breathtaking illustrations that are more focused on the organic world, balanced with a good usage of technology. This manga also has a "modern space fairy tale" mood, so, if you are into fairy tales but also into action, you should definitely give Yojigen Sekai a chance.
---
5. Nibelung no Yubiwa (Harlock Saga - The Ring of the Nibelung)

Genres: Action, Drama, Music, Sci-Fi
Volumes: 8
Published: Oct 1990 to 2002
Captain Harlock is one of Leiji Matsumoto's most famous characters. The rebellious Captain has starred in several stories and appears constantly in other works of him. However, we decided to mention Nibelung no Yubiwa here because it is a unique fusion of Nordic mythology with the space opera style of Leiji Matsumoto. On this adventure, Captain Harlock and his crew are pursuing a man who stole gold from the center of the galaxy and has forged it into a powerful ring.
The story is full of details about Captain Harlock's father and his past as pirate. We also get interesting cameos of other Leiji Matsumoto's memorable characters such as Emeraldas and Maetel. And not only the story is full of details. The graphic style of Nibelung no Yubiwa won't cease to surprise you at every turn of the page. A curiosity is that this was one of the first manga to be (partly) published on the internet. Anyway, Nibelung no Yubiwa is one of Leiji Matsumoto's most epic space operas, so don't miss it out if you encounter it in your otaku buying trips.
---
4. Out of Galaxy Koshika

Genres: Sci-Fi, Shounen
Volumes: 1
Published: Apr 2009
If we can count with something in Leiji Matsumoto's world, is with a balance of the protagonism of each gender. This manga gives us a female captain for a ship that departs from Earth in the hopes of stopping a catastrophe. Counting with a diverse crew and a protagonist like Yu Haguro, we can only expect action and adventure on their travels through time.
So, why do we say Haguro is so cool? Well, this lady created a research institute in order to explore Earth and Space by herself. Yu Haguro was one of the first female scientist protagonists in any manga. We don't put Out of Galaxy Koshika in a higher position only because the story is somewhat similar to a more rounded and famous one 😉
---
3. Shin Taketori Monogatari: 1000 nen Joou (Queen Millennia)

Genres: Mystery, Drama, Sci-Fi, Supernatural
Volumes: 5
Published: Jan 28, 1980 to May 11, 1983
Leiji Matsumoto has been well known for combining Japanese culture with Occidental influences. In this manga, he gets inspiration from one of the oldest tales in the world, "The tale of the bamboo cutter", where a noble woman from the Moon is sent to be reborn in the Earth in order to expiate her guilts, only to be sent back later. On 1000 nen Joou, instead of having a girl from the Moon, we have a girl from the planet LaMetal, which risks colliding with the Earth every thousand years. Yayoi (the protagonist) is originally sent in order to get human slaves for her planet, but at growing together with the earthlings, she decides to find a way to avoid the collision at all costs.
What can we say about one of the most famous Leiji Matsumoto works? There is an excellent balance between sci-fi and natural elements. We get the opposite factions of nature and technology in conflict. 1000 nen Joou is a human story that reminds us how precious our home planet is without being preachy.
---
2. Ginga Tetsudou 999 (Galaxy Express 999)

Genres: Adventure, Drama, Fantasy, Sci-Fi, Shounen, Space
Volumes: 18
Published: Jan 1977 to Oct 1981
Tetsuro Hoshino has only one wish after watching his mother die: to get a cybernetic body in order to become immortal. A mysterious woman under the name of Maetel promises to take him to the Andromeda Galaxy (where it is said that robotic bodies are given for free) if he becomes her travel companion. Therefore, they go on board the Galaxy Express, a train that takes them throughout many planets. Tetsuro will meet several characters who will help him reflect about what being immortal implies.
Ginga Tetsudou 999 is an enchanting fairy tale that combines the inspiration of the "Little Prince" with a Japanese tale called "Night on the Galactic Road", which depicts a train. Leiji Matsumoto has stated that the story is an allegory for our individual journey towards adulthood. It is one of his most philosophical works, with less action than usual and a safer atmosphere, represented by Maetel. If you are looking for something to read before going to sleep, Galaxy Express 999 might be your ticket to a realm of wonderful dreams.
---
1. Uchuu Senkan Yamato (Space Battleship Yamato)

Genres: Action, Adventure, Mecha, Sci-Fi, Military
Volumes: 3
Published: Nov 1974 to Apr 1975
Any otaku who admires sci-fi should have heard about Yamato. It has had so many incarnations in animation and live action! Uchuu Senkan Yamato started as a project based on the novel "The Lord of the Flies", an obscure tale of children who decent to brutal tribalism on an isolated island. The original idea was simply to put teenagers on a space ship until Leiji Matsumoto joined the project and recrafted the story.
Earth has been attacked by aliens and is surface is barren of life. But there lies a hope in Mars with the blueprints of a ship sent from the distant planet of Iscandar. Humans decide to build the spaceship and journey to find the promised cure for Earth. Perhaps the most salient aspect of this story (besides thee action, of course) is the human relationships that are formed among the crew inside the ship. There is a little bit of everything here, even romance 🙂
---
Final thoughts
It is not easy to fit the complexity and scope of Leiji Matsumoto in a such a short space. However, we hope we steered your curiosity towards his unknown manga. As for us, we are ready for a reread of his classics! Tell us, which is your favorite manga by Leiji Matsumoto? Don't forget we are open to all your comments. See you soon and von voyage towards the galaxy 😉