También puedes leer este artículo en:Español
Nowadays, it's hard to surprise audiences. We've seen it all: Betrayal, death, heartbreak, secret children, secret marriages, even surprise returns from the death. There are lists for the things we have grown to expect, and in some cases, we can even count the minutes until the consequences of the heroes' acts or the appearance of a new "mysterious" character.
This doesn't mean that those somewhat predictable stories are bad: Some people can pretty much guess who the bad guy in a story is due to their voice actor and that doesn't mean that that story is bad. However, there are still some writers who manage to surprise their reader with twists no one saw coming.
And to celebrate those writers, here are our top ten manga twists (that are not adapted to an anime) for you to enjoy. Needless to say, Spoilers ahead.
10. Helck

Authors: Nanao, Nanaki
Genres: Action, Fantasy
Volumes: 11
Published: 2014 – ongoing
After the death of the Demon King, the Demon Empire organized a tournament to choose their next King, as their rules state that might equals authority. Demons from all over the world come to the castle in order to win the maximum power of the realm. The favorite hero to win is Helck, a young human who is stronger than many demons, who has an utter hate for all mankind and only wants the power to destroy the world.
Now, one may think that the fact that our hero is actually a villain is the twist. However, the truth is a little more complicated than that and it comes out of left field when Helck's past is revealed. Once we know where the heroes come from, and why his hate for humanity exists, the story changes completely and you have to re-read it again to see it now from Helck's real point of view.
While it may be surprising, it is very well foreshadowed, so this one earns the tenth place on our list.
---
9. All you Need is Kill

Authors: Obata, Takeshi (Art), Sakurazaka, Hiroshi (Story), Takeuchi, Ryousuke (Story)
Genres: Action, Sci-fi, Military, Seinen
Volumes: 2
Published: 2014 - 2014
Earth has been invaded by the Mimics, a powerful alien race. This, of course, has forced mankind to fight to the last man for survival. This is why we have the United Defense Force, an elite group of soldiers that use a special exoskeleton to fight against the alien threat. Keiji Kiriya is one of the many, many recruits who join the Defense Force in order to fight the threat, but then suddenly finds that he can't die. Or rather, he will die, only to return to the morning of the day of his death. Again, and again, and again, and again. It soon becomes a question of either learning all he can from each loop to be able to break it, or use the loops to be able to get rid of the Mimics completely.
All you Need is Kill seems to be a fairly standard Groundhog day scenario, until we get to the last act of the story, when we find out what is causing the loops, as well as their connection with the Mimics. It's a very interesting take on the process, as well as one that makes sense within the logic of the world that was built. It doesn't come out of left field, even if it's a surprise. Not only that, but it sets up a very good bittersweet ending, which may leave some very angry at the unfairness of it despite it being a logical ending to the situation.
Because of the great world-building around this twist, it earns the ninth place on our list.
---
8. Akumetsu

Authors: Tabata, Yoshiaki (Story), Yugo, Yuuki (Art)
Genres: Action, Drama, Shounen, Police, Psychological, Thriller
Volumes: 18
Published: 2002 - 2006
Economy problems are the bane of society. Everyone has to start working when the country has a debt of more than seven trillion dollars, and that means that most households now have even their children working. Shina Nagasawa is one of those unfortunate teenagers that needs to sell herself to older men in order to help pay her family debt, but the night she finally starts working, the party she's at is crashed by a masked man named Akumetsu who is there to kill one of the guests. Shina recognizes him as a classmate, Shou Hazama, and is horrified when the police kill Shou after he eliminates his target. Which makes it weirder when Shou is back at school with no signs of a wound.
Akumetsu is a very intriguing manga, made of twists over twists. One can think they have all the intricate mysteries solved, and yet, Tabata still can surprise us. In this case, the biggest twist is the nature of the Akumetsu identity and exactly how is it that Shou comes back from the dead not once, but many, many times. The violence in the series also helps a lot to make the twist make sense: we're faced with a society of excess and abuse in this story, so the origins of the Akumetsu identity and his apparent immortality work in context. Even so, it still has one last surprise for the ending arc.
Since the twist is very well woven within the world-building, it earns the eighth place on our list.
---
7. Spirit Circle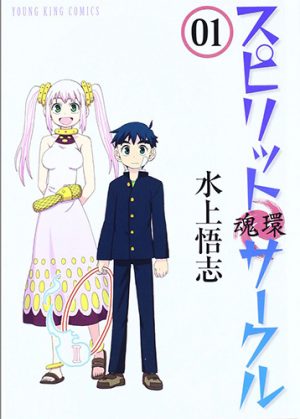 Authors: Mizukami, Satoshi
Genres: Action, Adventure, Comedy, Drama, Romance, Supernatural, Seinen
Volumes: 6
Published: 2012 - 2016
As far as 14-year-olds go, Fuuta Okeya is a perfectly normal kid. Well, except for the fact that he can see ghosts; and a bandage on his cheek that covers a very strange birthmark that he prefers to keep secret if possible. But when Kouko Ishigami transfers to his class, he completely falls in love with her. Unfortunately for him, not only does she not love him, but also, once she sees the birthmark, she declares he is her enemy, victim of a curse she put on him in a past life.
Now, from here on we could expect a will-they-won't-they relationship as they fight the big bad of the story, Fortuna, who created the Spirit Circles which pretty much lock people into a reincarnation cycle. However, the story is far more complicated than that, especially as we learn more and more about Fuuta, his relationship with Kouko, their pasts lives… and Fortuna's true plan. Which not only surprises the readers and the characters, but also Fortuna himself due to the nature of the different realities.
Due to the complex plot that makes the twist even more surprising, Spirit Circle earns the seventh place on our list.
---
6. Boku wa Mari no Naka (Inside Mari)

Authors: Oshimi, Shuuzou
Genres: Mystery, Drama, Romance, Supernatural, Psychological, Seinen, Gender Bender
Volumes: 9
Published: 2012 -2016
Isao Komori is what is usually called a hikkikomori: he prefers to stay inside his room, have no social contact except through the internet, and play videogames as long as he can. He does lust after a girl: a sweet girl named Mari Yoshizaki, whom he usually sees when he has to go to buy food to a nearby convenience store, and whom he follows a bit when he sees her as he's too shy to talk to her. One day, however, this all changes as he wakes up in her body. For some reason, he seems to have changed bodies with her and now he has to learn to live as her, figure out how to go back to his own body and not ruin both their lives in the process.
To be honest, to ruin this twist would be a crime. Let's just say that it's not at all what a lot of people expect: the story treats the body-swapping with much less comedy than usual, as we see Isao really freaked out. Even more so when he has to live a lot of experiences that guys just don't get. Not only that, but later we have clues that anything we've seen is not quite real, and then there's the ending that puts the whole story in a completely different angle. It's so surprising, that many readers are still arguing about it, and wondering if it's a good ending, a bad ending, or if the author pulled it out of nowhere.
And due to the fact that it makes things so complex, it completely earns the sixth place on our list.
---
5. Kakegurui (Kakkegurui: Compulsive Gambler)

Authors: Naomura, Tooru (Art), Kawamoto, Homura (Story)
Genres: Mystery, Drama, School, Shounen, Psychological
Volumes: 8
Published: 2014 – ongoing
At Hyakkaou Private Academy there's only one sure way to solve all problems: Gambling. Those who win are in the top, and the ones who lose become pets and slaves for all the school who don't even deserve a name. And in the middle of all of this we have the two most extreme gamblers in the country: recent transfer Yumeko Jabami, and the President of the School Council, Kirari Momobami. They both have no limits to what they will risk, or to what they will drive their friends and classmates to do in order to get a thrill from the risk of a high-stakes gamble.
Now, one may imagine that the reason for this addition on the list is because we never know if Jabami is going to win or lose –especially since both the manga and anime are very good at giving us both wins and losses for the main character- but in a twist of our own, we're here talking about a special bet that didn't make the anime: The Tower of Doors, a special building that Kirari had built for a very specific game that ends up being played between Jabami and Igarashi for the highest stakes possible: Jabami's ability to gamble, and Igarashi's memories of Kirari. Trust us when we tell you, you are not expecting the ending of this one.
Because of the complicated bet, and the way in which it is solved, Kakegurui earns our fifth place.
---
4. 20th Century Boys

Authors: Urasawa, Naoki
Genres: Mystery, Drama, Historical, Sci-Fi, Psychological, Seinen
Volumes: 22
Published: 1999 - 2006
When Kenji Endo discovers that one of his childhood friends has created a cult around the games he used to play with them when they lived together. Their old mock fights against the "Frog Empire" are now the blueprints for a new religion and terrorist attacks that kill most of the world's population. Because of that, Kenji realizes that he and his old friends are the only ones who can stop whoever it is that stole their childhood symbol and games.
20th Century Boys' twists come fast during the story: From the very beginning, when Friend's reach is starting to show, to the constant time changes from past to future. Not very far into it, we have the first big battle between Kenji's Faction and Friend's group, and in that fight we lose the first person suspect to be Friend and Kenji himself, who then proceeds to disappear from the story, handing the title of main character to Kanna, his niece. And while that may be considered a big twist, it is nothing compared to one that follows, almost 15 volumes later when a voice of hope is needed.
While it can be a bit overwhelming, since it has too many twists to count –and at some point one could argue it's possible to do a list of just 20th Century Boys great plot twists- this Urasawa manga earns the fourth place on our list.
---
3. Fuuka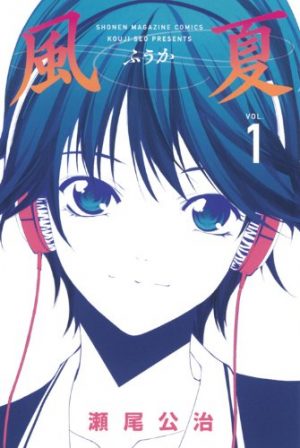 Authors: Seo, Kouji
Genres: Drama, Ecchi, Music, Romance, Shounen
Volumes: 16
Published: 2014 –ongoing
There are some rules to what we can expect from a manga. Even those who have been written to surprise us completely still have some rules that are not supposed to be broken, because they're part of the deal between reader and writer. One of those is that the main character has a shield. Until the end of the story, we can trust that the one character that can't die is the one who we've been following from the start: we can see it in manga like Yuu Yuu Hakusho, where yes, Yuusuke dies on the first chapter, but we can still see him floating around.
Fuuka doesn't respect this rule. While we do get to know her for a couple of volumes, the day when the band where she and her almost-boyfriend Yuu are to debut, she is in an accident. For a few pages, we, the readers, have some hope that she survived. After all, she is the main character, her name is in the title, and it isn't the last volume. So she has to live. But she doesn't. And the story moves on while she becomes a memory.
This twist is so surprising, that it wins the third place without a doubt.
---
2. Yakusoku no Neverland (The Promised Neverland)

Authors: Demizu, Posuka (Art), Shirai, Kaiu (Story)
Genres: Mystery, Sci-fi, horror, Shounen
Volumes: 5
Published: 2016 –ongoing
Emma, Norman, and Ray are three very special children who live in the Grace Field House, an orphanage where all of the inhabitants need to pass some rigorous tests in order to be ranked in order to be sent to a designated foster family before their twelfth birthday. Unfortunately, there are many secrets about the house where they live and the Forest that surrounds them. Being curious about the time when they will have to leave the house, as they all are eleven years old, the three of them stumble on the first secret: what really happens to every child that has been sent "away".
The really interesting thing here is that the twist is not the culinary end that the children meet. That is just the first door to many, many secrets that appear as Emma and Norman start trying to flee the Grace Field House and save as many of their classmates as they can. And the twists keep coming, showing a very interesting take on world building and in character growth. At some point, you will just keep reading wishing to know what is the next twist that Posuka and Kaui will have for you.
Since the story is not over yet, and we can't tell what will be the biggest twist, Yakusoku no Neverland earns the second place on our list.
---
1. Billy Bat

Authors: Urusawa, Naoki (Story and Art) , Nagasaki, Takahashi (Story)
Genres: Mystery, Drama, Historical, Supernatural, Police, Psychological, Seinen
Volumes: 20
Published: 2008 – 2016
When Japanese-American comic book artist Kevin Yamagata decided to travel to Japan in order to meet the man whom he had apparently accidentally plagiarized with his own comic, Billy Bat, he had never expected to end up involved in a huge plot spawned centuries ago, concentrated on preserving the future of mankind. From the moment he sees the bat, the moment the bat starts talking to him, Kevin becomes one more link in a very long chain. A chain the story of which is filled with twists that not even Kevin, who can draw the future when the bat allows it, can predict.
Billy Bat is a very complex manga, which adds real life moments to the narrative of the bat and uses the general knowledge of said moments to create twists and surprises for the audience. One of the biggest, if not the biggest twist of the story comes from this: as Kevin Yamagata starts drawing the assassination of John F. Kennedy, we meet Lee Harvey Oswald as he is pushed by fate and the bat towards that fateful day in Dallas, November 23. What makes the story really interesting is that Kevin follows the story as we know it, sure that his mission is to stop Oswald, but Oswald himself doesn't seem to want to kill Kennedy. And how it ends will surprise every reader, even the most eagle-eyed ones who may have predicted all the other twists in this list.
Because of how well the twist is written, and how unexpected it is, it absolutely earns the first place on our list.
---
Final Thoughts
Well-done twists will always make a story better. However, sometimes it's really hard to make them work, as one also has to deal with spoilers, and of course, with all the twists that have come before. In the eighties, Darth Vader proclaiming that he was Luke's father was a shock to everyone. Nowadays, we expect the hero to be the son of the Villain or the Villain's main henchmen.
With all this in consideration, you may realize making this list was not an easy task. So we have to ask, did we miss a twist that made you gasp in surprise? If so, let us know in the comments so we can be amazed at a new story too.
---