We are back for another Top 10 Manga recommendations! That's right. You read the title
correctly. We will be introducing 10 titles to satisfy your thirst for stories, characters, and any genre that tickles your fancy. There are no restrictions in terms of genres as we have given to
green light at some point, but nevertheless, we have to comply with the title mentioned
above.
The rankings of this article will not be based on specific genres, but their experience as a
whole. It is important to keep in mind that the following titles may not be suitable for you
because everyone has their own opinion and taste. Still, these titles might be something for
you to explore somewhere new and uncharted in your otaku world. Without further ado, let's
get into it.
10. Dengeki Daisy

Mangaka: Motomi, Kyousuke
Genres: Comedy, Drama, Romance, Shoujo
Volumes: 16
Published: May 2007 – December 2013
Before his very last breathe, Teru Kurebayashi's brother gave her a cell phone. A cell phone that contains the contact "Daisy" and tells her to contact them whenever Teru wants to talk with someone. Teru thinks of Daisy as her supporter. However, to pay off a debt, Teru has to work for a rude and inconsiderate school janitor Tasuku Kurosaki, who is also attractive by the way. What will she do now that she is living in two different worlds?
This isn't your typical shoujo manga where a popular guy defends an unpopular girl. You would be sadly mistaken. This manga is one of the hidden gems, and we can't believe we missed this. The pacing of the story felt just right for the readers to enjoy the story progression and appreciates the character development behind it. The mystery lies in Daisy. Who is it? Who has been helping Teru all this time? If you want to seek the truth of this matter, go ahead and read it.
---
9. Hatsukoi Zombie (First Love Zombie)

Mangaka: Minenami, Ryou
Genres: Comedy, Ecchi, School, Shounen, Supernatural
Volumes: 17
Published: October 2015 – March 2019
Tarou Kurume is a kind of boy who doesn't have a single love interest and avoids unnecessary conversations throughout his life. In short, he is a first-rate Energy-Saving Man. But everything changes when he was accidentally killed during a baseball session at school. Thinking that he was about to die, he made a wish to god to let him fall in love. That one wish gave him the ability to see the first love of every boy he sees.
Okay, okay. We know what you're thinking, why Ecchi? We're talking about the story here. Right? Right?! If you ignore the Ecchi element a bit, the story, character development, romance, and comedy are interesting. The manga is unusual in the way that you get to understand different characters with different mindsets and thought process that leads to their romantic interest and decisions. But there was another problem Tarou has to face: his newfound ability.
This manga shows what kind of romantic and non-romantic feelings people have in reality, which is a good selling point to understand people you have met in real life and the consequences of specific actions. Think of it this way, you're playing a Love Simulation, but you have images around you to gather information and take decisive action. If you like Ecchi rom-com where the main character is, for plot purpose, in a complicated situation. Give this one a go.
---
8. Momochi-san Chi no Ayakashi Ouji (The Demon Prince of Momochi House)
Mangaka: Shouoto, Aya
Genres: Fantasy, Romance, Shoujo, Harem, Supernatural
Volumes: 16
Published: February 2013 – August 2019
On her 16th birthday, Himari Momochi receives a letter stating that she has inherited a mansion called the "Momochi House." She was initially raised in an orphanage, so she thinks this mansion is the only thing that carries the memories of her family and decides to live there. She also ignores the fact that the estate is haunted.
There, she meets Aoi Nanamori and his companions, Ise and Yukari. Momochi wanted them to leave the mansion, but she soon learns that the house sits in the space between the world of the living and the spirit realm. Thus, Aoi is now stuck in this mansion as a role of a Guardian that was originally meant for Momochi and Momochi starts to find a way to break Aoi's curse and free him while living in the haunted mansion.
If you have read Fruits Basket, this manga is pretty similar but different at the same time. Himari has gotten herself a haunted house, but that besides the point. She is living with hottie, hottie hot hottie boys so she could build a harem for herself! Okay, back to the topic, the story focuses on ayakashi, the character designs are fantastic, a lot of amazing mature and character development. The emotions that they carried during those situations pulled us to a side of wanting to support them to reach their goal. She can be stubborn sometimes, but her sense of adventure is off the chart! Reading the scenes where the characters exploring the mansion can be very confusing, so get you're A-game ready to venture around the estate… if you dare.
---
7. Rikudou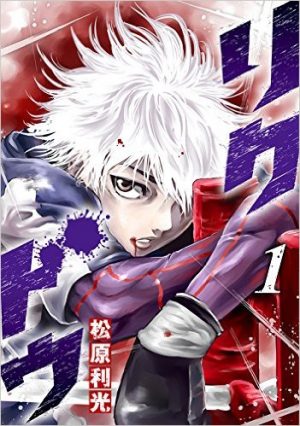 Mangaka: Matsubara, Toshimitsu
Genres: Action, Drama, Sports, Seinen
Volumes: 23
Published: April 2014 – May 2019
Riku has experienced a lot of pain and tragedy in his early life. After his father's death, he was taught how to defend himself from a former-boxer yakuza man. That training has taken his mom's drug dealer. Criminals continued to hunt for his head. People who helped him ended up suffering, driving Riku to meet the same boxer again… to become stronger and become a professional boxer.
Get ready for some dark story behind this manga. Well, not really. It will soon be back to normal as we progress. The manga depicts the backstory and hardships the boxing champion has gone through, thinking of the consequences that each fight has on both the physical and mental state of a boxer. The art style is somehow a mix between a Western-style and Japanese-style manga, focusing on the contrast to make the artwork look more realistic and deepened the characters' emotions. Is it violent? Yes. But it has a hint of drama and scenes that makes us think otherwise.
---
6. Psyche Matashitemo

Mangaka: Fukuchi, Tsubasa
Genres: Action, Shounen, Super Power
Volumes: 15
Published: July 2014 – December 2018
The story revolves around Saike, a male middle student without dreams and motivation. His female childhood friend, Mikan, always come to see him every day. One day, Saike witnessed a tragic accident befell on Mikan. From there, he gains psychic powers that surpass human knowledge.
Phew. Finally, able to save that girl after what? 15 deaths? You read that right. We have gone through 15 different routes to save your sorry butts! Do you even know how difficult it is to think of a solution for your case?! Anyway, Saike can start over to the past of the same day at 7:00AM sharp. From the first chapter, you probably wonder whether Saike and Mikan will be together. As of now, let's focus on the story, this manga is similar to Birdmen, but it gives you the idea of how tedious it is to go through and execute specific routes to save people. Basically, this series is like Re: Zero except for the fact that the main character is not a whim like Subaru.
You get to see all kinds of powers and how the power users utilize them can be creative or normal, so you will be the judge. The story isn't only focused on the main characters, but also the opposing characters as well. It goes to show that the story is a one-sided perspective and allows the readers to read and understand the reasons behind everyone's actions. Now then, what is your next move?
---
5. Tenshi to Akuto!! (Angel and Akuto!!)

Mangaka: Hirakawa, Aya
Genres: Comedy, School, Shounen
Volumes: 17
Published: December 2014 – May 2018
Ikurumi Akuto is the son of a well-known politician. He excels in every subject in his class and sports. However, he is extremely arrogant and thinks highly of himself and standing above the masses. Oh, we forgot to mention that he has a feminine voice that is the main reason for being targeted for ridicule by his schoolmates. That is where Harusaka Nari enters his life. Nari successfully forces Akuto to help her Anime Research Society's project for the upcoming Cultural Festival… as the female lead.
Let's start with the main characters. A boy who can voice female characters and a girl who voices male characters in the anime of their creation. The manga depicts of how voice actors train and learn how to roleplay certain characters. That interaction between two totally opposite personalities created a comedic element to the story. It also shows how pride and stubbornness can lead to results in the right way. As for the voice acting scenes, prepare to get yourself immerse into the characters' world, they voice along with the emotions they carried. The art is a bit old school, but you wouldn't want to miss the good stuff, right? If you're interested in voice acting in a school setting. Give this one a try.
---
4. Birdmen

Mangaka: Tanabe, Yellow
Genres: Action, Shounen, Super Power, Supernatural
Volumes: 16
Published: July 2013 – February 2020
Eishi Karasuma is a loner with a boring life. Along with his only friend, Mikisada Kamoda, they decided to skip class and ends up meeting Rei Sagisawa, a very energetic girl, and Rei Sagisawa, a pretty boy that attends the same middle school. On the way back to school, they encounter a sudden change of an event. From there, a mysterious boy with wings arrives to help.
Caw Cawww! We are Birdmen and here to save you! Ahem. Has anyone got a Power Rangers vibe here? Anyway, You probably got a slight idea on the premise of this manga. This is about to start off as a vigilante when you receive blood from a Birdman to live for another day. We're talking about learning how to use your newfound power and superhuman abilities along with the responsibility to protect the world!
For a small group of friends who are chosen by Birdman, their personalities are unique, and the diversity brings interesting chemistry of character development and the liveliness within the party. It is also beautiful to see how they work together as a team to overcome situations that couldn't be done alone. The artwork was amazing, and the sceneries are breathtaking. Even in non-actions scenes, you could feel the hype building up within yourself for the upcoming battles. Now, what will our heroes do? Immerse yourself in this manga and find out!
---
3. To Love Ru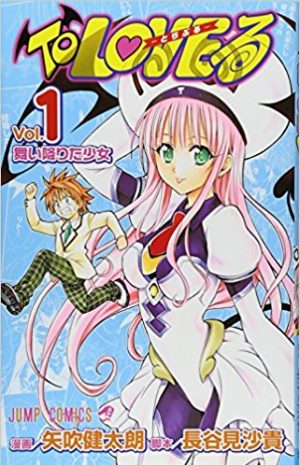 Mangaka: Yabuki, Kentarou (Art) and Hasemi, Saki (Story)
Genres: Comedy, Ecchi, Romance, Schoo, Sci-Fi, Shounen, Harem, Supernatural
Volumes: 18
Published: April 2006 – August 2009
Rito Yuuki is a high school student who cannot confess to the girl of his dreams, Haruna Sairenji. One day, after coming from school and sulking in a bathtub, a mysterious, nude girl appears out of nowhere. Her name is Lala, and she comes from the planet Deviluke…
Heyyy… if you are an ecchi fan. This manga may be for you. The story started off regularly but then got lost in track in all the randomness in a proper way. There are so many cute and unique girls with beautiful artwork. The romance and comedy are on point, and it would be best to keep in mind that we shouldn't take the story seriously, so don't expect anything profound or plot twists.
---
2. AKB49: Renai Jinshi Jourei (AKB49: The Rules Against Love)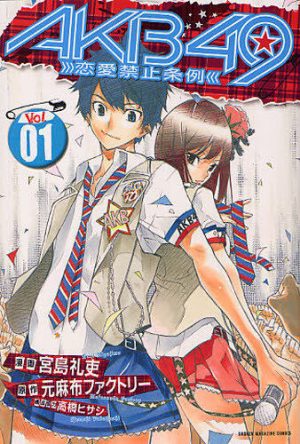 Mangaka: Miyajima, Reiji
Genres: Comedy, Music, Romance, School, Shounen, Gender Bender
Volumes: 29
Published: August 2010 – January 2016
A popular idol group called AKB49 has spread far and wide, both nationally and globally. It wasn't abnormal for Hiroko Yoshinaga to be interested in being a member of AKB49. Having failed at most of the attempts due to stage fright, Yoshinaga decides to try one last time before giving up for good. Even though Minoru Urayama isn't interested in idols, he decides to help Yoshinaga realize her dream to be an idol, so he participates in the audition with her, disguising as a girl. Unexpectedly, along with Yoshinaga, he got recruited into AKB48.
So to get an idea of what you're going to experience in this manga is getting to know how the idol industries operate and the culture they created along with idol fans. One of the cultures that you might be aware of and familiar with idol series is the fact that idols can't have boyfriends or girlfriends. It may not apply to some people, but to us and in reality, everyone deserves to love, in the proper way, so do your purpose to give them support. You will be introduced to the training, dedication, and determinations they showed in their development to become the best idols they can be. The beautiful and yet harsh forbidden love that was placed on them with the status of idols and the teamwork they display even though there is some friction going on between them.
The romance aspect of this manga focused between Minoru Urayama and Hiroko Yoshinaga. Minoru has a crush on Hiroko from the beginning and has been close to her ever since he joined the idol group. You have to give credit to both of them. They maintained professionalism during their work. It is difficult to imagine how painful it is for Minoru to hold onto the feelings he had toward Yoshinaga all this time. The strong point of this manga is the story, the artwork is semi-okay as the side characters look a bit similar.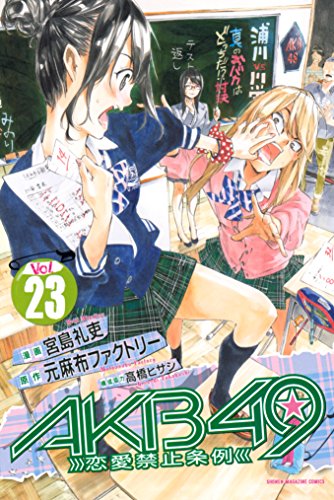 ---
1. Noragami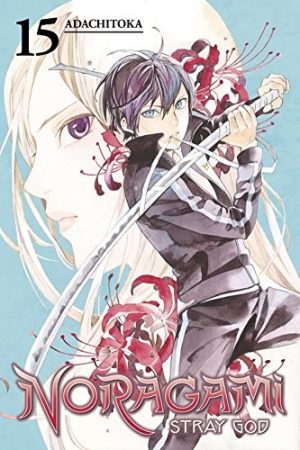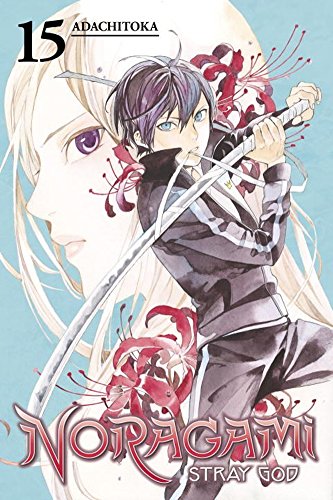 Mangaka: Adachitoka
Genres: Action, Fantasy, Romance, Shounen, Supernatural
Volumes: 21
Published: December 2010 - Ongoing
Yato is a god without any worshippers. He takes on odd jobs for only five yen, with a goal to gather enough money to buy himself a shrine. The problem is that his "Shinki," a weapon partner, decides to resign from a homeless god. During one of his odd jobs, he involved a girl, Hiyori Iki, in an accident, causing her to end up in a hospital. When she regained consciousness, she found out that her soul is outside of her body. Realizing that his actions caused this, he promises to help Hiyori but in return, help him get a new Shinki.
The story and characters seem normal from the beginning, but as you dwell into it. You will begin to sense something is hidden in the story, and that makes us curious all the more reason. The artwork is somewhere between traditional and modern, and that brings forth the right contrast in their scenes. The combats are filled with adrenaline and the carefree interactions between the characters. These elements are meant to steer you away from the truth and create more mystery to all kinds of characters. We can't help but feel there is a perfect balance in the genres the manga has to offer.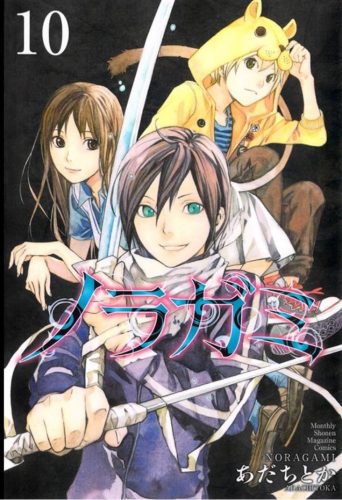 ---
Final Thoughts
That is it for these recommendations. Most of them are fantastic and enjoyable in their own way and meant for readers who want to read a large number of chapters and experience a long journey with the characters and embrace the emotions they carry. Remember, take your time, and let the manga take you on a trip they have to offer, and it is going to be a roller coaster. Grab some tea or coffee and a snack or two and enjoy your reading session. Which manga series is your favorite and what other manga series do you think that should be introduced to the manga community? Leave down a comment below!
---