También puedes leer este artículo en:Español
There come times in life when one could do with a small miracle. During such times, maybe you will be able to spot a telephone number scrawled in red. If you call, you will get an answer from a handy kami called Yato. He fulfills the strangest of "godly jobs" in exchange of five yen coins. But his life gets turned upside down when he meets Hiyori during a traffic accident. This girl will become a bridge between the supernatural and the human worlds, joining Yato´s adventures and meeting other kamis.
Noragami was an anime produced by Studio Bones, based on the work by Adachitoka. It has had two seasons, which finished airing last year. This is sad, because the manga is still ongoing. So… while we send a few letters pleading for more seasons of Noragami, why don't we find other similar anime to Noragami? Let's see how many more we can find… This is our updated list of 6 anime like Noragami. To see the old list, keep scrolling below!
Similar Anime to Noragami
1. Bakemonogatari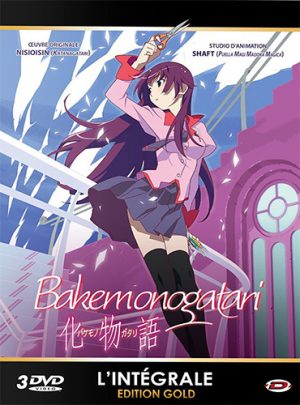 Episodes: 15
Aired: Jul 3, 2009 to Jun 25, 2010
Welcome to another supernatural world! Produced by Aniplex and Kodansha, Bakemonogatari deals with our protagonist (Araragi), a third grade student in High school. Araragi once was attacked by a vampire, but thanks to a certain Oshino, he went back to the human realm. Only, at the time, Araragi was left with a taste for the supernatural, so, he considers his mission to help people who have… mysterious problems.
Both Noragami and Bakemonogatari update the concept of supernatural beings (especially Japanese traditional ones), introducing them into the cool contemporary world. Both stories also have a good balance between action and a sassy humor. They give us male protagonists who are willing to take risky jobs and save the day as well. If you want your supernatural cool beings with a little bit more of horror, try to watch Bakemonogatari.
---
2. Kamisama hajimemashita (Kamisama Kiss)

Episodes: 13
Aired: Oct 2 to Dec 25, 2012
Kamisama hajimemashita was produced by TV Tokyo, Dentsu, Sotsu, Pony Canyon, Hakusensha and DAX Production, based on Julietta Suzuki's manga. Nanami (our protagonist) has no luck at the beginning of the story. She is left homeless due to the massive amount of debt her father has run into due to gambling. But fortunately, Nanami inherits a temple and a handsome Kitsune (fox spirit). Love and supernatural adventures will be the order of the day, as Nanami now is a kami! She has to listen to the prayers of the people and try to help them. But are other kami ok with it?
In Kamisama Kiss, like Noragami, we have a kami with a companion. We also have interactions and even battles with other kami. The story is full of humor as well, although it has a softer, romantic side. And, did we already mention Tomoe (the fox spirit) has a great backstory behind him that slowly takes the central stage? This anime is perfect for the shoujo anime lovers! Plus, the heroine is likeable and the leading characters have a good development throughout the story.
---
3. Tokyo ravens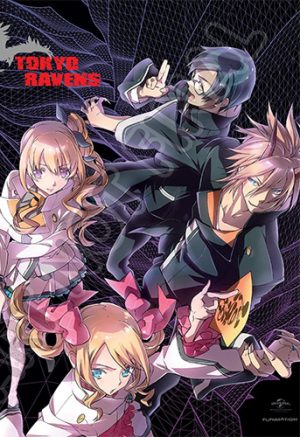 Episodes: 24
Aired: Oct 9, 2013 to Mar 26, 2014
Based on the light novels by Kohei Azano and Sumihei, this anime was produced by Geneon Universal Entertainment, Movic, Bushiroad, Showgate, and Tokyo MX. Imagine that the cool Japanese spiritual exorcists of the past provoked a disaster that had consequences until today. Shortly speaking, spirits and monsters can wreck havoc easily into the human world, so, the Onmyou agency was established to fight against them. Amidst this background, a little boy named Harutora made a promise to the Priestess Natsume to become his familiar and fight by her side when they grow up. But (there is always a but) Harutora has no talents as exorcist to begin with! Will he be able to protect Natsume?
Tokyo ravens is part of the enchanting family of animes with a leading couple! We also have a fight against supernatural monsters as well! The greatest difference with Noragami is the emphasis on traditional magical outfits and props. Also, the couple is sweeter and more established since the beginning of the story. If you would like to see Noragami with a more… magical girl style on it, watch Tokyo ravens! Your sugary action cravings will be satisfied.
---
Any Anime Like Noragami ?
4. Black bullet

Episodes: 13
Aired: Apr 8 to Jul 1, 2014
This anime was produced by Geneon Universal Entertainment, AT-X, Showgate, Orange, and NBCUniversal Entertainment Japan. It was based on a light novel written by Shiden Kanzaki and illustrated by Saki Ukai. In the story, it is the year 2021. Several apocalyptic things have happened. In the first place, a parasitic virus called Gastrea has infected humanity, turning them into monsters. Only few healthy humans have survived, hiding behind the Monolith walls. In order to protect the remains of humanity, girls with traces of the virus (which give them supernatural abilities) are paired with cool guys to hunt down the monsters.
So, what is similar between Noragami and Black bullet? The premise of infections in humans who become monsters is seen in both animes. The two heroines (Hiyori and Enju) also go the extra mile for the sake of the guys. The difference is that we get more futuristic in Black bullet. So, if you want to see a dark vision of our future full with action and a little dab of hope, you can try this anime. The leading couple will not disappoint you with their killer moves!
---
5. Kyoukai no Rinne (Rin-ne)

Episodes: 50
Aired: Apr 4, 2015 to present
Welcome to another masterpiece based on the work of the Goddess of manga, Rumiko Takahashi! The anime for Kyoukai no Rinne was produced by Shogakukan Productions and NHK. We can see some old producers in here backing Takahashi-sensei. Anyway, let's get on with the story. Rinne is a guy with a supernatural mission, who can sometimes only be seen by Sakura. This lady disappeared when she was a little girl, and although she does not remember what happened, Sakura was left with the ability to see spirits. Now, she will be Rinne's companion on his adventures.
This is an anime very similar to Noragami, as we have a couple in the middle of the supernatural world and the human world. Both stories use a more modern look of traditional Japanese folklore. Also, Rinne and Yato are rather poor (je, je) but resourceful. As for Sakura and Hiyori, they are the helping female hands that are not your typical ladies in distress. If you are into longer shows, this one is the perfect choice for you. All the romance, action and comedy Takahashi sensei manages to mix so well is present in the world of Kyoukai no Rinne!
---
6. Sousei no onmyouji (Twin star exorcists)

Episodes: 50
Aired: Apr 6, 2016 to present
This anime is produced by TV Tokyo, Nihon Ad Systems, TV Tokyo Music, and Avex Pictures. Sousei no onmyouji is based on the ongoing manga by Yoshiaki Sukeno. Anyway, here we can meet a unique pair of exorcists, who are said to be destined to marry and give birth to the ultimate exorcist! Their mission is to purify the monsters who live in Magano, a parallel supernatural world. But Rokuro, the talented guy exorcist, is not interested on the job. Benio, the talented girl exorcist, is his complete opposite. Thus, they will have to overcome their differences if they ever want to succeed into bringing peace to Magano.
Here we have (again) a normal human world and a supernatural world full of strange and menacing creatures. We also have a couple leading in the anime, although their relationship is less comical than in Noragami. This anime combines the inspiration on old traditions with a futuristic view as well. The especial effects are also interesting. And its final selling point is that is is a long anime. So, if you would like some kick-ass battles in your anime dose with a "couple of steel", try Sousei no onmyouji.
---
Final thoughts
And there you go! Six more animes to satisfy your Noragami craves! We have a little bit for everyone here, as some are more into the shoujo innocent and loving style, while others are more gory or full of action. It would be even better to watch them all to compare them better. But that would be the stuff for a poll, maybe?
So, which other anime like Noragami have you watched lately? Did you watch any of our recommendations? Which ones did you like? Don't forget that we are open to all your comments and suggestions. See you soon!
---
---
Noragami is the story of Yato, a minor kami, who's trying to build a more devoted following by taking local odd jobs and slaying ghoul like creatures called Ayakashi. He becomes mixed up with a girl named Hiyori Iki who after an accident which would kill most humans, is reborn as a being who can interact with the human world and the world of Kami.
Yato employs the spirit of a boy named Yukine, who soul provides Yato a weapon in the form of a blade. Yukine and Yato may have darker past and tendencies than it first appears, and the two will have to resolve their issues before something takes a dramatic wrong term. Noragami is a wonderful series which is due for a sequel in the Fall 2015. But to tide you over, if you're looking for a similar series, check out the recommendations below!
Here are six to get you on track!
Similar Anime to Noragami
1. Durarara!!

Episodes: 24
Aired: Jan 2010 - Jun 2010
Ryugamine Mikado is a kid who wants the hustle and bustle of a big city for himself. When his friend invites him to Tokyo, he takes up the offer and transfers to a school in Ikebukuro. Mikado is warned of certain elements in the neighborhood to not get mixed up in. However, on his first day he witnesses the 'Headless Rider' riding a black motorcycle, part of the areas local, urban folklore. After this, more and more supernatural events come to pass and the neighborhood may be a little more than Mikado bargained for.
Durarara!! Sets a benchmark for urban fantasy, which is the same genre that Noragami falls into. DR!! Is kind of a clusterf*** in the best use of the phrase. It's out there, and a lot of what goes on the show is pretty out there. Much of the cast is pretty out of the ordinary as well. This gives DR!! a very unique feel, style and make it one of the more memorable experiences in anime in recent years. Noragami has the same kind of feel, if a bit more muted and mellow.
---
2. Kekkai Sensen (Blood Blockade Battlefront)

Episodes: 12
Aired: Apr 5, 2015 - Ongoing
Kekkai Sensen is the story of Leonardo Watch and the group that he joins called LIBRA, which tracks crime of a supernatural nature in Hellsalems lot, which is Manhattan after a otherworldly portal opened in the city limits. Leonardo becomes involved with a girl, Mary Macbeth, called 'White', and her brother, William, called 'Black.' Leonardo and White become closer, but Black may have some ulterior motives for him as he goes along…
Kekkai Sensen is another action-comedy Shounen series set in an urban environment. Both are animated by studio bones and have a lot of great visuals. Kekkai Sensen is perhaps slightly more up-tempo in terms of presentation and style, it has a more frenetic feel to it. It's also a lot more episodic of a format than Noragami, but it still has a central plot that ferments in the background.
If you're looking for a slightly different flavored version of Noragami, be sure to check out Kekkai Sensen.
---
3. Soul Eater

Episodes: 51
Aired: Apr 2008 - Mar 2009
Soul Eater is the story of in the is set in the Shinigami school for Weapon Meisters. The series revolves around 3 pairs, Maka and Soul Eaters, Black Star and Tsubaki and finally, Death the Kid with Patty and Liz Thompson. The meisters and their weapons must collect the souls of 99 evil humans and 1 witch in order to achieve the highest rank as a weapon.
Soul Eater and Noragami are both technically Shounen series but Soul Eater is, in many ways a lighter, more Shounen-y version of Noragami. Both are series where gods interact with the real world, and also have characters who transform into weapons and have key relationships with their wielders. Noragami might just be a little more about the character relationships and drama than Soul Eater, which is more about Shounen esque fight scenes.
If you'd like a story like Noragami but a lighter tone and feel, this is a good bet.
---
Any Animes Like Noragami ?
4. Beyond the Boundary (Kyoukai no Kanata)

Episodes: 12
Aired: Oct 2013 - Dec 2013
Kyoukai no Kanata follows Akihito Kanbara, a half human half Youmu (A type of monster) and Mirai Kuriyama, a classmate of his that can use blood magic to fight other Youmu. Mirai is tasked with hunting Youmu out, and initially targets Akihito. However, the two form an alliance and friendship that leads them to taking on bigger and badder Youmu throughout the course of the series.
Beyond the Boundary is a supernatural action show with gorgeous visuals. You'll struggle to find an anime series that looks as beautiful and fluid as Kyoukai no Kanata with such consistency. In both series, the characters often have to fight demon, ghoul type creatures throughout the plot. The urban setting also gives both shows a similar feel, and even some individual frames in both shows, which try to show you the size and scale of how the supernatural hovers over the human world, bear comparison.
Noragami might have more substance then Kyoukai no Kanata, but the latter is prettier to look at.
---
5. The Devil is a Part-Timer (Hataraku Maou-Sama!)

Episodes: 13
Aired: Apr 2013 - Jun 2013
Sadao, the Devil king almost has the whole world under his control when he was thwarted by the Hero Emilia and forced to traverse into another world. The world he comes into is modern day Tokyo. Since Sadao doesn't really posess any employable skills, and all he knows is how to try to take over the world, it's the lower tier of the job-market for him. Sadao works at a fast food joint in order to make a living.
The Devil is a Part-Timer both have a main character who, albeit being a powerful, supernatural being, has to survive doing some menial work. Despite their big ambitions, they're stuck in the lower-end of the economic ladder, Yato has his oddjobs and Sadao has his burger stand. Both shows have a solid blend of mixing action with comedy, although 'Devil is a Part-Timer' is probably more on the comedy end of that scale in comparison to Noragami.
Both also have some implied, subtle romance plot lines as well.
---
6. Blue Exorcist (Ao no Exorcist)

Episodes: 25
Aired: Apr 2011 - Oct 2011
Ao no Exorcist takes place in a reality where there are two dimensions that are fused into another, Assiash, the human realm and Gehenna, the demon realm. Satan decides to have a human child in order to further his interests. However, once his son, Rin Okamura discovers he's Satan's son, he works against his father and attempts to become an exorcist.
Ao no Exorcist looks a lot like Noragami, and that's one of the very strikingly similar things about both shows. The character designs are share a lot of commonalities with one another, including an modern setting where the supernatural has quite a lot of influence. The two characters are very similar, super natural beings who are both sort of goofy, but looking to make some amends for the past as well as protect some of their new-found friends.
Ao no Exorcist is another fun, supernatural Shounen show to help you with a Noragami fix.
---
Noragami is definitely a series that we'd like to see more of, and there's something on this for everybody who agrees. Sound off in the comments below to let us know what other series you think a Noragami fan will enjoy. Did you like any of these suggestions? Did you try a show out and find it wasn't for you? Let us know your opinion and make yourself heard in the comments below!
---