Just about every anime has its share of arrogant or aggressive characters, but the ones who combine both these traits often stand out the most. Whether you like them because they aren't afraid to speak their minds or fear reprisal, or hate them for not being more restrained and humble, you've no doubt got an opinion on them. Oddly enough, these are characters that tend to express their arrogance in aggressive fashions because they're hiding personal inadequacies, and that's a common denominator you'll find in the Top 10 Arrogant & Aggressive Anime Characters Honey's Anime has ranked for you.
Our list contains characters whose aggressiveness makes them hostile, abrasive, and in-your-face. That doesn't necessarily mean they are loud, though in many cases they tend to be. Furthermore, these are characters that will often boast and let the world know about their superiority; however, this doesn't mean these characters actually believe deep down inside that they are better, it's more about the way they're presenting themselves. Those characters who are most heavily defined by their arrogance and aggressiveness can be found right below.
10. Mari Tsutsui from Nijiiro Days (Rainbow Days)

Episodes: 24
Aired: January 2016 – June 2016
Natsuki Hashiba, Tomoya Matsunaga, Keiichi Katakura, Tsuyoshi Naoe want what most high school boys want to find: love. Unfortunately, when Natsuki is dumped on Christmas Eve, he finds himself feeling the exact opposite. Of course, his feelings of sadness quickly evaporate when Anna Kobayakawa, a girl from his school, comforts him during his tearful breakdown. Natsuki's fallen in love all over again and he won't let anyone get in his way, including his friends.
Mari Tsutsui is the perfect start to this list because she perfectly encapsulates some of the stuff we mentioned earlier. She is aggressive in a violent and rude manner to other people, indifferent to their presence, and arrogant in her comfort in being alone. Her aggressiveness especially comes out towards men due to a history of being teased and bullied and the resentment she feels for her older brother after he left her to get married. That aggressive and arrogant behavior stems from her lonely past and has made of her a loner for most of her life.
---
9. Shun Kaidou from Saiki Kusuo no Ψ-nan (The Disastrous Life of Saiki K.)

Episodes: 120
Aired: July 2016 – December 2016
Saiki K's powers have made his life somewhat dull (everything is predictable) while simultaneously attracting the weirdest people to him and therefore rendering his life senselessly challenging. He's desperate for a simpler life without his powers where he can, at once, not deal with as much trouble but also have more reasonable surprises. Unfortunately, every day that passes by seems to drag stranger and stranger crowds, pushing him further away from his idealized life.
Shun Kaido is a Chuunibyou and believes that he is a hero combating an evil and mysterious organization called Dark Reunion. His delusions have led to him believing he is much greater and more powerful than anyone around him, and he proudly boasts about it to everyone that will hear him. Deep down, Shun is completely powerless, a coward, and can pretty easily be cowed by any sort of genuine opposition. As with many on this list, his aggressive and arrogant behavior is only there to hide an insecure and lonely interior.
---
8. Naoka Ueno from Koe no Katachi (A Silent Voice)

Episodes: 1
Aired: September 2016
Shouya Ishida, a class clown, spent a lot of his elementary school leading his class in bullying a deaf girl by the name of Shouko Nishimiya. When the girl succumbs to the pressure and transfers schools, Shouya takes the brunt of the blame and becomes alienated and bullied up until high school. Now suffering from social anxieties due to years of being isolated and ostracized, Shouya desperately desires to make good on the mistakes of his youth and that starts with trying to earn forgiveness from Shouko.
Naoka Ueno was one of Shouko's principal bullies in elementary school and the only character who shows very little regret for her behavior during that time. Now in high school, she's even more venomous towards Shouko for having caused trouble for Shouya in transferring schools. Her blunt and straightforward behavior leads to her demeaning and berating Shouko every chance she gets, and even attacking her at some point. Unlike most of the other characters here, she doesn't show a lot of remorse about her actions.
---
7. Sister Krone from Yakusoku no Neverland (The Promised Neverland)

Episodes: 11+
Aired: January 2019 – Ongoing
In an orphanage where children are raised with love, care, and a tremendous education, there's little reason to think life is anything but idyllic. One day, when Emma and Norman, two of the oldest children, discover that one of the last children to be adopted has forgotten her stuffed bunny, they set out to return it. Tragically, what they discover upon arriving at the gate is the young girl lying lifeless in the back of a truck.
Sister Krone joins the orphanage to help Isabella manage the possibility of an escape by some of the brightest children. Krone has ulterior motives: she wants to become a Mom and manage her own house, and she will sabotage Isabella to do it. Krone is the opposite of Isabella, she's aggressive in her pursuit of success and confident of outwitting both Isabella and the children no matter what it takes. Of course, considering Krone was raised under the knowledge that monsters could devour her at any instant, it's no surprise she became mentally shattered.
---
6. Eren Yeager from Shingeki no Kyojin (Attack on Titan)

Episodes: 25
Aired: April 2013 – September 2013
The last remnants of humanity hide behind walls as monstrous creatures called titans eat any human that roams within reach. Having seen his mother eaten by a titan during a breach in one of the furthermost walls, Eren Yeager harbors an unmatched hatred for the mindless monsters. He vows to join the Survey Corps, a military unit that ventures outside the walls to learn the means of eradicating the titan, so he can wipe them all from the face of the Earth.
Eren's arrogance and aggressiveness are fueled entirely by his desire to avenge the death of his mother. It helps that he has also gained the power of a titan and can become a nearly unstoppable force in his quest for titan annihilation. In truth, it takes a measure of arrogance to believe that you can take down not just one but all the towering titans and Eren's stubbornness in his quest makes this a boon even if it sometimes leads him into troubling situations.
---
5. Speed-o'-Sound Sonic from One Punch Man

Episodes: 12
Aired: October 2015 – December 2015
In a world where superheroes, supervillains, and monsters run amok unhindered by society's rules, mass destruction and death await at every corner. Even so, all of this is completely unimpressive to Saitama, a hero whose intense but simple training has led him to become the world's strongest hero, easily capable of defeating any villain with a singular punch. Alas, when all of his problems are solved in such a swift fashion, life can quickly become dull for the hero known as One Punch Man.
Speed-o'-Sound Sonic should have been humbled when he was beaten effortlessly by Saitama, but he wasn't, he vowed to train himself in order to one day defeat the incredible hero. Above all else, Sonic is an aggressive individual and this behavior is especially heightened when he is met with someone like Saitama who is extremely strong. He loves a good fight and defeat will only persuade him to work harder. Even having lost to Saitama, though, Sonic remains a supremely confident human who believes himself to be above anyone he meets, especially heroes. Sonic can probably lose a million times to Saitama, but his aggressive and arrogant attitude won't stop him from coming back for more.
---
4. Tobio Kageyama from Haikyuu!! (Haikyu!!)

Episodes: 25
Aired: April 2014 – September 2014
Shouyou Hinata forms a middle school volleyball team after being inspired by a similarly short but incredible volleyball played called the "Little Giant". Tobio Kageyama is the star player of his own middle school volleyball team and is a widely renowned prodigy of the sport. Both of their middle school careers end tragically due to Hinata's inexperience and Kageyama's controlling behavior. Now in high school, they find themselves trying out for the same volleyball team and having to help prop each other up and round out their weaknesses.
The entire premise of Kageyama's character is that he suffered in middle school because he was arrogant and aggressive. He bossed around his entire team even if he was partially to blame for his inability to match their capabilities. His behavior earned him the ironic nickname of "King of the Court" which was less an indication of his prowess and more of his behavior. Entering high school, his arrogant and aggressive behavior won't work, and he'll have to learn to behave appropriately with his new classmates if he wants to take advantage of his talent.
---
3. Joseph Joestar from JoJo no Kimyou na Bouken (JoJo's Bizarre Adventure)

Episodes: 26
Aired: October 2012 – April 2013
Jonathan Joestar has a luxurious upbringing thanks to his father, an English nobleman named George Joestar; however, when Dio Brando, the son of a man who once saved George, is adopted into the house after his father's death, everything changes. Despite the front Dio puts up, he's eager for greater status and power and will step on everyone, including Jonathan and George, to get it. A rivalry fueled by greed will grow bloody when supernatural elements grant Jonathan and Dio powers.
Joseph Joestar, the grandson of Jonathan Joestar, is loudmouthed, confident, and strong-willed. Of all the JoJos, Joseph must be the most arrogant and aggressive of a family of similarly arrogant and aggressive people. Joseph is the sort of person to shoot first and ask questions later. By the time we first see him in the show, he's a man who has been arrested countless times for starting far too many brawls and being snotty around authority figures. Unlike a lot of characters on this list, this is simply how Joseph is and no one ever tries to reproach him or show him a different way to behave.
---
2. Grimmjow Jaegerjaquez from Bleach

Episodes: 366
Aired: October 2004 – March 2012
Hollows are corrupt spirits that prey on human souls, and Soul Reapers have the task of slaying them. Rukia Kukichi fails to complete her task when she's hurt protecting a high school boy named Ichigo Kurosaki and his family. To save them from a brutal death, Rukia gives Ichigo her powers. As a Soul Reaper, Ichigo must now take on Rukia's responsibilities and protect his town from hollows while she recovers from her injuries.
Grimmjow Jaegerjaquez shares a common trait with a lot of other people on this list, a disdain for authority. Among the Espada, he was always confident that he could take down anyone, including those of higher status than him. Grimmjow has little respect for law and order and a bloodlust for chaos and a good fight. His aggressiveness really becomes apparent in a fight, where his vicious and brutal tendencies show up. His entire demeanor is best exemplified by his endless punching session of Ichigo during their first meeting.
---
1. Katsuki Bakugo from Boku no Hero Academia (My Hero Academia)

Episodes: 13
Aired: April 2016 – June 2016
Izuku Midoriya is one of the unlucky few that don't have a Quirk, a superpower that now appears in most humans. This is especially tragic because Izuku has dreamed of becoming a superhero for almost as long as he can remember. Even without a quirk, Izuku is determined to fulfill his dream of becoming a hero and studies intensively for the day when he can test for U.A. High, the top academy for prospective heroes. One day, when he comes to the rescue of an endangered classmate despite being powerless, Izuku inspires All Might, the #1 hero, to pass on his powers to him.
Katsuki Bakugo is arrogant and aggressive to the point of being completely unlikable in My Hero Academia. Ever since he discovered his powers, Bakugo has been revered as the star of his group of friends and eventually, the star of his classmates due to his naturally powerful abilities. He was constantly praised by everyone around him and that gave him somewhat of a superiority complex. His arrogance and aggressive attitude led him to be a school bully to the point of telling Midoriya to commit suicide. Unfortunately for Bakugo, when he eventually reaches U.A. High, he discovers that no one wants to be around someone who behaves like that and in turn becomes an isolated loner himself, though that does little to stop him from being aggressive and loud towards everyone else, including Midoriya.
---
Final Thoughts
We have plenty of aggressive and arrogant characters across this list in equal measure, but the key differences are in how they display those traits and why they display those traits. In cases like Naoka and Mari who inhabit real worlds, it was more grounded but violent, while characters from shounen like Eren and Bakugo were louder and determined for all to hear about their prowess.
These characters all tend to hide some sort of insecurity, but there are cases where the arrogance and aggressiveness are just right enough where the characters don't actually need to change like Joseph Joestar and Speed-o'-Sound Sonic. Even so, Joseph and Speed-o'-Sound still suffer like every other character on this list from their arrogance and aggressiveness coming back to haunt them more than once. Do you think there are characters out there with an even bigger combination of arrogance and aggressiveness? Let us know in the comments down below.
---
---
Arrogant aggressive anime characters are some of the most common and interesting characters. They lift up the story and the emotion of the anime. Their purpose is often to surprise us from the normal kind of characters that exist in anime. We recognize them by a darker tone and often a very arrogant style of talking, as well as the way they stand.
Everyone has their favorite when it comes to a character who uses a more agrrassive way of talking. It might be the protagonist, or in most cases the evil villain. We all start to think about that special character that has a unique style of speech. In this Top 10 list, we will delve into arrogant and aggressive anime characters, so stick around and check out another Top 10 list from us. In this case, the Top 10 Arrogant & Aggressive Anime Characters.
Enjoy!
10. Light Yagami from Death Note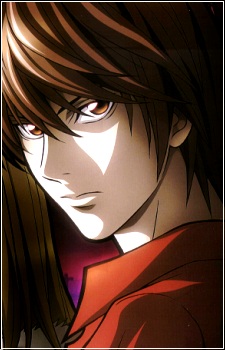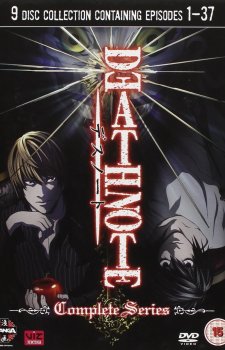 Episodes: 37
Aired: October 4, 2006 – June 27, 2007
Light Yagami is your usual good hero, gone wrong. The story of Death Note is quite known. This young 17 year old boy genius who is tired of his life, finds a dark notebook one day. But it's not any notebook, on the front of the dark notebook the title, "Death Note," is written. Light Yagami gets intrigued and starts to read the first lines and quickly discovers that whomevers name is written in the "Death Note," will die. One famous line from a well known comic is; "With great power, comes great responsibility". Which is truly shown in this anime.
Light Yagami makes it to this list because of just that. He is at first arrogantly trying to get rid of criminals, but it is a slippery path because he has access to too much power. Thus, he becomes arrogant. But the number one thing that gets Light Yagami into this list, is the way he talks. He has an aggressive and vicious way of speaking. Without giving spoilers, we would base this final point mostly on the ending scene in Death Note.
---
9. Kirino Kousaka from Ore no Imouto ga Konnani Kawaii Wake ga Nai

Episodes: 12
Aired: October 3, 2010 – December 19, 2010
Kyousuke Kousaka, a 17 year old student who has never gotten along with his younger sister, Kirino, in years. For as long as he can remember, Kirino always ignores him and looks at him with burning eyes. But one day, Kyousuke finds a DVD case of a magical girl anime called Stardust Witch Meruru. But to his surprise, inside the DVD case is a hidden adult video game called, Love with Little Sister. That night, Kirino bursts into Kyousuke's room and brings him to her room to tell her secret.
Kirino is a classical tomboy, but doesn't dress like one. She has a very aggreesive way of speaking and gets what she wants because of this. At times, Kirino has a very childlike persona with an adult way of speaking, and she does this in a rather arrogant way, especially towards her older brother, Kyousuke.
---
8. Levi from Attack on Titan

Episodes: 25
Aired: April 7, 2013 – September 29, 2013
Many hundreds of years ago, humans were almost exterminated by titans. These titans seem to kill humans for the pleasure of it and not because of a food source. A small number of humans who survived built walls around them to keep the titans away. In this anime, we get to follow the humans as they survive inside of these walls, and who haven't seen a titan in over 100 years.
In a world where titans attack humans and eat them like candy, we have one soldier, Levi, of the Scouting Legion, who gets his name written in this list because of his very calm way of speaking when he speaks. He can be utterly arrogant and agressive about the things he says. You get the feeling that he is not afraid to viciously speak his mind. He acts on the arrogant things he says too.
---
7. Sebastian Michaelis from Black Butler

Episodes: 24
Aired: October 3, 2008 – March 27, 2009
In Victorian-era Europe, a young boy loses everything he once had. In his last moment of death, he strikes a deal with a demon. His soul, in exchange for revenge. The story in the anime revolves around this young boy, Ciel Phantomhive, and his demon butler, Sebastian Michaelis. Sebastian's powers as a butler is only matched by his strength as a demon.
Sebastian gets a spot on this list because of his calm-like behaviour, even in the heat of battle. And he does all this with a very calm-like style of making his aggressive voice heard. (SPOILER) For exmaple, in the scene with a tiger at the circus, he calmly talks to a full grown tiger as if it was a little kitten. You can feel how he uses his strong, commanding voice in a calming, but arrogant kind of way. Even though he can get his head bitten off at any moment, you can really feel the emotion in his voice as he never losses his cool.
---
6. Seijuro Akashi from Kuroko's Basketball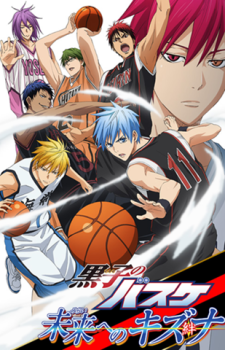 Episodes: 25
Aired: April 8, 2012 – September 22, 2012
The anime is about the Teiko Middle School basketball team, The Generation of Miracles. This series follows this one team as the main focus of the anime and how they play, train, and why basketball is their life.
Seijuro Akashi is the final member of the basketball team, Generation of Miracles. He also stands as the teams captain. He makes it to this list because of his aggressive way of speaking as he is not afraid to tell people what he really thinks. He always does this in his calm, but vicious voice. And he combines this with a cool tone of speaking his mind, even if he sounds arrogant at times.
---
5. Gintoki Sakata from Gintama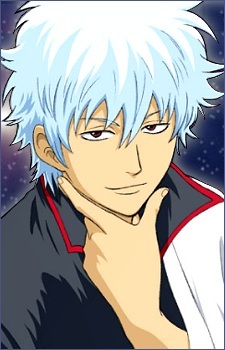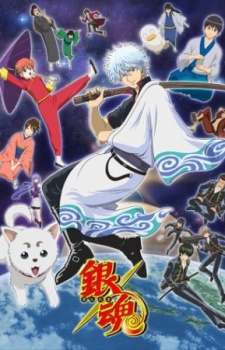 Episodes: 201
Aired: April 4, 2006 – March 25, 2010
If it isn't bad enough to fight for survival in feudal Japan. In Gintama, aliens have landed in Japan and have conquered everything. Gintoki Sakata is a samurai in an era in Japan where samurai are no longer needed.
Gintoki Sakata has a more laid back persona with his dark and calm voice as he makes his way perfectly into this list. His cool stature is probably also what helps his character become more believable in how he speaks his mind in a carefree, yet a dark way. And even though he sometimes cracks a joke or two, he always has that dark and aggrassive way of expressing himself.
---
4. Sougo Okita from Gintama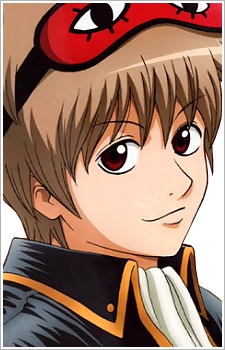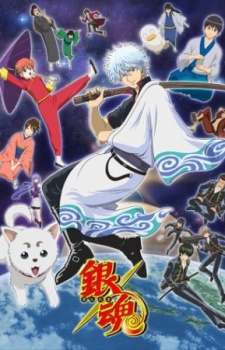 Episodes: 201
Aired: April 4, 2006 – March 25, 2010
Sougo Okita is the best swordsman in the Shinsengumi. He openly displays annoyance and dislike for Hijikata, as he tries to kill him several times. Or at least he tries to badly wound him so he can become the Vice-Commander.
As a person, he is very light hearted and kind of childish. But the reason he earns his spot here is because his speech is quite serious and aggressive. Through his voice, he first acts and gives the impression of a very kind and innocent individual, which can change in an instant because of how he uses his voice in a lower and darker pitch. The feeling you get is very strong as he's a person who arrogantly does not answer to anyone.
---
3. Hitagi Senjougahara from Bakemonogatari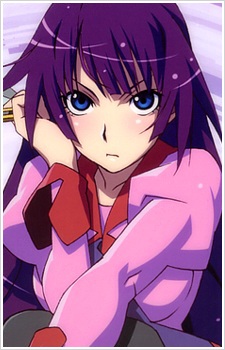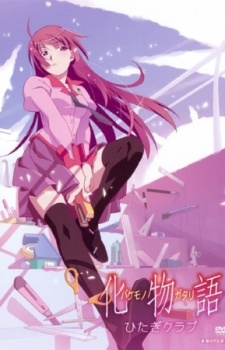 Episodes: 15
Aired: July 3, 2009 – June 25, 2010
The anime is about Koyomi Araragi, a third year high school student who recently survived a vampire attack. Now he finds himself mixed up with gods, ghosts, myths, and all kinds of different spirits.
Hitagi Senjougahara has a laid back persona. She speaks with confidence and uses her full vocabulary as an advantage when speaking in the most arrogant and aggressive way. Hitagi Senjougahara will surprise you. Mostly because you first get the feeling that she is a normal girl, but through her dark expressions, she really hits all the arrogant and agreessive points that a viciously verbal character with her calibre is supposed to have. She plays it cool, but at the same time her voice will scare you.
---
2. Izaya Orihara from Durarara!!

Episodes: 24
Aired: January 8, 2010 – June 25, 2010
In Tokyo's downtown district of Ikebukuro, among many strange rumors and warnings of anonymous gangs and dangerous occupants, there is one urban legend which stands out above the rest. The existence of the headless, Black Rider, who is said to be seen driving a jet black motorcycle through out the city streets.
Izaya has the appearance and expression of one who is devious and manipulative with his black hair and red-brown eyes. He is repeatedly described as a handsome man. Izaya has a cool style which he combines with an aggressive way of talking while maintaining an overall happy expression. Even though his words are pretty aggressive and vicious. He earns this spot on this list because of his carefree style and over the top arrogant way of expressing himself.
---
1. Uchiha Madara from Naruto Shippuden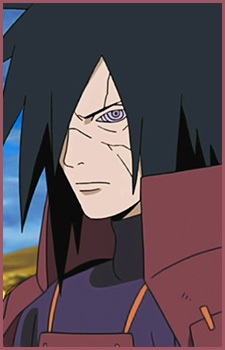 Episodes: unknown
Aired: February 15, 2007 – On going
The most powerful Ninja in the Naruto series and the co-founder of Konoha, The Hidden Leaf Village. Much can be said about Madara, but he is described as the ultimate bad guy and a powerful villain.
Why Uchiha Madara earns the number one spot is because of the way every word coming out of his mouth sounds arrogant and aggressive. The arrogant part comes from a long history of skills and experiences he has acquired over the many years he's spent fighting. There's something aggressive and arrogant about his voice that makes it the perfect voice for a powerful evil villain. Arrogance to the max.
---
And there we have it! Another Top 10 list, and in this case, some quite impressive aggressive and arrogant anime characters. Do you agree with this list? Or do you have some thoughts of who should have been at the top? Be sure to type it bellow in the comment section.