What You Need to Know:
Docomo Anime Store conducted a poll to find the current most watched anime of 2015.
The poll was conducted from October 30 and November 6 and received a total of 38,165 responses.
See the results below!
---
Top 10 Most Watched Fall 2015 Anime
---
10. Mobile Suit Gundam: Iron-Blooded Orphans
Synopsis
300 years after the Calamity War's end.
The powers which ruled the Earth Sphere have been overthrown, giving way to new rulers of a new world, exhausted of battle. Meanwhile, far away on Mars, the sparks which threaten to ignite a new war have been struck...
Our protagonist Mikazuki Augus, a member of the private security firm Chryse Guard Security (CGS), takes on a mission as bodyguard of Kudelia Aina Bernstein, a young girl who agitates for Chryse's independence from Earth. However, when the elite Gjallarhorn unit, charged with suppressing revolutionaries, raids CGS, its higher-ups deliberately use Mikazuki and the other boys as a decoy to cover their own retreat. Orga Itsuka, leader of the boys' squad, takes this abandonment by the adults as motivation to launch a full-fledged coup d'état. With orders from Orga to hold back Gjallarhorn, Mikazuki sorties in Calamity War-era scrap that CGS had been using as a generator—the Gundam Barbatos...
(Source: Gundam.info)
9. Is the Order a Rabbit??
Synopsis
Cocoa arrives at the cafe Rabbit House one day, excited for rabbits. She actually all but lives in that cafe. She meets lots of different girls there, including a tiny and cool girl named Chino, a tough and soldier-esque girl named Rize, a spacey and quintessentially Japanese girl named Chiyo, and the ordinary but dignified Sharo.
(Source: ANN)
8. Taimadou Gakuen 35 Shiken Shoutai
Synopsis
The 35th Test Platoon of Antimagic Academy is one of the squads enrolled at an academy specializing in raising the witch hunters, whose job is to find and neutralize any magical threats!
Unfortunately, they're a group of failures nicknamed the "Small Fry Platoon", a platoon formed from a bunch of self-centered people who have personality problems and can't cooperate.
Will they manage to overcome their weaknesses and shine as the strongest platoon?
(Source: MAL)
7. Owari no Seraph: Nagoya Kessen-hen
Synopsis
Yuuichirou has reunited with Mikaela at the Shinjuku Battle. But Mikaela was turned into a vampire... To save the "family," and to protect his fellow members, Yuuichirou needed to gain knowledge and power. He searched for ways to bring back vampire to human beings, and at the same time, trained hard working on the Cursed Gear.
Meanwhile, Kureto calls Guren and tells him a shocking truth. That in one month, the main unit of the vampire will start attacking Tokyo. To get a head start against vampires, Kureto orders Guren to go to Nagoya. The noble extermination mission is about to open fire!
(Source: Official website)
6. The Asterisk War
Synopsis
The Academy City on the water, Rikka (otherwise known as Asterisk) is the world's largest stage for the integrated battle entertainment, "Star Wars Festival." The young boys and girls of the "Starpulse Generation" belonging to the six academies made their wishes with Shining Armaments in their hands, vying for supremacy—Amagiri Ayato is one of them.
Ayato arrived at Rikka at the invitation of the Student Council President of the Seidoukan Academy, Claudia, and right after that he incurred the wrath of the "Petalblaze Witch" Julis, and ended up having to duel her.
The greatest academy battle entertainment, begins here!
(Source: jCafe24)
5. Haikyuu!!
Synopsis
Inspired after watching a volleyball ace nicknamed "Little Giant" in action, small-statured Shouyou Hinata revives the volleyball club at his middle school. The newly-formed team even makes it to a tournament; however, their first match turns out to be their last when they are brutally squashed by the "King of the Court," Tobio Kageyama. Hinata vows to surpass Kageyama, and so after graduating from middle school, he joins Karasuno High School's volleyball team—only to find that his sworn rival, Kageyama, is now his teammate.
(Source: MAL)
4. Sakurako-san no Ashimoto ni wa Shitai ga Umatteiru
Synopsis
Shoutarou Tatewaki, a high schooler living in Asahikawa City, Hokkaido, meets Sakurako Kujou, a bone-loving ojou-san who has an ability to analyze specimen. Because of meeting her, he has to accompany her to various cases.
(Source: MAL News)
3. Osomatsu-san
Synopsis
Matsuno household has six naughty and mischievous sons (who are sextuplets), led by the eldest Osomatsu. They were grade schoolers back in the Shouwa period, but despite of still living in the same old household, the street view as well as the life style of modern day society have changed drastically.
(Source: ANN)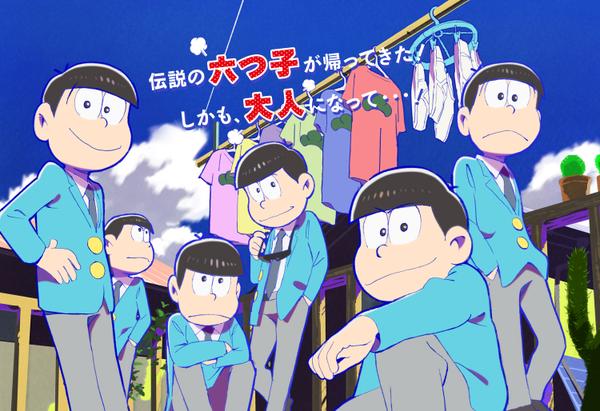 2. A Chivalry of the Failed Knight
Synopsis
The "school sword action" story revolves around Magic Knights, modern magic-users who fight with weapons converted from their souls. Ikki Kurogane goes to a school for these Magic Knights, but he is the "Failed Knight" or "Worst One" who is failing because he has no magical skills. However, one day, he is challenged to a duel by Stella, a foreign princess and the "Number One" student. In this duel, "the loser must be obedient for life."
(Source: ANN)
1. Owarimonogatari
Synopsis
During the month of October of his third year in high school, Koyomi Araragi is introduced to a transfer student named Ougi Oshino by his underclassman Kanbaru Suruga. Ougi tells Koyomi that she has something she wishes to consult with him. When she draws the map of Naoestu High School, she finds something peculiar. This discovery reveals a tale that wasn't meant to be told, and this makes Koyomi's high school life totally different. This is the story that brings to light "what" makes Koyomi Araragi. This is the story that reveals the "beginning" of everything.
(Source: ANN)
Source: Docomo Anime Store
---
A Chivalry of the Failed Knight second, really? Still impressed by Osomatsu-san.
Owarimonogatari first! This is great.
---
[ad_dfp position="bottom1" unit_pc1="true" unit_pc2="true" unit_sp1="true" class="mt40"]